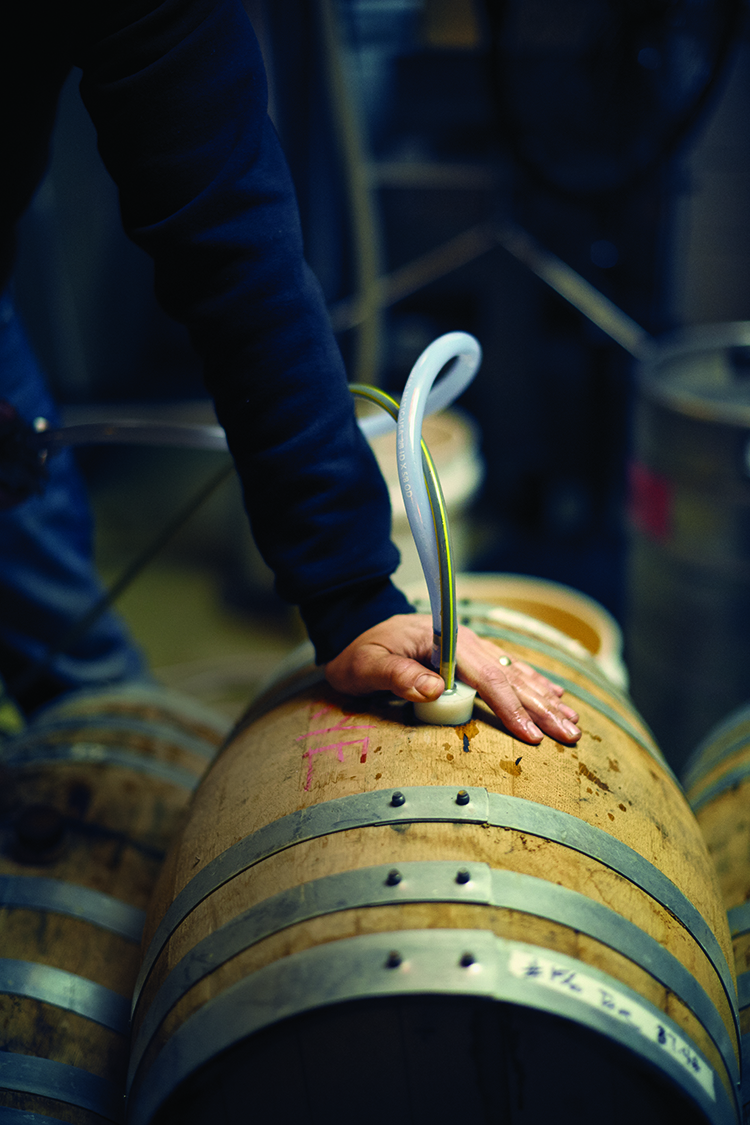 When DRAFT launched 10 years ago, there were fewer than 1,500 breweries in the United States; at the close of 2015, more than 4,000 were churning out beer, with thousands more in various planning stages, from freshly inked blueprints to finalizing test batches. That tidal wave of new breweries has brought with it an ever-growing fan base and a sea change in taste, with some of the most coveted bottles and revered brewers emerging only within recent memory. In fact, only five years ago, none of the breweries on this list existed. Today, they are at the top of the trading boards and rating sites, producing some of the most prized beers in the world. With their innovation, passion and eye toward where beer is going, we are certain that they are all poised to make waves well into the next decade.
Arizona Wilderness Brewing Co. azwbeer.com
Gilbert, Arizona
RateBeer's 2013 Best New Brewery in the World can't be stopped. They're bottling sought-after sours like the orange-spiked, acidic wit Woolsey the Wild and pinot noir barrel-aged Rim Country Framboise, storing them in an outdoor, temperature-controlled shipping container (outfitted with solar panels) while the brews condition. They've hired a full-time community liaison whose sole job is to coordinate with local farmers to source the high-quality grains, meat, veggies and fruit that work their way into the brewpub's food as well as its beers. They've even built a 150-gallon "mobile coolship," strapped it to the back of a Ford F250 that runs on fryer oil and driven it to sites all over the state to ferment beers with yeast and bacteria blooms floating in the desert wind.
Bagby Beer Co. bagbybeer.com
Oceanside, California
Chances are you tasted a beer that Jeff Bagby had a hand in making long before he opened his eponymous brewery in late 2014. The guy's been everywhere: Stone Brewing, where he was hired as a delivery driver in 1997 before being promoted to production brewer; yeast supplier White Labs; Oggi's Pizza & Brewing Company in Vista, California; and four Pizza Port locations, including Pizza Port Carlsbad, where he headed brewpub operations and won Large Brewpub and Brewer of the Year at GABF in 2009, 2010 and 2011. Along the way, Bagby racked up more than 50 GABF and World Beer Cup medals; there are few brewers more acclaimed in the country. At his giant facility a few blocks off the beach, Bagby brings his experience to brews like the sweet Mootown Philly milk stout, snappy Sweet Ride pilsner and the pine needle-laden Nerd Herd double IPA, all of them pitch-perfect and award-worthy.
Bissell Brothers bissellbrothers.com
Portland, Maine
Two years after brothers Peter and Noah Bissell opened their namesake brewery in a graffiti-splashed warehouse at 1 Industrial Way, it was time to grow. In June, the brewery swaggered into larger digs at the Thompson's Point development, a multiuse project that also includes a music venue, a distillery and a cryptozoology museum. Bissell now has more space to do its thing, namely, get its superb beers into eager customers'faces. Beers like Substance IPA and Swish double IPA (which has a perfect 100 rating on both RateBeer and BeerAdvocate) helped propel this brewery to the top of hop hunters' wish lists; the new 2,000-square-foot taproom makes can release days feel a bit less cramped, though no less popular.
Black Project Spontaneous & Wild Ales blackprojectbeer.com
Denver, Colorado
James and Sarah Howat began fermenting the first Black Project beer in February 2014 in a back room at Former Future, the Denver brewery they were preparing to launch. Both breweries have found success, but Black Project stayed under classified status for a while.The husband-and-wife duo didn't even tell most Former Future employees what was happening in that room; it remained an Area 51 until eight months later. Once the first Black Project beer was released, the floodgates opened. Geeks clamored for the sour and funky brews, all made with native, wild microflora (the Howats don't purchase any yeast for Black Project beers from a lab). After two Black Project beers, Flyby and Ramjet, won medals at GABF in 2014 and 2015, word spread nationally. "You hear about engineered scarcity, but we've never been able to produce more than a few barrels at a time on our four-barrel system," says James. "Right now, we're literally trying to brew and bottle them one beer at a time." The beers age 10-12 months on average and don't lend themselves to repetition. But that's not what the Howats seek anyway; Former Future is their outlet for clean, if not always repeated, beers including the Singularity Principle series of single-malt, single-hop pale ales. Black Project prizes variation. "Wild fermentation isn't boring and it's not even really understood," James says. "It takes a long time to find your answer." The Howats favorite results have been Ramjet, a red wine barrel- aged dark sour brewed with cherries, and Kalmar, a spontaneously fermented gose that has only improved in the bottle since its November 2015 release. Black Project is currently looking to expand production and distribute to other states. Safe to say the secret's out.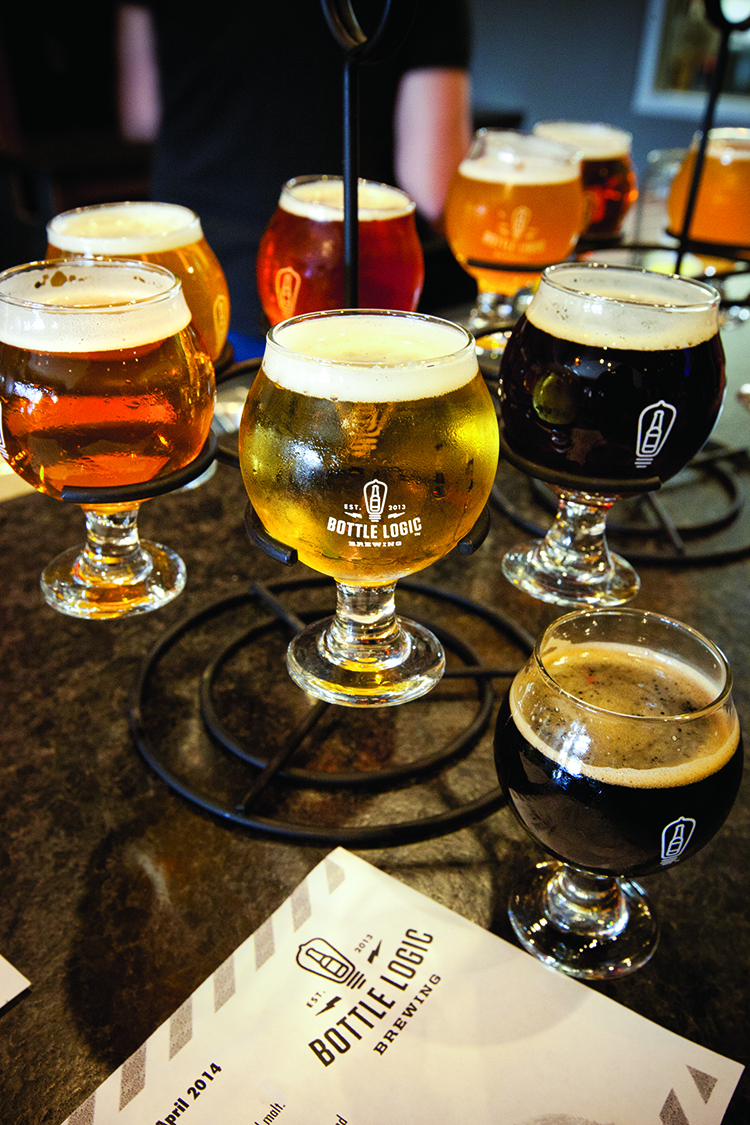 Bottle Logic Brewing bottlelogic.com
Anaheim, California
Even founders Brandon Buckner, Wes Parker and Steve Napolitano were caught off-guard by the astounding response to Fundamental Observation, the 14.1% ABV bourbon barrel-aged vanilla stout they released last June. After every bottle of the beer sold out within an hour, it almost immediately became one of the most sought-after brews in the country. Now closing in on their third year in business, however, the mania shouldn't surprise: Dark Star November, another barrel-aged stout, took home hardware at the 2016 World Beer Cup, as did the 8% ABV Cobaltic Porter. Lagerithm, the brewery's American-style dark lager, has won GABF gold the last two years running. And as the Bottle Logic's renown continues to grow, so does the brewery itself. Expansions to the tasting room and into the adjacent building, Buckner says, should enable the brewery to expand its collection of filled bourbon barrels to an even thousand and triple its production capacity—which means more Fundamental Observation.
Call to Arms Brewing Co. calltoarmsbrewing.com
Denver, Colorado
Jesse Brookstein, Jon Cross and Chris Bell are part of a new generation of brewery owners who, rather than bailing on accounting careers to turn a homebrewing hobby into a job, bailed on careers working for a brewery to establish one of their own. In this case, the brewery they left was Boulder, Colorado's Avery Brewing Co., where Brookstein managed packaging, Cross maintained the cellar and Bell was assistant brewhouse manager. Between the three, those skills cover just about everything needed at their small taproom in the Mile High City's Berkeley neighborhood. They've earned acclaim for an "old world meets new" approach typified by beers like the obscure, toasty Zoiglbier and tropical fruit forward Freedom Fries Saison, which combines classic French saison yeast with modern Nelson Sauvin hops.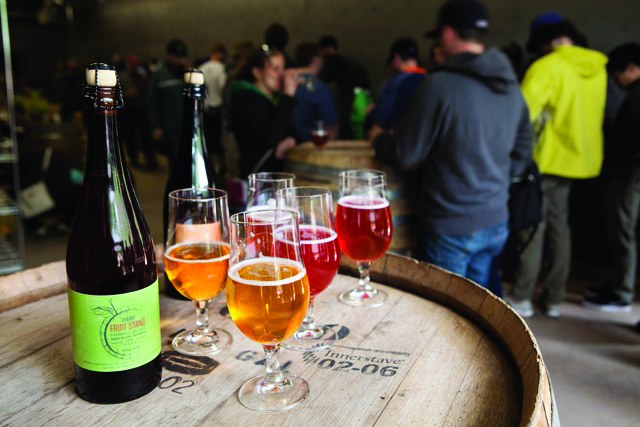 Casey Brewing & Blending caseybrewing.com
Glenwood Springs, Colorado
Troy Casey opened his eponymous brewery in July 2014 and, in short order, established himself as one of the nation's top producers of saisons, fruited sours and other wild ales. Looking back, the owner of RateBeer's 2015 Best New Brewery in the World says if he were to open again, he'd only change one thing. "I wish I could go back in time and tell myself to find a location that has more parking," he says. Yeah, that would help. Until recently, Casey was only open to the public one Saturday each month—a response to the brewery's first public opening that drew more than 200 people who lined up hours before the doors opened. But even this limitation didn't stop the flood of beer geeks each month. "Those Saturdays were becoming crazy," Casey says. "It's just so intense. It was affecting my life." Nowadays, the small location in Colorado's picturesque Roaring Fork Valley operates on a 100-percent RSVP model. Reserve a spot in one of two 10-person tours offered each day and you'll get a chance to taste Casey's creations and purchase beers like the immensely tart yet incredibly complex Cherry, Peach, Plum or Apricot Fruit Stand, or something from the Family Preserves series, double versions of Fruit Stand meant to be "a fruit delivery vessel." Show up unannounced and, well, there'll be nowhere to park.
Fonta Flora Brewery fontaflora.com
Morganton, North Carolina
Fonta Flora won GABF gold in the Field Beer category last year, but the true farmhouse experience eluded the brewery until it recently purchased a 10-acre farm in Burke County. This should catapult Fonta Flora from buzzy darling to full-out star, perhaps a bummer only to its neighbors (months ago, Fonta Flora stopped announcing bottle releases in order to reduce crowds). It's attracted fans by creating an identity for "Appalachian-style" beers. They're expressive of place and time: Ramp Table Beer, for example, is a cream ale made with North Carolina-grown barley, heirloom corn and foraged ramps, a type of wild onion. Co-founder Todd Steven Boera says the beers "spotlight lesser known ingredients that tell the story of Appalachia."
Forest & Main Brewing Co. forestandmain.com
Ambler, Pennsylvania
In 2011, Gerard Olson and Daniel Endicott were looking for a space to build their brewery. They liked the creative spirit in Ambler, Pennsylvania, near where they both grew up. Their realtor suggested a warehouse— too expensive. The realtor then showed them the building next door to the warehouse—"But it's a house?" Olson ventured. It was a house, an old Victorian one, but the duo squeezed a 7-barrel brewing system into the back and found that the quirky vibe fit the offbeat Belgian and British beers they've become known for. Three years after opening (at the corner of Forest and Main streets), Olson and Endicott now rent that original warehouse to house their barrels. That means more of their coveted brews, especially saisons and barrel aged, bottle-conditioned ales; the Marius series of saisons, for example, notches many variants in the top 97-100 percentile of RateBeer scores. "Those beers showcase the uniqueness of the culture we work with," Olson says. "We [brewers] all source from the same suppliers; as long as you have a hop contract and you're willing to throw a ton of hops in, you can make a tasty beer. I feel more drawn to the beers that are tied to this place, whether that's our British beers that evolve on the hand pump or especially the beers we throw into bottles or wine barrels to watch that culture work." For three years, that culture has included foraged yeast scraped from blossoms on the property. Olson says Forest & Main's work in that vein is partially informed by the breweries they've recently collaborated with, including Jester King and Almanac. As Forest & Main grows, expect word to travel far beyond the walls of 61 N. Main Street.
Great Notion Brewing greatnotionpdx.com
Portland, Oregon
Though very young (the brewery opened in the former Mash Tun Brewpub space in Portland's Alberta neighborhood on New Year's Day), Great Notion has become one of the city's most talked-about spots—tough in a town known as "beervana"— thanks to its turbid, juicy IPAs. While excessively hopped ales like Ripe, Juice and Juice Jr. get the spotlight, brews like the breakfast maple syrup- and coffee-spiked Double Stack imperial stout and Blueberry Muffin Berliner weirs are equally cheerful. Brewer founders James Dugan and Andy Miller, neighbors-turned-homebrewing buddies when a home remodel forced Miller to move his setup into Dugan's garage, have quickly churned out some of our favorite brews this year. An expansion and canning line planned for 2017 poises these glowing IPAs for further fame.
Grimm Artisanal Ales grimmales.com
Brooklyn, New York
A couple years ago, when Joe and Lauren Grimm served draft samples of their revered Double Negative imperial stout at a beer festival, Lauren decided it would be cool to show attendees what the bottled beer looked like. But with only unfilled bottles on hand and a desire not to waste any of the nectar in the keg, she grabbed an empty bottle and filled it with a mixture of water and sumi ink—used for painting and calligraphy—to mimic the beer's dark hue. The counterfeit brew looked real enough; as soon as the Grimms turned their backs, someone snatched it. The thief's tasting was probably pretty unpleasant, but as enjoyable as the image of a klepto beer geek with ink-stained teeth is, can you blame him? In just three years, Grimm has become a name held in awe among drinkers for avant-garde flavors and techniques as well as exciting takes on traditional styles. The brewery's imperial IPAs and uniquely flavored goses are some of the most sought-after in the country (as they should be—Lumen, a tremendously complex IPA juiced up with Citra, Mosaic, Equinox and El Dorado hops, was one of our favorite beers we tasted), and even the aforementioned Double Negative is stellar, having medaled at the last two GABF beer judging competitions. A recently expanded long-term sour program should only add to the prestige, and Lauren says a new imperial stout recipe is in the works—one designed with sweetness in mind specifically for aging in whiskey barrels. Its name? Sumi Ink.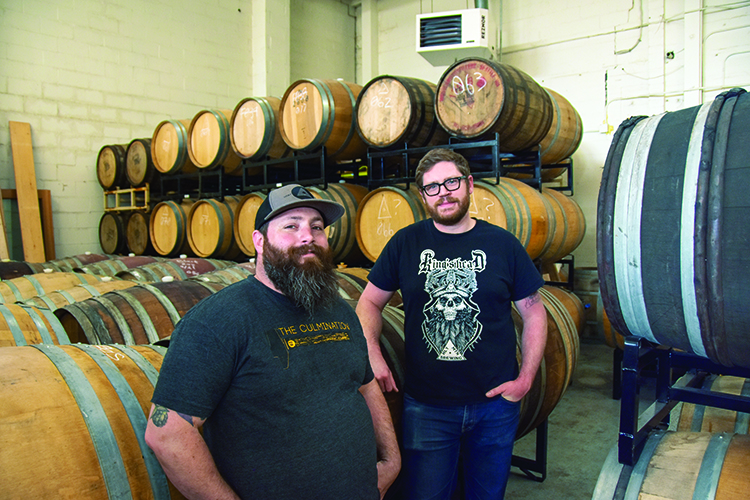 Holy Mountain Brewing holymountainbrewing.com
Seattle, Washington
Holy Mountain isn't tough to find; just look for the lines. They form outside the brewery's Interbay taproom whenever there's a new bottle release, which co-founder Mike Murphy (formerly of Schooner EXACT Brewing Co., which is where he met co-founder and head brewer Colin Lenfesty) says happens about every six weeks now that the just-under-two-year-old brewery has procured enough oak puncheons from local wineries to ramp up production from the 800 or so barrels produced last year. The wood was essential, Murphy says, since Holy Mountain's focus has always been on tart and Brettanomyces-fermented brews like the plumaged, delicately balanced Empirium, though darker ales like Midnight Still, a bourbon barrel-aged imperial stout made by blending older batches of the brew, appear often. As do those lines.
Kent Falls Brewing Co. kentfallsbrewing.com
Kent, Connecticut
In a year and half, farmhouse brewery Kent Falls has earned serious attention. Most of its beers are only brewed a few times, part of an estimated 57 distinct releases, which include the fantastically named Walking Away In Slow Motion While The Car Explodes Behind You gose, Zep On The Jukebox IPA and Sweatpants pale ale. The 52-acre farm is home to pigs, chickens, a hop yard and an orchard, and co-founders Barry Labendz and Derek Dillinger live within 150 feet of the brewhouse. "It feels like each beer comes from spending too much time together," Labendz half jokes. "So 'farmhouse' to us isn't just a style or aesthetic or usingcertain yeast strains, it's much more deeply rooted."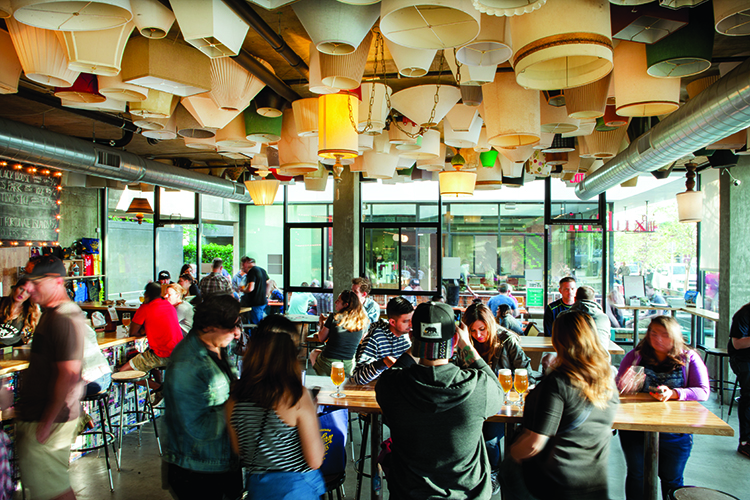 Modern Times Beer moderntimesbeer.com
San Diego, California
It's hard to believe Modern Times is just three years old, what with its Festival of Funk sour beer celebration or hop-focused Festival of Dankness—big-time annual events a larger brewery would be proud of—or its League of Partygoers and Elegant People, a reserve society created as a high-level reward for the brewery's 2013 Kickstarter campaign into which fans clamor for entry every time more spots become available. But with gorgeously designed tallboys of the sticky-icky Blazing World red ale/IPA hybrid or velvety Black House oatmeal coffee stout available everywhere you look, as well as a cafe, restaurant and pilot brewery (code name: The Dankness Dojo) due to open in LA before the end of the year, this is a precocious brewery that acts like it's been around for decades.
Monkish Brewing Co. monkishbrewing.com
Torrance, California
This summer, the popular four-year-old brewery ditched its distributor and moved to primarily brewery-only releases. To offset the risk, co-owner Henry Nguyen started brewing what he initially swore he wouldn't: IPAs. Those have crept up in RateBeer scores alongside upper-90s-rated Monkish saisons Haiku de Saison and Rara Avis. "We didn't want to do what everyone else was doing," Nguyen says. "But we'd been thinking: 'What would a Monkish IPA look like?'" The answer: cloudy, creamy, low in bitterness. "When we first made these, brewers here were telling me to my face these beers were ugly and not really IPAs," he says. "Now after a few releases, they've seen the lines [of customers], and they're asking me which yeasts we're using."
Other Half Brewing Co. otherhalfbrewing.com
Brooklyn, New York
It's a wonder that Other Half brewers consistently churn out coveted IPAs and double IPAs (and have time to self-distribute), considering they seem to collaborate with every hot brewery on the planet: Holy Mountain, J. Wakefield, Cellarmaker—that's just recently. Whether through teleportation or the ability to operate on three hours' sleep, the Brooklyn wunderkinds pull it off, and have recently expanded their brewery into the next-door warehouse. Word of their dexterity with hops has spread since the 2014 opening, helping brewery-only can releases of All Green Everything and Green Diamonds double IPAs and Hop Showers IPA and Forever Ever IPAs sell out within a few hours. Don't expect that to change, even after the expansion.
Phantom Carriage Brewery & Blendery phantomcarriage.com
Carson, California
Phantom Carriage's taproom is worth a visit, even if just to experience the decor: Based just outside of LA in Carson, California, the brewery has a horror-show vibe ("Spooky but not kitschy," says brewery co-founder Martin Svab) with scythes and other rusty farm implements stabbed into the walls; candles glowing inside fake human and animal skulls; and the "Phantom Theater," playing a rotating lineup of scary movies. "I've always been into these old scary movies that unfortunately, this day and age, are being forgotten," Svab says. "They're just so beautiful. So the entire brewery's just an homage to the old horror cinema." That goes right down to its name: "The Phantom Carriage" was a Swedish film produced in 1921, notable for its early use of special effects and for certain scenes so iconic that Stanley Kubrick remade them in his own horror film, "The Shining." (The famous axe-through-the-door scene? "The Phantom Carriage" did it first.) Come for the fear, stay for the beer: Inside the dark confines of the brewery's taproom, nearly 400 oak barrels are filled with the creations of head blender Simon Ford, who was well-known in the LA homebrew scene for his downright fantastic sour beers long before joining the Phantom Carriage team. His skills are just as potent in the big leagues: Muis, a Belgian blonde ale melding honeydew melon, guava, spearmint and onion skin aromas with musty lemon and white pepper flavors, is one of the better 100% Brettanomyces fermented beers we've ever tasted, and beers like the Simcoe-hopped Annalee grisette and Broadacres Berliner weisse exhibit complex, slightly wild flavors that, like the environs in which they're served, are scary-good.
RAR Brewing rarbrewing.com
Cambridge, Maryland
Since beginning to brew in March 2014, RAR (Real Ale Revival) has sold out its brewery only can releases in mere hours. The prized, hoppy goods including Pulp, Hyde and Chopdank place RAR at the fore of the trend toward juicy, low-bitterness IPAs. Those who can't make the pilgrimage eagerly trade for RAR's goods online; recent posts show folks willing to cough up Founders KBS and Jackie O's bottles in exchange. But co-founders Chris Brohawn and J.T. Merry weather and brewer Randy Mills say success starts with their hometown fans. "There will be people waiting in line at 6 or 7 in the morning, and I'll go out and thank them, bring them shirts and hats," Brohawn says. "We're not taking it for granted that people are waiting in line for our beer."
Sante Adairius Rustic Ales rusticales.com
Capitola, California
This SARA that keeps popping up on trading boards is Sante Adairius, co-owned by Adair Paterno and Tim Clifford, and the "rustic ales" bit refers to the four-year-old brewery's focus on saisons fermented with a house mix of yeast and bacteria. They've earned high marks, especially Saison Bernice, named RateBeer's best Belgian-style ale last year. "Saison Bernice is the purest expression of what our house culture can do to a base saison without oak and/or a significant amount of aging," Paterno says. "It's a lovely, refreshing beer that I want to drink every day." Yep, she and the rest of the world.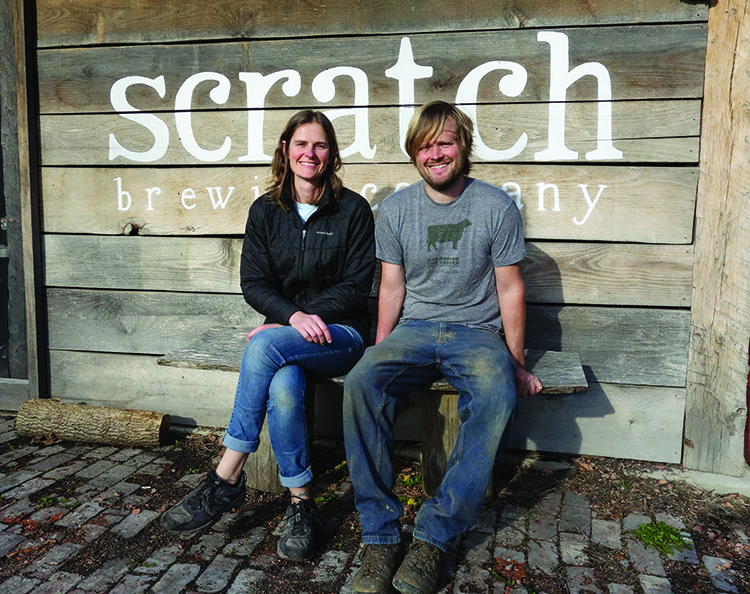 Scratch Brewing Co. scratchbeer.com
Ava, Illinois
Scratch wrote the book on seasonal ingredients (it's called "The Homebrewer's Almanac: A Seasonal Guide To Making Your Own Beer From Scratch," published in September). Since opening in 2013, the brewery has quietly led the charge on brewing beers reflective of place; any brewer who wants to harvest sap, leaves and mushrooms has Scratch on speed dial. Their Single Tree series, brewed with parts of specific trees like Birch and Hickory, were some of the most-discussed beers at last year's GABF, and with Scratch's beers newly in bottles, their inspirational model should only spread that much farther.
Shady Oak Barrel House shadyoakbarrelhouse.com
Santa Rosa, California
In his former role as a winery lab technician, it was Steve Doty's job to manage barrels and blending, monitor fermentation rates and cell counts, and eradicate Brett—considered a major flaw in wine—with extreme prejudice. For the past two years, however, the brewer's relationship with bacteria has been much more amicable, and today you'll find plenty of critters taking up residence in the oak barrels and puncheons that crowd "Shady Steve's" sunny Santa Rosa blending house. Soon those bugs will also appear in Doty's more outlandish experiments, like a sour ale aged in gin barrels and an all-bourbon barrel-fermented saison, but already they've earned him enough acclaim to land on RateBeer's 2015 list of Top New Brewers in the World.
Threes Brewing threesbrewing.com
Brooklyn, New York
For nearly two years, Threes has turned out farmhouse ales, IPAs, pale ales and a house German lager from a warehouse in Gowanus. It's a diverse stylistic range, but Threes nails it, from the muscular but balanced Vliet pilsner to the soft, oak-aged Eternal Return Brett beer with raspberries. This summer, Threes moved releases to an online resale model to alleviate long lines at the brewery; "beer is supposed to be a leisure sport" it said in a message to fans. Demand necessitated expansion. Additional space has made room for about 200 barrels, two foeders, some wine casks and more fermenters. When they have time (as if), brewers collaborate with outfits as varied as Mikkeller, Allagash, Suarez Family Brewery and Brooklyn-based band The National.
Toolbox Brewing Co. toolboxbrewing.com
Vista, California
There's a freezer in the back of Toolbox's North San Diego County taproom that's full of bugs—in the microorganism sense. "I have 30 to 40 strains of Brettanomyces; a lot of pedi and lacto; countless saccharomyces strains," says head brewer Ehren Schmidt, who uses his education in geomicrobiology and experience brewing at The St. Louis Brewery to blend the perfect proportions of yeast and bacteria for every wild ale. "It's about trying to find a more systematic approach to souring rather than letting voodoo take hold," says Schmidt. And the results have been well-received: Bramble on Rose, the brewery's blonde wild ale aged four months in neutral oak barrels and an additional six weeks on San Diego-grown blackberries, took bronze at the 2016 World Beer Cup. With many more of the two-year-old brewery's sour ales finally coming of age, expect to see a majority of the taproom's 16 faucets pouring barrel- and fodder-fermented, bug-filled beers.
Transient Artisan Ales transientartisanales.com
Bridgman, Michigan
Transient's name perhaps made more sense when it was a gypsy brewery popping out mixed-fermentation and barrel-aged creations around the Chicago area. It's since debuted a brick-and-mortar brewery/ taproom this spring in southwest Michigan, which founder Chris Betts chose for its proximity to fruit farms and vineyards (they supply the air with delicious yeasts and bacterial bugs to ferment his wild ales). Buckley Imperial Breakfast Stout made our 2015 list of the 25 Beers of the Year, and we've been smitten with how well Betts' wild ales, such as Sporadic #3, develop over time. We're not alone. When Transient launched, Betts offered a membership program to about 150 people; he's since capped it at 250, and another 900 names crowd the waiting list.
Trillium Brewing Co. trilliumbrewing.com
Boston, Massachusetts
Though the brewery officially opened the doors to its original location in Boston's Fort Point neighborhood in March 2013, Trillium's true launch occurred four years before that, at the wedding of owners JC and Esther Tetreault. JC, then an avid homebrewer, brewed three beers for the big day, which he and his betrothed filled and decorated themselves with hand-drawn labels featuring a moniker they had come up with on a whim: Trillium. Say that name among beer geeks today and the image of a cloudy ale—the kind of juicy, excessively dry-hopped beer that's recently come to epitomize Northeastern IPAs—appears in their heads. In the three-plus years since its opening, Trillium has earned cult-level status for its IPA iterations, and brews like Melcher Street, Vicinity, Upper Case and Scaled have solidified spots on lists of the top hoppy beers worldwide. The brewery quickly outgrew its tiny taproom in Boston and expanded to a 16,000-squarefoot production facility in Canton last year, and more change is in the air. Trillium partnered with a mobile cannery to introduce hazy IPAs in aluminum in June, with plans to invest in a canning line of their own early next year. It was something that had to happen, Esther says, after fans on social media began sending the brewery pictures of its labels pulled from bottles and wrapped haphazardly around cans, with captions like "When are we going to see this?" Wild ales are afoot as well: A mid-May addition of seven oak foeders brought its total up to 16, and the 300 oak barrels stacked beside them will start coming to maturity around October, meaning you'll soon see an increase in Trillium sours like Stonington, an oak-fermented ale, fermented with yeast found on grapes the Tetreaults cultured from the very vineyard at which they wed.
Latest posts by Beer Master
(see all)