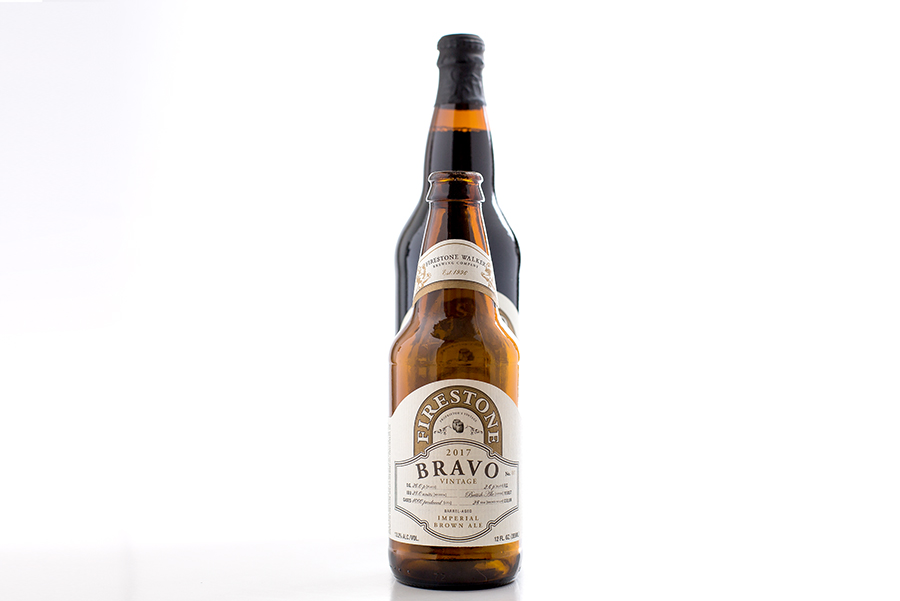 Included in Firestone Walker Brewing Company's January announcement about the release of its bourbon-aged imperial brown ale, Bravo, was this little nugget: Every beer in the brewery's Vintage Reserve line—a group that includes beloved barrel-aged beers like Parabola, Sucaba and Velvet Merkin—will move out of 22-ounce bomber bottles and henceforth will only be bottled in the 12-ounce format.
The move sent murmurs throughout the beer world, but Firestone was hardly the first to make it. Many of the country's mid-sized breweries are increasingly choosing to shrink the bottles of their high-gravity beers into more manageable formats. One year after premiering its High-Westified Imperial Coffee Stout in 22-ounce bottles, Lagunitas shifted the beer to 12-ounce six-packs. In 2015, New York brewery Southern Tier made three of its most popular ales—Pumking, Choklat and UnEarthly IPA—available in four-packs of 12-ounce bottles as well as the usual bombers; the popular Creme Brulee stout followed a year later. Avery Brewing Co. added 12-ounce cans of its Maharaja double IPA and The Reverend quad (both usually packaged in 22-ounce bottles) to its packaging lineup last fall, and last September's release of Odell Brewing Co.'s Jolly Russian rum-aged imperial stout not only marked the brewery's first new 12-ounce bottle release in more than a decade, but also the first time it had ever packaged a barrel-aged beer in anything other than 25-ounce bottles or kegs.
Why are so many brewers downsizing their most popular beers? Turns out, there are several reasons.
First: availability. Many of the breweries choosing to switch to smaller formats are producing beer at capacity. For beers in high demand, a smaller package size is one way to ensure more bottles get out to more places and people.
"It's difficult to expand our vintage beer program bigger than it is now," says Matt Brynildson, head brewer at Firestone Walker. "Yet we keep expanding our markets—we're in more states now than a couple years ago—and what ends up happening is we keep spreading the same amount of beer thinner and thinner. Moving to the smaller format will allow us to spread the love a bit more."
The change also increases the monetary accessibility of these beers. While some customers may have balked at paying $17 for a single bottle of beer (the MSRP of Firestone's 22-ounce Vintage Reserve bottles), a smaller bottle at close to half the price might be more palatable. (It's also just good business: Why sell 22 ounces of beer at $17 when you can sell 12 ounces for $10?)
But more than either increased availability or price point, these maneuvers seem to reflect a change in the habits of drinkers. More and more, big bottles are just not how customers want to drink beer. Brynildson admits he's among them.
"From a beer-lover's standpoint, the idea of a small bottle appeals to me," Brynildson says. "If you're a collector, it's hard to warrant opening some of these large-format bottles unless you have a large group of people to share them with."
For some brewers, this growing partiality toward smaller, more manageable bottles has even led to drops in bomber sales. Deschutes Brewery announced in early January that it would be discontinuing 22-ounce bottles of its Hop Henge Experimental IPA, Down 'N Dirty IPA and Big Rig Pub Ale; Jeff Billingsley, marketing director at Deschutes Brewery, says this was due in part to lagging sales of those beers in large-format packaging.
"A lot of industry data shows consumer preference has shifted," Billingsley says. "For some of our beers, people moving away from buying big bottles led to slower velocity on those packages, and for us that led to quality and dating issues. Our sales on 22s were basically flat, and ultimately there was a lot of beer that had to be dumped because it was past its prime."
Billingsley noted that while Deschutes' more limited releases like The Abyss and The Dissident will still be packaged in 22-ounce bottles, plans are in the works to move them into a smaller format as well.
Other brewers, such as San Diego's Alesmith, are keeping big bottles but adding smaller package options as a way to expand the sizes available and appeal to the broadest range of consumers. This, too, seems to be something customers want: In a recent Brewers Association survey, 55 percent of beer drinkers said they didn't think there was enough variety in terms of beer packaging, versus 29 percent who said there was "more than enough" variety and 16 percent who felt there was "just enough."
In early February, Alesmith released 16-ounce cans of its popular Speedway Stout to go with the 25-ounce bottles in which the beer has been packaged since it first hit the market.
"We got a lot of replies and comments from customers saying they would buy this more often if it was smaller," says Alesmith CEO and owner Peter Zien. "I opened one the first night and I have to admit it was fun to pour it into a 16 ounce pint glass and have it fill the glass to the top."
The classic 25-ounce bottles will still be the main package for Speedway; only about 15 percent of the most recent batch went inside the new cans. But if customers demand more cans or even smaller formats, Zien says, Alesmith will provide them.
"We're in a pretty saturated market out there," Zien says. "Brewers have to be more responsive than ever before. We'll watch this, and however the market wants us to present this beer, that's what we'll do."
Latest posts by Beer Master
(see all)