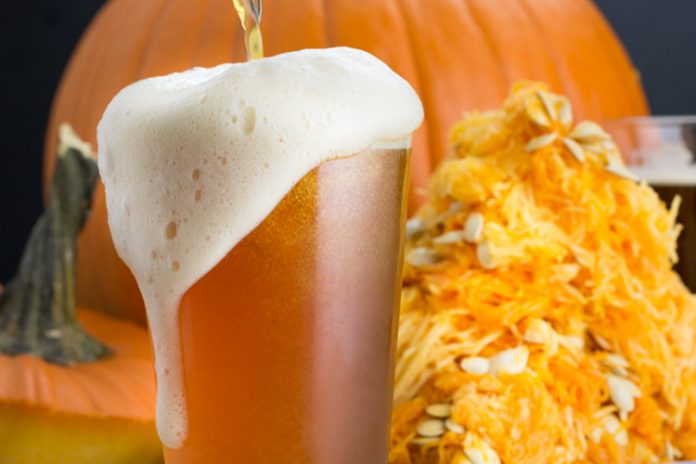 Depending on your preference for pumpkin beers, this news is either a bummer or a blessing: Some brewers this year are struggling to source pumpkin puree for their fall pumpkin beers. Perhaps you remember The Great Pumpkin Shortage of 2015? While it didn't have catastrophic effects on our autumnal beers or Thanksgiving pies last year, it may have a lingering effect on pumpkin availability in 2016. If brewers didn't get their orders in early, many are finding that suppliers have no more gourds left to sell.
Nebraska Brewing Co. releases Wick For Brains pumpkin beer each fall, its largest seasonal release of the year. This year, the brewery's regular supplier told Nebraska its pumpkin puree order would be filled, only to tell them later that, actually, they wouldn't be able to supply the 5,000 pounds of puree Wick For Brains requires.
"We did end up finding a supplier, but not until after a few years were dropped from my lifespan trying to figure things out," says Nebraska president and co-founder Paul Kavulak. "We bought enough for maybe the first two batches and then went back to buy more—being good disciples of Just in Time Inventory—and were told they were out. We had to brew [Wick For Brains] five times this year, so you can see the panic that set in. My guess is that this is going to be an issue across the board."
The shortage doesn't seem to be crippling seasonal pumpkin beers at all breweries, but the ingredients message board on the Brewers Association's forum shows posts from a few brewers who were caught in a last-minute bind, including Nebraska and Richmond, Virginia's Hardywood Park Craft Brewery.
Brian Nelson, head brewer at Hardywood Park, says he tried to place an order with their regular pumpkin puree supplier about a month ago and was told that the supplier was 100 percent out of pumpkin. This was especially tough news for Hardywood Park, because the Virginia farmers who normally supply the brewery with locally grown pumpkins (which make up about 40-50 percent of the total pumpkin the brewery uses) also suffered a bad crop this year due to unfavorable weather conditions. After contacting between six and 12 additional suppliers, Nelson finally found a company in Florida with some excess pumpkin puree they were willing to sell.
"I was able to patch it together this year and I referred this supplier to a couple other Virginia breweries that I'm friends with," Nelson says. "We'll be fine this year, but I know there are other small breweries scrambling. And I hear it's not only in the brewing industry but in the culinary industry as well."
This probably won't lead to a dearth of pumpkin beers on shelves; many are already out in the world or may release just a touch behind schedule. The brewer, who wishes to remain nameless, and told me this year's shortage was "Pumpkageddon, bad times indeed," is likely being a touch hyperbolic. With another tough pumpkin harvest this year on East Coast farms, 2017 could bring an even tighter gourd market.
Latest posts by Beer Master
(see all)