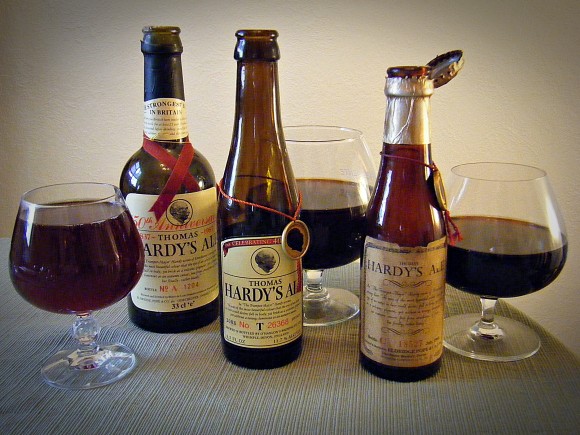 Editor's note: The following guest post comes to you from cellar enthusiast, forthcoming author and North Denver Tribune beer columnist Patrick Dawson. We'd love to hear about your own aged beer tastings; contact us at cellar@draftmag.com.
If any beer was ever made for the cellar, it's English barleywine. Its combination of fruity esters, mellow English hops, intense (initially harsh) fusel alcohols and kettle-caramelized malts write the perfect script for cellar success. And if the English barleywine is the granddaddy of vintage beers, Thomas Hardy's Ale is the grand Poobah of them all. Introduced by Eldridge Pope Brewery in 1968, it was named in honor of the great British novelist/poet in return for his ode to the brewery's beer in the novel "The Trumpet Major."
Hardy's Ale was brewed off and on until 1999 when poor sales and high costs halted production of this treasure. When Eldridge Pope ceased brewing altogether in 2002, O'Hanlons Brewery carried the torch and brewed the ale from 2003 to 2008.
Unique from many English barleywines sold today, Hardy's ale was bottle-conditioned with live yeast, allowing the beer to further develop. The label actually promotes aging the beer, stating, "…will mature in the bottle for at least 25 years…"  To test this claim, I recently popped open a 25-year-old bottle with some friends and, for perspective, also opened a 1968 and a 2008.  Here are the tasting notes from one of the best aging beers I've ever drank:
2008: As fresh as you can get anymore. A deep, garnet pour and thin, quickly dissipating head. Still surprisingly boozy, yet the fusel alcohols trend more toward fruity than harsh, with notes of grape candy and dried apricots. Thick with toffeelike sweetness, but the ample carbonation cuts through well. Quite enjoyable, with harbingers of good things to come.
1987: After the brewery-recommended 25 years, time has definitely altered the appearance. Opens with nary a hiss and pours an intense mahogany hue with no head. The aroma has taken on a slight mustiness and is now powerfully sweet and treaclelike with hints of Fig Newton. Lots of sherry and tawny flavors, a sugary dried fruit layer, and a salty twang all come together for a mounting complexity. Still quite thick and, being carbonation-less, borders on cloying. A truly contemplative beer, but it makes you wonder if it could still use more time in cellar to thin a bit.
1968: The vintage that started it all. Incredibly, the bottle opens with a hiss and pours near-black with a few wispy bubbles. Fantastic nose of molasses, figs, cellar must, and the slightest touch of teriyaki sauce. One drink transports you to a cozy English parlor with aspects like tobacco, leather and wood all mingling with dried fruit, molasses and sherry flavors; you can almost hear Churchill orating in the distance. The ale has thinned considerably which makes the lack of carbonation a non-issue. It's one of those brews you wish would never end: a masterpiece, with each sip being a delicious, new experience.
Verdict: Eldridge Pope didn't give itself enough credit with only 25 years. This baby can go for the long haul—and then some.
Latest posts by Beer Master
(see all)