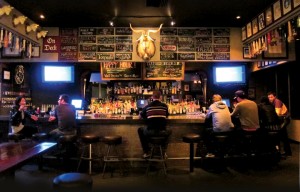 Beer bars are cropping up around the country at a frenetic pace, so paring our annual list down to 100 was no small feat. That said, we're confident that if you find yourself on a barstool at any one of these stellar spots, you'll be surrounded by top-notch brew and folks who are committed to it.
SKIP TO REGION: Northeast | South | Midwest | West
AGAINST THE GRAIN

New York City
If you're gazing up at Manhattan's skyline you might just miss this hole-in-the-wall drinking spot. The cozy beer joint was opened in 2007 by the owners of Grape and Grain, the adjacent wine bar; it's an intimate, if not packed, drinking experience—the 350-square-foot joint comfortably seats 15 people. Local and international beers spill over the near-70 bottle list, and small bites like pigs in a blanket ordered from next door ensure you're not exploring the world of beer on an empty stomach. 620 E. 6th St., 215.358.7064 (serves food)
BEER TABLE

Brooklyn, N.Y.
When this bar first opened, super-passionate co-founders Justin and Tricia Phillips held weekly beer-cheese pairings that wowed locals. Today, its still small but exceptional beer list—which has included Birrificio Le Baladin Al-iksir on tap and Manhattan Meadery Brooklyn Buzz bottles—has an expanded food menu, and the staff is as determined as ever to help you match flavor profiles. Snack on an assortment of pickled sea beans, watermelon and eggs, or throw down $25 for a three-course meal. 427 B. 7th Ave., beertable.com (serves food, sells beer to go)
BLIND TIGER

New York City
This vibrant Bleecker Street bar is a first name in beer, and it backs up the hype. Special brewery spotlights, weekly cheese pairings and an epic happy hour lasting from 11:30 a.m. to 8 p.m. draw a crowd, but the beer list keeps the party going: 28 rotating taps flow freely, while three casks and a bottle list 50-strong  makes choosing nearly impossible. After all, how do you decide between a 2004 Brooklyn Black Chocolate Stout and Bear Republic Hop Rod Rye on cask? Line your stomach with Javier's 7 Pepper Chili, and you can have both. 281 Bleecker St., blindtigeralehouse.com (serves food)
THE BREWER'S ART

Baltimore
Whether you go for the wide selection of abbey and Trappist ales or to sample The Brewer's Art's sensational house beers, you're guaranteed a tremendous experience at this Baltimore townhouse-turned-bar. Wrestle between world-class beers like de Koninck Belgian Pale or Grimbergen Blonde, but be sure to save room for a pint of the bar's abbey-style Resurrection alongside a plate of grilled pork brined in the same brew. 1106 N. Charles St., thebrewersart.com (serves food, pours house beer, sells beer to go)
THE BRICKSKELLER

Washington, D.C.
Since 1957, The Brickskeller has been D.C.'s go-to place for beer discovery. Find a spot in the cavernous downstairs area, flip through more than 1,000 beer brands in the endless beer bible—an actual bound book—and start ordering. Had too many? Book a bed in the bar's 43-room hotel, built in 1912. 1523 22nd St. NW, lovethebeer.com (serves food, 400+ beers) [Editor's note: After this story went to press, the Brickskeller re-opened under new management as Bier Baron.]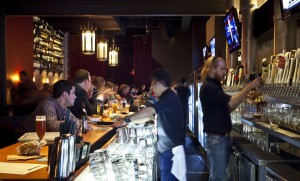 CHURCH KEY

Washington, D.C.
Beer director Greg Engert presents this bar's pared-down beer list by category: hop, malt, smoke, roast and crisp. Sip on four versions of All Together Now, a D.C.-area collaboration beer, or sample Pratt St. Ale House's Oliver's ESB in the cask, and don't miss chef Kyle Bailey's truffled grilled cheese and poutine. 1337 14th St. NW, churchkeydc.com (serves food, new to our list)
THE COUNTRY INN

Krumville, N.Y.
Cozied up in the Hudson Valley, this storybook inn is also a stellar beer destination that's served beer connoisseurs and farmers for three decades. Browse the 500 global brews, dine on seasonal dishes like the house-smoked trout with crème fraîche and indulge until the cows come home. 1380 County Road 2, krumville.com (serves food, 400+ beers, new to our list)
DEEP ELLUM

Allston, Mass.
The 28-beer-strong tap list at this 4-year-old bar causes even the most avid beer lovers to double-take—when was the last time you saw Clown Shoes Clementine next to Mayflower Porter on cask? Imaginative cocktails and a rib-sticking, hangover-friendly brunch make it a Boston beer-lover's must. 477 Cambridge St., deepellum-boston.com(serves food)
THE DIAMOND

Brooklyn, New York
Settle in at the horseshoe bar after a game of shuffleboard and choose your pint: Cask-conditioned Sly Fox Chester County Bitter or local Brooklyn Cuvée Noire are there for the taking. The bar breaks its selection into three categories—session, middleweight and strong—so you can order according to how tough you feel. 43 Franklin St., thediamondbrooklyn.com (serves food)
EBENEZER'S PUB

Lovell, Maine
Situated an hour northwest of Portland, this bright, wood-paneled pub greets visitors with vintage beer signs and world-class brew. With 35 Belgians on tap and roughly 800 more brews in the bottle, there's nothing you can't find here. Case in point: the famed De Struise Black Albert imperial stout was brewed in tribute to this pub, and it's here on tap. That's about all the street cred one bar needs. 44 Allen Rd., ebenezerspub.net (serves food, 400+ beers)
EULOGY BELGIAN TAVERN

Philadelphia
Eulogy's Busty Blonde, brewed for the bar by Belgium's Binchoise Brewery, is a perfect introduction to this pub near Independence Hall. Twenty-one taps offer more Belgians, plus local gems like Dock Street Prince Myshkin's Russian Imperial Stout. If you're not wowed by the taps, you're crazy; skim through the epic bottle list, where the likes of Blaugies Bière Darbyste await. 136 Chestnut St., eulogybar.com (serves food, pours house beer)
THE FARMHOUSE

Emmaus, Pa.
Nestled in a bucolic 19th-century farmhouse, this tiny English-style pub draws beer connoisseurs from across the region. Eight taps and a couple hundred bottles are an attraction, but the real draw is the vintage list: Sip on a 1994 Chimay Grand Reserve, or go back in time with Sierra Nevada Celebration Ales from 2006 to 1995. 1449 Chestnut St., thefarmhouse.com (serves food)
THE GREAT LOST BEAR

Portland, Maine
For 31 years, this institution has been at the forefront of craft beer advocacy, pouring cask-conditioned ales from local breweries like Gritty McDuff's and Northeastern suds from Long Trail and Southern Tier. While its 69 taps offer beer from around the world, the majority of what's poured comes from the bar's backyard: Settle in with a fresh grilled tuna steak, tip back a pint of Sheepscot Boothbay Special Bitter on cask, and be part of brewing history. 540 Forrest Ave., greatlostbear.com (serves food)
THE GREY LODGE PUB

Philadelphia
Here, you don't have to decide between a quiet night of beer and conversation or a slightly rowdier evening. Sling back pints of Victory Yakima Twilight while working the scene at the downstairs bar, or venture to the more refined upstairs bar for cask-conditioned Sly Fox O'Reilly's Stout and local art on display. 6235 Frankford Ave., greylodge.com (serves food)
MAX'S TAPHOUSE

Baltimore
With affordable happy hours and a Tuesday beer social where patrons sip rarities with resident brew expert Casey Hard, Max's is a beer lover's place to be. Of course, it also stocks a whopping 1,000 bottles, 102 taps and five casks, so even if the conversation's lagging, there's no shortage of suds to occupy your tongue. 737 S. Broadway, maxs.com (serves food, 400+ beers)
MEMPHIS TAPROOM

Philadelphia
Run by beer collectors, you're just as likely to find a 1999 Rochefort 10 in the cellar as you are Sierra Nevada on tap. Ten taps, one beer engine and a few dozen fresh bottles are at the ready for those wary of aged beer, but only the uninitiated would gloss over the 25 bottles from the cellar. 2331 E. Cumberland St., memphistaproom.com (serves food)
THE MOAN AND DOVE

Amherst, Mass.
The Moan and Dove merges a laid-back college atmosphere with craft beer sophistication. On tap, seasonal offerings from Stone, Flanders browns like Ommegang Zuur and casked Schlenkerla Rauchbier push this beer list beyond most ivory tower watering holes, while 200 bottles add to the splendor. Splurge on rarities like De La Senne Taras Boulba, or go cheap with the bar's Nostalgia Series, which includes PBR and Narragansett for $2.50. 460 West St., moananddove.com
MONK'S CAFE

Philadelphia
Easily one of the best places in the nation to score rare Belgians (think Kasteel Cuvée du Chateau on tap), Monk's splits its excellent draft selection between two bars. Browse its beer bible as you decide which brew pairs best with pommes frites, or just stick with the award-winning house beer, Monk's Café Flemish Sour Ale. 264 S. 16th St., monkscafe.com(serves food, pours house beer)
NOVARE RES

Portland, Maine
Inspired by the world's best beer regions, this bar is equal parts British pub, German biergarten and Belgian café. Opt for some local flavor from the 25 taps like Marshall Wharf Snow Cone, or hop over to Belgium with a pint of De Glazen Toren Cuvée Angélique. Three hundred more bottles add to the international motif, and a meat and cheese bar provides pairing options. 4 Canal Plaza, novareresbiercafe.com (serves food, new to our list)
THE PUBLICK HOUSE

Brookline, Mass.
With options like Mikkeller's Yeast Series and local favorites like Pretty Things Jack D'Or, it's not hard to figure out why Boston Magazine awarded this bar the best beer list in its annual "Best Of" issue. Roughly 35 taps and 170 bottles hail from all over, but if you're thirsting for Belgians, The Monk's Cell, an area dedicated to saisons, sours and Trappist beers, has you covered. 1648 Beacon St., eatgoodfooddrinkbetterbeer.com (serves food)
THE QUARRY HOUSE TAVERN

Silver Spring, Md.
With more than three pages of its menu focused on Belgians and the rest covering just about any beer style imaginable, the subterranean Quarry House is a go-to spot for hipsters, suits and beer hobbyists who navigate the 100-plus beers as carefully as they do the packed room. Muscle through the Pepperjack Pico de Gallo burger before diving into regionals such as Heavy Seas Loose Cannon and Flying Dog Doggie Style. 8401 Georgia Ave., quarryhousetavern.com (serves food)
RATTLE 'N' HUM
New York City
From brewery takeovers of nearly all 40 taps to special releases and meet-the-brewer nights, Rattle 'N' Hum is a sizable, wood-dressed hotspot in midtown. Go beyond the rotating taps with three cask-conditioned beers (think Victory Yakima Glory) stationed at a separate bar, and another 100 or so bottles in the cooler. 14 E. 33rd St., rattlenhumbarnyc.com (serves food)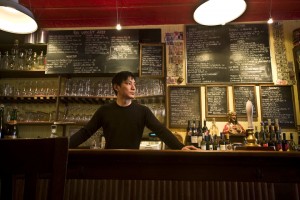 SPUYTEN DUYVIL

Brooklyn, N.Y.
This cool Williamsburg haunt gives the hipster PBR trend no love on its selective but remarkable taps. Dive into the broad lineup from Belgium's Cantillon, or stay stateside with Green Flash Palate Wrecker on cask. 359 Metropolitan Ave., spuytenduyvilnyc.com (serves food)
SUNSET GRILL & TAP

Allston, Mass.
With 350 bottles and 120 taps plastering this spacious wrap-around bar, it's easy to get lost in Sunset's selection. But since this bar's settled in the cross section of Boston's many colleges, there's no beer snobbery; order a 60-ounce pitcher of local Mayflower IPA, and you might just get invited to a house party. 130 Brighton Ave., allstonsfinest.com (serves food, 400+ beers)
THREE PENNY TAPROOM

Montpelier, Vt.
The Boston Globe calls this cozy place a craft beer mecca, but we like to think of it as just a neighborhood bar we'd kill to have around. Three Penny provides a near-perfect selection on its 22 taps: Local beers like Hill Farmstead Edward pour alongside Hitachino Nest Nipponia, while roughly 60 bottles like J.W. Lees Moonraker extend the well-thought portfolio. Fill your stomach with gazpacho and charcuterie while you tip back beers. 108 Main St., threepennytaproom.com (serves food, new to our list)
TRIA
Philadelphia
Though it's billed as a wine, cheese and beer café, Tria's dedication to suds is clear: At Sunday School events, attendees discuss flavor profiles and pairings; writer Lew Bryson teaches about local brew; and the off-premise Tria Fermentation School brings in vintners, cheese makers and brewers to explain their craft. The buzzing Rittenhouse Square spot rotates 30 thoughtful selections like Hof Ten Dormaal Blond and Tröegs HopBack Amber Ale. 123 S. 18th St., triacafe.com (serves food)
UNION JACK'S INN ON THE MANATAWNY

Oley, Pa.
This charming, British-style rural retreat is light years away from the bustling city, but its beer selection rivals any from nearby metropolises. Whether you're here for the barrel-aged festival or stumbled across the farmhouse on a country drive, prepare to be engulfed in beer: 17 taps are backed by 250 bottles, including West Coast rarities like Hair of the Dog Fred from the Wood and four Russian River beers. 546 Manatawny Rd., unionjacksmanatawny.com (serves food)
AVENUE PUB

New Orleans
Only in New Orleans will you find a beer bar open 24/7. The staff is militant about clean beer lines and proper glassware, so even when you stumble in at 4 a.m. you get the best pint in the city. Choose from more than 47 rotating taps and about as many bottles, all focusing on American beer. Go for an exhaustive introduction to local NOLA Brewing or to people-watch from the balcony. 1732 St. Charles Ave., avenuepub.com (serves food, new to our list)
BRICK STORE PUB

Decatur, Ga.
Since 1997, this Atlanta-area stalwart  has educated and entertained with its eclectic selection of brews. With two bars, this place covers all the bases: New offerings like 21st Amendment Hop Crisis pour alongside craft classics at the main bar, while patrons at the cozy Belgian counter sip on the likes of De Ranke Saison De Dottignies. Browse the more than 200 bottles, and there's nothing you can't find. 125 E. Court Sq., brickstorepub.com (serves food)
BUSY BEE CAFE

Raleigh, N.C.
The Busy Bee is one of the brighter spots in Raleigh's electric beer community. Its exposed brick walls and rafters create an urban draw, but it's the beer that really fills the seats. Nearly 80 bottles, including highly sought-after brands like Mikkeller Beer Geek Breakfast and Cascade The Vine, fill the fridges, while 14 taps round out the upstairs and downstairs bars. 225 S. Wilmington St., busybeeraleigh.com (serves food)
COOTER BROWN'S TAVERN & OYSTER BAR

New Orleans
Part beer bar, part sports bar and part oyster paradise, this place balances multiple identities while maintaining dedication to good brew. Choose from more than 400 worldly beers like Croatia's Karlsbeer and Jamaica's Dragon Stout, or stay local with a broad spectrum of Abita suds—and don't forget to snap a picture with your favorite deceased celeb in the bar's Celebrity Hall Of Foam and Beersoleum. 509 S. Carrollton Ave., cooterbrowns.com (serves food, 400+ beers)
DUNEDIN HOUSE OF BEER

Dunedin, Fla.
This neighborhood pub owned by two avid homebrewers draws beer geeks from a much larger radius. With no food or liquor to distract you, delve into the ever-changing 40 drafts that go from Dogfish Head Chateau Jihau to Cigar City Humidor IPA. Feel free to wax poetic about your favorites with strangers; this place draws the diehards. 927 A Broadway; dunedinhob.com (new to our list)
GROWLERS POURHOUSE

Charlotte, N.C.
Barely a year old, Growlers has stolen the heart of Charlotte beer lovers and simultaneously taught non-geeks the way of beer. A dozen taps and one rotating cask pours suds from as far as Coronado Island, while new educational events school the masses. House-stuffed sausages eclipse the rest of a scrumptious beer-food menu and well-edited, rotating oyster bar. 3120 N. Davidson St., growlerspourhouse.com (serves food, new to our list)
THE J. CLYDE HOT ROCK TAVERN AND ALEHOUSE

Birmingham, Ala.
Not only does the J. Clyde pour more than 250 beers, it's the state's only source for cask ale. Peruse the BJCP-categorized beer list and explore brews from AleWerks of Williamsburg, Va., to Hanssens of Dworp, Belgium, then fill up on fried green tomatoes and beer-poached Bavarian sausage. 1312 Cobb Ln., jclyde.com (serves food)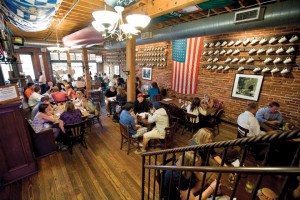 JAMES E. MCNELLIE'S PUBLIC HOUSE

Tulsa, Okla.
A good-natured crowd of beer experts, total novices, families and couples congregate around 350-plus beers at this loosely Irish-themed Tulsa staple. The beer list, organized by country, won't surprise the biggest geeks, but among the best-of Belgians and standard American crafts lie old favorites worth revisiting (Dixie Blackened Voodoo) and a few unfamiliar faces (Choc Pietro Piegari). The newly opened, attached Sidebar hosts special events and pumps a cask. 409 E. 1st St., mcnellies.com (serves food, pours house beer)
KEG AND BARREL

Hattiesburg, Miss.
Keg and Barrel is Mississippi's only brewpub, though its original operation, furtively stowed in the basement next door, wasn't exactly legal. Today, the bar usually has two house beers that complement one of the finest beer selections in the region: 55 taps pour a complete lineup of home-state Lazy Magnolia brews alongside other craft selections from breweries like Flying Dog and Abita. Mississippi puts the kibosh on higher-ABV brews, but this place admirably does its best to keep craft flowing into Hattiesburg. 1315 Hardy St., kegandbarrel.com (serves food, pours house beer)
THE NOOK

Huntsville, Ala.
It's safe to say the Huntsville beer revolution of 2010 wouldn't have happened without this affable pub, which helped launch three area breweries via its 40-plus taps. Three hundred beers in all unite in one of the country's most eclectic lists: Domestic crafts from Williamsburg AleWerks and Good People compete with European brews from Brouwerij Van Eecke and Sinebrychoff. Go on Tuesdays for a German-themed dinner. 3305 Bob Wallace Ave. S.W., thenooktavern.com (serves food, sells beer to go, new to our list)
OLDSMAR TAP HOUSE

Oldsmar, Fla.
Look to the precariously hung chalkboard for an update of what to drink at this friendly bar: The ever-changing selection of 43 taps covers all the bases—an eisbock from Fort Collins Brewery, a dry stout from local Dunedin Brewing—and around 40 bottles present fine back-up plans. Beer bloggers and online reviewers are encouraged to tap into the free Wi-Fi to swap notes. 300 State St., E #107, oldsmartaphouse.com (serves food, sells beer to go)
THE PORTER BEER BAR

Atlanta
With 430 beers, The Porter could quite easily get snobby, but this smart-staffed pub keeps things light. What's weighty are the 29 taps: Many rank above 8% ABV, with monsters like the local Wild Heaven Ode to Mercy. The food menu (starring signature hushpuppies and shrimp and grits) makes sense of the brew horde with thoughtful pairing suggestions. 1156 Euclid Ave., theporterbeerbar.com (serves food, 400+ beers, new to our list)
THE RALEIGH TIMES BAR

Raleigh, N.C.
Situated in the now-defunct Raleigh Times newspaper headquarters, this bar is Raleigh's Belgian hub. Set your sights on beers like Great Divide Samurai Rice Ale and as many as 100 Belgian bottles from Vichtenaar Oud Red to Troubadour Obscura that pair exquisitely with down-home chow like beer-steamed pastrami on rye. Classy yet casual, this versatile spot's an easy choice for a first date or just your average beer session. 14 E. Hargett St., raleightimesbar.com (serves food)
THE RED LIGHT, RED LIGHT

Orlando, Fla.
Amid everything touristy in Orlando is this cash-only dive that's a beer vacation in itself. Two beer engines, 24 taps and 130 bottles lean heavy on American brew (though you won't spot a single tap that's even remotely macro), with the remainder dedicated to Belgians. Rarities abound, but gems like Fraoch 20th Anniversary Ale don't stick around long. 745 Bennett Rd., myspace.com/theredlightredlight
SERGIO'S WORLD BEERS

Louisville, Ky.
If you can't find a beer you love at divey Sergio's, you don't love beer. With one of the nation's biggest beer menus—1,100 beers and counting!—the rotating selection's simply dizzying: Specialties like Goose Island Fulton Wood Series Bourbon Imperial Brown plus the option to reserve beers in advance will tempt you to spend your entire wad on bottles and growlers. Still, the tight-knit group of regulars would rather you stay awhile and talk shop. 1605 Story Ave., sergiosworldbeers.com (serves food, 400+ beers, sells beer to go)
THIRSTY MONK'S PUB

Asheville, N.C.
Asheville is America's beer darling, and Thirsty Monk is just one of the places that's keeping the hype alive. This two-story brick building downtown serves up about 200 bottles and 30 taps; the 40 downstairs cascade mostly Belgian-style brews, while the 16 taps upstairs play favorites to American craft. 92 Patton Ave., monkpub.com (serves food, new to our list)
TRAPPEZE PUB

Athens, Ga.
This cozy gourmet beer bar shills 30-plus taps and more than 200 bottles with impressive menu notes. Take, for example, this ditty about Bell's Special Double Sweet Stout: "Dark roasted malts collide with milky creaminess and results in this delicious sweet stout. Hints of chocolate and coffee woven in. No rough edges. Tasty." Drink in the poetry and the beer, but don't forget to eat: The food's delightfully beer-laden with options like Unibroue-marinated barbecue. 269 N. Hull St., Ste. 6, trappezepub.com (serves food, new to our list)
TYLER'S TAPROOM & RESTAURANT

Carrboro, N.C.
Though Tyler's boasts three locations throughout the Raleigh-Durham triangle, the Carrboro spot has a little bit of everything: casual dining, a laid-back bar, an adjacent bottle shop and a late-night speakeasy. Sip on regional offerings from Foothills and Big Boss before discovering the new, rare taps from northern breweries like Brooklyn. An entire evening could easily pass you by here: Eat dinner, drink at the bar, dance at the nightclub and pick up a few bombers for later. 102 E. Main St., tylerstaproom.com (serves food, sells beer to go)
ASHLEY'S
Ann Arbor, Mich.
Planted near the Michigan campus, Ashley's is higher education in beer. Its 72 taps and three casks pour some stunners; in fact, Bell's Brewery crafted a cask especially for the bar that was the first carnation of Two Hearted Ale. Other Michigan great sit alongside wet-hopped brews, Belgians and classic pub fare. 338 S. State St., ashleys.com (serves food, new to our list)
THE BEER TRAPPE

Lexington, Ky.
Though it just launched last spring, The Beer Trappe has conquered Lexington's beer scene with its obscene selection. Eight taps pour accessible crafts like Schlafly Coffee Stout and Sierra Nevada Estate, available in pints, flights and growlers to go. More than 400 bottles hail from Greece (Mythos Red), New Zealand (Epic Armageddon IPA) and beyond. Take your favorites home, or sink into a leather chair and sip among the friendly clientele. 811 Euclid Ave., thebeertrappe.com (400+ beers, sells beer to go, new to our list)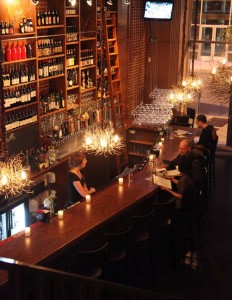 BRIDGE
St. Louis
Bridge quickly claimed STL's biggest tap selection with 57 spouts fronting another 200-plus bottles when it opened last year; it also boasts a menu of goodies like Chai spice and wasabi-ginger popcorn. Unusual, constantly rotating tap selections focus on home-state suds—think O'Fallon Smoke and Cathedral Square Belgian White. The bottles lean toward mid-sized craft breweries like Unibroue and North Coast, with thoughtful cameos from far-away breweries. 1004 Locust St., thebridgestl.com (serves food, sells beer to go)
BUCKEYE BEER ENGINE

Lakewood, Ohio
The casual drinker's answer to Ohio's beer-snob bars, Buckeye's where commoners go to sip Montegioco Draco barleywine and Hitachino Ancient Nipponia golden ale. Almost 30 taps rotate seasonals, Buckeye house brews and lesser-known options from well-known breweries, while two beer engines pour real-ale specialties. Order a burger and a Buckeye Alt, settle in with a football game and revel in the non-nerdiness of it all. 15315 Madison Ave., buckeyebeerengine.com (serves food, pours house beer)
CRESCENT MOON

Omaha, Neb.
Blink and you'll miss a keg tapping, beer special or one-off suds event somewhere on Beer Corner U.S.A., the little Nebraska cranny comprising craft beer bar Crescent Moon, German beer hall Huber Haus, Belgian pub Max & Joe's and bottle shop Beertopia. The selection at all four sister spots is earth-shattering, but Crescent Moon's list of craft mainstays and local drafts from Empyrian and Lucky Bucket is the group's star. 3578 Farnam, beercornerusa.com (serves food, 400+ beers, sells beer to go)
DILLY CAFE

Mariemont, Ohio
If there's one man who can talk a beer geek into a glass of wine, it's Peanut, the bearded brew-vino god at this Cincinnati spot. But if you must pooh-pooh the 1,000 wines, 500 beers await: A smart draft list highlights Ohio (River Town Hop Baron Doubledown IPA) and Europe (Wychwood Hobgoblin), while a cask and bottles hit everywhere else. 6818 Wooster Pike, dillycafe.com (serves food, 400+ beers, sells beer to go, new to our list)
EL BAIT SHOP

Des Moines, Iowa
A day at El Bait Shop goes something like this: Park your bike out front, rinse off in the bar's shower, ogle the taxidermy, munch off the Mexican menu, and sip on a Peace Tree Hop Wrangler IPA. The 175 beers are as delightfully hodgepodge as the bar itself, with refreshers for cyclists (John's White Ale), burlier brews (Hub City Midnight Express Imperial Stout) and "crappy beers" that go for $1.25 on Thursdays. 200 S.W. 2nd St., elbaitshop.com (serves food, sells beer to go)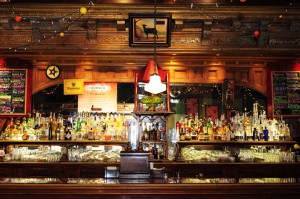 FIRKIN
Libertyville, Ill.
Firkin might stand outside Chicago's city line, but its beer selection's anything but suburban. Beer program curator Dave Domrese thoughtfully edits 55 bottles and 30 taps to include craft adventures (Southern Tier Gemini blended IPA), local favorites (Half Acre Over Ale) and a few quirks (Napa Smith Organic IPA). An elevated menu of wagyu beef burgers, baked escargot and chicken liver mousse provide some excellent lessons in pairing. 515 N. Milwaukee Ave., firkinoflibertyville.com (serves food)
THE FOUNDRY AT MCCOY'S

Kansas City, Mo.
Mid-century cool and yet totally beer-nerdy at the same time, The Foundry marries 200-plus beers with pot roast sliders and IPA-tempura-fried pickles in a casually hip, urban space. Beers like Lagunitas Lucky 13 share the taps with a handful of brewmaster Keith Thompson's house beers, which get top billing in beer cocktails like the Jim Dandy (McCoy's Ginger Shandy and an IPA). Check the reserve list for rare bottles. 424 Westport Rd., foundrykc.com (serves food, pours house beer, sells beer to go)
THE HAPPY GNOME

St. Paul, Minn.
The vine-covered Gnome boasts all the friendliness you'd expect from Minnesota and none of the snark that typifies beer geek meccas. The neighborhood crowd sips from the whopping 70 taps and 400 bottles like they're no big thing. But the beer is a big deal: The exotic menu touts everything from the rare Bøgedal #101 ale to vintage barleywines to gluten-free Belgians. Crowd around the fireplace in winter; come summer, head onto the patio for live jazz. 498 Selby Ave., thehappygnome.com (serves food, 400+ beers)
HEOROT
Muncie, Ind.
Dark and dingy in all the right ways, Heorot's a medieval beer empire in the heart of the Midwest, complete with a fire-breathing dragon nestled in the rafters. Thanks to a new Facebook page, the management regularly shares the rotating, dense collection of about 70 drafts and more than 300 bottles. On any given night, you'll see groups huddled around the long wooden benches sharing pitchers and parties of one begging the bartenders for a sneak peak at the basement cellar. 219 S.Walnut St., 765.287.0173 (serves food, sells beer to go)
HOPCAT
Grand Rapids, Mich.
This craft beer juggernaut burst onto Grand Rapids' beer scene in 2007 and hasn't slowed down since. It's still doing what it does best: pouring Michigan beers from 48 taps, 150 bottles and one cask; hosting regular beer classes; and cranking out solid pub food (the Crack Fries? A must.). But the bar's upped its game with an annual barrel-aged beer fest and impressive house beers like Kymerica Beer 2010, an imperial brown ale blended with Vander Mill Cider. 25 Ionia S.W., hopcat.com (serves food, pours house beer, sells beer to go)
HOPLEAF

Chicago
Scholarly lectures, beer dinners and killer mussels and frites complement the behemoth beer list at this Chicago institution. The bar urges experimentation—e.g., swapping your usual white wine for Chicagoland's Wild Blossom Meadery's Blanc de Fleur, blowing $45 on a bottle of Malheur Dark Brut Reserve or dropping a shot of Hum—a locally crafted rum-hibiscus-cardamom-ginger boost—into your Two Brothers French Country Ale. 5148 N. Clark St., hopleaf.com (serves food)
INTERNATIONAL TAP HOUSE

St. Louis
Housed in a historic brick building in the city's Soulard neighborhood, I-Tap's only theme is good beer, and lots of it—500 bottles and 44 taps, to be specific. The suds hail from both coasts (Cali's Moylan's, New York's Ommegang), nearby and abroad (Missouri's O'Fallon, Germany's Tucher), and patrons can work their way through the entire lineup at a discount when they join the bar's Passport World Beer Tour.  A smaller sister location in Chesterfield services the city's western 'burbs. 1711 S. 9th St., internationaltaphouse.com (400+ beers, sells beer to go, new to our list)
LA CAVE DU VIN

Cleveland
Ignore the vinous name: This basement wine spot's beer paradise. The regular lineup of a few hundred bottles and a handful of drafts is always spot-on, but La Cave du Vin's known among enthusiasts for special tappings and frequent brewery nights. Case in point: This winter, Jolly Pumpkin poured its limited-edition Baudelaire series, and Founders poured vintage Backwoods Bastard. The owner's rare beer collection on the shelves will leave you jaw-droppingly awestruck; fill your mouth with bites from the bar's cheese boards. 2785 Euclid Heights Blvd., lacaveduvin.com (serves food, sells beer to go)
LOCAL OPTION

Chicago
Local Option's gotten decidedly beer-heavier lately, pumping up its always solid selection with huge, how-the-heck-did-they-get-them collections of Mikkeller, Three Floyds and Bluegrass limited releases. Still, any average night is perfectly beery, with Dark Horse and Goose Island pints on hand to wash down hard-core po' boys and tater tots. 1102 W. Webster, localoptionchicago.com (serves food, pours house beer)
MALT HOUSE

Madison, Wis.
Helmed by a homebrewer, Malt House collects Madtown's most thorough beer menu on the city's east side. Naturally, the place is a treasure trove of Wisconsin's best brews; 18 taps and 150 bottles include suds from Ale Asylum, Tyranena and Sprecher, plus B. Nektar mead. Still, the place keeps your palate on its toes with Belgian drafts, bottles from across the country and more than 70 whiskeys available in flights. 2609 E. Washington Ave., malthousetavern.com (new to our list)
THE MAP ROOM

Chicago
A first name in beer bars the world over, the travel-themed Map Room continues to proselytize drinkers with nearly 300 consistently excellent offerings and programming for novices and pros. The bar truly teaches beer with regular classes hosted by Mickey Finn brewer Greg Browne, impromptu lessons from Cicerone-certified bar manager Jay Jankowski and Tuesday International Nights that take a cue from the National Geographic issues that line the walls. 1949 N. Hoyne Ave., maproom.com
MCNULTY'S BIER MARKT

Cleveland
Just because owner/beer wunderkind Sam McNulty opened Market Garden Brewery across the street this year doesn't mean he let this Cleveland institution slip. The beer menu (complete with tasting notes) boasts St. Bernardus Abt 12 on tap, but the young, cool crowd sips everything from Maredsous 10 to Miller Lite. Superfresh salads, antipasti and pizzas round out the offerings. 1948 W. 25th St., bier-markt.com (serves food, sells beer to go)
MONK'S HOUSE OF ALE REPUTE

Sioux Falls, S.D.
In the middle of Plains Country, this beer bastion is a godsend. Belgian brews comprise a good chunk of the 140-plus bottles, while 17 taps pour regional specialties like Flat Earth Winter Warlock. Travelers can take growlers to go, but a roaring fireplace and Sunday movies are excuses to stay all day. 420 E. 8th St., monkshouseofalerepute.com (serves food, sells beer to go)
THE MUDDY PIG

St. Paul, Minn.
Twin Cities beer nerds call this no-frills beer bar home, probably because it's the only spot for miles where a meal of cask ale, kielbasa and a giant Cuban sandwich is possible. Nearly 50 taps show an affinity for obscurities from locals Surly and Summit, while a Belgian-heavy bottle list hosts familiar faces like Westmalle Tripel and Gulden Draak. 162 N. Dale St., muddypig.com (serves food)
PALM TAVERN

Milwaukee
Barely noticeable from the street and darker than dim inside, Palm Tavern's a no-frills Belgian bar from the owners of the Sugar Maple. De Dochter van de Korenaar Embrasse Strong Ale and Bockor Cuvée de Jacobins Rouge share the taps and 200-plus bottles with Belgo-style brews from The Bruery and Jolly Pumpkin; intelligent bartenders help navigate the overwhelming stash. 2989 S. Kinnickinnic Ave., 414.744.0393
ROMAN'S PUB

Milwaukee
This gruff dive pours from 30 taps and a beer engine for a band of beer-loving regulars. The menu highlights greats such as Ale Asylum's Satisfaction Jacksin imperial IPA, and Roman's always-updated online list shows beers en route and in the cellar. The small beer garden out back's the perfect spot to smoke a stogie from the bar's humidor. 3475 S. Kinnickinnic Ave., romanspub.com
THE ROYAL MILE

Des Moines, Iowa
Here, beer lovers get two pubs in one: the lower-level British-inspired Royal Mile, and the upstairs Belgian bar Red Monk. Both floors offer beer lists that could easily stand alone; the Mile complements 85 Scotches with 28 taps and 120 bottles boasting U.K. brews like Wye Valley's Dorothy Goodbody's Wholesome Stout, while the Monk hosts 90 Belgians like Smisje Vuuve White Ale. 210 4th St., royalmilebar.com (serves food)
SHEFFIELD'S
Chicago
Sheffield's shuttered its River Grove offshoot last year, so the focus is back on the legendary beer bar's original Lakeview location. A slew of bottles, 38 taps and one beer engine feature American craft standards and local suds from Half Acre and Goose Island; many are available in pitchers. Nosh on brisket in the bar's Backroom BBQ restaurant, or pack your pals into Chicago's best beer garden. 3258 N. Sheffield Ave., sheffieldschicago.com (serves food)
THE SUGAR MAPLE

Milwaukee
This former Sikh temple's now a shrine to American craft beer, with Milwaukee's hipster crowd as its congregation. Sixty taps pour domestics only, and the selection' gone from Midwestern-heavy to nationally balanced—though you'll still find plenty of New Glarus, Lakefront and Furthermore on offer. Beer gets top billing here, though the soups play convincing backup. 441 E. Lincoln Ave., mysugarmaple.com (serves food)
APEX
Portland, Ore.
APEX slips a few coveted foreigners into its 49 taps, which are mostly an excellent introduction to local brews, especially IPAs such as Laurelwood Hop Pickin' Ale. Stay close to the bar, and take notes from the flat-screen TV displaying real-time updates on what's pouring. 1216 S.E. Division St., apexbar.com (new to our list)
BAILEY'S TAP ROOM

Portland, Ore.
This brightly lit corner bar in downtown Portland straddles the fence between business and casual. Beer enthusiasts come for the 20 taps and nearly 100 bottles, focusing primarily on Oregon breweries. With its city street locale and window seating, this is the best place to people-watch while downing local beer. 213 S.W. Broadway, baileystaproom.com (serves food, sells beer to go)
BEER REVOLUTION

Oakland, Calif.
A dozen always-rotating taps are a killer mix of local faves and Belgian beauties, but if you don't find something you like, just turn to the wall of fridges filled with other great finds. There's ample seating, but the popularity of the place often leaves you waiting for a spot to put your pint. Go for Sweet and Sour Tuesdays, where you can get a flight of sour beers paired with chocolate. 464 3rd Street, beer-revolution.com (new to our list)
BELMONT STATION

Portland, Ore.
Belmont Station is where connoisseurs and newbies alike come for a calendar packed with meet-the-brewer nights to events like the recent Crazy Beer Week. If you go on an off night, you'll still find the likes of Mikkeller Monk's Brew pouring from the 20 taps, and 1,200 bottles in the adjacent store. 4500 S.E. Stark St., belmont-station.com (serves food, 400+ beers, sells beer to go)
BEVERIDGE PLACE PUB
Seattle
Beveridge Place (on a street by the same name) is jeans-and-a-game-of-pool casual, but there's nothing subdued about the 25 Northwest-leaning taps and globally inspired 150 bottles that span Avery 15 to Zoetzuur Flemish Ale. Kick back on a couch or step up the competition with turns at pool, darts and video games. This kitchenless bar boasts the best food selection in Seattle: a sizable book of delivery menus. 6413 California Ave. SW,  beveridgeplace.com
BLIND LADY ALE HOUSE

San Diego
This chill beer spot has settled right in to San Diego's epic beer scene. The commitment to fresh beer served properly and in the appropriate glassware shows in every one of this beer house's 26 taps, and the equally evident commitment to fresh food springs up on pizzas made with mostly organic and locally sourced ingredients. 3416 Adams Ave., blindladyalehouse.com (serves food)
CONCORDIA ALE HOUSE

Portland, Ore.
This spacious, dog-legged bar's 20 taps pour hard-to-find suds (for non-natives, at least) like Walking Man Knuckle Dragger, while roughly 150 bottles cover the best in global craft. Events like the Beer Brawl, where patrons blind-taste Oregon, Washington and California brews and select a champion, push the catch-all crowd beyond casual drinking. 3276 N.E. Killingsworth St., concordia-ale.com (serves food)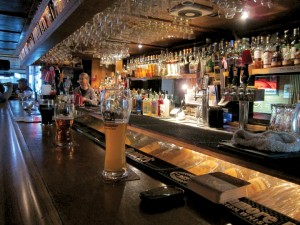 THE DAILY PINT

Santa Monica, Calif.
This low-key place is as divey as it gets in upscale Santa Monica. Shuffleboard and one of the city's most stellar Scotch lists are draws, but there's plenty of brew, too, and four beer engines pouring some of Cali's finest, like Firestone Walker unfiltered Double Barrel Ale. 2310 Pico Blvd., thedailypint.net
THE DRAUGHT HOUSE

Austin, Texas
Bring your dog, sit on the porch and draw out an afternoon like a drawl with any of the 70-plus taps that pour Texas stars and more, including a handful of house beers like Imperial Red. With take-home-the-glass nights, meet-the-brewer nights and Firkin Fridays, it's a real beer place for real beer enthusiasts. 4112 Medical Pkwy., draughthouse.com (serves food, pours house beer)
FALLING ROCK TAP HOUSE

Denver
Every brewer, homebrewer, beer writer, beer blogger and devoted beer geek converge on this Denver hotspot during the Great American Beer Festival for Falling Rock's 75-plus thoughtful taps. On any other given week, you'll find the regular crowd enjoying Tommyknocker Oaked Butt Head Bock and simple pub fare in this two-story Denver bar. 1919 Blake St., fallingrocktaphouse.com (serves food)
FATHER'S OFFICE

Santa Monica, Calif.
Though its newer L.A. sister location continues to gain steam, the small Santa Monica original remains elbow-to-elbow most nights, though Angelenos agree that the 36 topnotch taps are worth the wait. Wash down the Father's Office Burger, a local legend topped with Gruyère and blue cheeses, arugula and a bacon-onion reduction. 1018 Montana Ave., fathersoffice.com (serves food)
FREAKIN' FROG

Las Vegas
You won't find Barry Manilow here, but do look for Adam Carmer, the owner and UNLV lecturer who teaches beer and wine classes. Topping out at more than 1,000 bottles at its highest count, this understated haunt is Sin City-humongous with its crazy beer selection. Hoping for a "what happens in Vegas" kind of night? Delve into the 500-bottle whiskey selection. 4700 S. Maryland Pkwy., freakinfrog.com (serves food)
THE GREEN DRAGON

Portland, Ore.
Rogue Ales took this bar last year, but you'd never know it sitting inside this converted industrial space: 50 taps present local options from Lucky Lab to Silver Moon. When the bar opens its large garage doors, enjoy a cool breeze; if the weather's exceptional, take your beer out back to the picnic tables. 928 S.E. 9th Ave., pdxgreendragon.com (serves food)
HAMILTON'S TAVERN

San Diego
Smack-dab in the middle of a residential neighborhood, Hamilton's is filled with good beer spirit. The 27 taps wisely draw from SoCal's best, but a few (like Boon Oude Geuze Mariage Parfait) nod to other corners of the world. Come for Firkin Fridays and pair your cask brew with a Baja Dog from the adjacent café. 1521 30th St., hamiltonstavern.com (serves food)
HORSE BRASS PUB

Portland, Ore.
Phenomenal beer and proprietor Don Younger's zeal make this place one of the very best bars in the country. Inside the shadowy, wooden paneled bar, year-round Christmas lights show the way to the taps, a collection of 53 gems pouring locals from BridgePort and Terminal Gravity alongside regional guests. Tip back a pint of Younger's Special Bitter on cask alongside a plate of fish and chips, and you'll swear you're across the Pond. 4534 S.E. Belmont St., horsebrass.com (serves food)
HUMPY'S GREAT ALASKAN ALEHOUSE

Anchorage, Alaska
Humpy's boasts Alaska's largest tap selection, and a new location in Kona, Hawaii, claims the same on the Big Island. The formula of locally sourced seafood, a casual atmosphere, live music and taps from near and far works well at both spots, but nothing beats the original; cozy up in Anchorage with the pub's signature king crab legs and a Midnight Sun Arctic Rhino Coffee Porter. 610 W. 6th Ave., humpys.com (serves food)
LA TRAPPE CAFE

San Francisco
Descend into this cavernous Belgian bar with 19 beauties on tap and a few hundred more in the cellar. Sip on seasonals like Petrus Winter, or opt for rarer beers like Brigand Belgian Ale. Work through a plate of twice-cooked fries with mayo, then sift through the bar's beer book, loaded with style descriptions, history lessons and beery quotes. 800 Greenwich St., latrappecafe.com (serves food, 400+ beers)
NAKED CITY TAPHOUSE

Seattle
Though it's hard to turn down the likes of Port Townsend Nitro Scotch Ale on draft, the stars of this bar's 24 taps may just be the house-brewed concoctions, like the single-hop IPA series and its saison experiments. The menu's deliciously creative, with a PB&J slathered with house-made peanut butter and preserves. 8564 Greenwood Ave. N., nakedcitybrewing.com (pours house beer)
O'BRIEN'S AMERICAN PUB

San Diego
O'Brien's Web site tracks every brew it's ever poured; the list includes everything from Russian River Pliny the Elder to Mikkeller 1000 IBUs. Situated in a strip mall, O'Brien's is low-key, but it's one of the only places where local breweries like The Lost Abbey like to unveil their star creations; owner Tom Nickel matches them with other treasures from around the globe on the 20-plus taps. 4646 Convoy St., obrienspub.net (serves food)
PAPAGO BREWING COMPANY

Scottsdale, Ariz.
This is the place in Phoenix to meet up with the beer crowd. Thirty taps never steer you wrong, and the house beers like El Robusto Porter are must-tries. If you want to just grab some goodness to go, the fridges lining the wall brim with  brews from Brasserie de Silly in Belgium to The Lost Abbey in California. 7107 E. McDowell Rd., papagobrewing.com (serves food, pours house beer, sells beer to go)
THE RHINO

Missoula, Mont.
Drink all 50 taps here, and score a free "50 ways to love your liver" T-shirt; with the likes of Stone IPA and Rogue John John Dead Guy on draft, it's a tempting proposition. This lodgelike spot draws the beer geeks early: The best time to go is on a Tuesday afternoon and whet your whistle with $1.50 8-ounce samplers. 158 Ryman St., 406.721.6061 (new to our list)
SARAVEZA
Portland, Ore.
This Portland bar's a little slice of the Midwest. Vintage Green Bay Packers swag and weathered macro ads adorn the walls, while 10 rotating taps and 200 bottles pour everything from Duchesse de Bourgogne Flemish Red Ale to Barley Brown's Turmoil. Line your stomach with Saraveza's pasties; we like the veggie-loaded Potater. 1004 N. Killingsworth St., saraveza.com (serves food, sells beer to go, new to our list)
STUMBLING MONK

Seattle
If you blink, you might miss this wee corner bar. Behind its Old World wooden door, there's a wealth of beer—20 taps and 50 bottles—including the finest selection of Belgians in the city. The place isn't pretentious; it's just a subdued hideaway with stunning brews. 1635 E. Olive Way, 206.860.0916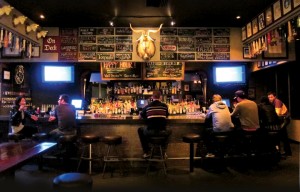 THE SURLY GOAT

Hollywood, Calif.
This small, hip spot is never the same place twice: That's why the daily beer selections are written in chalk over the bar on either side of a stuffed goat's head.  This place is much-loved by locals for being a cool, dim beer haunt with killer brews rolling through on a regular basis; the staff's beer-knowledgeable and willing to help you find brews to suit your palate. 7929 Santa Monica Blvd., surlygoat.com (new to our list)
TASTE OF TOPS

Tempe, Ariz.
A cozy add-on to Tempe's most prolific bottle shop, this 10-seater bar boasts  a warm staff and an outstanding selection: Draw from a handful of taps that always pour worthy West Coast craft, or wander the aisles chock-full of every beer you can imagine. 403 W. University Dr., topsliquors.com (400+ beers, sells beer to go)
TONY'S DARTS AWAY

Burbank, Calif.
This pub is unmistakably SoCal: All 38 taps are Cali beers, and most of the food is locally sourced. Hopheads will appreciate the beer menu's two categories: IPA and non-IPA. Bottle- and can-free, Tony's puts as much emphasis on fine food and beer as it does on being green. 1710 W. Magnolia Blvd., tonysda.com (serves food, new to our list)
TORONADO
San Francisco
Toronado's half-door on Haight Street has been called the gate to beer heaven. Though approachably scuzzy, this place is for those who want to experience high-entry-point brews, like Het Anker's Luficer or Russian River's Damnation, among passionate, no-B.S. beer people. 547 Haight St., toronado.com
THE TRAPPIST

Oakland, Calif.
This narrow-walled spot was once a shadowy speakeasy; today it's the sort of place anyone thirsty for Belgian beer must visit. With 25 taps that lean heavily toward the mother country (think Dupont Foret Organic Saison), there's barely a reason to dip into the 100 bottles. 460 8th St., thetrappist.com
ÜBER TAVERN

Seattle
This bar is pint-sized, but the selection's undoubtedly über. More than 20 taps hold their ground with big pours like The Lost Abbey's Old Viscosity, and the fridge is chock-full of American, English and Belgian craft. Bring a friend (and not a crew), warm up by the fire and feel free to quiz your server about what to try. 7517 Aurora Ave. N., uberbier.com (sells beer to go)
MORE: Beer-bar chains we love
Latest posts by Beer Master
(see all)