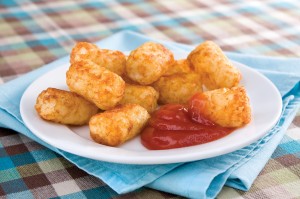 Whether you can quote "Napoleon Dynamite" by heart ("Napoleon, gimme some of your tots…") or just have an affinity for crunchy starches, you've got to admit that tater tots send the fried potato to new heights. A basket of fries looks about as boring as celery sticks in comparison to the tot's nooks and crannies, seemingly tailor-made for sopping up ketchup, cheese sauce or ranch dressing. Invented by Ore-Ida in the post-war, "let's use every last scrap" mentality of the early 1950s, the tater tot speedily worked its way into school cafeterias, burger joints and dive bars. In the new century, inventive cooks are taking the tot far beyond its simple, slightly bland origins with flavor pairings from foie gras to Gorgonzola. And if you can boil a potato, you can make your own tater tots with mix-ins from artisanal cheeses to fresh herbs to sauces. Following are four timeless tastes:
CLASSIC TATER TOTS
makes about 3 dozen
1 pound Russet potatoes
1/2 cup all-purpose flour
1/2 teaspoon kosher salt, plus additional
1 large egg, beaten
1/4 cup finely grated Pecorino Romano cheese
2 cups panko bread crumbs
• Peel the potatoes and cut into rough 1-inch cubes. Place in a large stockpot and add cold water to cover by at least an inch, along with a tablespoon of kosher salt. Bring to a boil and then simmer for 7 to 8 minutes or until the potatoes are tender but slightly undercooked; not soft enough to feather and disintegrate at the edges.
• Drain the potatoes into a large colander and rinse with cold water. Shake to dry thoroughly, return to the pan and mash coarsely with a potato masher to create large chunks (not mashed potatoes). Spread the potatoes on a baking sheet and refrigerate until slightly chilled.
• In a large bowl, mix the potatoes with the flour, egg, 1/2 teaspoon salt and cheese. Place the bread crumbs in a separate bowl. Roll small balls of the potato mixture between your palms to form the familiar cylindrical tater tot shape. Toss each potato cylinder in the panko to coat.
• To freeze the tots for future snacking, place the panko-lined tater tots on a waxed-paper-lined baking sheet and freeze flat for an hour before transferring to a sealed container or Ziploc bag. The tots can be fried directly from the freezer without thawing.
• To cook, heat an electric deep fryer or large, high-sided pot filled with at least two inches of vegetable or canola oil to 350. Deep-fry the tater tots for 2 to 3 minutes (5 minutes for frozen tots) or until golden. Transfer to a paper-towel-lined baking sheet to drain excess oil, and serve immediately.
3 NEW TATER TOT TASTES
Buffalo Tots: To the cooked potatoes, flour and egg, add 1/2 teaspoon garlic salt and 1 tablespoon Frank's Red Hot sauce, and replace the Pecorino with 1/2 cup loosely packed blue cheese. The pungent blue cheese matches well with a crisp, light-bodied brew like Keegan Ales' Old Capital or Oskar Blues Mama's Little Yella Pils.
Cheesy Chile Tots: To the cooked potatoes, flour and egg, add 3/4 teaspoon kosher salt, 2 ounces coarsely grated pepper jack cheese and 2 tablespoons diced green hot or mild chilies. A bold brown ale or lager with roasty undertones like a Blue Point Toasted Lager or Abita Amber complements the rich cheese and chilies' sweet heat.
Ranch Tots: To the cooked potatoes, flour and egg, add 1 teaspoon garlic salt, 1 tablespoon minced fresh chives, 2 tablespoons minced fresh dill, 1 tablespoon buttermilk powder and 1/4 teaspoon Worcestershire sauce. Pair with a floral India Pale Ale like Great Divide Titan or Lagunitas IPA to bring out the tots' delicate herbs.
Latest posts by Beer Master
(see all)