On Ko Kret, a swampy island of vines and banana flowers 15 miles upriver from downtown Bangkok, Wichit "Chit" Saiklao, 45, helms a brewer's paradise. His brewhouse, Chit Beer, both a homebrewing school and a refuge for beer lovers, sits between the twisting island footpath and the slow-going river.
On the day I visit, Chit (pronounced "sheet") is explaining malts to a table of laughing students while thirsty visitors drift onto his open veranda. Here, they can sip the rainbow from stouts to saisons in the deck's tropical sunlight. Pharrell Williams' "Happy" plays overhead. Motorboats buzz by on the water; bicycle bells ching outside.
Chit Beer's motto captures the place perfectly: "Oh, it's good chit." But if this brewhouse feels away from it all, that's because it has to be. For making and serving his own beer, Chit is branded an outlaw; his haven, a hideout. Despite a cosmopolitan reputation, Thailand has virtually squelched the global craft beer movement at its gates. Home brewing is forbidden, laws governing microbreweries are so strict as to be prohibitive, and imports are heavily taxed. As a result, most Thai have never even heard of craft beer, let alone tried it. Chit is determined to change that.
"People say, 'Why don't they change the laws?' No, no, no. The world doesn't work that way," Chit told me. "You need to fight it, do something, defy what people say you can't do."
In the span of three years, thousands of strangers from across Thailand have flocked to Ko Kret following rumors of a craft beer paradise. Even Patrick Murphy, the U.S. Embassy's high-ranking chargé d'affaires, celebrated his birthday at the illegal brewhouse.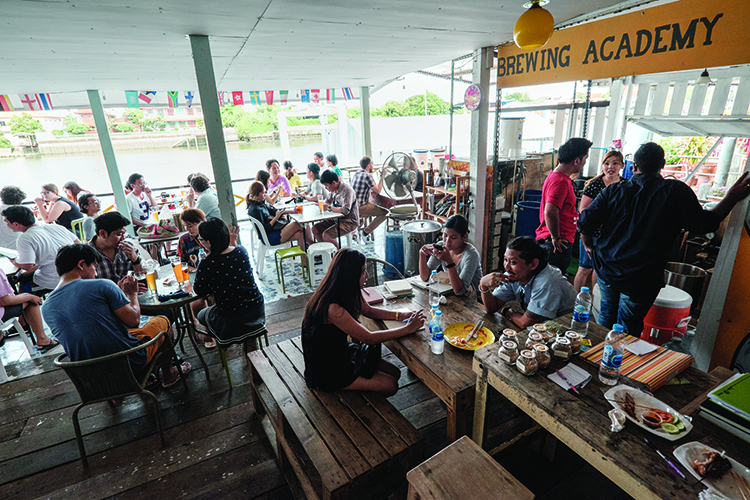 Meanwhile, Chit's brewing academy has spawned a months-long waiting list and is inspiring students to launch dozens of underground brands.
"We must create an army of homebrewers," Chit insists.
As it turns out, he knows a thing or two about armies. Though you'd never guess from his boyish haircut, beer T-shirt and flip-flops—or from the insurrection he's provoking—Chit Saiklao is a colonel in the Thai army. That military background hints at the distance he's journeyed, from a life of restricted opportunity to Chit Beer, where his imagination can run wild, and where the keen observer will notice a bitcoin machine, one of two in Thailand, standing in the corner.
For more than 80 years, "beer" in Thailand has meant one thing: lager. Thailand's first brewery, Boon Rawd, was established in 1933 after the founder was given formal sanction and a royal title from King Rama VII. The company's flagship lager, Singha, still boasts "by royal permission" on its label. Thaibev has since emerged as the only major competitor, offering the cheaper, boozier Chang. (Its aftereffect is aptly called a "Changover.") Completing the race to the bottom, Boon Rawd responded with its own, cheaper lager, Leo.
Together, these two conglomerates control more than 90 percent of the nation's beer market. They're also widely perceived as the dominant force keeping Thailand's strict 1950 Liquors Act in place. The law prohibits home brewing and plants two hurdles in front of aspiring brewpub owners: Produce 10 million baht ($280,000) in upfront capital, and produce 100,000 to 1 million liters yearly. (The production requirement alone would eliminate more than 60 percent of American microbreweries.) Distributing breweries must produce ten times that.
In stark contrast to this heavy-handed system, Chit leads an open source revolution.
"We used to talk about open and closed systems," says his friend Nampo Laprawit, who met Chit at an entrepreneurial tech event. "I believe in the Apple way. He believes in openness and sharing, rather than protectionism."
Every month, Chit hosts about 20 brewers to share their beer, explain their process and solicit feedback. If a brewer's beer passes the test, Chit invites him to sell at Chit Beer, where guest brewers supply about 20 percent of the beers on tap. The refrigerator behind the bar is plastered in brand stickers from brewers Chit has taught or inspired.
"They're like bees," he said. "Once I create students, they fly off in different directions."
Brewer diversity, like biodiversity, generates stunning variation. In their enthusiasm to pioneer a "Thai" taste, new brewers have spun local flavors into everything from a black bean bock to IPAs tinged with passion fruit, pineapple and forest honey. Krod Chukiatsiri plans to brew with longan fruit from his native Chiang Mai.
"If people go to Chiang Mai, they need to try my beer," Chukiatsiri told me midway through his first-ever brewing lesson.
That giddiness typifies the fledgling Thai craft scene. Brewers gather for regular "Beer Camps" and competitions held at a secret Bangkok warehouse. The Excise Department, which enforces federal alcohol laws, could at any time raid these gatherings—or the parties, festivals, concerts and restaurants where Thai brewers sell their beer. The maximum penalty for homebrewing is six months in jail and a 5,000 baht ($140) fine; double that for selling the beer.
Typically, though, the department prefers to simply respond to complaints, sending police—who are not immune to bribes—to make the house calls. Chit has been fined three times by police willing to cross the river. It's harassment enough to keep his operation in check.
"To win this war, we need to let the beer speak for itself," Chit said. "We will win when we have something unique, of high quality, and it touches the tongue of someone in power." Overthrowing the beer hegemony is Chit's second life mission. His first was to get out of Phatthalung.
Chit grew up in the poor southern province in a family of struggling rice and rubber tree farmers. His dad worked as a night janitor to make ends meet.
"I used to say to myself, 'I'm so unlucky to be born into this family. I want to change my family. I want to change everything.'"
His opportunity came at 17, when he took the national military exam. The only one in his class to earn a special military scholarship to study outside Thailand, Chit chose the United States, where he graduated at the top of his class at the Virginia Military Institute in 1995, and then earned a Ph.D. in electrical engineering at Georgia Tech. It was in Atlanta, while studying, selling buffalo wings at American Deli and sending money to his family, that Chit discovered homebrewing. Every weekend, a friend brought Chit to his apartment to try his beer. Chit was underwhelmed by the taste, but struck by the fact that normal people could brew.
When he returned to Thailand, Chit announced he would brew for his friends. He ordered a Mr. Beer Kit, but struggled to get the fermenter down to 68 degrees. He hauled sand, bricks and ice to his fifth-floor condo to create a special "cooling castle." Still, his first two batches came out flat and sweet.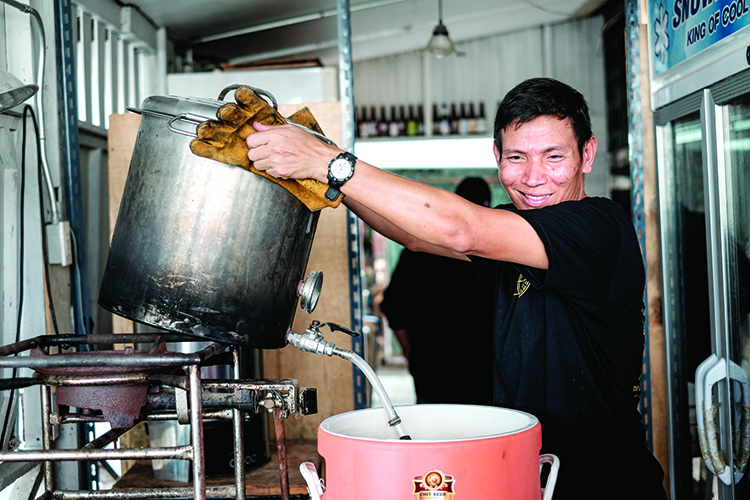 Chit gave up brewing until a year later, when a friend suggested he use his new house on Ko Kret to make beer. In December 2012, he tried the third and final brew set in his kit. This time, he realized the packets he'd been throwing away—silica gel, he'd figured—were yeast. Chit's first decent beer elated him: "The carbonation was all there, the bubbles looked nice. We're flying to the moon now. You think you're drinking beer in the Bavarian fields!"
Laprawit was among the half dozen friends who answered Chit's Facebook invite to boat to the island by night to try his first beer. Laprawit recalls his first impression of Chit's beer: "I thought, 'This is not clear. The color is dark. Should I drink this? Will I go to the hospital?' I had no idea what craft beer was. I kept comparing it with lager."
At first, trusting friends were Chit's sole guests. But as word spread and Chit's Facebook following grew, strangers started appearing on his Ko Kret doorstep. He lost about 240,000 baht ($6,800) that first year, sharing his beer with anyone who dropped by.
Eventually, friends begged him to start charging, and Chit's hobby rapidly morphed into a mission. Despite teaching electrical engineering at Chulachomklao Royal Military Academy and running two of three IT companies he's founded, Chit still pours himself into Chit Beer every weekend. "When I feel low on energy, I think about him," Laprawit said. "I feel the energy coming out of him."
That energy has always had purpose. Along the way, Chit has built his parents a house, put his siblings through college and hired them at his companies. Chit Beer's two full-time employees are his brother and brother-in-law.
"Nobody knows the confidence I have inside," Chit confided. "I know I'm an agent of change because I've changed a lot already. I've changed my family."
Brewer after brewer assured me the Thai craft scene is too small to provoke the full ire of the authorities. But the scene is exploding. When Chit started, he had to source ingredients from Idaho. Since then, a hop farm and six homebrew retailers have sprung up in Thailand to meet demand.
Tatchapol Visesrojana, who started the online store BangkokBrewer after discovering Thai craft beer at Chit Beer, knew of only a few Thai brewers in 2013.
"Now there are two new brands a month," he said. "I can't follow them all." Surely, the government's hand will soon be forced: either crack down or reform the laws. Some are not waiting to learn which. Panitan Tongsiri, a student of Chit's, quit his job to establish the "first Thai legal craft beer …" in Cambodia. He's shipping his Stone Head Beer, with its motto "Taste of Freedom," back to Thailand.
"We believe if we can serve [Thai people] good beer, they might start asking the right question: 'where is [sic] this come from?' 'why i never drink this kind of beer before?' 'why do they have import Thai beer?' If this happen then we can really hope for progress," Tongsiri wrote via email.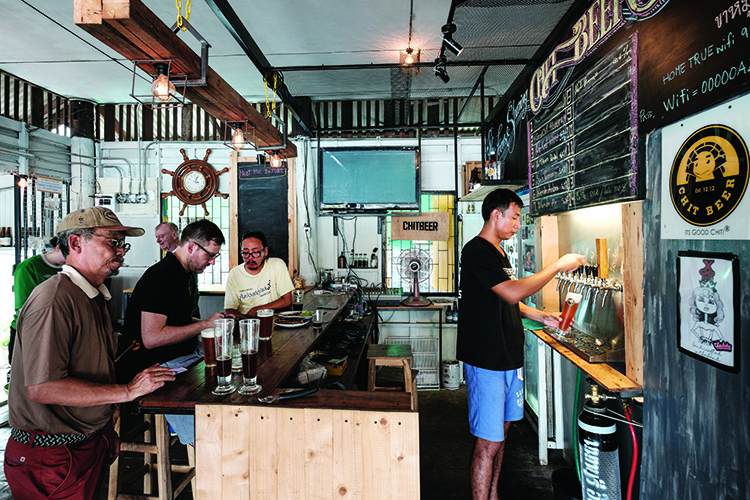 Chit, however, is making a home stand. His next move is a bold one: to bring the Thai homebrew movement into legal daylight. Last fall, Chit submitted an application to the Excise Department to open his own brewpub, the "Brewhouse of Friendship." The twist is that the brewpub will double as a maker's space where local brewers can use his equipment and sell their beer on-site. Though he expected a ruling by now, Chit's permits are still being processed. He's moving ahead with renovations anyway.
That blind optimism leaves many of his fellow brewers feeling skeptical. But Laprawit, who witnessed the movement's beginning firsthand, is a believer.
"Who is this man? I don't know. From earth or something else?" he says. "He's a hero." Chit casts himself more modestly: "I'm just a catalyst. I lower the bar so others can cross it."
Of course, as Chit himself discovered that fateful December day when he stopped throwing away his yeast, sometimes the catalyst is the essential ingredient.
Latest posts by Beer Master
(see all)