What is terroir, really, and can you find it in beer? Stan Hieronymus goes around the globe to see if where a beer is born makes a difference in the bottle.
In the fall of 1991, the monks at Abbaye Notre-Dame de Scourmont in the south of Belgium contracted with monks at the Dutch abbey Konigshoeven to brew Chimay Blanche because construction at their own brewery limited production. To ensure the beer tasted no different than the Blanche brewed at Chimay, workers filled tanker trucks with water that would be shipped to Konigshoeven.
Chimay already operated a thoroughly modern facility, with brewing engineers capable of manipulating the water, adding minerals, subtracting minerals—in theory, providing a formula to perfectly replicate Chimay's water in the Netherlands rather than hauling it more than 100 miles north. But it would not have been the same water, nor the same beer.
Trappists understand the importance of place. Sixteen monasteries in Europe belong to the International Trappist Association, and create a range of goods from soups to biscuits to honey to beer that consumers prefer because they are made within abbey walls.
Most brewing companies don't value the taste of a singular place quite as much, if at all. Anheuser-Busch famously strives to make sure Budweiser tastes the same from any of the dozen plants it operates in the United States. Other breweries treat their water so they can replicate character from famous brewing regions. These are often outstanding beers.
Brewers routinely learn how to take the taste of a particular place out of beer, but not all choose to. The French have long had a word that nicely defines how place can influence what we taste. That word is terroir, and despite many misconceptions, it encompasses more than wine and soil. "Grand Dictionnaire universel du XIXe siècle," Pierre Larousse's 19th-century French dictionary, defines terroir as "the earth considered from the point of view of agriculture." It describes le goût de terroir as "the flavor or odor of certain locales that are given to its products, particularly with wine."
Jimmy Mauric, brewmaster at the Spoetzl Brewery in Shiner, Texas, understands the concept. He lives on the homestead where he grew up, about a mile and a half from the brewery in which he now works. When the wind blows from the south and he's sitting on his front porch, he can smell fresh wort and explain why Shiner beers, probably the Bock, which accounts for more than five bottles sold in every six-pack, wouldn't taste the same brewed anywhere else.
"You can duplicate the water chemically, but it's like a seasoned pot: Most people have a favorite frying pan that just makes everything taste better," he says. "I don't think you could copy the flavor from our brewing kettles."
Brewing beer in a Texas town of 2,000 that was settled by German and Czech residents in the 19th century, Mauric doesn't use the word terroir. That's just as well. The term already generates controversy and confusion enough for wine drinkers. Amy Trubek does a better job than most of sorting out the role of culture and geography in "The Taste of Place: A Cultural Journey Into Terroir." In the process, she illustrates how a 21st-century desire for scientific explanations can co-exist with a 19th century concept that has landscape, and an agrarian life, at its center.
Agrarian doesn't necessarily mean simple. Yolande Noël, a French food scientist whose interests extend well beyond wine, told Trubek, "The best way to think about terroir is as a double helix; all the strands work up and around each other. Each aspect is necessary for the final result."
Little wonder that in his keynote speech at the 2006 Craft Brewers Conference, Dogfish Head Craft Brewery founder Sam Calagione questioned a wine-centric definition of terroir. "If you can't blind them with science, blind them with geography. Je parl francais en peu, and I'm pretty sure the translated definition of terroir is 'dirt'," he said. "The wine world has wrapped this one word with mighty voodoo powers and created a cult of exclusivity around it. Breweries have terroir as well. But instead of revolving around a patch of land, ours are centered on a group of people."
Trubek, in fact, points out that wine is a product of human intent and effort at every stage, a reality that not all terroirists acknowledge. In that sense, brewers are no different from vintners or chefs, and if there is to be what she calls a cusine de terroir, beer will be part of it. Making sure that beer continues to be brewed from traditional ingredients, rather than "downstream products" and adjuncts, has been central to the American beer revival. Thus Mark Davis, with whom she formerly worked at the New England Culinary Institute, adds a definition relative to all those focusing on renewed interest in local products, including beer. "Terroir is character," he says. "It is the triumph of diversity over homogeneity."
Quite obviously, beer is made from agricultural ingredients. Wyoming native Eric Toft, the brewmaster at Private Landbrauerei Schönram in Bavaria since 1997, has judged in a German national hop competition for four years. Panelists rate hops on aroma, appearance and other criteria, honoring the best of each variety. Toft sits with farmers and breeders who have been judging for 30 years. They may rub and sniff only a few hops and tell immediately which hop yard they come from, because they've been there. The variety doesn't matter, although most grow several. "They recognize the character of the place," Toft says.
There's a scientific explanation. John Henning, hop geneticist for the U.S. Department of Agriculture in Oregon, explained that environment and epigenetics can combine to make hops from a particular area unique. All plant species have methylated DNA, which causes some genes to be "switched on" more easily than others. Differences in soil, day length, temperatures, amount of rainfall and terrain all may influence the methylation process.
How that character expresses itself in a particular beer remains within the province of the brewer. That hop could be blended, then balanced against malt and fermentation character, becoming part of a greater whole. Or it could be showcased as the only hop in an appropriately named "single hop" beer, dominating the aroma and flavor.
Come fall, Oregon's Deschutes Brewery will release a relatively small batch of its Mirror Pond Pale Ale with what might be called retro Cascade hops. Deschutes brewmaster Larry Sidor thinks Cascades have changed, lost some of their herbal quality, since he first rubbed and smelled them 30 or so years ago. So he obtained some of the original rhizomes from the USDA in Corvallis, and Gayle Goschie propagated enough to plant an acre at Goschie Farms in the Willamette Valley.
When the hops are harvested, a crew from Deschutes will hurry them back fresh—or "wet"; unlike most hops, they will not be dried—through the Cascade Mountains to the Deschutes Brewery two and a half hours away in Bend. There's little doubt the resulting beer will taste of Oregon itself. This sort of choice perfectly echoes the final words of Trubek's book: "… the taste of place exists, as long as it matters."
The monks at Abbaye Notre-Dame d'Orval learned that in 1950. Famed brewing scientist Jean De Clerk advised them to scrub out the "beer stone," a calcium buildup that had accumulated in the lagering tanks over the course of more than a dozen years, because it might produce "wild flavors." Soon, customers complained that the goût d'Orval (taste of Orval) they knew had been lost.
Various stories have been told about what happened next. Perhaps brewery workers collected several wild yeast strains from the area surrounding the monastery, or maybe they isolated a single strain of Brettanomyces taken from a vintage bottle. Either way, for more than 50 years, brewers added Brett along with bags of hops for a secondary fermentation that lasted three weeks. Now the beer is not dosed with the distinctive yeast strain until it is bottled, but regular drinkers say the goût d'Orval has not changed.
That character developed over the course of more than a decade after Orval resumed brewing in 1932. Nick Arnzer, who opened Block 15 Restaurant & Brewery in Corvallis, Ore., understands that is why he must be patient. "We're two years into it, and we're infants," he said before heading down narrow stairs that lead to a labyrinth beneath the dining area of his pub.
Behind a door that's behind a piece of plywood, two rooms hold more than 50 wood barrels (more are on order), each with something wild going on inside. Across the United States, scores of brewers are working at something similar, but Arnzer is particularly earnest. He had a classic koelschip custom-built, designed so it would fit down those narrow stairs, likes ones in Belgium's famous Senne Valley (or Allagash Brewing in Maine). He pumps his wort into the wide flat vessel, where it is exposed to microflora that have developed in his wild rooms. He'll let the beer-to-be ferment spontaneously in barrels, and later perhaps blend it with other mixed fermentations before he has something ready to serve. He understands he must wait to discover what time and the brewery's environment give him.
"We are inviting what's around us to be in our beer," he says. "I think we want to get to the point where people say, 'Yeah, that comes from the Block 15 barrel program. There's something in there I know.'"
Don't call it terroir. Call it beer from a place. •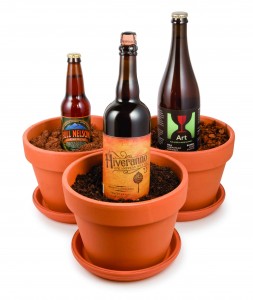 TASTE THE TERROIR: Sample these brews for a taste of local flavor.
Hops
Blue Mountain Full Nelson Pale Ale: Each year, Blue Mountain earmarks much of its homegrown hop harvest for Full Nelson, the brewery's year-round "Virginia pale ale." According to brewmaster Taylor Smack, the hops are
a Pacific Northwest variety, "but they're a little less citrusy and a little nuttier" due to Virginia's climate and soil conditions. The brew's unique hop character gave the beer its slogan: "Put a little authentic Virginia terroir in your mouth."
Yeast
Odell Hiveranno New American Wild Ale: This summer, Odell Brewing released Hiveranno New American Wild Ale, its third beer to incorporate its in-house Fester wild yeast strain, which the brewery captured in Colorado. According to brewmaster Joe Morhfeld, the local yeast strain "imparts beautiful grapefruit rind character with notes of tart tropical fruit."
Water
Hill Farmstead Art: At Shaun Hill's Vermont brewery Hill Farmstead, every beer's brewed with water sourced from the farm's well, created by his ancestors: "It's the same water the family's been drinking for centuries," says Hill. Unlike hard or chemically treated municipal water, Hill's reservoir offers a clean, soft profile that accentuates the malts, hops and yeast in each beer.
Latest posts by Beer Master
(see all)