Beer Bouquet DIY: How To Make a Gift That All Beer Lovers Will Enjoy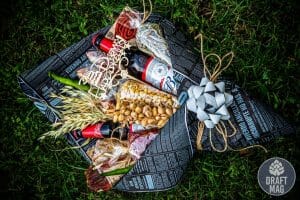 Beer bouquet DIY is a fun activity you can do over the weekend. If you are looking for gift ideas for your beer lover friends, this makes for an excellent gift. This is sure to be a crowd-pleaser, and even more so if you make it at home and add some sumptuous chocolates to go with it.
If you are looking for beer or alcohol bouquet ideas, read this complete guide for a fun and engaging process of making one.
How To Make a Beer Bouquet DIY
Making a DIY alcohol bouquet can be a daunting task if you do not know the right way to go about it, but getting all the right materials and starting the activity can be a lot of fun. To make a beer bouquet, you need a little more than just your favorite beer.
There are many ways to make a beautiful and fun gift bouquet, but here is the simplest way to help you get started. Take note that you can make many more improvisations on this simple guide. The more creative you get, the better!
– Get the Raw Materials
Here is a detailed list of all you need to make the epic bouquet at home. All of the things mentioned are readily available at any supermarket and will not burn a hole in your pocket.
A bouquet basket
Beer of your choice, preferably pint bottles, you can also use craft beer
Strong styrofoam blocks
Scissors
Wrapping paper
Glue
One acrylic color of your choice and paintbrush
Thin wooden skewers
Colored paper
Round chocolates of your choice, you can try Ferrero Rocher
Green leaves made of fiber or real leaves if you can find some
Colored ribbons
Colored pens and confetti for extra decor
– Buy the Beer of Your Choice
The first step in making a proper liquor bouquet is to buy the liquor or beer of your choice. But it would be smart to buy small-sized pint bottles because they will be easier to handle and easily fit inside your bouquet basket. You might also try buying beer bottles that have nice, quirky, and fun pictures on the outside label to help with the overall presentation of the bouquet.
If you do not find small pint bottles in the market, you can also use small cans of beer, which will also get the job done. Big beer bottles will also work in beer bouquets, but you should probably shift the whole process to a simple flower pot rather than a bouquet basket.
A flower pot will easily hold onto the additional weight of the bigger bottles. You can color the pot and it is good to go. You also don't need wooden skewer sticks to hold these bottles up on the styrofoam.
– Organize the Beer in the Basket
Organizing the bouquet is all about the size of your beers and your basket. You need to make sure the number of beers you get is enough to fit into your chosen basket.
Start by cutting your styrofoam blocks into usable pieces, then take your bouquet basket and place the foam blocks at the bottom of the basket.
Then take the wooden skewers and use glue to stick them to the beer bottles or cans. Make sure that the skewer does not show up from above the bottle's head, making the whole bouquet look quite unattractive.
Use the wooden skewer attached to beer bottles and put the sticks inside the styrofoam layer inside the basket.
Arrange them so that half of the beer's body is visible outside the basket.
If needed, you can add a thicker layer of styrofoam to the bottom of the basket to lift up the beers a little.
– Add Some Leaves to the Basket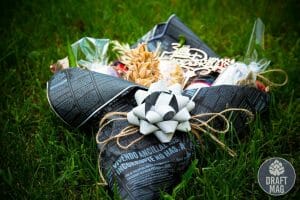 There is no liquor bouquet without some green elements. You can make some DIY leaves from tissue paper or green art paper. If this seems like too much of a task, you can buy origami leaves from the crafts store. Arrange them right beside the beer bottles or cans to bring a nice break in color.
However, do not add too many leaves or it will look crammed and not leave much space for other elements. Just make a thin layer and bed-like the structure of leaves over the styrofoam blocks. Adjust the beer bottles over it so that the leaves do not move out.
You can also add some glue at the back of each leaf and stick it to the foam to make it more durable. During this process, you also need to make sure that no foam is visible from any side.
– Make Some DIY Flowers With Chocolate and Paper
There is no better way to spruce up a beer bouquet than chocolate. You can make small roses or lily flowers with round chocolates as the centerpiece. The Ferrero Rocher is an excellent choice since the wrapper is golden and will make the whole package look attractive. It is also small enough to work as the bud of the flower.
Start by wrapping the whole Ferrero Rocher chocolate in a transparent plastic sheet, preferably cellophane paper.
Attach a wooden skewer below it with glue and wrap the cellophane around it. This will protect the chocolate from melting or getting damaged.
Then take a piece of red or light pink art paper or tissue paper if you want it to be more cost-effective. Wrap this colored paper around your wrapped chocolate. Do not make this wrapping perfect. Make it a little messy to give it a flower-like effect.
Now use the skewers attached to the chocolate and put these inside the styrofoam. Make sure these skewers are of similar height as the ones attached to the beer bottles to let the flowers show.
– Color the Bouquet Basket
When you are done arranging the beer, leaves, and flowers, you can choose a pastel shade of any acrylic paint, but make sure it matches the theme. Paint your beer basket with this color. You can also add some glitter to make certain portions shiny. You can also use glitter-based color to make the bouquet basket shiny and nice.
This step will work if you have chosen a wooden basket and not the cane ones with holes. Those cannot be painted. If you have the cane basket, you can skip this step and the bouquet will still look beautiful.
– Make a Flowing Ribbon to Hold It Together
No bouquet is complete without a bouquet to tie it. Choose a contrasting color for the ribbon, like a shiny silver or blue color. Make a nice bow out of this ribbon and tie it around the whole basket. You can even try double knots and side knots with the ribbon if you want to take the effort and make it more attractive.
If you have the time and patience, you can make some origami flowers and other decorative items to stick to the sides of the wrapped-up beer. If you find making DIY leaves or flowers too difficult and time-consuming, you can simply pick some real leaves from your plants and use them in the bouquet. But fair warning, these flowers will wilt much sooner than paper ones.
– Add the Last Finishing Touches to Wrap It Up
As the last step, you can add some colorful confetti or shredded paper cuttings to make the bouquet more festive and fun. You can also add a handwritten note or a gift card in the bouquet and place it between the beer bottles and chocolates.
If a handwritten card is too time-consuming to write, you can simply write the name of the receiver and best wishes right on the colored body of the bouquet basket and get the work done. If you are gifting this to a friend, you can also add a little joke or a fascinating beer trivia to the notecard to make it interesting.
When you ace the simple beer bouquet from this beer bouquet tutorial DIY process mentioned above, you can also add some other decoration elements. If you have the time, then the additional elements will make it an appropriate day gift for summer parties.
FAQs
– How Do You Gift Wrap a Beer Bottle?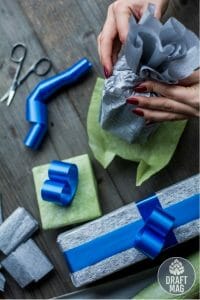 You can get decorative gift wrapping paper from the stationery and use it to wrap a beer bottle. Alternatively, you can also decorate a plain piece of paper with origami flowers, glitters or shiny colors. Let the colors dry before wrapping the beer bottles in them.
If you do not want to do so much of the craftwork, you can always buy some paper or real flowers from the market and use them to decorate the beer.
– How Do You Make an Alcoholic Bouquet?
To make an alcoholic bouquet, you just need to pick your favorite beer bottles and arrange them in a basket of your choice. You can also make some origami flowers or handmade decorative items to give your basket a more fancy look.
If you are planning to give this fun DIY beer gift to someone who does not consume alcohol, you can do the same process with your choice of non-alcoholic drinks such as soft drinks, root beer, or juices.
Endnote
You are now ready to make your own beer bouquet with our step-by-step easy DIY tutorial. Here is a quick recap to help you wrap your head around the process one last time before you start:
A beer bouquet is essentially just like a flower bouquet but it is made with beer bottles or cans. You can add other handmade flowers and leaves to make it fun.
You can hand-cut leaves from tissue paper or art paper to decorate the bouquet. Or you can simply choose to get some fresh leaves right from your garden, whichever works for you.
You can also use your own flowers to decorate the bouquet. You can use round chocolates as the centerpiece of these flowers, which are very easy to make. You can also buy them from the store, but that would not be as fun as making them.
You can color your bouquet basket with a shiny color to make the basket stand out among other gifts and you can also write the receiver's name on the side of the basket.
You can also add a gift card, a note, and some colorful fun confetti to amp up the whole bouquet basket and make it more attractive.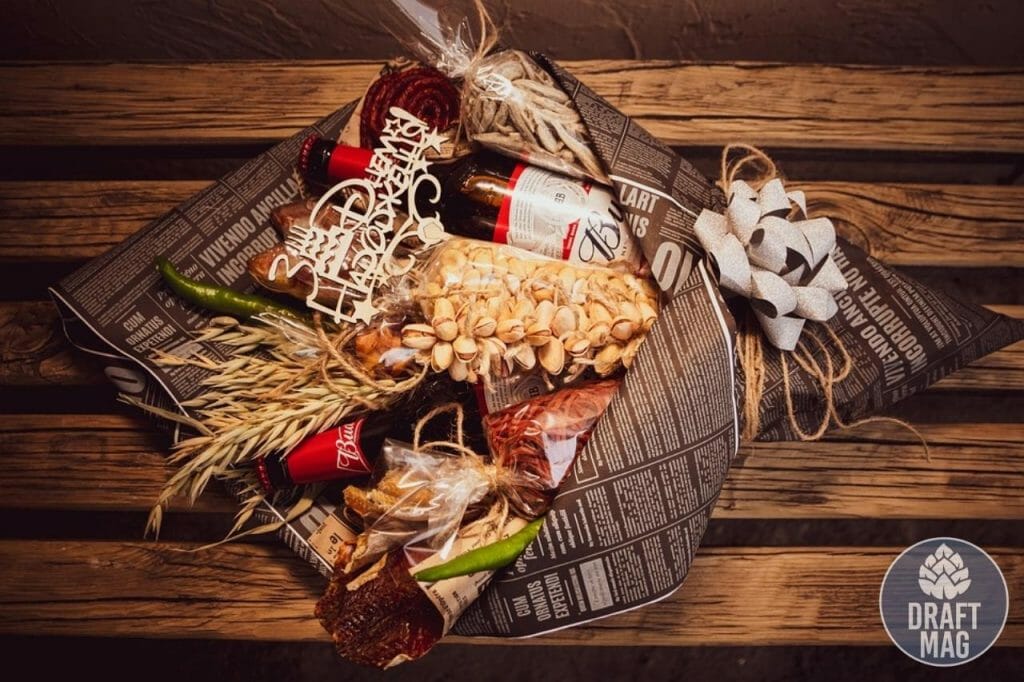 Now that you know how fun it is to do a beer bouquet DIY you can try it out at the next party and gift it to a friend or family member who loves to enjoy their beer. This is a perfect gift option for summer parties and birthday invitations, so make use of this guide and give it a try!