Sam Adams Cold Snap Review: Refreshment With Snap of Spring Spices
Sam Adams Cold Snap is a Belgian-style, unfiltered white ale that is often termed a spring beer. It features an exotic blend of spices, florals, and ten fruits, and this wheat beer/witbier is known for its smoothness and excellent drinkability.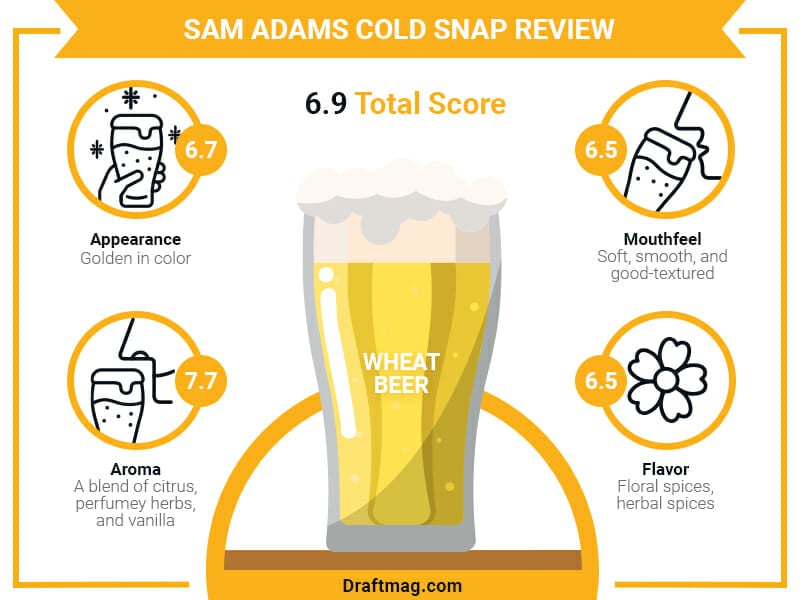 The list of reasons to fall in love with this iconic beer is endless, and it is the top choice of numerous beer drinkers, whether they are beginners or seasoned enthusiasts. Read this complete guide to be a part of this curated review of Samuel Adams Cold Snap by the Boston Beer Company.
Sam Adams Cold Snap Stats
| | |
| --- | --- |
| Country | United States |
| Brand | Boston Brewing Company (Samuel Adams) |
| Style | Wheat Beer – Witbier, White Ale |
| Taste | Light, crisp, and with hints of spices |
| Body | Medium-bodied |
| ABV | 5.3 percent alcohol content |
| Flavors and Aromas | Citrusy, sweet, and herbal notes. No prominent malt or hop aroma and flavor. Smooth, subtle sweetness with spices. |
| Serving Temperature | 48-50 degrees Fahrenheit |
Tasting Notes
Sam Adams Cold Snap Tasting Profile
Sam Adams Cold Snap Review
Sam Adams Cold Snap is a Belgian-style, unfiltered White ale from the house of Boston Brewing Company. With an ABV of 5.3 percent, this crisp, refreshing, and easy-to-drink wheat beer/witbier showcases the magic of exotic fruits and spices. According to the brewers, the snap of spices in this beer prepares you for the upcoming spring season.
Samuel Adams Cold Snap White Ale is a perfect transitional beer that hits the bright spot due to many reasons. From its fresh and citrusy taste to the way it is marketed as the precursor to the spring season, this beer has caught the hearts of many enthusiasts for years. Here is everything you need to know about this delicious beer.
– Appearance
The beer appears a beautiful golden in color in a glass. As it is a witbier, it showcases a natural, slightly cloudy appearance. The golden-colored body is followed by a medium whitehead which decently retains for some time and fades off, leaving a few lacing behind. It showcases medium haziness with good carbonation.
If you prefer darker beers with a deeper flavor, you can also try the Sam Adams Oktoberfest, a twist to the classic Cold Snap. This Samuel Adams classic-styled autumn beer pours deep and dark amber in a glass. Oktoberfest showcases a perfect combination of sweet caramel and toffee flavors with a moderate hoppy character.
– Aroma
The beer presents peppery and floral notes. These notes are more prominent in aroma than in taste. It presents a blend of citrus, perfumey herbs, and a touch of vanilla. The beer showcases subtle citrusy notes, and the perfumey herbs dominate.
Though Cold Snap doesn't taste like wheat, it presents an earthy connection in terms of aromatic notes. You'll definitely fall in love with this beer after a sniff, and the taste doesn't disappoint at all. Overall, the nose is pleasant and sweet.
– Mouthfeel
When it comes to the mouthfeel, Cold Snap is a soft, smooth, and a good textured beer. The beer showcases a decent amount of carbonation, which some may find interesting while others don't. In fact, the high drinkability and light, refreshing characteristics of Boston Beer Company Sam Adams Cold Snap are the main reasons behind its popularity.
There are few beers in the market as light and easy to drink as Cold Snap. Some even consider it an excellent alternative to world-renowned Blue Moon Belgian White beer. Although spiced with freshly grounded coriander, the subtle sweetness from orange peel and plum balance it out. Moreover, the creaminess from unfiltered wheat builds the taste profile nicely, and the smart marketing tactics of advertising it as a spring beer are on the spot.
Additionally, the beer is created using the traditional four-vessel brewing procedure. It stands out from other beers of the same category due to additional steps involved in the brewing procedure such as:
Dry-hopping
Secondary fermentation: krausening
Barrel-aging
Addition of premium grade spices
– Flavor
The beer showcases a perfect balance of floral spices, herbal spices (white pepper), fruits, and peppermint with a touch of vanilla. This combination is perfectly balanced by the sweetness of citrus orange and wheat. As Cold Snap is a Belgian wheat white ale, the finish is crisp but not as one would expect from a wit. The beer presents immediate wheat notes with a natural, slightly citrusy orange character.
It has spicy, peppery notes, but the spiciness is very subtle while the finish is sweet. The beer has a nice acidity despite having no coriander and prominent citrusy notes. One could witness the fruity acidity notes blended with sweeter honey malt character in the backbone.
However, if you are looking for a more lemon-flavored drink, you can try the Sam Adams Porch Rocker. This beer style from Boston beer is their version of Radler (half-light Bavarian lager and half lemonade). It is a light-tasting and light-colored beer that tastes somewhat like a lemon lager.
– Food Pairings
Though the Cold Snap tastes good on its own, the official website of the brewery still presents some interesting food pairing recommendations as follows:
Appetizers such as Mussels, Salads, Empanadas
Entrees like Curry, Sushi, Grilled Chicken
Desserts, such as Cookies, Spiced cakes, ice cream
The Cold Snap is best served in a Weizen glass at 48-50 degrees Fahrenheit for a perfect beer-drinking experience.
– Overall
Cold Snap is a smooth, medium-bodied beer with a more refreshing and complex finish than an ordinary witbier. The sweetness from malt is complemented by the flavors of exotic spices. Although the spicy character is showcased in every bit, the unfiltered creamy wheat notes still come out thoroughly and there aren't any obvious flaws.
However, the wheat sweetness is not balanced properly, but the balance keeps on improving as one drinks it. Some people may find it very light, dank, or watery, especially the hard-core IPAs fans. The brewers put their full efforts into making Cold Snap an easy-drinking, fresh-wit beer with a lovely texture. Moreover, the unique blend of spices and herbs makes it an ideal beer for beer enthusiasts in colder months.
If you are looking for beers with a higher malt content, try the Sam Adams Alpine Lager, another excellent beer from Samuel Adams. You can also try the Sam Adams Bavarian Lager. This amber lager showcases moderate maltiness with lemony notes that give it slight crispness. Although it isn't true to the authentic Bavarian-style beers, it is a good beer overall.
Ingredients
Cold Snap showcases a perfect blend of yeast, hops, malt, and barley.
Yeast: The yeast provides fruity, funky, and spicy flavors during fermentation.
Hops: The beer is produced using Hallertau Mittelfrueh Noble hops. It provides the beer its citrusy, tropical, herbal, floral, and piney flavors and aroma.
Malt: The beer uses Samuel Adams two-row pale malt blend and malted wheat.
Other ingredients: Some of the unique ingredients that go into making the perfectly blended Samuel Adams Cold Snap includes:
Lemon zest
Orange zest
Vanilla
Rosehip
Fresh-ground coriander from California
Powdered plum
Hibiscus from Egypt
Anise from Turkey
Grains of paradise from West Africa
Tamarind from India
The brand is known to go to extreme lengths in its choice of ingredients. For example, the Sam Adams Winter Lager is a crisp and full-bodied lager that presents a perfect malty profile. It contains ginger, Christmasy flavors like cinnamon, hints of caramel, and nutmeg flavors, with a touch of orange peels. Special cinnamon imported from Vietnam and Indonesia is incorporated into the beer to provide it the unique spicy flavors.
Likewise, Sam Adams Summer Ale is considered the most refreshing option from the brand. It is an American wheat ale that isn't only brewed using lemon zest but incorporates a mystical brewing spice well-known as the grain of paradise. It is a rare brewing spice found in Africa. Overall, this bright, easy-drinking beer showcases a perfect balance of citrusy and spicy characters, and shows that this brand doesn't scrimp on good quality ingredients.
Nutrition Facts
One standard serving of Adams Cold Snap contains 187 calories, 12 grams of carbs, 1.2 grams of protein, 14 milligrams of calcium, and 97 milligrams of calcium potassium. The main source of calories in this beer is alcohol.
Sam Adams Cold Snap is a light, wheat beer/ witbier with an ABV of 5.3 percent alcohol by volume. Although the IBU is 10, there is no sign of bitterness at all. It is perfect for light weekday drinking.
The Cold Snap is a seasonal beer available from January to March nationwide. It is available in bottles and cans, and also comes as a part of the Samuel Adams Cabin Pack. The pack contains Samuel Adams Escape Route, Scotch Ale, Boston Lager, Session Ale, Noble Pils, and the Cold snap. The pricing for this pack ranges from $14.99 to $17.99 (rates vary by the market).
History
In 1984, Jim Koch discovered a beer recipe in his father's attic. This is how Samuel Adams came into existence. Afterward, he introduced the brewed drink to others in Boston, Massachusetts, which is how Boston Lager was born. The brewery was named Samuel Adams, after the country's great founding father.
Since then, Samuel Adams has continuously strived hard to bring a revolution in the craft beer industry. At present, the company is known for brewing 60-plus styles of beer. Among them, the Boston Lager is still considered the staple drink in local restaurants and bars. Until now, the company has won several awards and continues to challenge how people think of beer.
Here is why people like the Cold Snap White Ale:
A vibrant and complex blend, yet simple and highly drinkable
A light and refreshing beer with hints of exotic spices
One-of-its-kind wheat beer/ witbier with more than 20 ingredients
No bitterness and low ABV make it an entry-level beer
It is a highly affordable pick for beer enthusiasts
The most disappointing fact about Cold Snap is that it is a seasonal beer, but its superior drinkability means you can consume more alcohol without even realizing it.
FAQs
– What Does Sam Adams Cold Snap Taste Like?
Being light and refreshing Belgian-style witbier, Samuel Adams Cold Snap tastes of citrusy wheat and resembles the taste of Blue Moon Belgian White. However, it is a little mild compared to Blue Moon and showcases characterful fruit and a spicy flavor profile. So it is safe to say that a Cold Snap is Blue Moon with a fruity bite.
– Does Sam Adams Still Make Cold Snap?
Yes, The Boston Brewing Company (Samuel Adams) releases this seasonal beer from January to March. In fact, due to its popularity, this seasonal beer has become a flagship beer of Sam Adams's range of beers.
This is available in 6-pack 12 oz cans and bottles, as well as on draft. However, you can check other seasonal offerings from the Sam Adams family, such as Sam Adams Summer Ale.
Endnote
As evident from the timeline of Cold Snap, it is a product of continuous experimentation and an intelligent brewing process. It is a vibrant, well-balanced blend of ten exotic fruits, exotic spices, and florals, and despite the use of complex ingredients, the blend is well-balanced.
Sam Adams Cold Snap is a Belgian-style wheat beer or witbier with an ABV of 5.3 percent and an IBU of 10.
It is a light, refreshing, and highly drinkable seasonal beer available from January to March.
Samuel Adams two-row pale malt and German Noble hops paired with a snap of exotic spices make it a perfect beer to embrace spring.
It showcases a perfect blend of citrus fruit and hints of vanilla with a light malt backbone.
It is not the beer of choice for IPAs lovers and some may find it a little dank or watery.
Due to its super drinkability, Cold Snap is often compared with Blue Moon Belgian White, as both of these beers are light and refreshing — good entry points for newcomers to the world of beers. For beer enthusiasts, Sam Adams Cold Snap remains a great transitional beer to embrace the spring season.