Luponic Distortion Review: Examining Its Features and History
Luponic Distortion reflects what happens when you grow two familiar Northwest varieties in the east. This beer is one of the most loved IPA on the market and comes in various releases.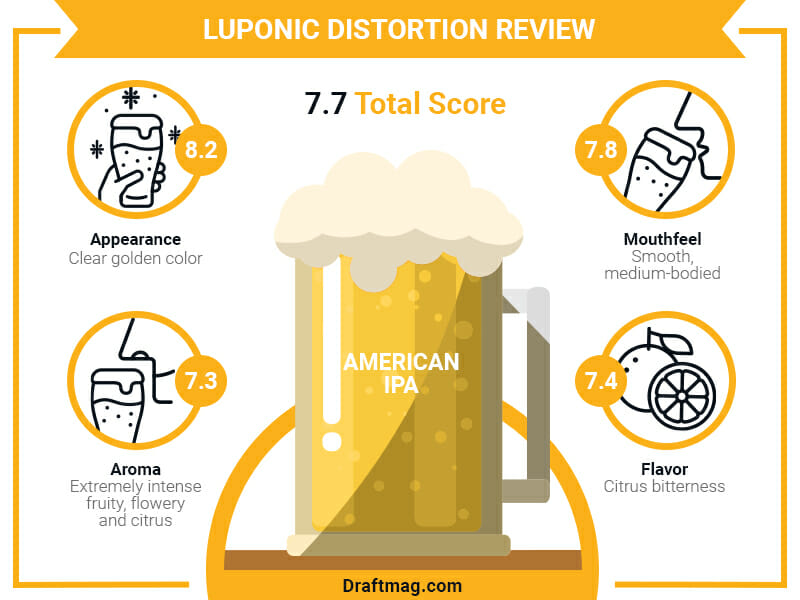 It is currently on the 19th release, with each release having the same recipes except for the hops used. If you haven't tried one of these beers, here's a complete Luponic Distortion review to help you understand its features.
Luponic Distortion Stats
| | |
| --- | --- |
| Country | United States |
| Brand | Firestone Walker Brewing Company |
| Style | American IPA |
| Taste | Smooth, mild with an average carbonation |
| Body | Medium-bodied |
| ABV | 5.9 percent |
| Flavors and Aromas | Intense fruity, floral and citrus characteristics. |
| Serving Temperature | 46 to 50 degrees Fahrenheit |
Tasting Notes
Luponic Distortion Tasting Profile
Luponic Distortion Review
Here is a detailed review of this beer's characteristics.
– Appearance
Most American IPA beers appear with color from burnt gold to a tinted orange copper. This beer has a clear golden color with a frothy head. It will be transparent unless unfiltered and dry-hopped, which is becoming more frequent as the brewer tries to extract more flavors from the hops.
The beer has a mild to low patchy and sticky lacing. Luponic beers have an off-white to white head. However, this varies with the different releases — the more the hop oil, the lower the head retention.
– Aroma
American hops have a wide range of aromas. Expect strong, often extremely intense fruity, flowery and citrus flavors that occasionally have perfume-like qualities. There is also a bit of resin and pine.
The most typical fruitiness comes from esters or hops, but it can also have a more cleanly fermented flavor. You can't miss the prominent note of lime and pomelo with some blueberry aroma.
– Mouthfeel
Luponic beer has a less full body unlike English IPAs. It normally has a smooth, medium-bodied mouthfeel with little hop astringency. Due to the level of alcohol, there is a presence of perceptible alcohol warming in the mouth. Hop astringency combined with moderate to medium carbonation can leave the palate feeling dry.
This hazy IPA has a malt backbone to provide some balance. You should also anticipate some medium-high to extremely high hop bitterness. American hops have citrus, flowery, fruity, piney, and resinous characteristics, with some flavors shining more brightly than others depending on the hop variety.
There's a low to medium malt presence, supported by a little sweetness and tastes of caramel or toast. There aren't any buttery flavors from diacetyl. The bitterness from Luponic beers is not overpowering or unpleasant, but it may remain through the swallow and into the aftertaste. The finish may feel a little bit dry.
– Flavor
The flavor of this great beer starts with the bitterness from the citrus. Then it gives a weird vagal note which slowly changes into more of a citrus rind. Soft toasted malt character plays a supporting role for pineapple, orange and pine hop notes. The finish is moderately bitter, with a burst of hops up front.
– Food Pairings
This IPA can be hoppy and bitter. To avoid overpowering the drink, combine it with foods with similar tastes and flavors. Tacos or burgers with barbecue sauce would be a good compliment because the beer's bitterness can help calm things down.
If you also want an IPA beer to help clear your palate for the incoming delicacy, you should try this one. The beer's hoppiness can help mask the flavors of other foods. You can drink it before the main meal and in-between dishes, such as after an appetizer.
Luponic Distortion 19, for example, goes well with heavy, fatty dishes like sausage, deep-fried meats or French fries. This IPA series balances out the fried, salty flavor. These are some of the dishes that go well with Luponic Distortion:
Blackened Ahi tacos with avocado
Caribbean jerk style chicken wings
Roast beef dip with Pepper Jack
Horseradish cream
Korean BBQ short ribs
Ingredients
This Firestone Walker beer is made from various ingredients to give you that perfect refreshing taste. The general ingredients are:
Water
Malted barley
Yeast
Hop
However, the hop is more or less the major ingredient. The hops are what makes the beer stand out. Every new Luponic Distortion release blends different kinds of hops to give exciting experiences. For instance, Luponic Distortion 18 was a blend of six hops from New Zealand, Germany and the Pacific Northwest, combining to give explosive flavors of pear drop, dragonfruit and peach.
On the other hand, the next release (No. 019) features three Australian hops. The main Australian hop is responsible for the vibrant, zesty Sauvignon Blanc aroma. The two additional hops complement the aroma with melon, grapefruit and lemon zest flavors typical of the Southern Hemisphere.
Nutrition Facts
Luponic Distortion series generally have between 177 and 200 calories per serving. This IPA has zero grams of fat, about 27 grams of carbohydrates and no sugar.
Every Luponic Distortion IPA ABV stands at 5.9 percent, staying true to its base. Therefore, you can still enjoy a couple of glasses without getting drunk.
History
It all started with another beer, when Brynildson went out hunting for hops for a new beer in 2014. His plan was to try out new cultivars species he saw in the wild, so he took a trip to Germany. Here, he found various hops with incredible flavors, including Hull Melon, Hallertau Blanc and Mandarina Bavaria.
Since Firestone Walker Brewing Company was a hop-forward brewery, they thought why not experiment with a number of hops? In 2016, this brewing company rolled out the 001 series for beer lovers to enjoy. The original plan was to release the beer series quarterly, showcasing three or four different hop blends each year.
However, the increase in popularity of the program spurred Firestone Walker Brewing Co. to go steps further. Some years later, the brewery released three variants of the IPA with three or four hops. Other years, it released four variants, some having eight to nine hops.
Conclusion
Luponic Distortion beer is one of the unique beers available in today's market. This review covers its features, ingredients and history. Here's a quick look at the points covered.
Luponic Distortion comes in various releases, and it's currently on release 19, with no sight of the end.
Expect strong, often extremely intense fruity, flowery and citrus flavors that occasionally have perfume-like qualities.
Each release features different combinations of hop blends to give it unique flavors and aromas.
The flavor of this great beer starts with the bitterness from the citrus. Every release has an ABV of 5.9 percent, with calories ranging from 177 to 200.
If you want delicious and refreshing hoppy beers, then you have to try Luponic Distortion.