Best Winter Beers: Discover the Best Beers for Chilly Weather
The best winter beers are always sought after during the cold season as they are known for their high alcohol content and distinctive spiciness to help keep you warm and fuzzy.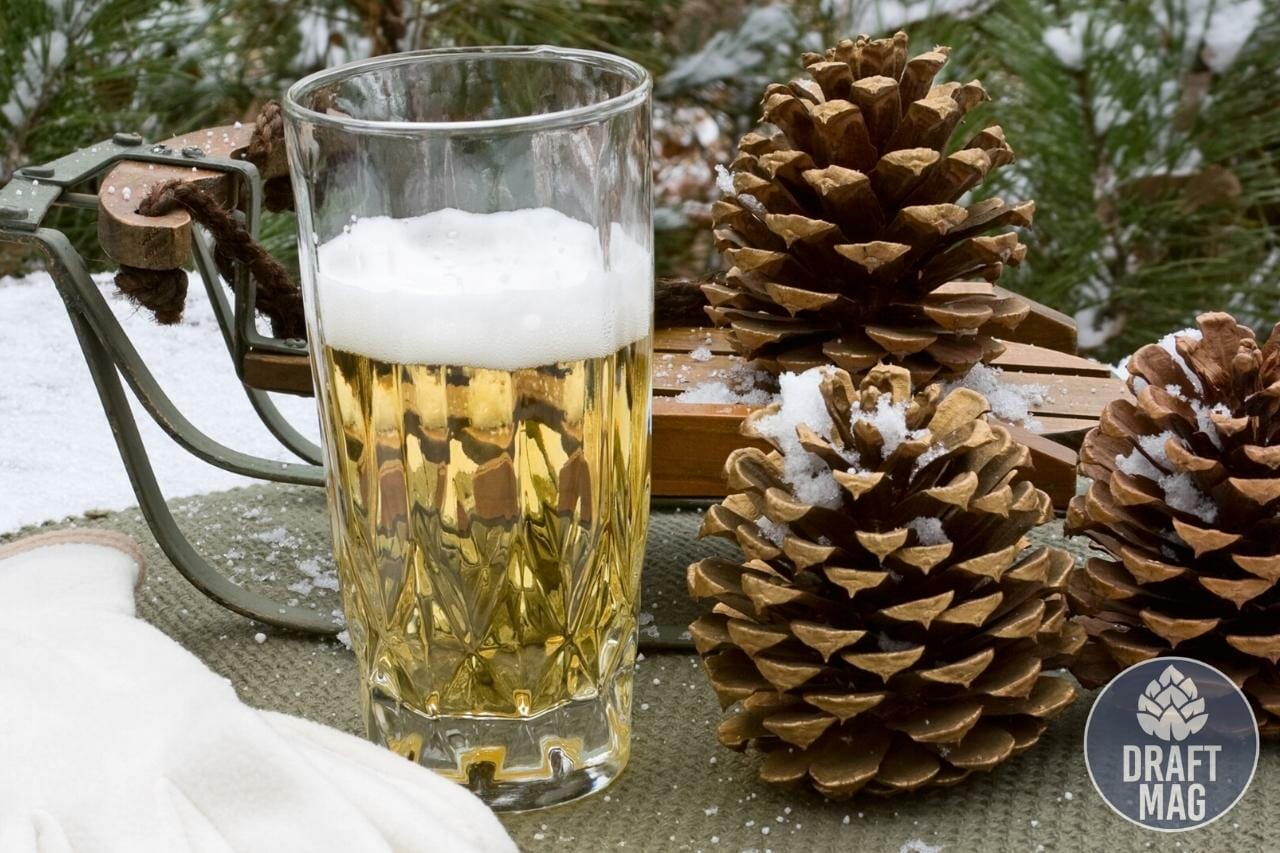 These beers range from ales, stouts, lagers and even IPAs with the right alcohol volume.
In this article, we'll be sharing genuine reviews of the best winter beers to give you a warm, happy experience despite the chill outside.
Best Winter Beer — The Only Beers You Need This Winter
Many beer lovers would attest that winter beers are a life-saver during the cold and gloomy season. However, while many brews are readily available, some fail in quality and taste.
We gathered feedback from beer experts and brewers on the best winter beers. Here are our top 12 picks that stand out from the crowd.
Sierra Nevada Celebration Fresh Hop IPA
Pros
Subtle citrus flavors
Rich malty base
Distinctive bitter finish
Cons
Made with premium caramelized malts and hops, this is one of the top winter beers to try out. Celebration IPA has a creamy foam head and bright yellowish color that's almost translucent.
We tried this winter beer and noted that it had an unmissable bitterness balanced by citrus flavors and a rich maltiness. With an ABV of 6.8 percent, this is one of the best winter beers for relaxing with friends and family around a fireside.
Overview: if you're in search of a beer that has the perfect blend of malt, hops and citrus flavors, grab a bottle of Celebration Fresh Hop IPA by the Sierra Nevada.
Great Lakes Brewing Co. Christmas Ale
Pros
Great flavors
Balanced hoppiness
Rich maltiness
Cons
Flavors may be overly strong
High ABV
This beer by Great Lakes is one of the most popular winter beers. Distinguished by a spicy aroma of cinnamon and ginger, this is a nice bottle to have on cold nights. There are also hints of honey alongside quality hops, giving it a refreshing mouthful and a nice malty finish.
A cold bottle of this beer with its 7.5 percent ABV is all you need to cheer up on a cold night. Indeed, Christmas Ale by Great Lakes is a true classic.
Overview: One thing to love about this Christmas Ale by Great Lakes is how it tastes like a standard beer with a high ABV but retains the spicy notes of ginger and cinnamon. It is one winter beer to get you going during the cold.
Anchor Christmas Ale
Pros
Great addition of spices
Easy to drink
Fruity aroma
Smooth, malty taste
Cons
Overpowering spices
High ABV
Anchor Christmas Ale is another great winter beer. This beer is reputed for its rich, complex taste. Many brewers and drinkers alike will easily identify Anchor Christmas Ale as one of the season's best. You're first greeted by strong, wintry spices when this beer is poured into a glass.
We could also detect nutmeg and cinnamon aromas in this beer. It has a roasted malty taste that is well-balanced by the spices. It is quite smooth and an excellent choice for winter as it has a high ABV of 7 percent.
Overview: We loved the balanced taste of Anchor Christmas Ale. Many beer lovers agree that this is one of the best seasonal drinks with its smooth, round and rich malty taste.
Prairie Christmas Bomb
Pros
Strong chocolate notes
Smooth and full mouthfeel
Unique appearance
Nice spicy aromas
Cons
Chile pepper may not be necessary
Too many spicy flavors
Extremely high ABV
As the name connotes, this is one powerful dark ale. Brewed by the Prairie Artisan Ales, this stout is undoubtedly one you should get if you're not a lightweight. The Christmas Bomb beer has a whopping 13 percent ABV.
Christmas Bomb contains spicy pepper, chocolate flavors, coffee, roasted malts and wintry spices like many other winter beers. It has an almost dark color when poured into a glass, with a foam head that quickly dissipates. We like that this beer has a nice and bready, slightly sweet taste balanced by a spicy, almost chocolatey finish.
It leaves a smooth yet amazingly full mouthfeel. With its high ABV, this one is quite the knocker and an excellent choice for winter if you'll be spending the season locked inside.
Overview: The Prairie Artisan ale has a yeast-like mouthfeel, and you can't help but notice the chocolatey finish that makes up the goodness of this winter beer.
Modelo Negra
Pros
Nice carbonation and medium body
Malty aroma balanced by nutty flavors
It pairs well with many food combinations
Cons
It may be too sweet
Slight hoppiness
This Mexican Lager is one of the underrated winter brews. One unique thing about the Modelo Negra is its vibrant malty taste accompanied by a robust nutty flavor. At a glance, it's easy to describe the Modelo Negra as a dark beer owing to its dark brown appearance when poured into a glass. We like that the creamy, off-white, foamy head of the Modelo Negra doesn't dissipate quickly.
There are also recognizable hints of nuts and roasted malts in this beer. When drunk, you can immediately feel the smoothness, and the taste is quite sweet and rich in malt. With its considerably low alcohol content of 5.4 percent, this beer comes highly recommended for the winter season, especially if you want a beer without floral notes or hop aromas.
Overview: Modelo Negra is one of the winter beers you can hardly go wrong with. Although it may be somewhat too sweet, this is one nice beer to pair with your roast chicken.
Deschutes Jubelale
Pros
No wintry spices
Rich maltiness
Spicy yet complex hoppiness
Perfect aroma
Well balanced finish
Cons
The list of best winter beers to try out wouldn't be complete without mentioning this winter ale. Jubelale winter ale has a brownish appearance and a rich foamy head. You'll notice a pleasant mix of floral, bready and chocolate-like aroma upon opening the bottle. One can't miss its malty taste, quickly followed by a spicy hoppiness that lends an extra touch to its finish.
We like that this is a smooth, easily drinkable beer without the usual cinnamon or ginger spices most winter beers have. With an ABV of 6.7 percent, this beer continues to taste better as it ages. However, it's advisable to keep the beer bottle upright and away from direct sunlight.
Overview: One thing to love about this winter beer is that it doesn't have the usual spicy hints that most Christmas beers have, yet it manages to stand out. You'll surely enjoy every sip of this smooth drinking beer.
St Bernardus Christmas Ale
Pros
Rich color
High carbonation
Complex taste
Nice fruity aromas
Smooth texture
Cons
Extremely high ABV
A bit peppery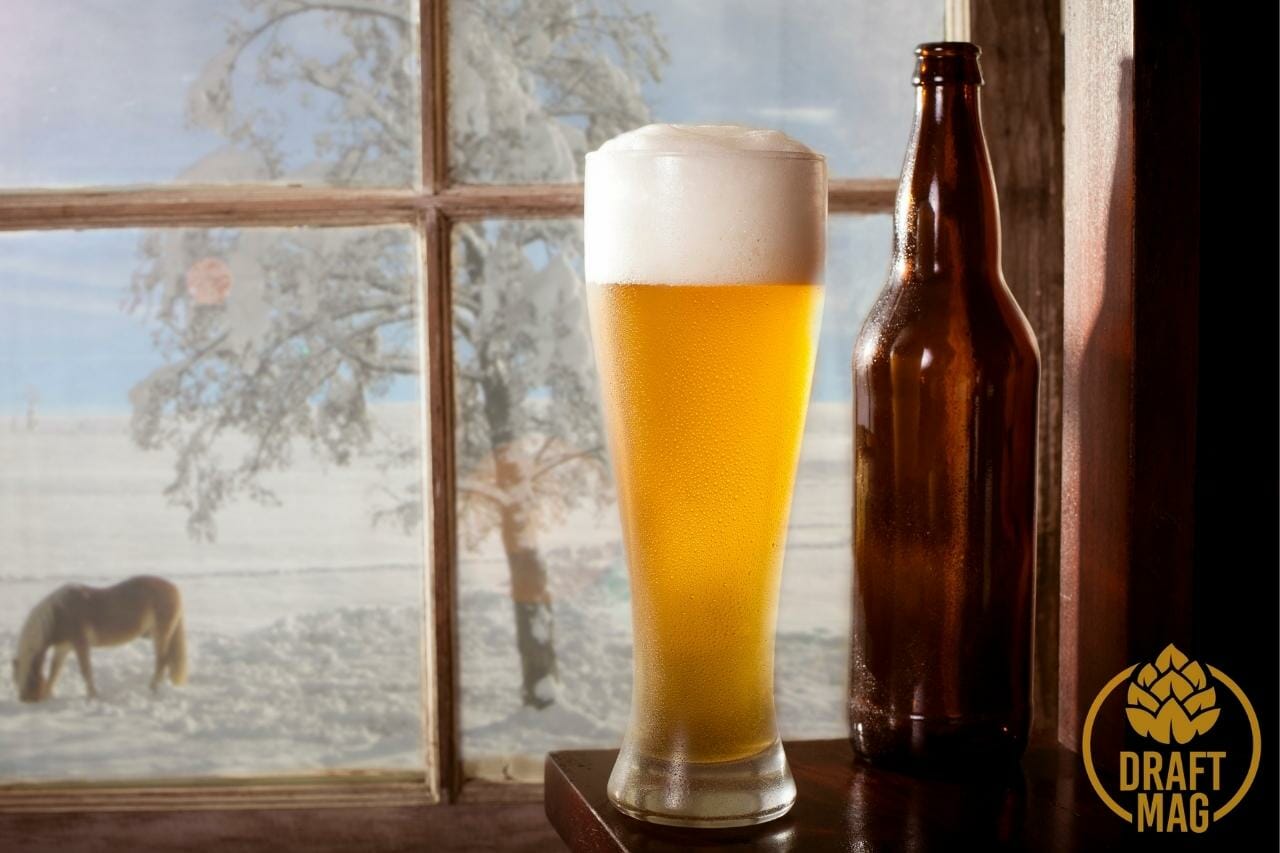 This beer is one intense and dark winter seasonal beer. Boasting a dark color when poured into a glass, St Bernardus Christmas Ale has a rich, nutty hint. This winter warmer has complex yet distinguishable chocolate and coffee finish accentuated by subtle fruity flavors.
It is excellent for dessert and provides a bready yet spicy finish.
Although St Bernardus Christmas Ale has a high ABV of 10 percent, we were surprised it was smooth and easy to drink as there was no extreme burning sensation. This winter ale is an excellent choice for a gathering of friends and family during winter.
Overview: If you're a fan of dark beers with an intense but refreshing taste, a sip of St. Bernardus Christmas Ale might just be what you need to get through the winter season.
Petrus Aged Ale
Pros
Brilliant clarity
Great fruity aroma
Lingering finish
Cons
A golden blonde Belgian Sour, the Petrus Aged Ale is one of the wild-styled winter beers. It announces its presence with a 7.3 percent ABV and gives off subtle sour flavors coupled with unique fruity notes. The Petrus Aged Ale is a true Belgian brew and an award-winning winter beer.
When we tested the Petrus Aged Ale, our first impression was that it was very sour. The sourness is almost tart-like. However, the fruity and somewhat woodsy flavors give it an edgy and dry finish. It makes for a perfect winter brew.
Overview: Marked by a very noticeable sourness, Petrus Aged Ale is one of the best Belgian beers to try. If you're a fan of dry finishes, then you'll enjoy the dry finish that accompanies every sip of this drink.
Bell's Christmas Ale
Pros
Mild bitterness
Warm malty finish
Awesome fruity aromas
Cons
This traditional Scotch Ale is a seasonal winter beer and a classic winter brew. Marked by a deep brown color and an ABV of 7.5 percent, Bell's Christmas Ale is enriched with a warm malty finish and caramel notes.
Its foamy head takes a long time to disappear, and bready, herbal notes hit the nose when taking the first sip. There is also a hint of toffee, and it has a rich, malty taste.
We admire the fact that the Bell's Christmas Ale leaves a mild bitterness that lingers for a while. Masked by its fruity aroma, this heavy scotch is a top choice for a winter beer that would warm your insides and get you fired up for the winter.
Overview: This traditional scotch beer doesn't just have a great appearance. It has a taste that a true scotch beer should have. The dark, rich malty taste promises a good time.
Goose Land Christmas IPA
Pros
Mesmerizing appearance
Made of premium hops
Clean and dry finish
Smooth taste
Cons
The Goose Island Christmas IPA is the perfect blend of caramel maltiness and six different hops. This American-style IPA has a 7.5 percent ABV. Its appearance is reddish-brown, and it has a nice, thick foamy head.
At the first sip, the taste is quite malty and sweet. However, don't be deceived as bitterness immediately fills the mouth and lingers for a long time. It is a lovely medium-bodied IPA and leaves a crisp, dry finish.
Overview: At first sip, the Christmas IPA by Goose Island tastes as sweet as a fruity beer. Wait until the bitterness sets in, and you'll experience the full diversity of this American-style IPA on your palate.
Fremont Brewing Winter ale
Pros
Moderate carbonation
Great appearance
Easy to drink
Cons
Fremont is a classic choice and one of the best winter craft beers made especially for the winter season. It has a well-balanced mix of spicy hop aroma, malt and chocolate flavors. The Fremont Winter Ale has a dark, deep brownish color when poured. The aroma is that of malt, chocolate, coffee, a hint of vanilla and maybe licorice.
At first sip, you'll experience a malty sweetness that is immediately followed by a subtle but lingering bitterness. It has a high ABV of 8 percent. With a cold glass of the Fremont Winter Ale, you don't need to worry about the cold of winter.
Overview: One different thing about the Fremont Winter Ale is the delicate blend of malt, chocolates, coffee and other special flavors it has. This blend produces one of the best-tasting winter drinks to have on a cold night.
Guinness Draught Stout
Pros
Great taste
Nice aroma
Rich, creamy head
Light, dry finish
Cons
Slightly watery
A bit too flat
Easy to confuse for a dark, strong Stout, the Guinness Draught is a light beer that surprisingly hits well during the winter season. Like every other Guinness beer, the Guinness Draught Stout is very dark in color. Hints of coffee, malt and chocolate reach the nose when you take your first sip. It has a rich, creamy taste with just the right bitterness to make for a great winter beer.
There are no effusive winter spices, but the effects of the chocolate and coffee make for a nice winter warmer. Due to its low alcohol content of 4.2 percent, this is also perfect for beer beginners or people with low alcohol tolerance.
Overview: With its low ABV and rich, creamy taste, the Guinness Draught stout is one of the light beers that surprisingly works wonders during the winter.
Winter Beer Categories
Winter beers are seasonal beers brewed for the winter and often for a particular festival. They are mainly brewed to be drunk during Christmas since it's always snowing during that time.
These winter warmers usually have high alcohol by volume percentage and contain spices like cinnamon, nutmeg, cloves, peppermint and other spices. Some of the most common winter beers fall into these categories.
– Winter Ales
Pros
Malty taste
Rich wintry spices
Creamy foam head
Cons
Wintry spices can be overwhelming
Winter ales are marked by a dark, malty and robust hoppiness. With the addition of strong spices, they are a top choice for winter seasonal beers.
– Imperials
Pros
Smooth taste
Clear appearance
Clean finish
Cons
Imperials are known for their very high alcohol content. These types of beers may not be the best for summer, but they're a delight during winter. The high alcohol content provides you with a belly-warming feeling that keeps you heated.
– Eggnog Inspired Beers (Beernogs)
Pros
Vegan friendly
Interesting taste
Creamy appearance
Cons
Doesn't last long
Spices may be overwhelming
Recently, Eggnog inspired beers are slowly becoming a favorite for drinkers. Popularly referred to as beernogs, they are usually made with spices like nutmeg, vanilla, cinnamon and other spices. They add a rich, creamy and refreshing change to your regular beer.
– Chocolate and Coffee Beers
Pros
Real chocolate and coffee taste
Great-tasting
Cons
Some excellent winter beers fall into this category. Unlike porters and stouts with hints of coffee notes, these beers actually contain real chocolate and coffee. The result is a sweet yet strong beer perfect for the cold season.
– Porters and Stouts
Pros
Assertive flavors
Rich taste
Great for the cold
Cons
During winter, porters are an absolute must-have. Known for their strong, bitter and subtle chocolate flavors, these beers are a life-saver for the cold season. A bottle or two is enough to keep you warm and fuzzy.
Enhancing the Taste
We all want to consume our beer the way it's supposed to be drunk, and it's not a secret that key factors like serving the beer at the right temperature and using the right glass works wonders in elevating the drink's taste and aroma.
– Pair With Food
Beers are generally great, but they taste even better when paired with food. You can pair your winter stout with a nice plate of hot steaming burgers. Since it's usually drunk during the cold season, your winter beer would also go well with roast chicken or duck, spicy seafood and steamy soups.
– Serve at the Right Temperature
Different winter beers come with a recommended serving temperature. The common mistake many beer drinkers make is serving beer at a freezing temperature. Although false advertising has a massive role in this, serving beer when it's ice-cold prevents you from experiencing the true taste of the beer. The weather is already freezing; your beer shouldn't be the same.
– Use the Proper Glass
If you're going to be drinking your winter warmer from a glass, then you might as well pay attention to the type of glass you're using. Different beers have special glasses for serving. The proper glassware lets you enjoy the full taste of your winter beer. Some beers even come with a description of the proper glass for serving.
FAQ
What style of beer is a winter warmer?
Winter warmer is a spiced, malty ale typically enjoyed during the winter months. It often has notes of cinnamon, nutmeg, and clove.
What beer is best for a winter wedding?
A rich, malty stout or porter would be a great choice for a winter wedding. Look for beers with flavors of chocolate, coffee, or caramel.
Is Blue Moon a summer or winter beer?
Blue Moon is a Belgian-style witbier that can be enjoyed year-round, but its light, citrusy flavors make it a popular choice during the summer months.
Conclusion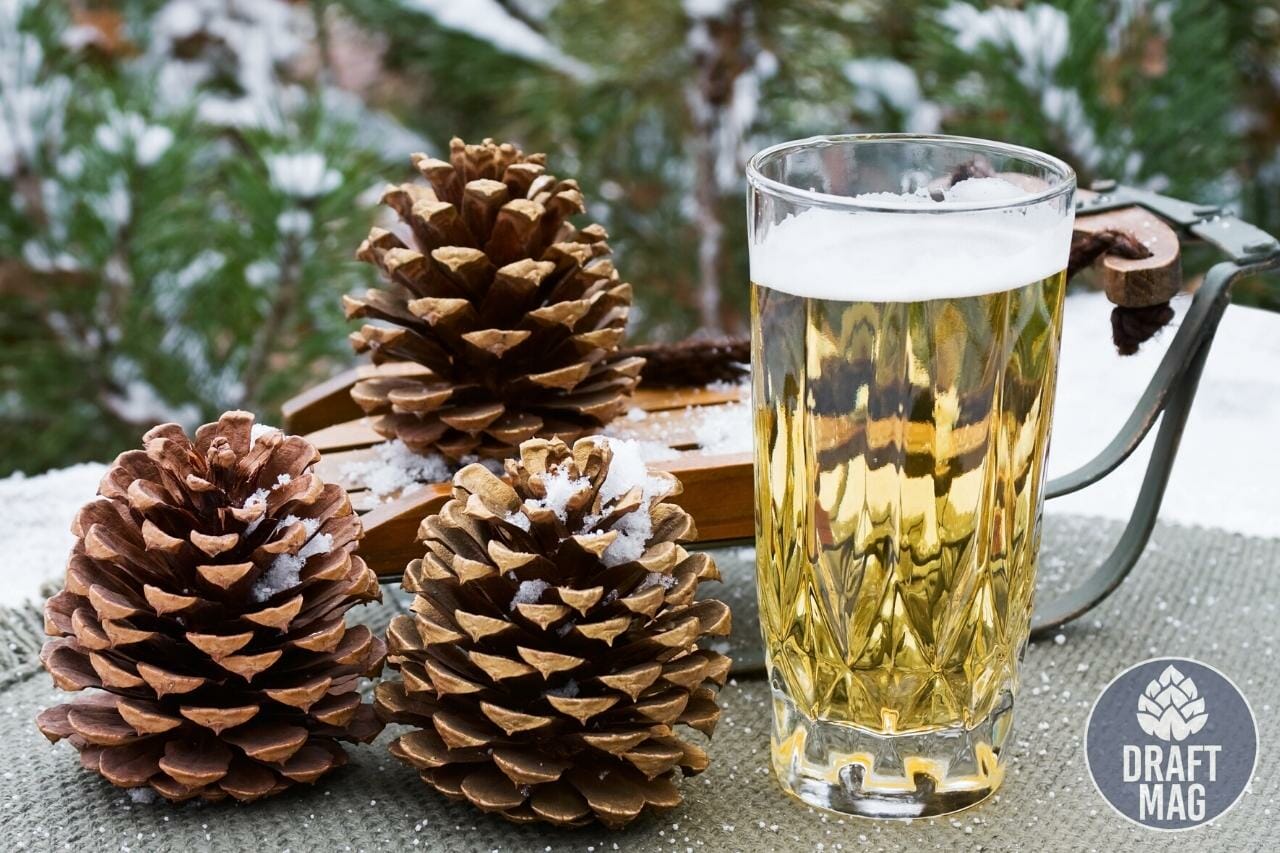 The best beers are a much-needed companion to get you through winter.
The best winter beers are known for their high alcohol content and distinctive spiciness. Ranging from ales, stouts, lagers and even IPAs with the right alcohol volume, these drinks are perfect for the cold weather.
We can't suggest the Modelo Negra highly enough if you're looking for the best of the best.
Beer types such as Winter Ales, Imperials, Porters and Stouts are some of the most popular winter brews in the market.
Choose one of the beers on this list, and you'll get the most out of winter brews.