Dogfish Head Mango Smoovie Review: Is It Worth Drinking?
Dogfish Head Mango Smoovie is described as off-centered, which is typical considering its unique composition. Produced by Dogfish Head Craft Brewery, this beer is inspired by the fruit-based Indian drink Lassi.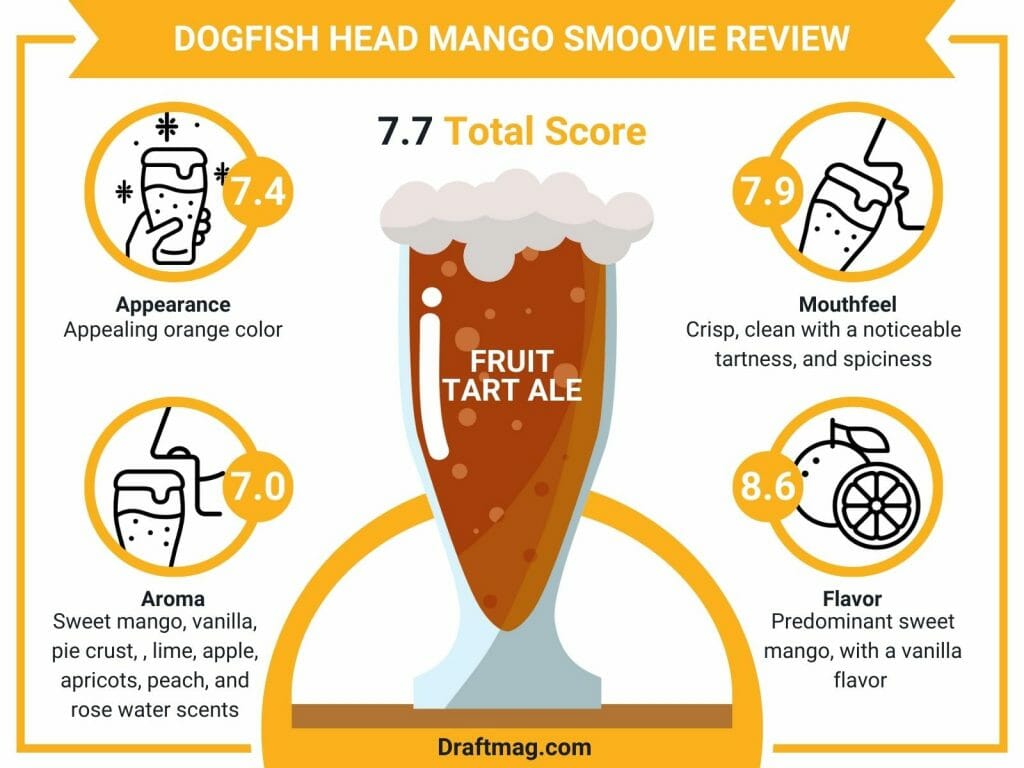 It combines complex ingredients in a blend that results in an unexpected yet remarkable brew. Our beer experts have compiled this detailed review to help you decide if this beer is worth having at all.
Dogfish Head Mango Smoovie Stats
| | |
| --- | --- |
| Country | United States (Delaware) |
| Brand | Dogfish Head Craft Brewery |
| Style | Fruit Tart Ale |
| Taste | Fruity taste that is a combination of sweet mango, vanilla, yellow cardamom, and lactose. |
| Body | The beer is medium-bodied and has moderate carbonation. It has a crisp, smooth, and clean mouthfeel. It is somewhat sticky, with a lingering bitterness and a subdued alcohol burn. |
| ABV | 6.5 percent |
| Flavor and Aroma | The flavor and aroma are of mango, vanilla, tangerine, spice, citrus, rose water, yellow cardamom, and a noticeable tartness. |
| Serving Temperature | 45 degrees Fahrenheit |
Tasting Notes
Dogfish Head Mango Smoovie Tasting Profile
Dogfish Head Mango Smoovie Review
If you're eager to try out this brew, our review will explain everything you need to know. We have put together this detailed analysis based on the following categories.
– Appearance
As you poured it into a glass, it pours a bright, appealing orange color that is somewhat hazy. Immediately, a pale yellowish foam head appears with a tiny inch of foam head that doesn't have a noticeable lacing. There's barely any retention as the foam head disappears almost as soon as the beer is poured.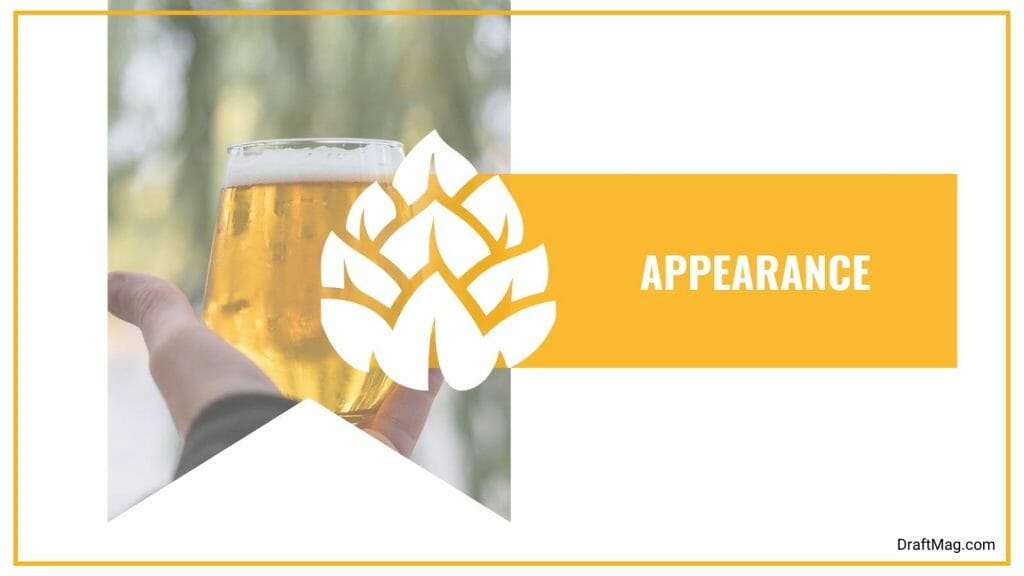 The beer has fairly active carbonation as particulate bubbles can be seen working their way through the glass. Although the color of this beer is eye-catching, it appears quite thin and is pretty much ordinary.
– Aroma
Perhaps one of the most interesting things about this beer is its enticing aroma that almost doesn't smell like beer. It has a nice blend of sweet mango, vanilla, pie crust, slice, tangerine, lime, apple, apricots, peach, and rose water scents. Nonetheless, you can also discern a bready, wheat-like scent alongside cardamom, peppercorn, and a muted grainy note.
Upon further inspection, you would also discover the distinctive smell of cardamom and lactose. With its citrusy note, it is almost easy to forget that you're drinking a beer that packs a whopping 6.5 alcohol content. One thing we like about this brew is that the alcoholic note is well-subdued and doesn't take over the fruity essence of the beer.
– Mouthfeel
It has a medium body with a carbonation that is between moderate and high. The mouthfeel is crisp, clean with a noticeable tartness, and of course, a spiciness that's from the addition of cardamom. There's also a noticeable grainy taste that is somehow sticky, alongside notes of lactic acid.
The beer isn't too astringent and has a mildly increasing bitterness that lingers after every drink. Considering its high ABV, it is quite applaudable that there's no overwhelming burn from the alcohol. However, there's a distinctive spicy heat that leaves an impression on the palate. Overall, it has a refreshing taste that befits a fruity sour ale.
– Flavor
The flavors of this fruit-forward tart ale are the same as what you would get with the aroma. There's the predominant sweet mango flavor that is complimented by a vanilla flavor alongside citrus, tart, and spicy flavors. It is a unique mix of flavors, with each of them balanced out, and none is more overpowering than the other.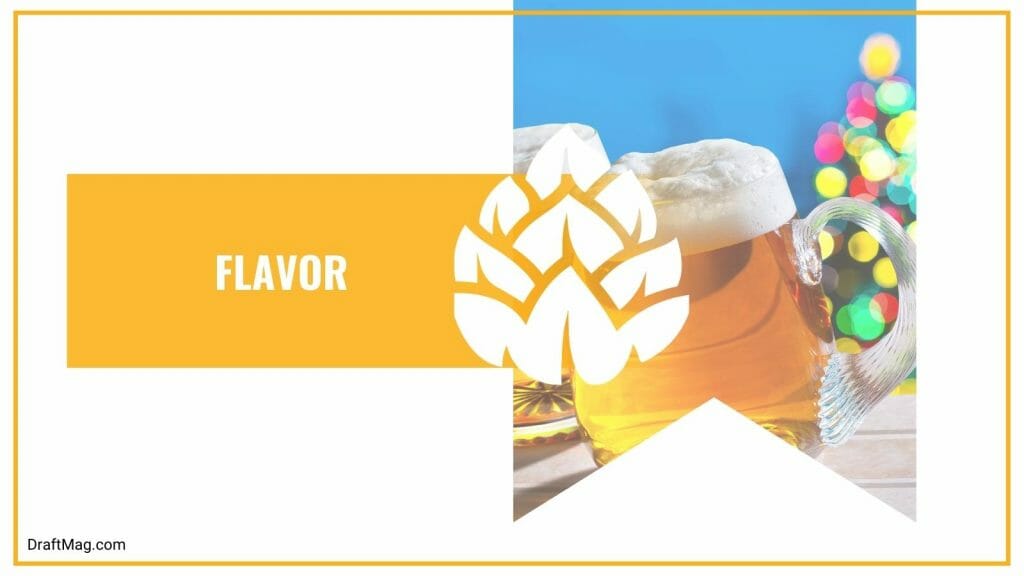 It truly has a skewed mix of fruity flavors followed by lactose and a malty flavor that add unique complexity to the beer and increase its appeal. There's also bread, a cracker-like taste, and a slight bitterness that isn't too noticeable. You could additionally taste a bit of spice that lends to its impressive taste.
– Food Pairings
Since this is an easy beer to drink, it makes for the perfect dessert beer to have after a refreshing meal. It is also perfect for a summer evening with friends, family, and tantalizing meals.
When it comes to meals, you can pair this beer with potato salad, foods with a cilantro taste, chicken tacos, and pasta salad. In addition, you can also pair it with all types of burgers, pineapple salsa, steak, and barbecue. It also pairs well with spicy Asian and Italian meals. The reason why this beer would pair with different types of foods is that it is easy to drink and has medium carbonation.
Ingredients
When the brewery described this beer as "off-centered," it wasn't an exaggeration. Aside from the traditional beer ingredients such as grain, water, hop, and yeast, this Smoovie contains other unique ingredients. These include mango, yellow cardamom, tangerine, lactose, a touch of rose water, and vanilla.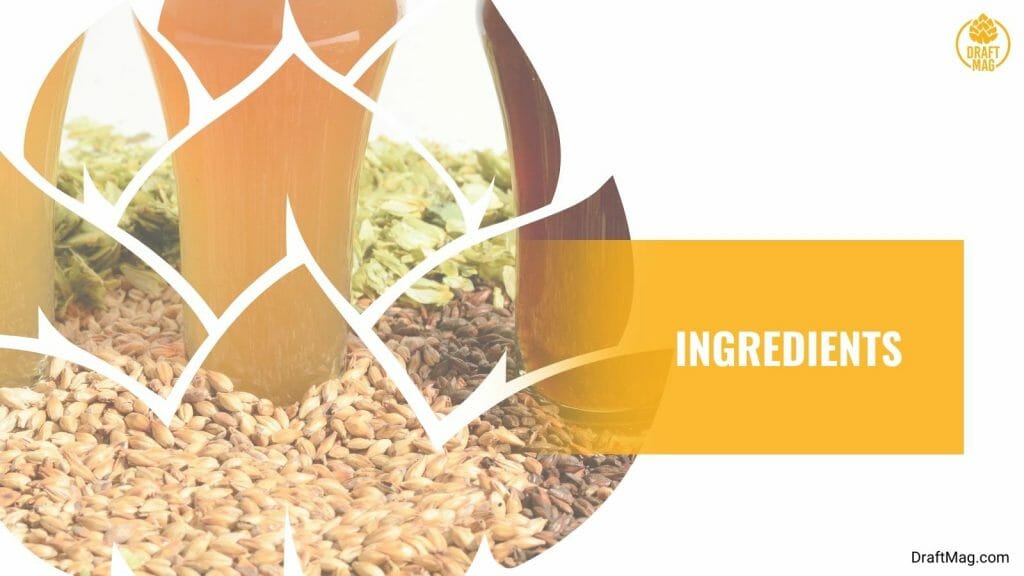 Nutritional Facts
For a beer that packs a lot of ingredients, this one has a simple nutritional detail. It has 192 calories, zero grams of protein, 15 grams of net carbs, and zero grams of fat.
However, note that this beer is not Keto-friendly if you are on a strict diet. Due to the high amount of carbs in this beer, it might not be the best choice for anyone practicing a Keto lifestyle.
History
The beer was first introduced in 2021 as the third among its brewery's off-centered ale art series. It started as a beer experiment in the brewery's Milton tasting room, where it quickly became a favorite among guests.
The company decided to package it as a bottled beer that is now sold in most bars and liquor stores across the country. This unique beer is a fruit sour/tart ale and has a unique mix of fruity flavors, lactose, and hop alongside a buzzy alcoholic content.
Conclusion
Even if you're not a fruity beer fan, a taste will surely leave you impressed. Here's a quick recap of what we discussed in this review.
Dogfish Head Mango Smoovie is a fruity sour beer that is the third of an off-centered Ale Art Series.
It is a combination of fruit flavors, aroma, and a unique, impressive taste that is clean and smooth.
The mouthfeel is medium-bodied with moderation carbonation, with a slick, peppery feel that makes for a full, sticky finish.
You can pair this brew with potato salad, pineapple salsa, steak, barbecue, chicken tacos, and several other meals.
It comes highly recommended. If you're wondering if this beer is worth your time and money, our review provides all the answers you need to set your mind at ease before you grab a bottle.