Molson Xxx Review: Strong Tasting Lager and Balanced Flavors
Molson XXX is a great malt liquor that offers more than you might have expected and has the most alcohol content compared to other beers in Canada. Made with extra malt and hops; the smooth-tasting lager offers a lot of flavors with every sip.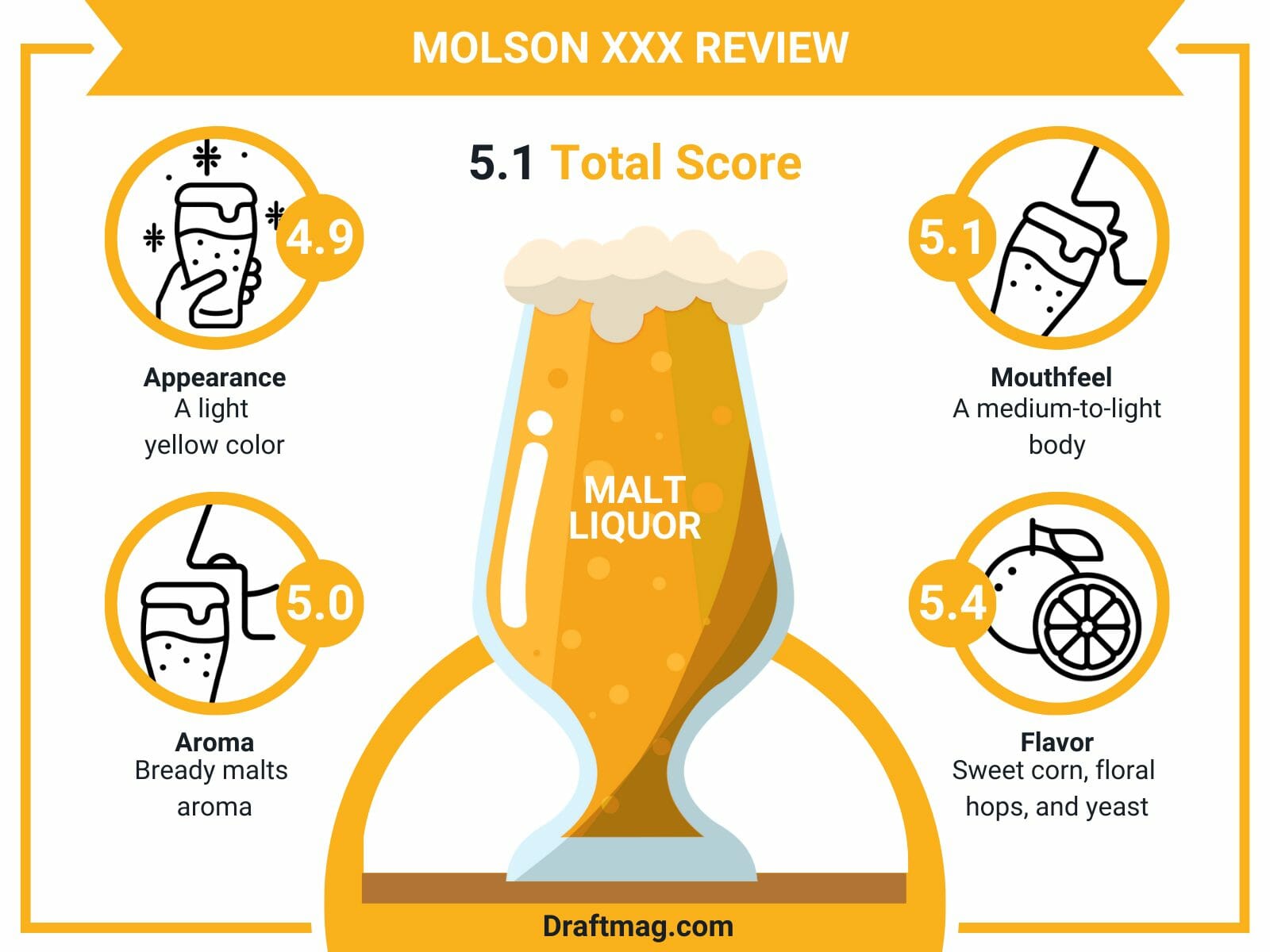 If you're looking for a strong-tasting beer to have with friends or to pair with a hearty meal, the XXX lager is the ideal choice. Take a closer look at our review below.
Molson XXX Stats
| | |
| --- | --- |
| Country  | Ontario, Canada |
| Brand | Molson Coors Canada |
| Style | Malt Liquor |
| Taste  | Sweet malt, alcohol |
| Body | Medium-light Body |
| ABV | 7.3 percent |
| Flavors & Aromas | Malts, hops, alcohol, bread, grass, corn, floral |
| Serving Temperature | 35 – 40 degrees Fahrenheit |
Tasting Notes
Molson XXX Tasting Profile
Molson XXX Review
XXX is a malt liquor made by Molson Coors Canada, with a 7.3 percent alcohol content. The beer was made to be the strongest from the brewery, with extra malts and hops, and then fermented to give you a slightly sweet and well-balanced beer with a smooth body.
The beer pours a clear golden color with a medium to light body. It has flavors and aromas of sweet malts, grassy and floral hops, corn and corn syrup, bready malts, and a strong alcohol character. It is best served cold, at temperatures from 35 to 40 degrees Fahrenheit.
You should serve the beer in a pint glass to get the most out of its small head and garnish it with a juicy orange wedge on the rim of the glass.
– Appearance
The beer pours a light yellow color into your glass with light amber hues and a clear appearance that you can look through. On top of the beer is a two-finger white head with a lot of foam that dissipates quickly and does not leave a lot of lacing.
– Aroma
There aren't a lot of aromas when you pour the XXX lager, but the first thing you smell is the bready malts. It is mostly grainy on the nose, and you can't smell any sweetness or bitterness. You will also notice hints of corn in the scent and some light skunkiness.
– Mouthfeel
The super premium beer has a medium-to-light body on the mouthfeel that feels smooth against your tongue.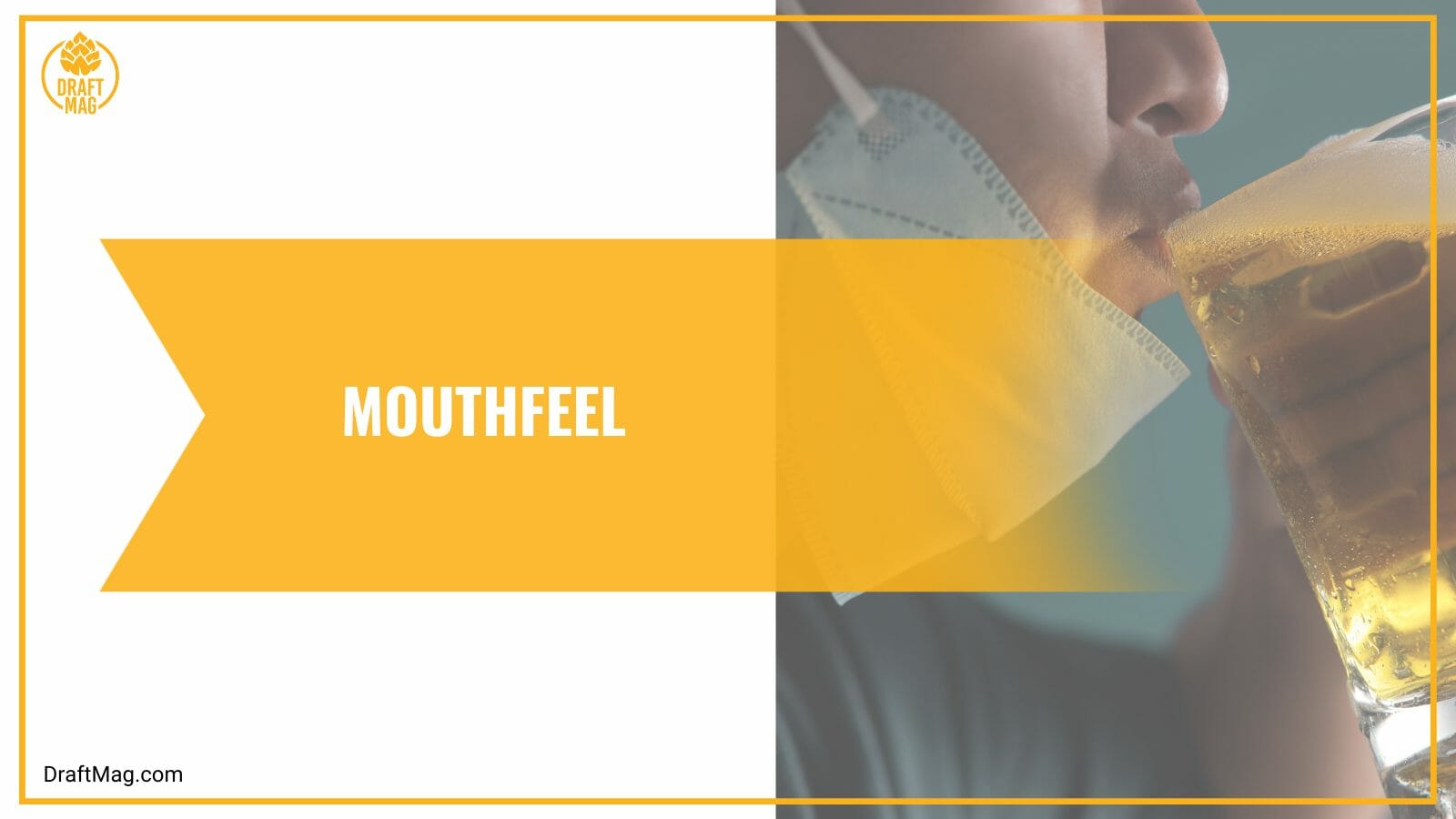 It is highly carbonated and offers a prickly feeling on your palate that is expected from a Molson beer. It finishes with a lot of corn and an aftertaste of a bit of metal.
– Flavor
When you drink the XXX lager, the first thing you will taste is a slight bitterness from the malts that mellow into semi-sweet malts. It is a mostly sweet beer, with fairly sweet malts and a lot of alcohol as you drink. Mid-palate, the beer has a sour profile with some dough and bread, but it isn't unpleasant either.
As you drink the beer, you will notice hints of sweet corn, floral hops, and yeast. It offers a good balance of malts and hops, with the hops offering grassy and floral notes and the malts providing bready, doughy, and corny flavors. It is a bit cloying and sweet toward the finish.
– Food Pairings
The XXX lager is an ideal pairing with different kinds of food, especially with its smooth mouthfeel and simple taste. You should have the beer with foods that linger on your palate, so roasted, smoked, and braised foods like meat, chicken, turkey, and fish are ideal pairings.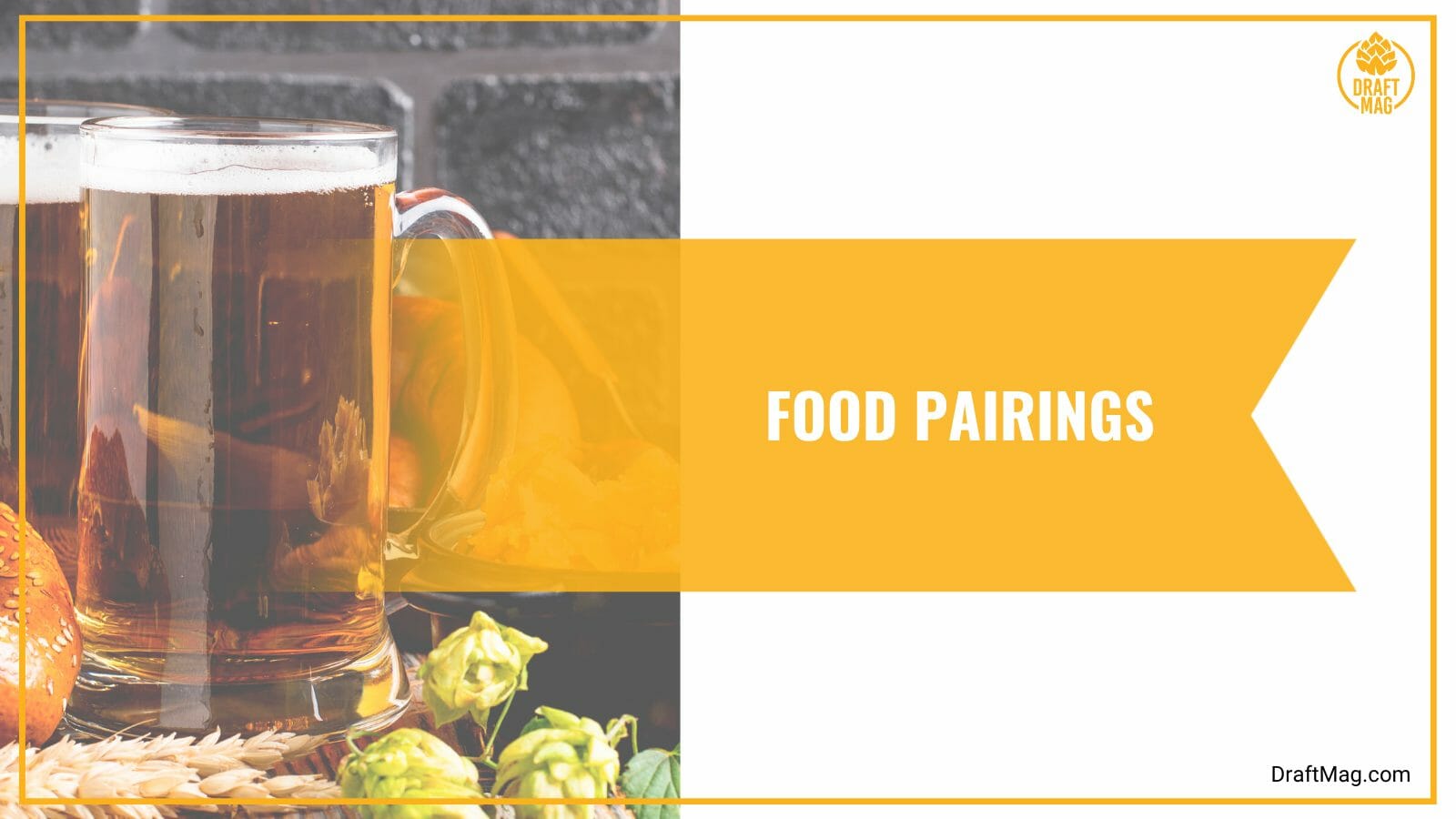 You can't go wrong with bread-based foods like toasted grains, toasted bread, pizza, meaty burgers, hot dogs, bread salad, pancakes, or jeon. On the side, earthy legumes and vegetables like baked beans, mushrooms, and beets will go great with this beer.
If you enjoy having cheese with your beer, you should have malt liquor with light cheeses like Havarti and mild Cheddar. As for dessert, the beer goes great with chocolate cake, brownies, strawberries, and cream or a carrot cake.
Ingredients
The XXX lager is made with barley malts, wheat, maltose corn syrup, yeast, hop extract, and water. It is mostly malty, with the barley malts and wheat offering flavors of biscuit, bread, and dough. The maltose corn syrup is also prominent in the flavor, while the hops are relegated to the background.
Nutrition Facts
In the XXX beer, you get an ABV of 7.3 percent, which is a pretty high level. You can taste the alcohol in the flavor with a bit of warming. It has 212 calories in every 12-ounce serving, which is a pretty high level. Drinkers on a diet should keep this in mind when calculating their daily dietary requirements.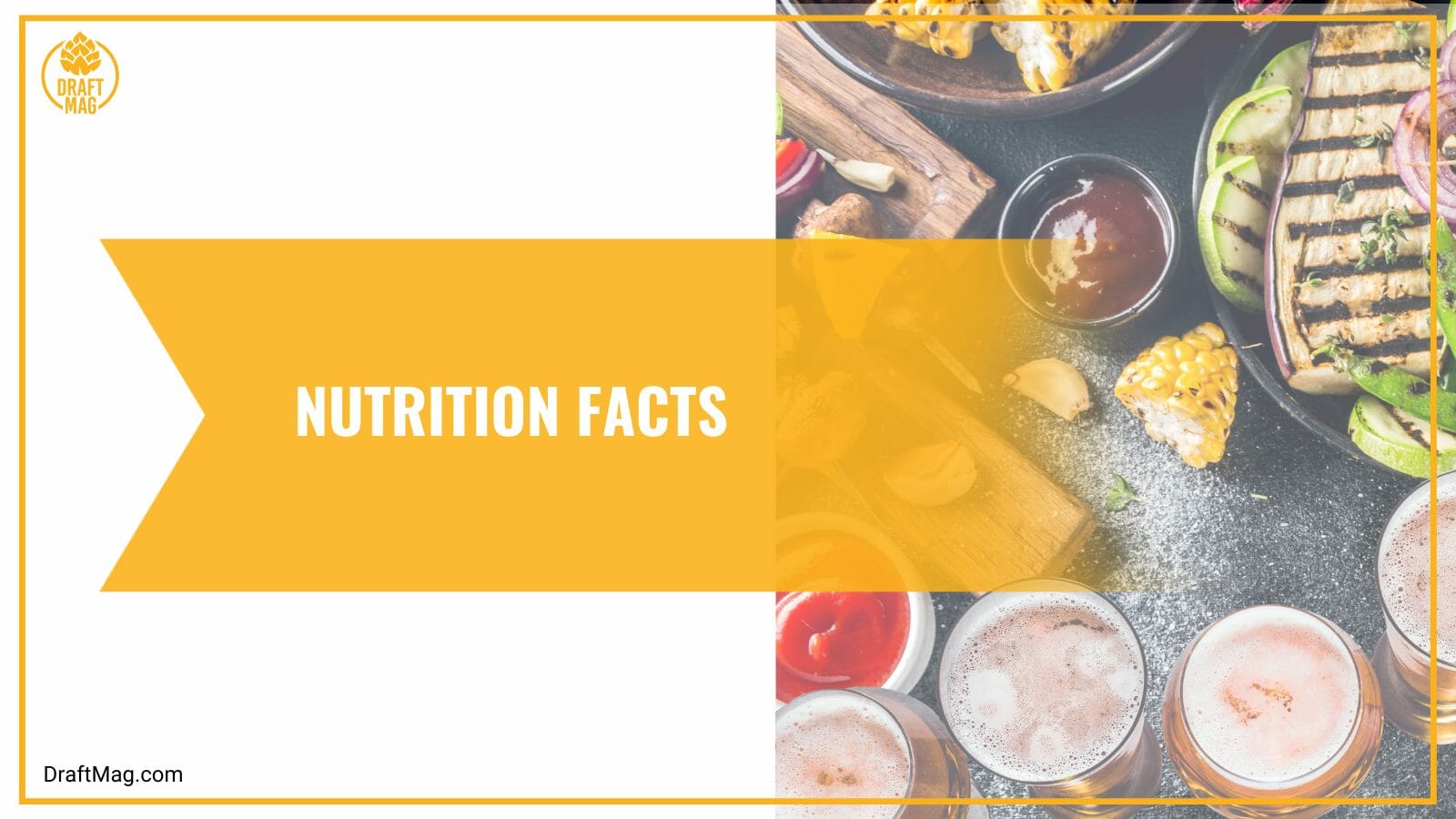 There are 16.4 grams of carbs in the beer, 1.4 grams of protein, and 10 mg of sodium. The malt liquor is not ideal for those on a keto diet since it contains a high level of carbs. It is not gluten-friendly.
History
XXX is made by Molson Coors Canada, which is based in Toronto. It was released in 2002 and was produced to be a very strong-tasting beer with a high ABV in the brewery. The brewery was founded in 1786 and is known as the oldest brewery in the North American area and the second oldest brewery in Canada.
The Molson beers initially entered the Canadian market with export beers, starting with the Molson Export beer. Their beers are made with Canadian water and homegrown hops in the country.
Conclusion
You can enjoy a sweet beer experience when you drink the XXX malt liquor, especially when served cold. Let's take a quick look at the summary of our review:
XXX is a malt liquor with a 7.3 percent alcohol content, made in Canada.
The beer has flavors and aromas of malts, hops, bread, grass, corn, and floral notes, with some alcohol in the flavor.
It is made with barley malts, wheat, maltose corn syrup, yeast, hop extract, and water.
Serve the beer in a pint glass at 35 degrees Fahrenheit.
The malt liquor pairs great with roasted, smoked, and braised meats, bread-based foods, earthy legumes, light cheeses, and sweet desserts.
If you're curious about this beer, you can easily purchase it at different stores and supermarkets close to you.