Highland Gaelic Ale Review: Give This Sweet and Hoppy Amber Ale a Try
Highland Gaelic Ale is a smooth and malty beer that will surprise you with a balance of sweet malts and slightly bitter hops. The beer is best described as an amber ale but with hops leaning towards an American pale ale.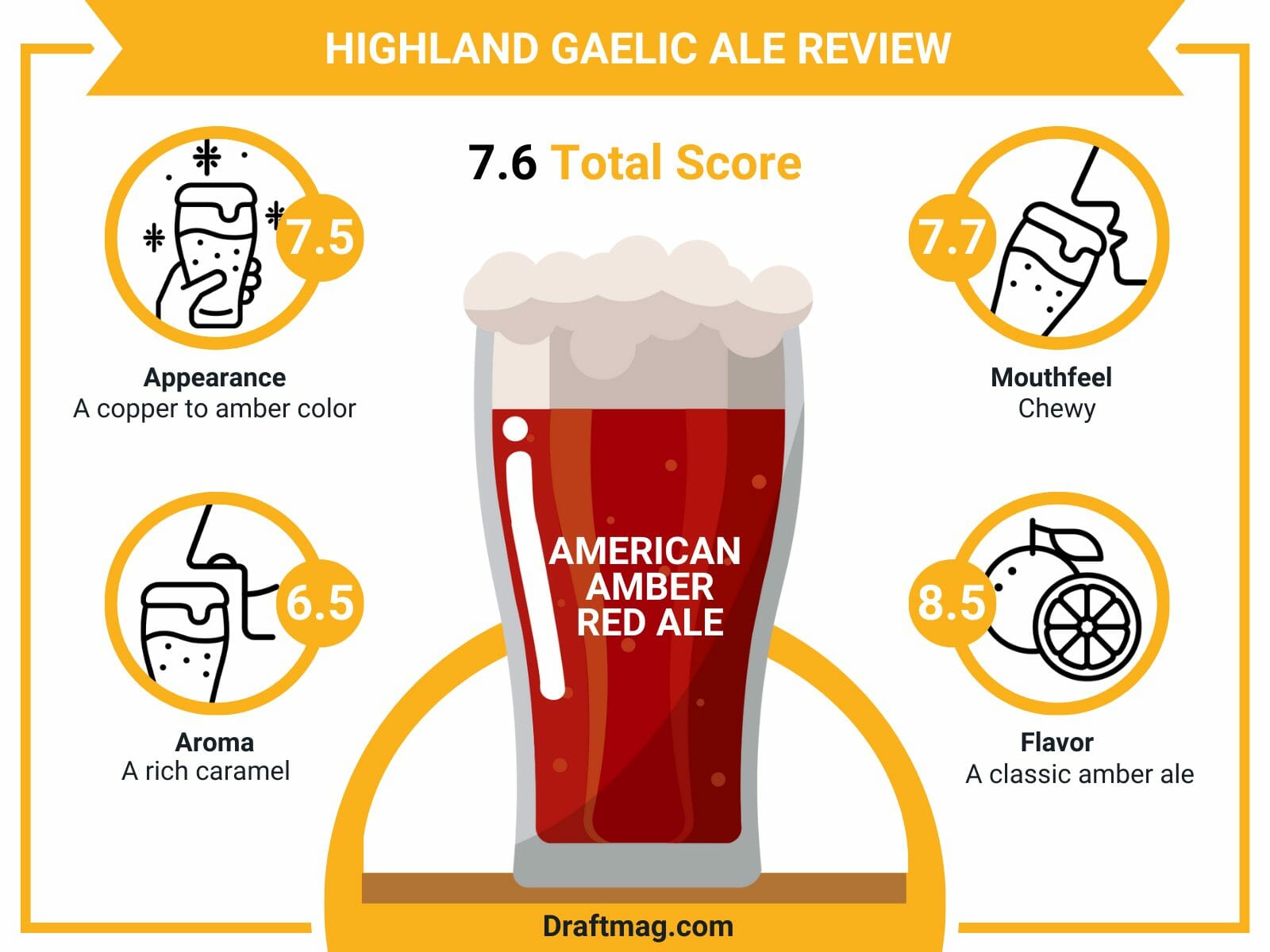 Whenever you're interested in a brilliant red ale, you can look out for this flavorful beverage. Keep on reading our review to know more about what the beer has to offer.
Highland Gaelic Ale Stats
| | |
| --- | --- |
| Country  | United States |
| Brand | Highland Brewing Company |
| Style | American Amber / Red Ale |
| Taste  | Toast, malt |
| Body | Medium Body |
| ABV | 5.5 percent |
| Flavors & Aromas | Toast, caramel, hops, grapefruits, earthy crackers, toffee |
| Serving Temperature | 45 – 50 degrees Fahrenheit |
Tasting Notes
Highland Gaelic Ale Tasting Profile
Highland Gaelic Ale Review
Gaelic Ale is an American amber or red ale with a 5.5 percent alcohol content. The beer is made by Highland Brewing Company and has a taste of toast and malts, with a sweet yet hoppy character. It has a medium body and a clear copper appearance, with flavors and aromas of toast, caramel, hops, crackers, toffee, grapefruits, and some earthy notes.
The beer is best served in a pint glass, with the slender shape showing off the clear and bright color. The wide opening of the glass holds the beer's head well. You should serve it at temperatures from 45 to 50 degrees Fahrenheit and garnish it with a lemon slice.
If you want a sweet beer to accompany you during parties or when having dinner, this ale is the ideal choice.
– Appearance
The ale pours a copper to amber color with a clear appearance that you can easily see through.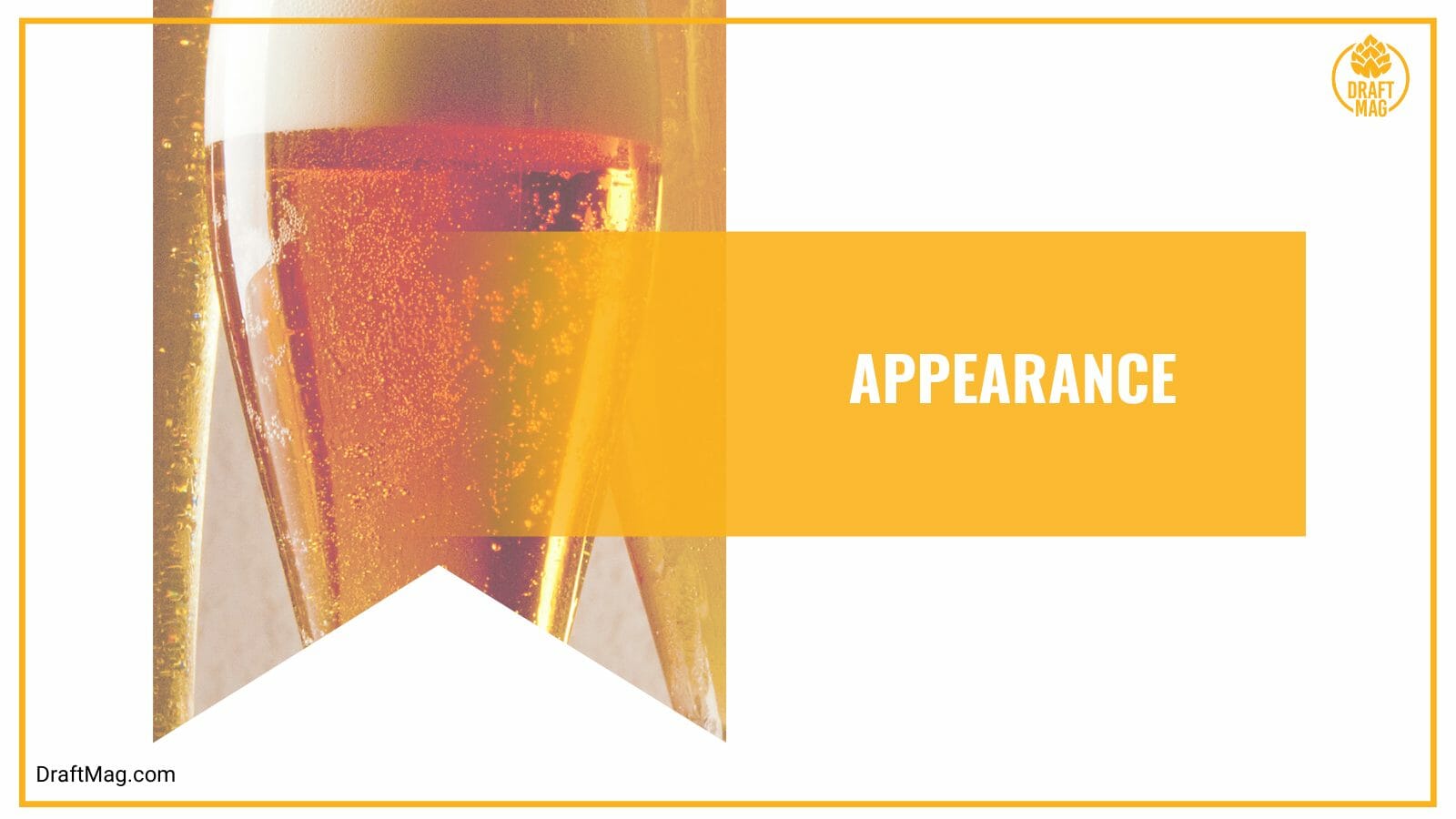 On top of the beer is a dense and creamy tan head up to a finger high, and this leaves heavy web lacing against your glass as it dissipates.
– Aroma
Bring the beer to your nose and you can enjoy a rich caramel malt aroma that overwhelms the slight earthy hops in the backbone. Although it smells malty, there are hints of cherries and chocolate in the beer that give you a unique aroma.
– Mouthfeel
On the palate, the ale has a medium body that feels somewhat chewy but is still a classic ale. There is plenty of carbonation, but it isn't too much, leaving a tingly feeling at the back of your throat.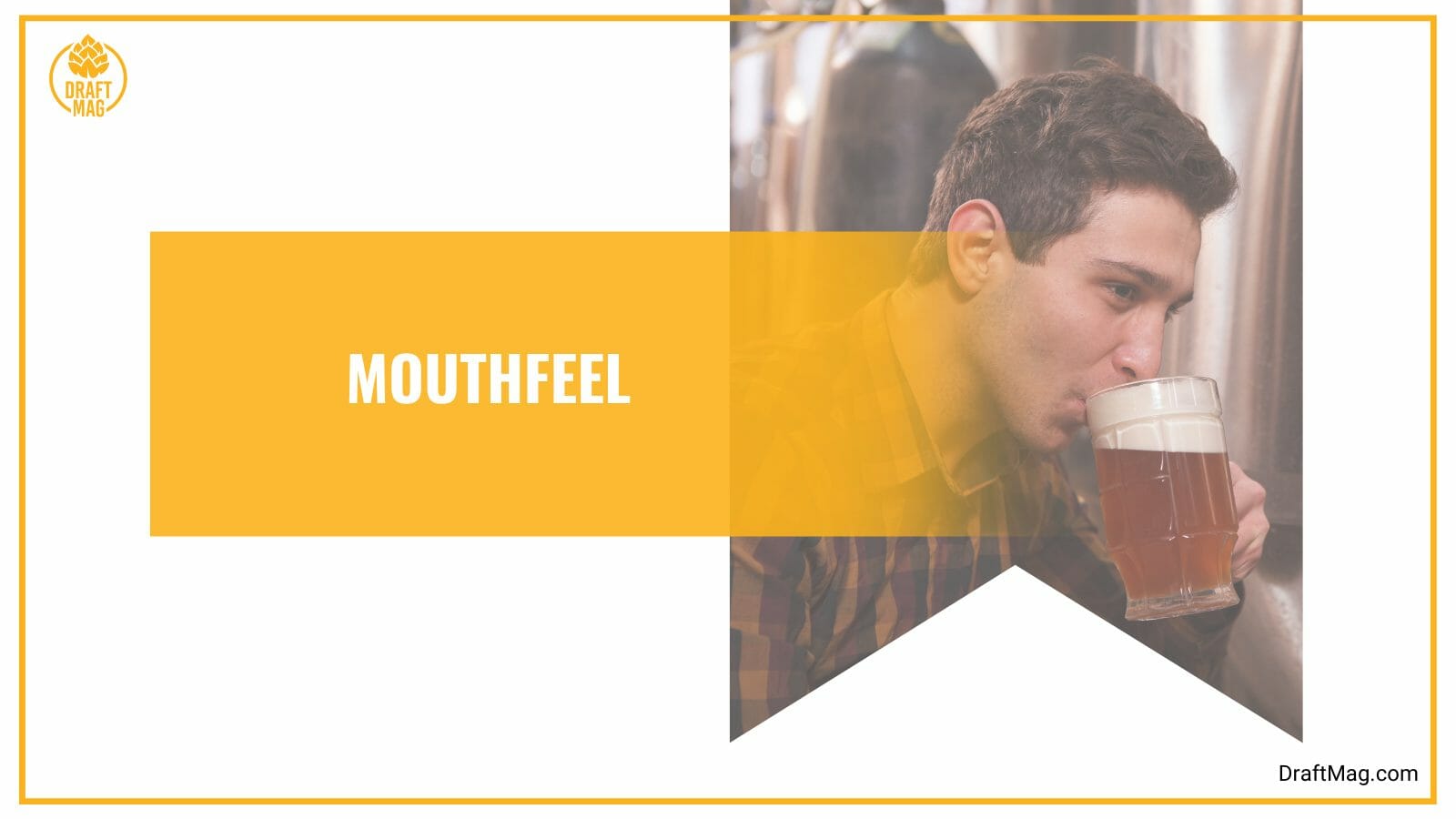 The beer feels fairly smooth and goes down very easily, with little alcohol character.
– Flavor
As for the taste, the ale has the flavor of a classic amber ale, with hints of crystal and caramel malts. The malts form a sweet base of the beer, and this is well balanced by the grapefruit and herbal fruits. The beer finishes with hints of bitterness that go into the aftertaste.
The flavor follows the aroma, but it has more earthy notes, and the sweet caramel malts transition to the hops before bringing out some dry grapefruit rind. It has a sweet finish before becoming bitter in the aftertaste. It's an easy-to-drink red ale with medium carbonation.
– Food Pairings
The ale is a classic amber ale that pairs well with different kinds of foods, but you should go for heavy and hearty meats like barbecue pulled pork, brisket, and jerk chicken. It also goes well with bread-based foods like pizza, burgers, hotdogs, bread salads, bread soups, pancakes, and more.
It also balances out rich and savory foods without overshadowing the taste. The beer also goes well with grilled meats or a rich and creamy risotto. Pair it with your favorite comfort foods like chicken pot pie, spaghetti and meatballs, lasagna, and macaroni and cheese. It is a versatile beer that goes well with grilled meats and Mexican dishes.
As for your sweet tooth, you can pair this brew with a pound cake, caramel-flavored desserts, chocolate cheesecake, sweet toffee, and more. You can also enjoy the beer with cheese like medium cheddar, Gouda, and Brie.
Ingredients
The ale is brewed with malts, hops, yeast, and water. The malts used to make this beer are Munich, Caramel 40, Caramel 60, and Extra Special Malt. As for the hops, they include Chinook, Cascade, and Willamette hops. The malts give you sweetness and a strong backbone, while the hops provide a delicate bitterness.
Nutrition Facts
The amber ale has 5.5 percent of alcohol in a 12-ounce serving, with a very slight alcoholic character in the aroma and flavor. Despite the hops, the beer has 30 IBU, which gives you some pleasant bitterness.
In the beer, you have 173 calories in every 12 ounces, and you need to keep this in mind when calculating your daily dietary requirement. The beer also has 17.3 grams of carbs in a serving, but there is no fat or protein. It is not a keto-friendly beer as the high carbs content indicates, and the beer contains gluten.
History
Gaelic Ale is made by Highland Brewing Co and was first released in 2002. It is a year-round beer and was named Asheville's first beer too. The beer has also been voted the best all-round beer in Western North Carolina in the Mountain Xpress Best of WNC poll in the consecutive years from 2015 to 2020.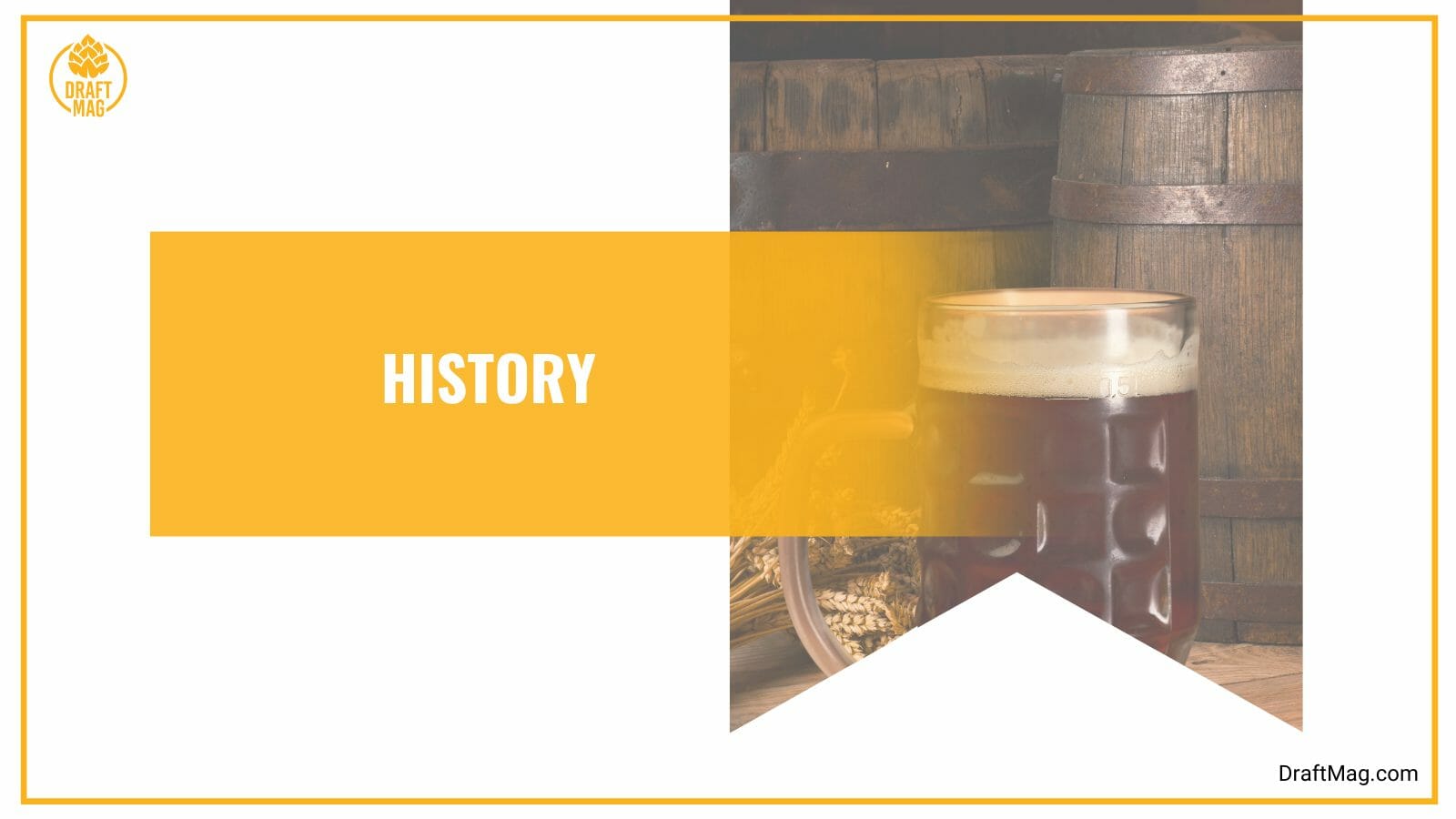 Highland Brewing was founded in 1994 and is independent and family-owned. It is one of the foundations of Asheville craft beer in North Carolina, as it was the first legal brewery in the town since the prohibition ended. This amber ale was one of the oldest beers in the area, alongside the Black Mocha Stout and Oatmeal Porter.
Conclusion
The Highland Gaelic amber ale is a pleasant beer that offers you a unique taste profile and diverse food pairings. Here's a rundown of what our beer review covered:
The Gaelic Ale is an amber ale with a 5.5 percent alcohol content from Highland Brewery.
The beer has aromas and flavors of toast, grapefruit, caramel, malts, and citrus, with the hops and malts balancing against each other.
It is made with malts, hops, yeast, and water.
Serve the beer in a pint glass and garnish it with a lemon slice.
The beer is best paired with hearty meats, comfort food, Mexican dishes, savory flavors, pound cake, and medium cheddar cheese.
To give this ale a try, you can check it out at the brewery in Asheville or purchase it online and at physical stores near you.