Cerveza Brava Review: Is This European-style Lager Worth a Try?
Cerveza Brava (in English, Brava beer) is one of the popular Colombian beers brewed by the famous Cerveceria Bavaria. It is a pale lager that has a simple and clean taste.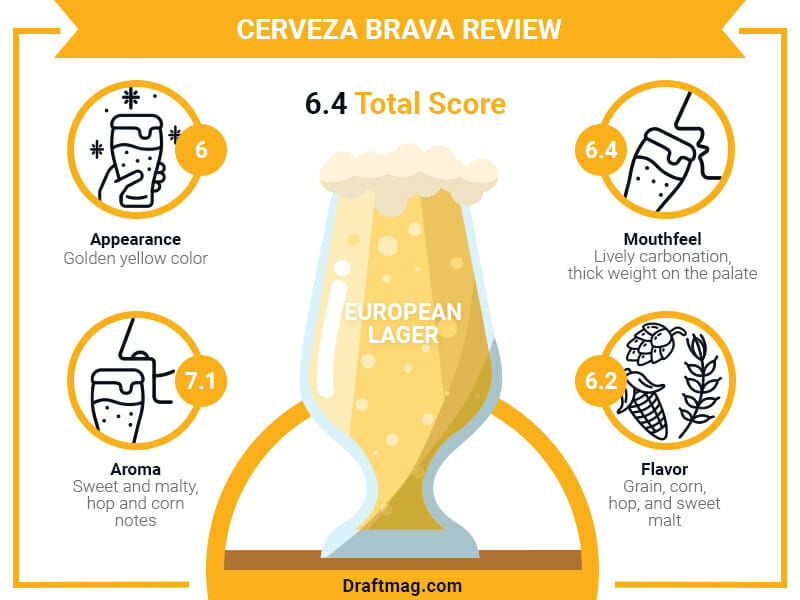 If you are curious to know more about this beer from Colombia, you are welcome to read this review compiled by our beer experts. They analyze this European pale lager and tell us what to expect from it.
Cerveza Brava Stats
| | |
| --- | --- |
| Country | Colombia (Bogota) |
| Brand | Cerveceria Bavaria |
| Style | European-style Lager |
| Taste | This beer can be described as bland. However, it leaves a clean and subtly sweet malty taste on the palate. |
| Body | It has a bright golden yellow color, with active carbonation, thin white foamy head, medium body, and little retention. |
| ABV | 6.5 percent |
| Flavors and aromas | Its flavors are of corn, sweet malts, grain, and cereal notes. The aroma you'd get from this lager is similar to its flavor. There are hints of corn, rice, malt, overcooked vegetables, and faint hop. |
| Serving temperature | 45 degrees Fahrenheit |
Tasting Notes
Cerveza Brava Tasting Profile
Cerveza Brava Review
Our beer reviewers share as much detail as they can about this beer after rounds of tasting. We've compiled this detailed review based on the following categories:
– Appearance
Brava has an interesting golden yellow color that is very pale and translucent. For a European-style lager, this is quite impressive, especially as it also spots a nice white foamy head that's quite thin.
We noticed that this beer had little retention as the foam head dissipated faster than usual. Although it has that typical lager look, it also has a picturesque stream of bubbles and leaves a lacing visible as the beer gradually declines.
– Aroma
Brava has quite an impressive appearance, but its aroma is an entirely different story. It has a sweet malty aroma that is mixed with a strong hop character as well as corn. There are hints of grains, cereals, and a slight alcoholic note that aren't unpleasant. You may also get hints of overcooked vegetables or cereal as you bring the glass to your nose.
This beer can be best said to have the aroma of most lagers, with nothing appealing enough to make you want to take your first gulp.
– Mouthfeel
Although the aroma of this beer was slightly off-putting, the mouthfeel was quite decent. It has lively carbonation that leaves a thick weight on the palate. It is medium-bodied, so it is quite easy to drink. There's nothing exceptional going on for the taste, and it can be rightly described as bland.
However, you can feel a graininess lingering for a while. It is also slightly watery but leaves a clean, almost sweet finish. One may describe it as a very simple beer with nothing extraordinary.
– Flavor
This beer has flavors that are quite similar to its aroma. It has a musty grain flavor, and the taste of corn and sweet malt is very much present. It also had a subdued hop profile that is almost unnoticeable. Aside from these, there are no other flavors that leave an impression.
Just like the aroma and mouthfeel, the beer doesn't come with flavors that would entice you to want to continue drinking.
This pale lager has almost the same taste and aroma as most pale lagers. However, its simple aroma and flavor profile lends it a striking similarity to the Mexican pale lager, Corona. There are also hints of malty sweetness and a bit of hop character.
– Food Pairings
Like many lagers, Brava goes well with almost any dish. It is great with spicy meals, seafood, and grilled meat. You can enjoy your can or bottle of Brava with pasta, grilled salmon, chicken and buffalo wings, grilled pork, and any Mexican, Asian, or even Latin delicacies. The pale lager also pairs well with shellfish, burgers, fried fish, French fries, tacos, and sausages.
Lagers are best paired with these meals because they compliment the predominant flavors and spiciness of the meals.
Ingredients
This European-style lager is made from the key ingredients that many other beers contain: water, yeast, hops, and grains. However, this lager contains malted barley and cereal grains like corn and rice.
Nutrition Facts
Not much is known about the nutritional facts of this lager. However, most lagers by one-pint serving have 200 – 320 calories. The protein is between 1.6 – 23 grams. The fat is usually between zero to 13 grams and carbs between 3.1 – 23 grams.
History
It is brewed by Cerveceria Bavaria (translated to English as Bavaria Brewery). This brewery is located in the South American country of Colombia and was formerly known as Bavaria S.A. It was founded in 1889 by a German immigrant named Leo S. Kopp.
Cerveceria Bavaria was one of the largest breweries in South America before it was eventually sold to SABMiller in 2005. In October 2016, Anheuser-Busch InBev (AB InBev) purchased SABMiller, after which Cerveceria Bavaria became a subsidiary of AB InBev.
This beer is no longer available in beer stores or bars because it was retired by Cerveceria Bavaria in 2005 and is no longer being brewed. However, there are other beer products brewed by Cerveceria Bavaria, which include Redd's, Club Colombia Negra, Aguila Light, Costena, Club Colombia Dorada, Poker, Pilsen, and Azteca. Many of these beers are still in production and available for sale, so you can definitely try them out anytime.
Conclusion
Although Brava was not the best lager beer, it was truly a simple and refreshing one, especially if served ice-cold on a hot day. Here is a summary of the points discussed in this article:
This pale lager was produced by the reputable Cerveceria Bavaria, the second-largest brewery in South America, until it was sold.
It is a European-style pale lager with a crystal clear golden yellow color typical of most lagers.
The aroma, taste, and flavors of this lager may best be described as underwhelming. However, it is a fairly decent beer; it has simple flavors and leaves a clean, sweet malty finish balanced by its hop character.
The beer pairs well with meals with extra flavors and spiciness like Mexican, Asian, Latin, and grilled delicacies.
This pale lager surely does not top our list of recommended beers. However, it was fairly decent while it lasted, coupled with being very affordable at the time it was being sold.