Bud Light Chelada Fuego Review: What This Unique Beer Has To Offer
Bud Light Chelada Fuego takes spicy beer to a whole new level with its flavorful brew. It is produced by the reputable Anheuser-Busch InBev and infuses Tapatio, which lends it a hot sauce taste.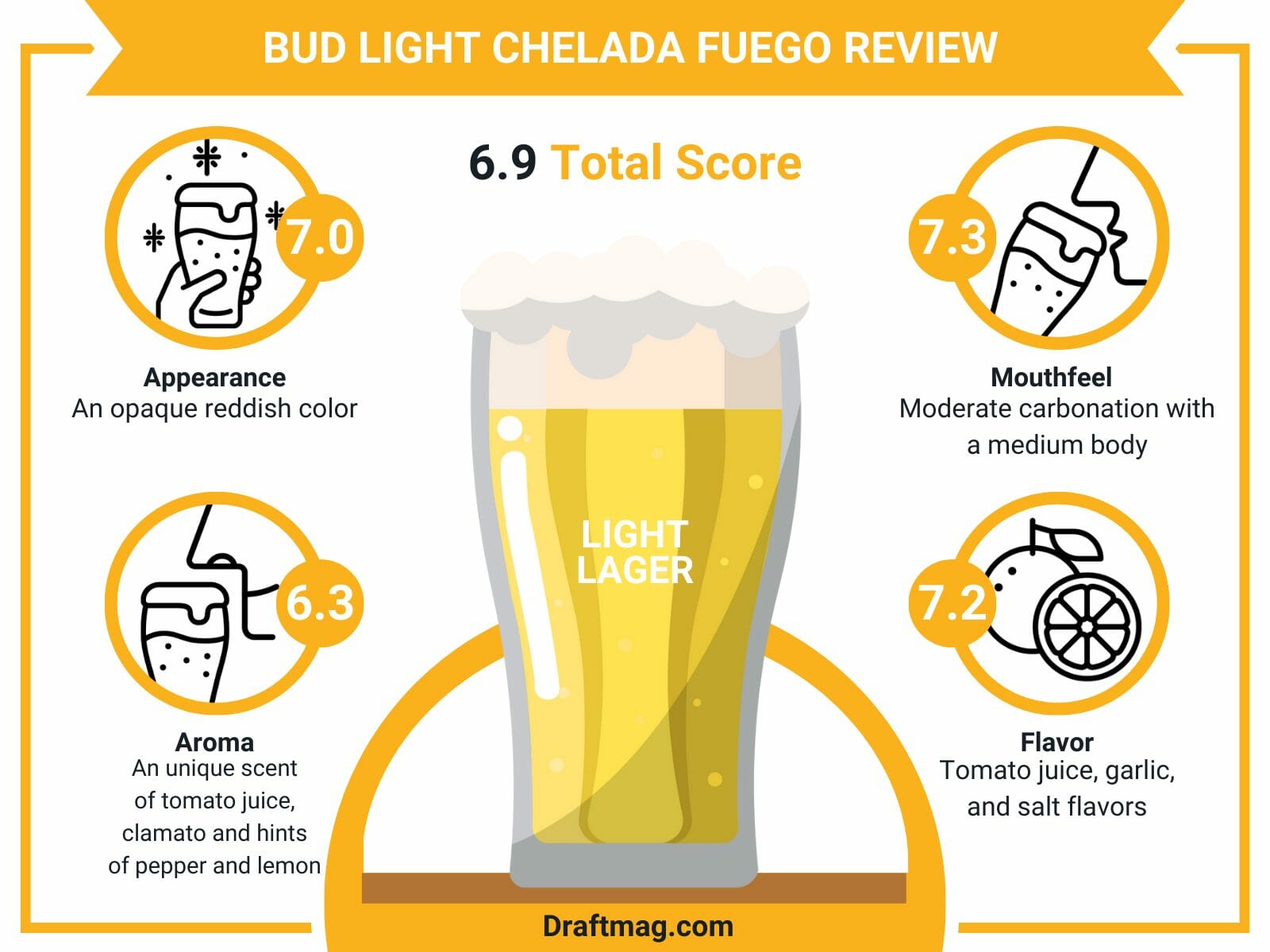 Despite its unusual style, this light lager has managed to warm the hearts of beer lovers who also enjoy spiciness. If you're ready to grab a can, our review will prepare you for everything you need to know about this classic brew.
Bud Light Chelada Fuego Stats
| | |
| --- | --- |
| Country | United States (Missouri) |
| Brand | Anheuser-Busch InBev |
| Style | Light Lager |
| Taste | It tastes like tomato juice combined with hot sauce. There are no other noticeable attributes that enhance its taste. |
| Body | Bud Light Chelada Fuego has a medium body with moderate carbonation. It also has a spicy kick that can be felt almost immediately. This eventually gives way to a lingering warmth on the palate. It has a sticky finish. |
| ABV | 4.2 percent |
| Flavor and Aroma | The flavors of this brew are tomato juice, Tapatio hot sauce, vinegar, lemon, and Clamato notes. The aroma is also very similar, matching the spiciness that this lager packs. |
| Serving Temperature | 35 – 40 degrees Fahrenheit |
Tasting Notes
Bud Light Chelada Fuego Tasting Profile
Bud Light Chelada Fuego Review
If you're wondering why this is such a popular brew, our review provides a detailed explanation. This guide analyzes this beer in several categories to help you decide if it's a worthy brew for you.
– Appearance
When poured into a glass, it has an opaque reddish color that can also be described as orange. Once poured, about a finger or two of a creamy foam head appears immediately. This foam head is off-white, although closer inspection indicates that it appears somewhat pinkish. The foam head fizzles away quickly, leaving almost no trace of its thickness.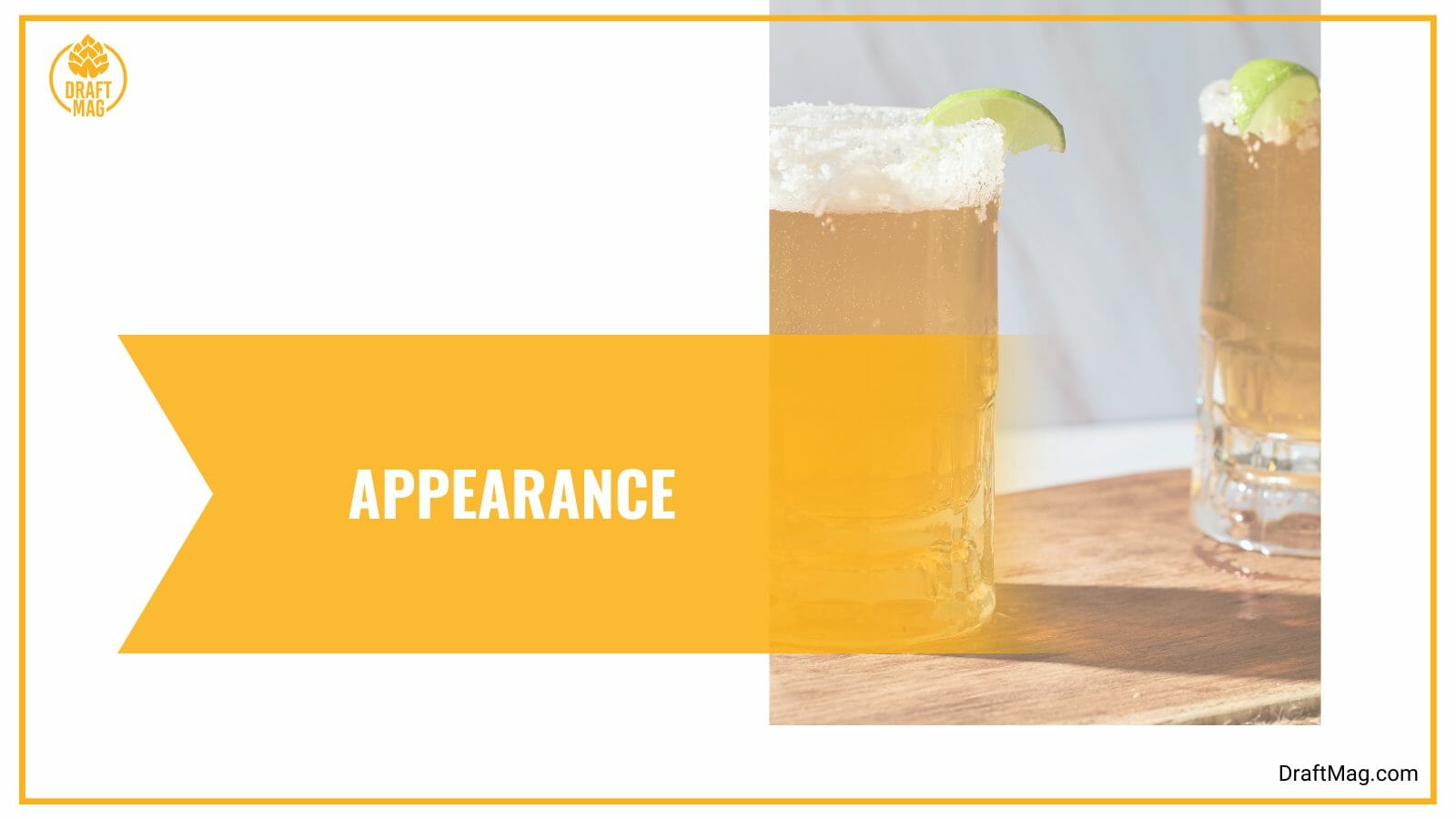 This beer doesn't leave much lacing around the glass. We noticed that it contains considerable carbonation, as small bubbles can be seen working their way through the glass.
– Aroma
It has a unique scent that brings to mind tomato juice, Clamato, and hints of pepper and lemon. Although you can perceive whiffs of spiciness, the beer doesn't have an overwhelming spicy smell that might likely throw you off.
The aroma of this brew brings to mind a burger with barbecue sauce and a lot of ketchup. Even though the smell isn't exactly appealing for a lager, the weird aroma makes you eager to give it a try.
– Mouthfeel
Once consumed, you can almost immediately tell that this beer is medium-bodied. It also has moderate carbonation that lends to its sleek taste. You can also detect the spiciness just a few seconds after each gulp. This spiciness is considerably strong, although it is not hot enough to set your taste buds on fire.
It leaves a lingering warmth on the tongue and cheek, lasting up to 45 minutes after drinking. It also leaves a sticky, wet finish.
– Flavor
This beer has a distinct flavor from other Cheladas. You can perceive tomato juice, Clamato, garlic, salt, and a flavor that resembles lime or pickle notes. The brew is combined with Tapatio hot sauce, which increases the flavor's assertiveness.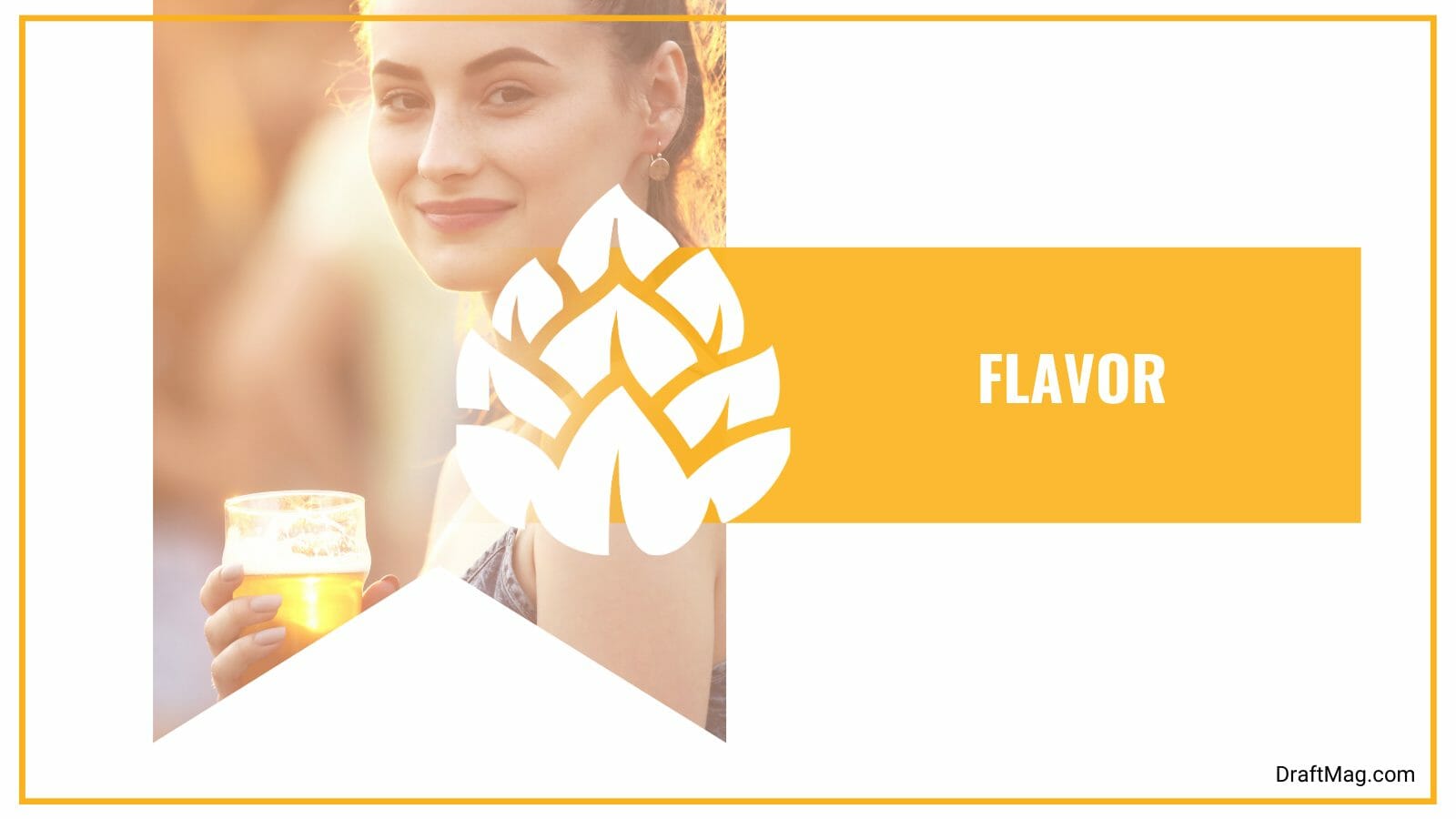 We also noticed that this lager has a vinegar-like flavor, which, combined with the hot sauce flavor, makes for a truly memorable beer.
– Food Pairings
It pairs well with almost any type of food. The spice in this beer makes it a very versatile beer to enjoy with any meal. You can pair your cold brew with spicy Chinese, Thai, Indian, Mexican, and even Latin delicacies. Examples are spicy noodles, chicken enchiladas, churros, Indian curries, mushroom burgers, guacamole, etc.
You can go ahead to pair it with more simple meals like pizza, salmon, salty nuts, grilled meat, French fries, and tacos as well.
Ingredients
The beer is made from water, rice malts, barley malts, Clamato/Tapatio concentrate, and various hops.
Nutrition Facts
The Fuego variant contains 181 calories. Alcohol contributes about 45.7 percent to the calorie count. Protein contributes 4.2 percent, and carbs contribute 5.1 percent to the entire calorie count.
Aside from its 181 calories, this spicy light lager has 22.6 grams of carbs, 1.9 grams of protein, and zero grams of fat.
History
The beer was first launched in 2008 by Anheuser-Busch in collaboration with Tapatio, a Mexican-American brand of hot sauce. The Bud Light Chelada Fuego variant was produced with an extra spiciness to it compared to other Cheladas.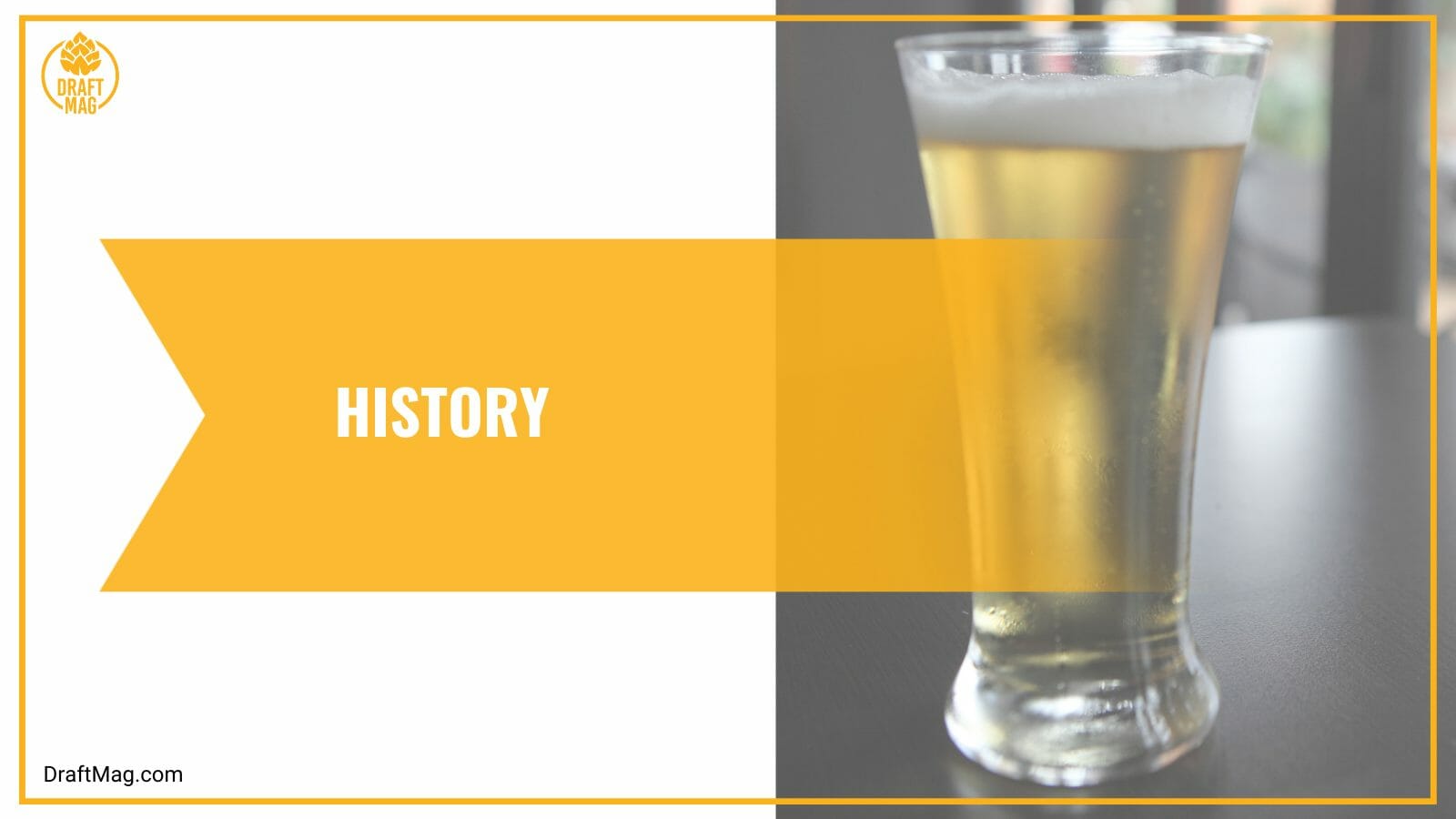 It is a light lager with 4.2 percent ABV, making it perfect for both light and experienced beer drinkers. It is available in bars, liquor stores, and retail beer sites around the nation.
Frequently Asked Questions
– Does Bud Light Chelada Taste Like Bloody Mary?
Yes, Bud Light Chelada tastes like Bloody Mary, but it lacks the thickness of the typical Bloody Mary beverage that some drinkers don't seem to like. It also has a tomato juice taste, with a lot more spice than a Bloody Mary would contain. That spice may be perfect if you're dealing with a headache hangover.
– Is Bud Light Chelada Spicy?
Yes, Bud Light Chelada combines the spiciness of Clamato and Tapatio hot sauce. This combination gives it an interesting peppery feel that you might find yourself craving in place of more plain beers.
– Does Bud Light Chelada Have Clam Juice in It?
Yes, Bud Light Chelada has clam juice in it due to the addition of Clamato in its composition. Clamato is a mixture of tomato juice and clam juice.
Conclusion
This beer is surely a unique beer cocktail with the right dose of spice. Here's a quick recap of the important points we learned:
Bud Light Chelada Fuego is produced by Anheuser-Busch InBev and is a spicy beer mix.
It tastes like tomato juice with salt and hot sauce. This brew also smells similar to its flavors, with bold scents that remind one of ketchup, tomato juice, and vinegar.
The beer is medium-bodied with moderate carbonation. It also has a spicy taste and a residual warmth that leaves a sticky finish.
We wouldn't rate this beer highly because of its taste, which is nothing spectacular. However, we applaud its uniqueness and recommend that you try it out if you're a spice and beer lover.