Passion Wolf Hazy IPA: The Amazing Review to Golden Road's Latest IPA
Passion Wolf Hazy IPA is the latest official IPA release of the Los Angeles-based brewery Golden Road. The beer is not so old in the beer industry, and many are yet to enjoy its taste. However, this review will guide you through the properties of this beer, from its appearance to aroma, mouthfeel, and flavor.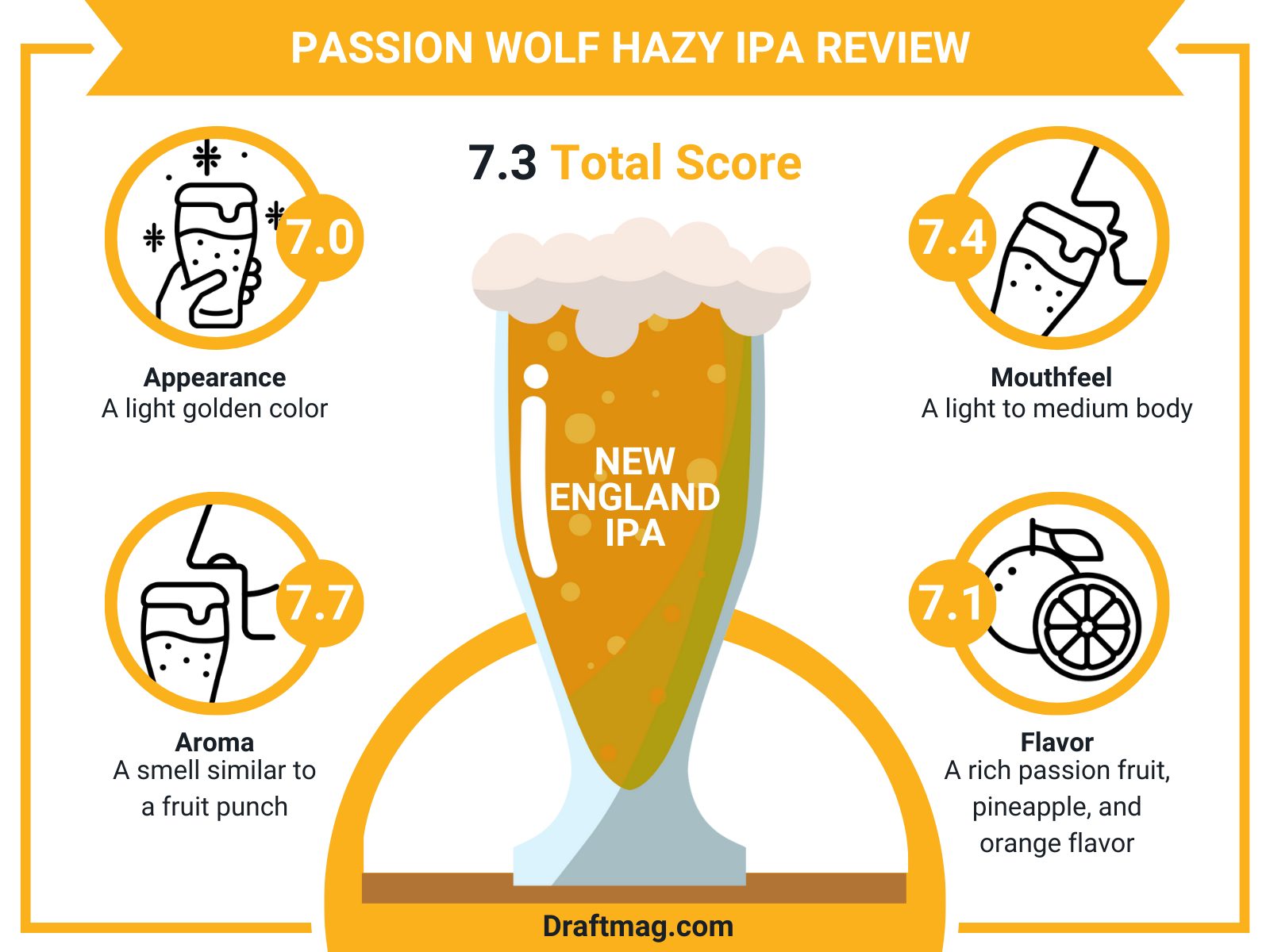 You don't want to stop reading now, as we'll also cover the beer's history, nutrition facts, ingredients, and food pairings.
Passion Wolf Hazy IPA Stats
| | |
| --- | --- |
| Country | United States |
| Brand | Golden Road Brewing |
| Style | New England IPA (IPA) |
| Taste | Citrus, Passionfruit |
| Body | light-medium |
| ABV | seven percent |
| Flavors & Aromas | pineapple, passionfruit, orange citrus |
| Serving Temperature | 45 to 50 degrees Fahrenheit |
Tasting Notes
Passion Wolf Hazy IPA Tasting Profile
Passion Wolf Hazy IPA Review
Passion Wolf is a NEIPA beer with rich passion fruit notes. Let's discuss its organoleptic characters and food pairings.
– Appearance
This beer appears hazy with light golden color. The white head is about three fingers thick with decent retention and lacings.
– Aroma
What you get in this beer is similar to that of a fruit punch. It has an enticing aroma. First, you get a hoppy sensation followed by an overlap of passion fruit, pineapple, orange, and lemon citrus.
– Mouthfeel
The beer is easy to drink with a light to medium body and average carbonation. On the palate, it begins with moderate hoppy notes with mild bitterness. This is followed by a blend of passion fruit, citrus, and tropical fruits ending with a lingering punchy feel. Overall, the beer is crispy, and juicy, and finishes clean.
– Flavor
Despite the Passion Wolf Hazy IPA alcohol content, it doesn't have a distinct raw alcohol note. The flavor follows the aroma with mildly floral notes and rich passion fruit, pineapple, and orange citrus. Summing all up, the beer has a sweet fruit punch finish.
– Food Pairings
For a pleasant experience, leverage the beer's juicy character and pair fatty foods. The beer's fruit medley flavors cut through foods like deep-fried meats, French fries, cheeses, pizza, avocado, and caramelized onions. In addition, you can complement the hops and crisp mouthfeel of this beer with green beans, peas, asparagus, artichokes, and radish. In addition, to unravel the bittering hops, you may accompany the beer with meats served with green onions, scapes, and spring onions.
Beer and food pairing isn't a big deal, especially if the main character is a hazy IPA like Golden Road Pasion Wolf. All you need is a suitable dish that complements or contrasts the juicy flavors of this beer. While this beer is versatile, fortunate to its intense fruity flavor, you shouldn't go in the direction of excessively aromatic foods. The reason is that you don't want to overwhelm the beer.
Hot and spicy foods can also create magic with this beer. We talk about the likes of hot wings, scotch bonnet sides, spicy noodles and pasta, Indian curries, lasuni gobi, Mexican foods, etc.
The hazy character of this beer is a result of the yeast strains used in brewing. And to complement the cloudy texture, consider pairing crunchy foods like chips, burgers, popcorn, corn on the cob, grilled chicken, roasted chickpeas, seafood, and potato salad.
Ingredients
This hazy IPA is brewed with various ingredients contributing to its fruity tropical character. It is made of various ingredients such as 2-Row, Citra hops, Cascade hops, El Dorado hops, passion fruit, and of course yeast and water
Nutrition Facts
The 12 fl. oz can contain 207 calories and 16g of carbohydrates, and 0g of protein. These values indicate that this beer has high carbs and calories. This concludes that there is a limit to how much you can take if you're mindful of your weight.
The beer is devoid of fats, cholesterol, and dietary fibers. So, while Passion Wolf Hazy IPA calories are quite high, it generally has decent nutritional statistics.
Passion Wolf Hazy IPA ABV is seven percent which is on the high end of the range for a typical NEIPA. While the alcohol content may seem average, a few cups or cans may make you boozy.  In addition, you wouldn't want to have too much of this beer as excess alcohol can cause weight gain and liver damage.
History
Passion Wolf Hazy IPA is a product of the largest brewery in Los Angeles, Golden Road Brewing Company. The brewery started in 2011 and is known for producing beers that match the Californian lifestyle. Golden Road brews different beer styles, which may be seasonal or all year round, including ales, lagers, and IPAs.
The IPA section of the brewery has a Wolf pack containing different IPAs. The beers in this pack have one similarity: the Wolfdog on their cans. Later in early 2021, the brewery decided to release something new and fruity to the Wolf pack introducing Passion Wolf Hazy IPA. Unlike the brewery's initial IPAs, this beer has a cloudy appearance with the richness of passion fruit and hops.
The beer is produced throughout the year and is available in single 12 fl. oz cans and 6-packs. You can also find in the variety pack of 12 cans containing Hazy Pup IPA and Wolf pup session IPA.
As recently mentioned, the beer has a Wolfdog branding. Because of this, for every six-pack of Passion Wolf Hazy IPA sold, Golden Road chips in $1 to a Los Angeles nonprofit organization called Wags & Walks. This organization caters to homeless dogs needing urgent medical attention.
Conclusion
Are you searching for a beer with tropical fruitiness and low bitterness, unlike the traditional types? Then you should consider blessing your taste buds with Passion Wolf Hazy IPA. This review has provided details about the beer's organoleptic properties and food pairings. Here are key takeaways:
Passion Wolf Hazy IPA is a NEIPA beer with seven percent ABV.
The beer appears cloudy and light golden with a three-finger thick white head with decent retention and lacing.
The beer is easy to drink with a medium-light body and average carbonation.
It is brewed using 2-Row, passion fruit, water, yeast, and hops, including Citra, Cascade, and El Dorado.
Remember to follow the beer's food pairings guidelines and serve at the recommended temperature in the table above.