Elsinore Beer Review: Refreshing and Drinkable Czech Pilsner
Elsinore Beer is the ideal pilsner for anyone that wants to try out this beer style for the first time. It features a juicy and refreshing flavor and will go down easy with the low ABV, so if you've been hesitant about trying a pilsner, this is a good choice.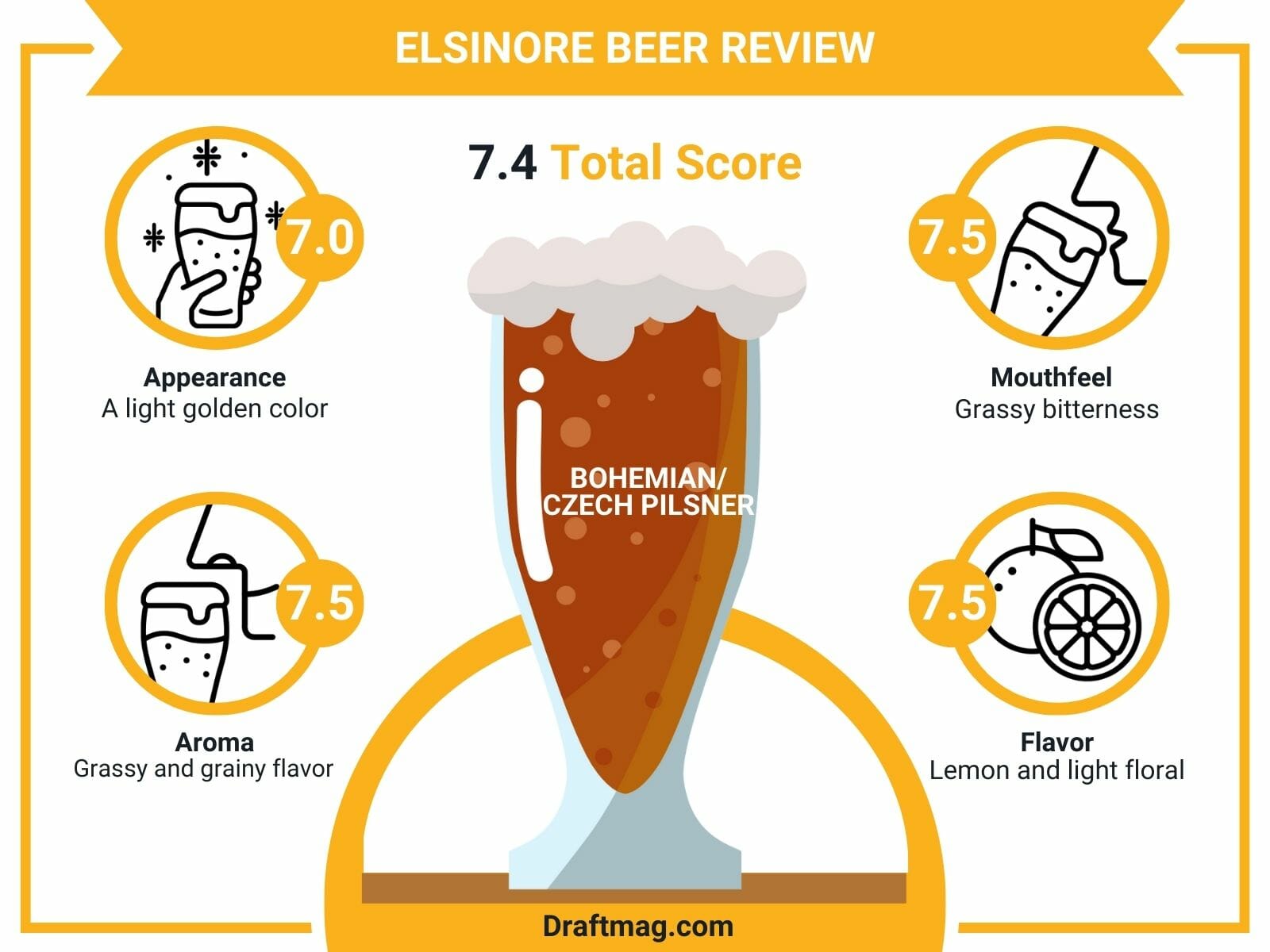 Ideal for all occasions, the drinkable beer will taste great on a hot summer day and is ideal for warm weather. If you're curious about this beer, you can check out our complete review below, which covers the tasting notes and food pairings. 
Elsinore Beer Stats
| | |
| --- | --- |
| Country  | British Columbia, Canada |
| Brand | Phillips Brewing & Malting Co |
| Style | Bohemian/Czech Pilsner  |
| Taste  | Pale malts, citrus |
| Body | Light Body  |
| ABV | 5 percent |
| Flavors & Aromas | Pale malts, bready, grassy, citrus, spicy |
| Serving Temperature | 35 – 40 degrees Fahrenheit |
Tasting Notes
Elsinore Beer Tasting Profile
Elsinore Beer Review 
Appearance: 7/10

Aroma: 7.5/10

Mouthfeel: 7.5/10

Flavor: 7.5/10
Elsinore is a Bohemian or Czech pilsner with a 5 percent alcohol content. The beer is made by Phillips Brewing & Malting Company and is an easy-drinking and refreshing beer for pilsner beginners. It features a balanced taste of pale malts and citrus when you drink, with a slightly bitter finish. 
The pilsner pours a light straw and a light body, with flavors and aromas of pale malts, bready malts, grassy, citrus and spicy hops. It features a nice hop character as you drink and is highly sessionable. Have this delicious beer with lemon tarts and a wide range of other citrusy foods.
You should serve the pilsner at a very cold temperature so you can get the most out of the refreshing character. It should be served from 35 to 40 degrees Fahrenheit in a pilsner glass. The tall-footed glass shows off the sparkling carbonation and retains the carbonation. Garnish it with a citrus slice like lemon. 
Appearance 
On the pour, the beer features a light golden color that looks great in your pilsner glass. The beer has visible carbonation that shows off its clear appearance and sparkling bubbles. The visible bubbles add to the foamy head.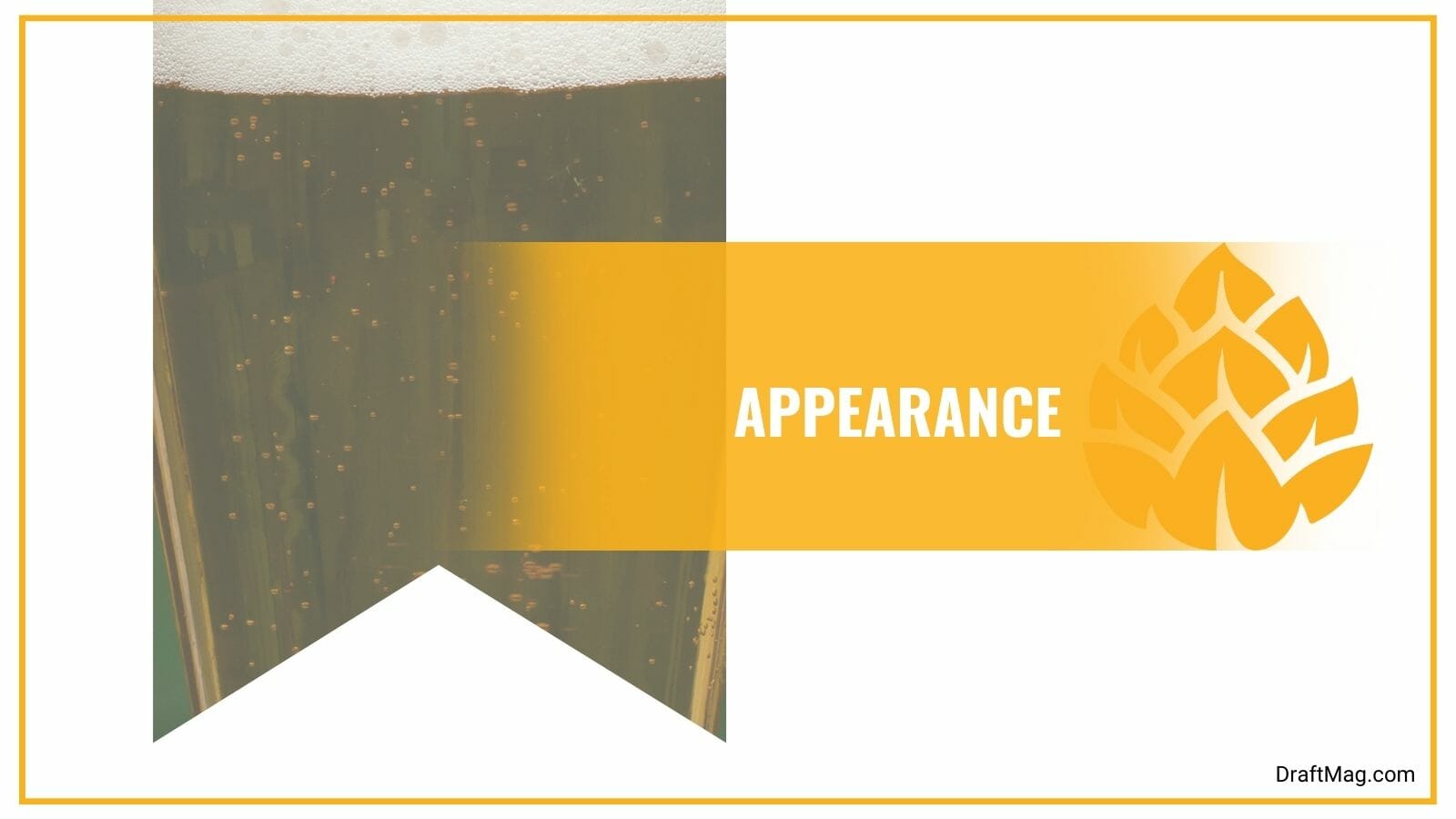 The white head is up to a finger high and has a decent staying power, so it takes time before it dissipates. It leaves some sticky lacing on the glass. 
Aroma 
Bring the pilsner to your nose and you get a grassy and grainy flavor, as most pilsners will offer. There's a bit of floral hops along with the grassy hops, and this balances out the grainy malts. You might smell a bit of freshly boiled tea.
There are hints of slight lemon and clean pilsner malts with noble hop spices. The aroma is a bit peppery as it warms up and will prickle your nose as it warms up. 
Mouthfeel 
On the palate, the beer has a light and clean mouthfeel, and it features a light body. There is a bit of mineral and grassy bitterness that brush against your tongue, and the pilsner malts contribute to the light body, making it a bit thick.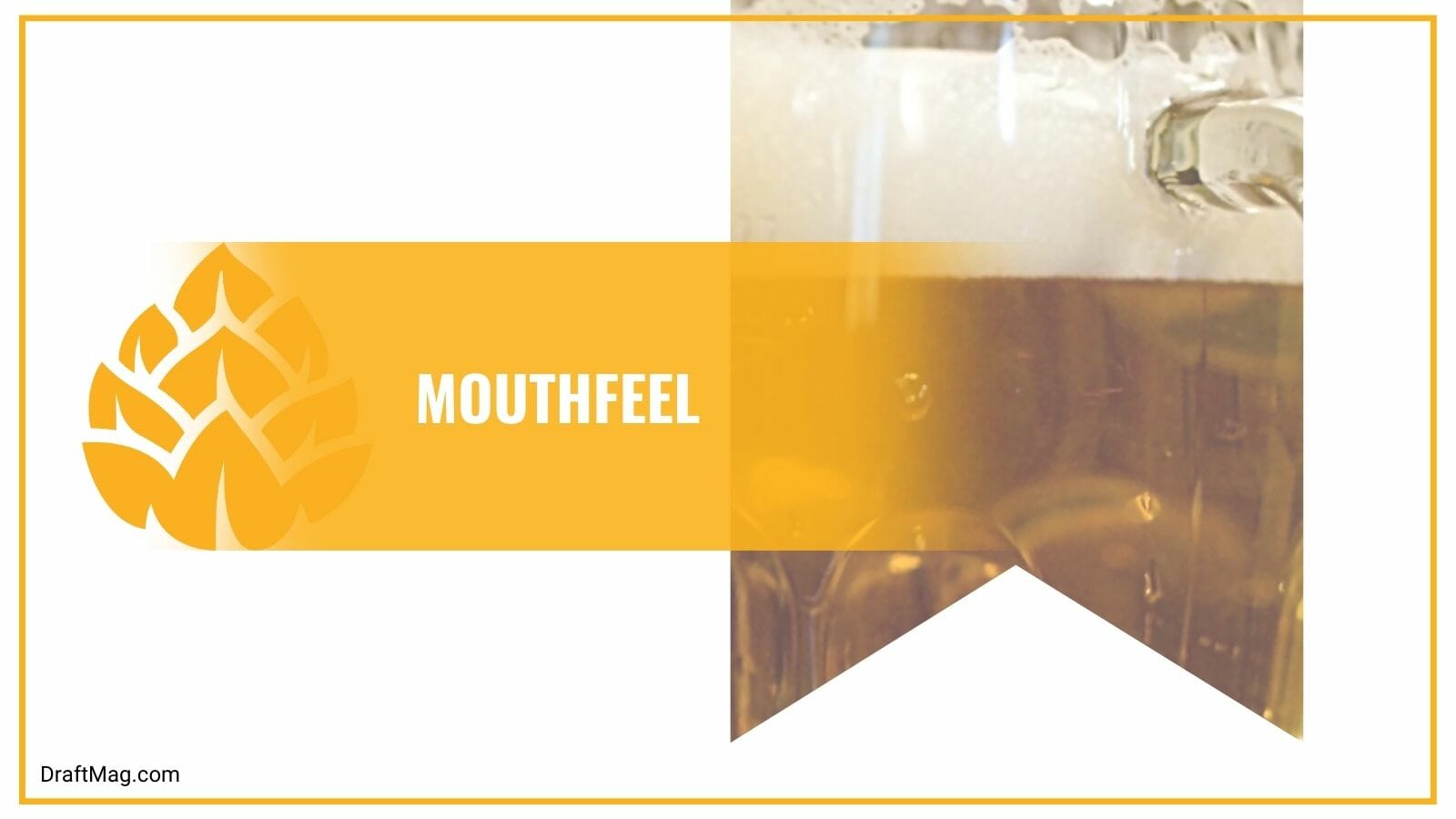 The beer also features moderate carbonation, and this cleanses the palate assertively. It contributes to the drinkability and is a bit crisp. 
Flavor 
The flavor of the Elsinore pilsner is close to the aroma, with a lot of lemon and light floral tartness on your tongue. The pilsner malts form a solid base as you drink, and the first thing you taste is the lemon notes and grassy hops. It's a bit yeasty, too, but this doesn't take away from the clean flavor. The finish of the beer is clean and malty, making it good for drinkability.
As you drink the beer, you might notice bits of peach and light fruitiness as you drink. There isn't a lot of flavor in the beer since it is a clean sessionable pilsner, but you might also notice a bit of herbal lemon tea and crackers. It finishes a bit dry and crisp. 
Food Pairings
The Elsinore pilsner is versatile with food because it isn't an intense beer. It works best with different kinds of food, whether you want to have chicken, salmon, or a salad. You should consider having some seafood with the beer, like fish, salmon, trout, and tuna.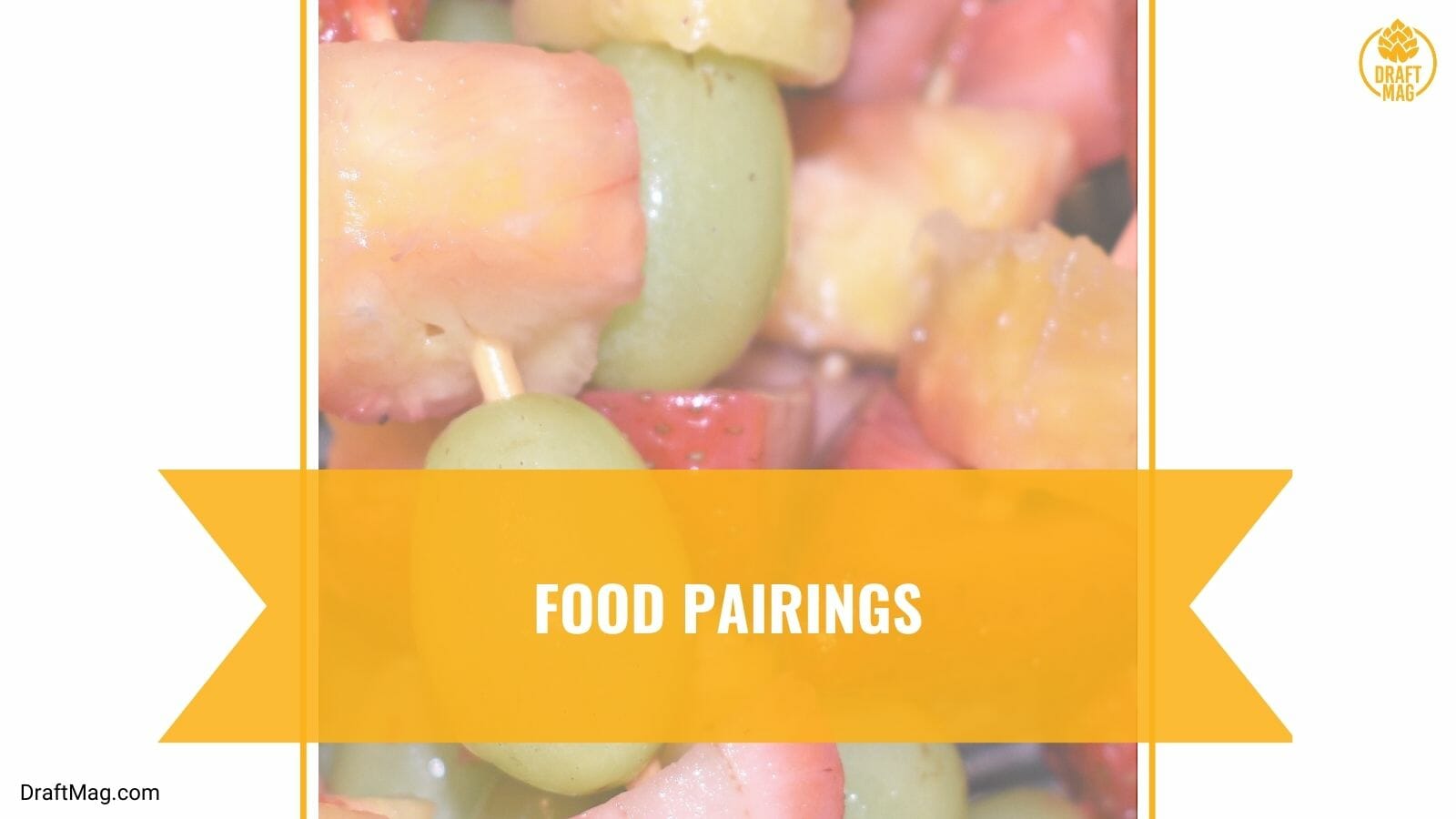 You can also complement the crisp bitter finish of the beer with roasted chicken and pork dishes. The beer also goes great with grilled and smoked foods, or you can have it with green-flavored fruits and vegetables like apples, fennel, cucumbers, and bright limes and lemons. 
Other food pairings include oily fish, crispy salads with a citrus dressing, and other light foods. You can also enjoy it with different kinds of cheeses like Muenster, Monterey Jack, and Havarti. It goes great with subtle fruit-based desserts like strawberries and cream, truffles, panna cotta with lemon, and banana orange crepes. 
Ingredients 
The main ingredients of the Elsinore pilsner are unknown, especially since it's a retired beer. The brew is made with malts, hops, yeast, and water. The malts offer a solid base of clean pilsner malt and a basic wheat taste. It is also a drinkable beer since the malt offers a clean profile. 
Aside from the malts, the beer is made with hops, and this contributes to a grassy, floral and citrusy character. You get a lot of lemons and tart citrus. It also has some spicy and peppery hops. There is a lot of yeast in the flavor as you drink it. 
Nutrition Facts 
The Elsinore pilsner features an alcohol content of 5 percent, which is a decent level. There isn't any alcohol warming as you drink, even when the beer warms up. Also, it features low bitterness units since the IBU level is low, and there is only decent bitterness from the hops as you drink.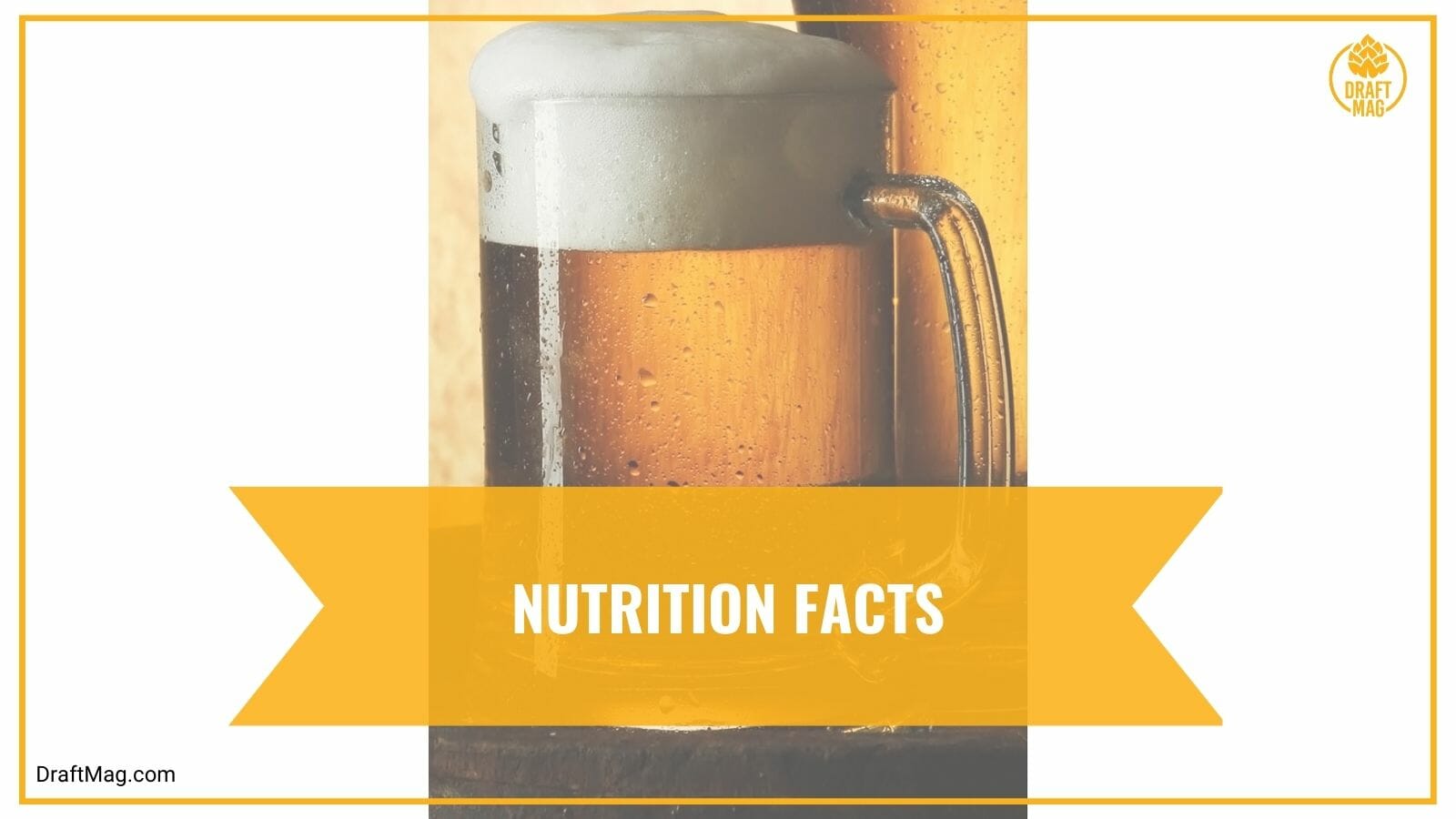 The exact nutrition facts of the beer are unknown, but it has a decent level of calories and carbs. It is not suitable for anyone on a keto diet because it has a lot of carbs. Also, the beer is not ideal for those that cannot eat gluten. 
History 
The Elsinore lager was released by Phillips Brewing & Malting Company in 2013. The brewing company is based in British Columbia, Canada, and was founded in 2001. Founded by Matt Phillips, who had a job at a brewery in Alberta, it is now one of the leading breweries in Canada.
Phillips Brewery was purchased by Yellow Point Partners based in British Columbia. Other popular beers from the brewery include Amnesiac Double IPA, Analogue 78 Kolsch, Citra IPA, Raspberry Wheat, The Hammer, and Zonkey. 
Conclusion
Whenever you're in the mood for a clean and crisp pilsner beer, you should consider the Elsinore pilsner.
Here's what we covered in our detailed review:
Elsinore is a Bohemian or Czech pilsner with a 5 percent alcohol content.
The beer has flavors and aromas of malts, bready and pilsner malts, and grassy, spicy, and citrus hops.
The exact ingredients of the beer are unknown.
This brew is best served in a pilsner glass at a very cold temperature of 35 degrees.
The beer pairs great with seafood, chicken dishes, roasted, grilled, and smoked food, green-flavored fruits, Monterey Jack cheeses, and fruity desserts.
It'll be hard to get this beer because it has been retired, but you can look for it online or in liquor stores.