Bohemia Beer Review: A Classic Pilsner for Adventurous Drinkers
Bohemia beer is a robust Czech pilsner that is made in Mexico, pleasing drinkers with its simple yet unique taste. Made with hops sourced from the Czech Republic, the beer has a strong flavor and an herbal aroma.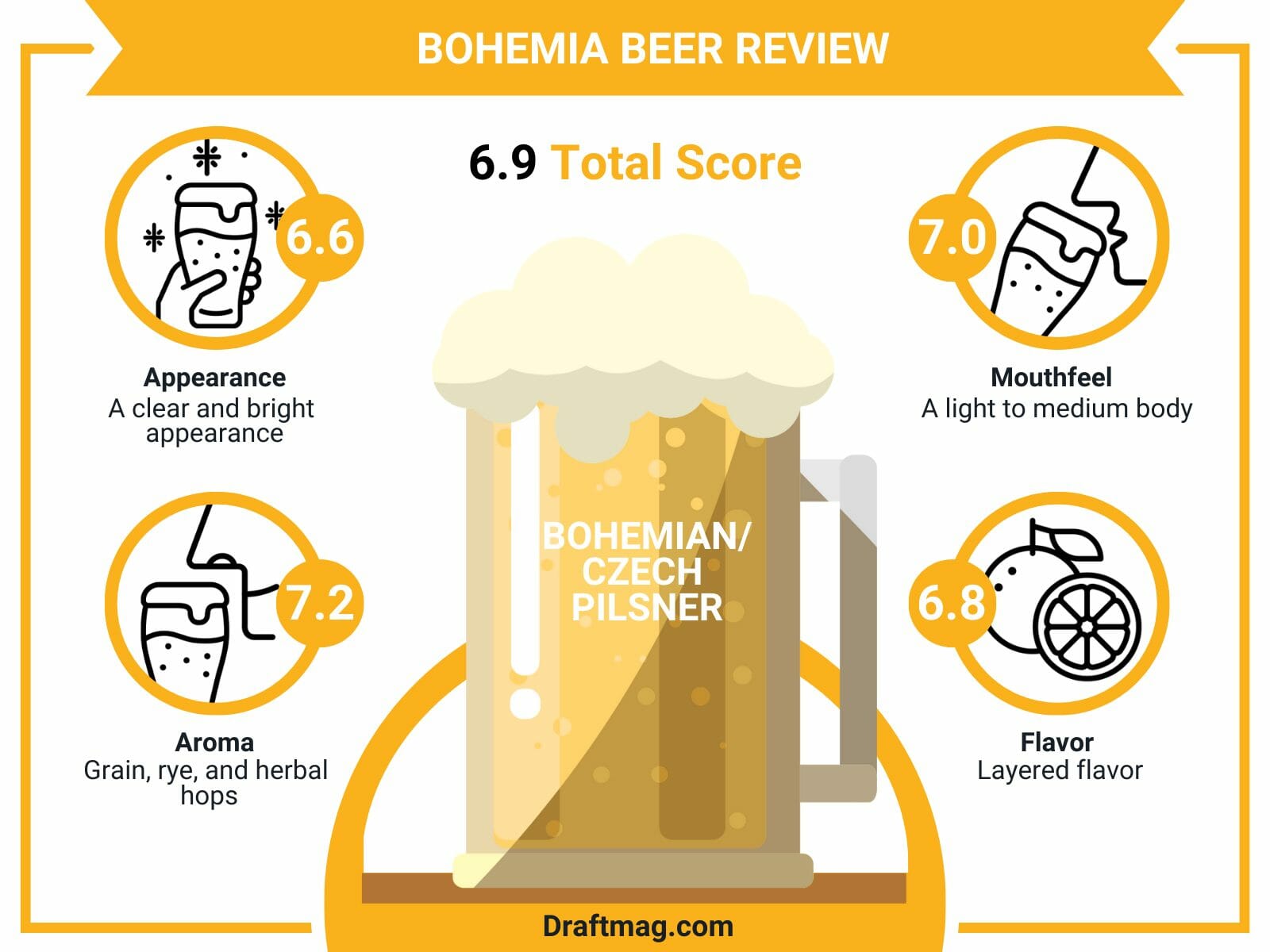 The pilsner is highly drinkable with moderate carbonation and low alcohol content, making it perfect for any occasion. Our review includes all the details to know about the Bohemia pilsner.
Bohemia Beer Stats
| | |
| --- | --- |
| Country | Mexico |
| Brand | Cerveceria Cuauhtemoc Moctezuma S.A. de C.V. |
| Style | Bohemian/Czech Pilsner |
| Taste | Sweet, adjunct |
| Body | Light to Medium Body |
| ABV | 4.7 percent |
| Flavors & Aromas | Sugar, adjunct, biscuits, grain, dough |
| Serving Temperature | 40 – 45 degrees Fahrenheit |
Tasting Notes
Bohemia Beer Tasting Profile
Bohemia Beer Review
The Bohemia Clasica is a Bohemian or Czech-style pilsner brewed in Mexico by Cerveceria Cuauhtemoc Moctezuma S.A. de C.V. It features a 4.7 percent alcohol content and a bittersweet taste. The flavors and aromas of the beer include sweetness, adjunct notes, toasted grain, biscuit, and dough.
The light-bodied beer is best served in a pilsner glass with temperatures from 40 to 45 degrees Fahrenheit, which is cold. The tall-footed glass will allow the attractive golden color of the beer to stand out while retaining its medium-sized head. You can garnish the beer with a citrus slice, and it tastes better when consumed in a glass than in a bottle or can.
With its light-bodied nature, the Bohemia pilsner has proven itself as an all-season beer and will not get you drunk quickly.
– Appearance
The Bohemia pilsner has a clear and bright appearance in your glass with a golden straw color. On top of the beer is a medium-to-large foamy white head that is retained on the pilsner glass, and as it dissipates, it leaves behind decent lacing against the glass.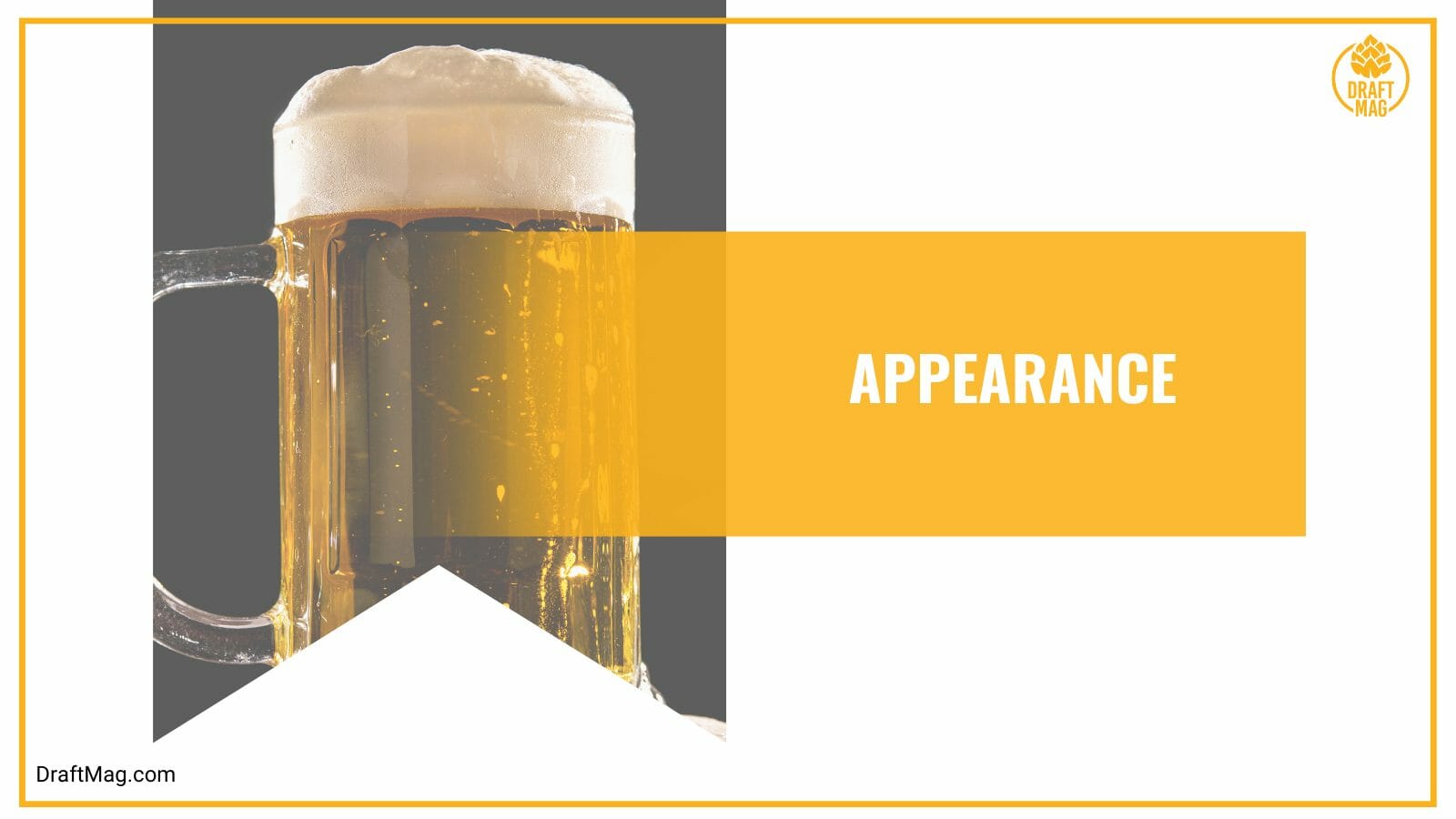 – Aroma
On the nose, the pilsner offers aromas of toasted grain, rye, and herbal hops. The malty aroma is forward, while the floral hops add an aroma to the backbone of the beer. There are hints of buttered biscuit malts and some light yeast, but the aroma is faint without overpowering the flavor.
– Mouthfeel
The Czech pilsner has a light to medium body that goes down easy while you drink. It has medium carbonation, which is evident in the light bubbles going to the top.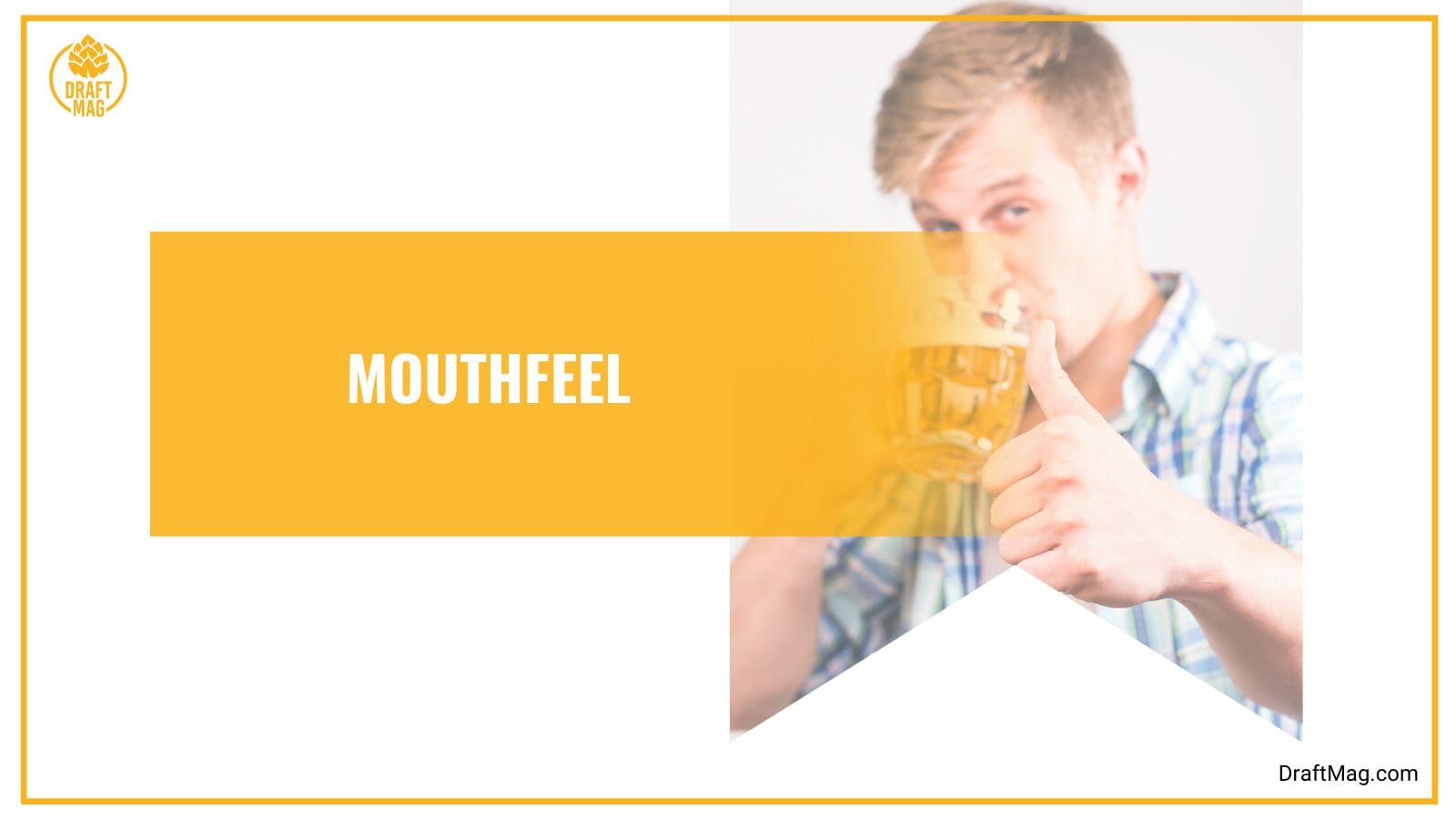 The beer feels smooth and soft with no alcohol burning and a buttered biscuit malt finish.
– Flavor
Bohemia pilsner features a simple and layered flavor, mostly malt-forward. The malts in the beer present themselves in different ways to offer sweetness, while the hops balance it out with slight bitterness. There is minimal hop presence in the beer.
The flavors in the Mexican beer include pale malt, biscuit malt, and buttered biscuit malt. There are also hints of toasted grains, dough, sulfur, and rice, with the biscuit providing some sweetness. With the hops, you get a slight flavor of floral and herbal hops, but it is barely present and does not affect the taste.
Before the biscuity finish, the beer has a slight flavor of yeast and hops. It is very light and drinkable, with pleasant malt flavors and a smooth finish.
– Food Pairings
You can eat different kinds of food while having the Bohemia pilsner. It is versatile with food as it does not overwhelm delicate flavors but can also balance with spicy dishes like barbecue. The beer pairs well with seafood, so try out meals with fish like salmon, trout, and tuna.
It is a popular choice for pub foods, so try out salads, chicken, oily fish, and other light foods. You can also enjoy this beer with green fruits and vegetables like cucumbers, lemons and limes, apples, and fennel. The crispy notes go well with creamy goat cheeses, Havarti, Muenster, and Monterey Jack.
If you have a sweet tooth, you can have the Bohemia Clasica with chocolate-based desserts, a chocolate cheesecake, strawberries and cream, berry pie, and a fruit salad.
Ingredients
The Bohemian Clasica beer is made with high-quality ingredients. The malts are sourced from around the world, while the fine selection of hops is obtained from the Czech Republic. This gives you an authentic feeling of a classic Czech Pilsner. The ingredients give it a complex and bittersweet flavor.
Nutrition Facts
The Bohemian pilsner features a 4.8 percent alcohol content that is barely evident in the aroma and flavor of the beer. It has an IBU of 21 due to the low bitterness, as the hops mostly present themselves in herbal and floral notes.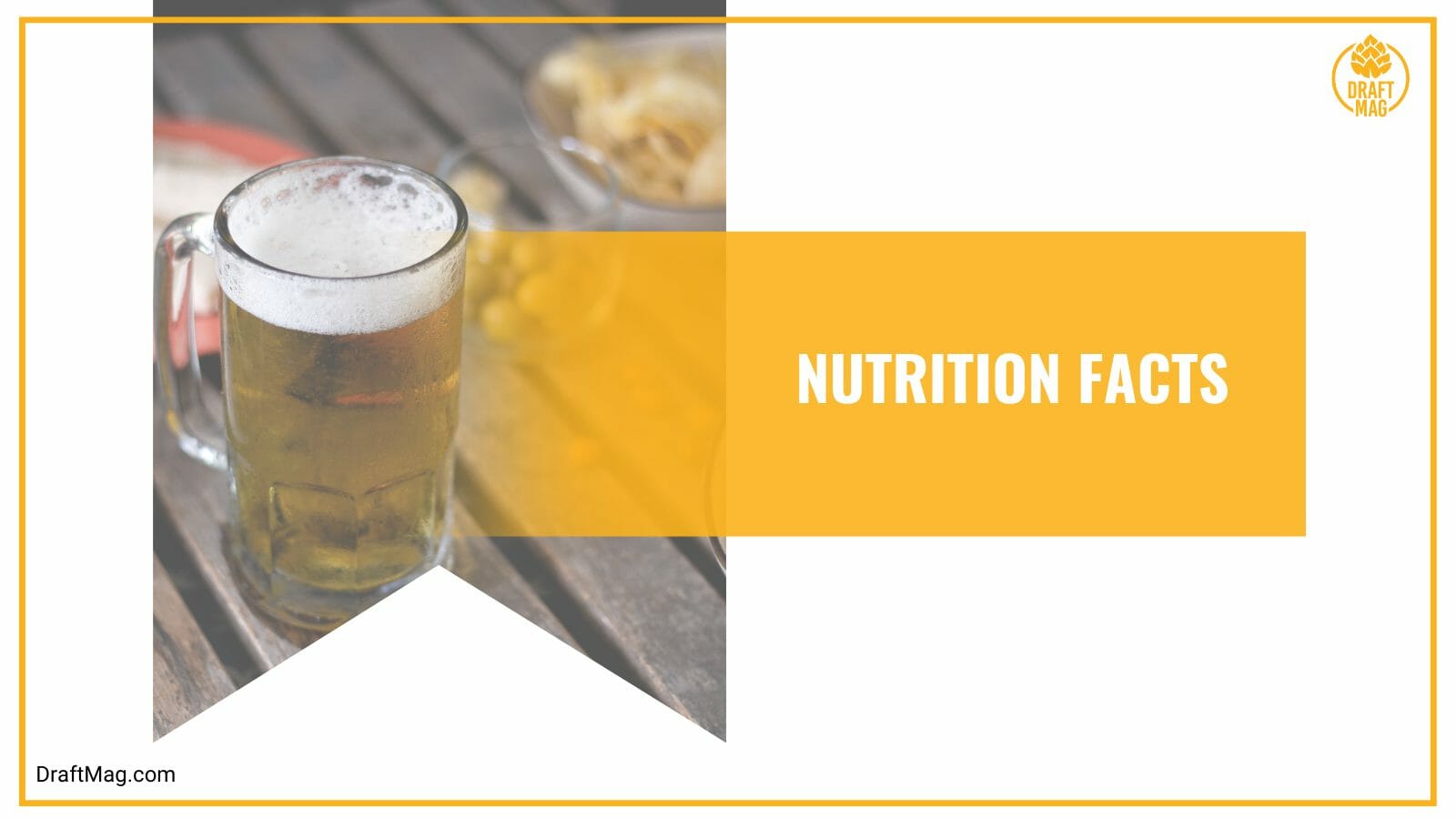 In the 12-ounce bottle or can, the beer has a total of 150 calories. Consider this when calculating your daily dietary intake. There are also 14 grams of carbs and 1 gram of protein, with no fat. The beer is not keto-friendly because it is a high-carb alcoholic beverage. It is also not a gluten-free beer.
History
The Bohemia pilsner might be a Czech beer, but it is made in Mexico by Cerveceria Cuauhtemoc Moctezuma S.A. de C.V. The beer was born in 1905 and was inspired by the region in the Czech Republic, where pilsners are known to originate from. Since then, it has remained a fantastic example of the beer style.
The Mexican beer is widely available and affordable, another reason why it is so popular among beer lovers. Other beers from this series include the Bohemia Weizen, a Belgian-style beer, and the Bohemia Oscura, which is a Vienna-style beer.
Conclusion
Anyone in the mood for a classic and affordable pilsner can go for the Bohemia pilsner. Here's a summary of our beer review:
The Bohemia pilsner has a 4.8 percent alcohol content and is brewed by Cerveceria Cuauhtemoc Moctezuma S.A. de C.V.
It has aromas and flavors of malts, floral and herbal hops, toasted grains, buttered biscuits, and yeast, with a light to medium body.
The beer is made with hops obtained from the Czech Republic.
It is best served in a pilsner glass with a temperature of at least 40 degrees Fahrenheit.
The beer pairs well with seafood, pub food, spicy foods, chocolate desserts, and goat cheeses.
You can easily purchase the Bohemia pilsner at a wide range of liquor stores or online vendors.