Whale's Tale Beer Review: A Complete Look at What You Should Know
The Whale's Tale beer continues to catch the eye of beer lovers with its unique malty taste balanced with hints of fruity hop aroma. This England-style pale ale from Cisco Brewers was the company's flagship brew in honor of Nantucket's whaling history.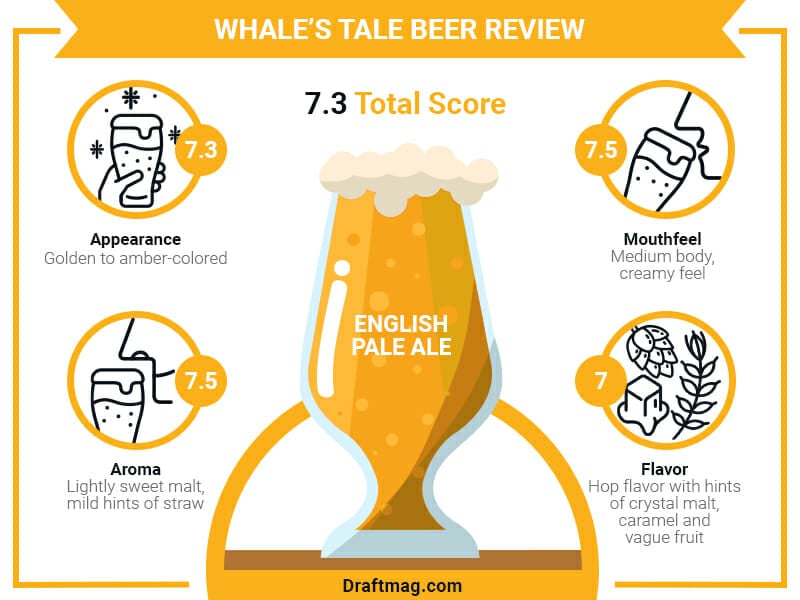 It is readily accessible in bars, restaurants, pubs and beer stores to delight your taste buds whenever you're up for it. In this complete review, we'll discuss the various features of this beer.
Whale's Tale Beer Stats
| | |
| --- | --- |
| Country | United States |
| Brand | Cisco Brewers |
| Style | English-Style Pale Ale |
| Taste | Balanced, smooth, round, caramel with light spiciness |
| Body | Medium-bodied |
| ABV | 5.6 percent |
| Flavors and Aromas | Refreshing flavor and aroma with notes of hop, malt, honey, caramel and grass citrus |
| Serving Temperature | 45 to 50 degrees Fahrenheit |
Tasting Profile
Whale's Tale Beer Tasting Profile
Whale's Tale Beer Review
We have you covered if you are wondering what this beer tastes like. Here, we will spell out everything you need to know. Let's get to it!
– Appearance
Generally, English-style pale ales appear golden to amber-colored clear brews with English-variety hop and malt character. Cisco Brewers Whale's Tale Pale Ale is no exception, as it pours with an attractive copper color while displaying mild haze. Even though this brown ale is not completely clear, it is still within the range of the style.
Likewise, Whale's Tale also pours a pleasant frothy cream-colored head that lasts long into the pint. Hence, this brew compares well in terms of outlook to Outermost IPA, an American IPA-style beer.
– Aroma
On the nose, this beer's aroma is quite distinct. You'll find that Whale's Tale beer has a lightly sweet malt with mild hints of straw aroma. This aroma is overlaid with floral and spicy hops.
When you pay closer attention, you may begin to notice a soft toast with crisp caramel malts aroma. You might want to try this brew and get rid of your doubts.
– Mouthfeel
Whale's Tale is moderately polished, justifying its medium body and slight haze. However, this beer displays a creamy feel on the tongue with a smooth texture and lightness.
As such, it is often compared to Fiddlehead beer. Besides, it provides a semi-dry finish as the bitterness rises above average. In a nutshell, Whale's Tale beer has a moderate mouthfeel with a medium carbonation rate.
– Flavor
Whale's Tale's interplay between malt and hop bitterness can be exhilarating alongside the alcohol notes and light spiciness that peek through. So we suggest you grab this beer from time to time to savor its fullness.
It gives a bittering hop flavor with hints of crystal malt, caramel and vague fruit, which livens you up. Further, while savoring this flavorful beer, it also provides a blend of citrus bite, mainly lemon and malt sweetness. The sweetness lingers a while to balance the rising hop bitterness.
– Food Pairings
Whale's Tale is highly credited for its easy drinking when served chilled and its versatility in terms of pairing with a variety of cuisine. This beer's flavor profile makes it fantastic with food like beef, salads, turkey, garlic steak fries and burgers topped with cheese. We suggest you try this with a pint glass or mug. Above all, always remember to drink in moderation.
Whale's Tale Pale Ale Ingredients
This beer has a prominent dry hop bitterness generously balanced with ample malts, thus giving this pale ale an English-styled poise. Take a look at the ingredients below:
Malts: 2-Row, Carapils, Wheat, Crystal 20/80
Dry Hops: East Kent Golding, Tettnang, Columbus
California Ale Yeast
Corn Sugar
In addition to these ingredients, other aromatics are infused within this beer to give various notes and flavors for satisfying drinking experiences.
Concisely, the malt is mashed at 154 degrees Fahrenheit then boiled for 90 minutes while adding hops as noted. Then the mixture gets fermented at 70 degrees Fahrenheit for four days. Afterward, it gets racked with dry hops, and on day 12, the brew gets bottled with corn sugar.
Nutrition Facts
Whale's Tale Pale Ale alcohol content is 5.6 percent. Thus, it is mild and will not quickly get you intoxicated. It also has an IBU of 40, providing neutral sweetness to satisfy most drinkers but with a distinctively subtle bitterness on the finish.
Whale's Tale beer also contains 168 calories per 12-ounce serving, making it a high-carb beverage and less keto-friendly. Even so, this beer moderately fits your daily calorie requirement as an average individual requires 2,000 calories daily.
History
Whale's Tale Pale Ale sprung out from Cisco brewery Nantucket Vineyards, established in 1996 as an ode to Nantucket's maritime history. The brewery was founded by homebrewers Randy, Wendy Hudson, Dean, Melissa Long and Jay Harman. You can quickly tell the theme from the aesthetics of the sea blue color with a whale's tail on this beer can or bottle.
Nantucket is well known for its rich history in the whaling industry. The island claimed over 150 whaling vessels out of the 250 whaling ships dominating England's whaling industry in the 1700s. We suggest you see the thrilling movie "In the Heart of the Sea" to capture the events that occurred back in the day.
You can also try other popular brews like the Cisco Grey Lady, Cisco Brewers Summer Rays Golden Ale and Shark Tracker Light Lager. Additionally, you shouldn't miss out on the Cisco Brewers Variety Pack. It includes a selection of Cisco brews with different flavors and styles that will bring you an all-around island vibe. This pack contains:
Whale's Tale Pale Ale
Cisco Gripah Grapefruit IPA
Cisco Brewers Shark Tracker Light Lager
Wandering Haze IPA
Conclusion
Whale's Tale beer is an English-style pale ale named in honor of Nantucket's whaling history. It continues to gain attention, showcasing its excellent flavors and aromas. Here's a quick recap on some crucial points we mentioned in this article:
Whale's Tale beer pours with a rich copper color with an attractive frothy cream-colored head best consumed in a pint glass or mug.
It has a distinct sweet malt aroma and a moderate mouthfeel and carbonation rate.
It has a rising bitter and spicy flavor balanced with ample malts that ideally a wide variety of cuisines like cheese, burger and steak fries.
This beer is made from malts, dry hops, yeast and corn sugar, providing its English-style character.
Whale's Tale beer's ABV is 5.6 percent and 40 IBU. Its 12-ounce serving contains 168 calories, which makes it less keto-friendly.
Grab a Whale's Tale beer to enjoy its flavorful quality that will liven up your day — cheers!