Kentucky Brunch Brand Stout: A Detailed Review of This Popular Brew
Kentucky Brunch Brand Stout (KBBS) is your top choice whenever you need to taste a dark, creamy stout. This barrel-aged beer took its time to mature perfectly and give a lingering mocha, maple syrup, and espresso notes. Just one sip, and you can't miss the lovely flavors of this versatile beer.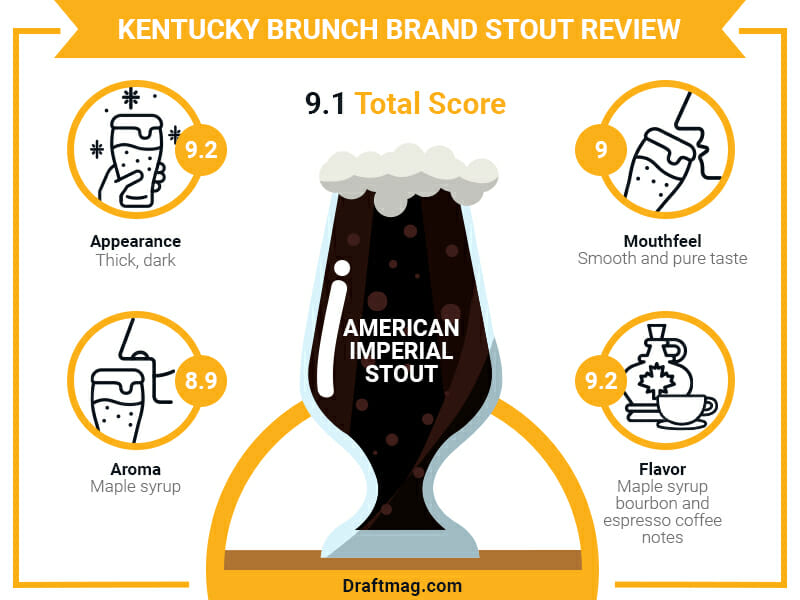 This complete guide describes all you need to know about the exquisite beer from Toppling Goliath.
Stats
The following table summarizes the important features of Kentucky Brunch Brand Stout. These features will help you decide if it is the best choice for you.
| | |
| --- | --- |
| Country | United States |
| Brand | Toppling Goliath Brewery |
| Style | American Imperial Stout |
| Taste | Thick, soft |
| Body | Medium to full-bodied |
| ABV | 12 percent alcohol percent |
| Flavors & Aromas | Chocolate hints with espresso and maple syrup |
| Serving Temperature | 50 to 55 degrees Fahrenheit |
Tasting Notes
Kentucky Brunch Brand Stout Tasting Profile
Kentucky Brunch Brand Stout Review
This stout is a clean-tasting, American imperial stout with delightful flavors and aromas. It is a perfect mix of everything you desire on a chilly morning. If you want an excellently curated blend of the best from Toppling Goliath's barrel room, here's your best choice.
This beer takes care and time to mature so that you can experience the delightful taste and aroma that comes with its mix of ingredients. The intense aromatics of maple syrup and espresso give the palate bourbon-drenched chocolate and maple candy feel.
This is everything you want from a dark stout. You can also enjoy it with an extensive range of your favorite delicacy, and this beer won't disappoint you. Here is a detailed review of a beer that will soon become your favorite.
– Appearance
KBBS comes packed as a thick, dark beer in a presentable vintage bottle. Attractive presentation is a priority for this brand, so you have a beer with great retention and excellent lacing. Careful planning and preparation put into making this stout ensures that you have an immediate aroma filling the area upon opening.
The Kentucky Brunch beer took time to mature in bourbon barrels, so you should take time to open the stout. Upon opening, a small, delayed-release mocha-hued head will develop, which reduces quickly. The texture of the surface may not be as thick as the predecessor but is still slick and oily.
It has a less heavy and a bit less developed body. It is almost a 58 degree beer that does not flow easily because of its thickness. However, the base remains delicious, and the purity of the caramel is in abundance. It is also cleaner in a sense to give you an "out-of-body" experience.
– Aroma
A carefully curated mix of the best of Toppling Goliath's barrel rooms gave birth to this delightful stout. The result is an intense aroma of maple syrup and espresso drenched in bourbon to provide chocolate brownies and maple candy notes.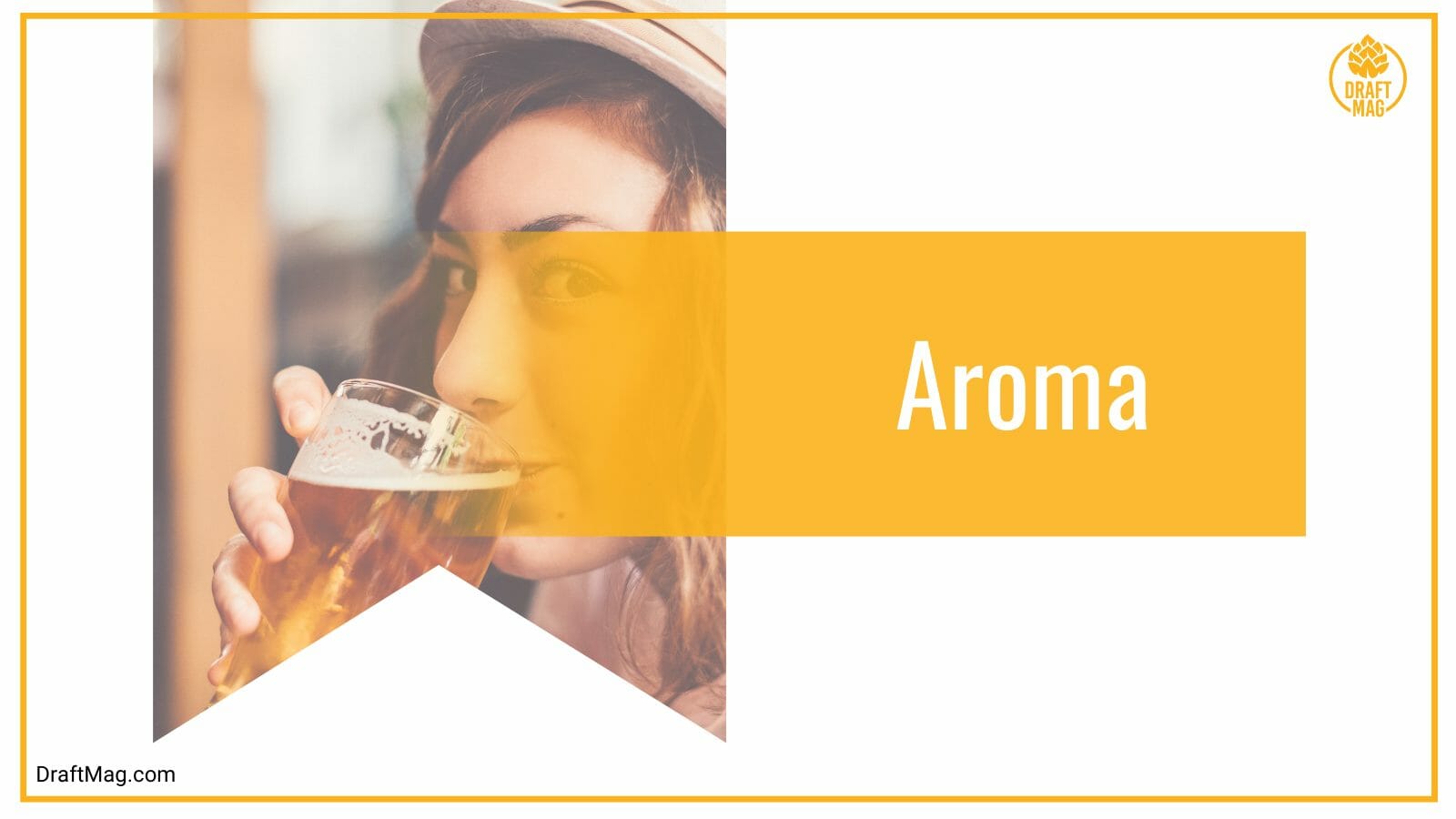 Once in the glass, your beer's aroma will intensify, with mostly maple syrup dominating, which is completely natural in every bit. Upfront, you'll find notes of very pleasant fresh coffee beans, but you will also find some bourbon, caramel and almond coming through.
To balance the coffee, you have some malt sweetness. Then there's the slight coconut, vanilla and boozy feature to add to its complexity.
– Mouthfeel
Mouthfeel is one of the features that make the Kentucky Brunch Stout a top choice. It has a smooth and pure taste, with bourbon fudge and rich maple giving you the much-needed thrill. Only one sip will tell you why this beer is branded as a brunch stout. It is sweet but definitely not cloying, finishing with notes of roast coffee.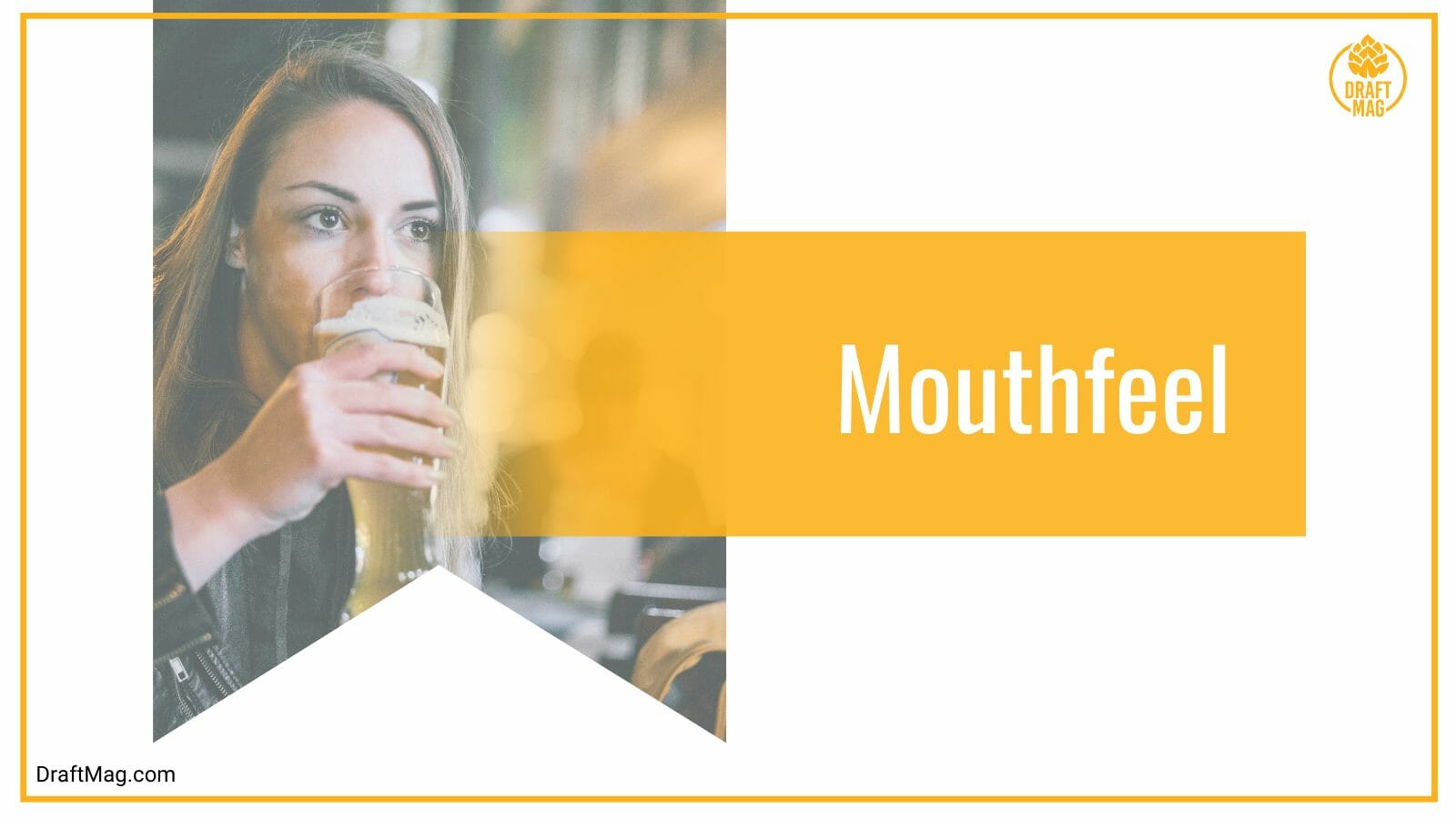 Sweet maple candy and dark chocolate notes sweep the palate to give something thick, easy, velvety, and rich. A lot of chocolate and caramel gives the extraordinary mouthfeel with zero burn stout calories.
The velvety touch you get on your tongue is so soothing that it will make you keep asking for more. This stout is your best bet whenever you want to hang out with friends or family from a brunch meet-up on a chilly November morning.
– Flavor
The maple syrup flavor that combines with the lovely aroma of this beer makes it really special; it can get you madly in love. You get barrel bourbons and espresso coffee notes up front, with some caramel malt sweetness as support. The coffee is incredible, and it mixes perfectly with a strong, outstanding maple coating with hints of bacon at the back.
Although the initial chocolatey sweetness may fade away quickly, the taste is long-lasting. It is very smooth, with a faintly nutty coffee character and light hops bitterness. There's little sweetness on the finish with slight lingering coffee notes. Boozy warmth completes the finish of this exquisite beer.
Every flavor of the Kentucky Brunch Stout harmonizes with its overall taste to give the most thrilling feeling ever.
– Food Pairings
As we mentioned earlier, this stout is thick and heavy. Therefore, it is an ideal pair with foods that can complement its flavors. It is also advised to pair it with foods that won't get you filled up too quickly or make you uncomfortable. Some of the best food pairings with this beer include:
Roasted foods
Smoked foods
Thick soups and stews
Desserts like cheeses
In addition, this stout has plenty of maples and mocha infused in it. Thus, it is the ideal brunch stout for pairing pancakes, scrambled eggs and bacon, waffles, sausages and oatmeal or grits. You should sip the beer slowly with the foods mentioned above if you want to get the complete aromatic and mouthfeel experience.
Remember that too much food is not great for thicker, sweeter beers like this one, so you should not overindulge in your food while sipping this beer. Doing this may cause you to become full too fast.
– Pros and Cons
Toppling Goliath Kentucky Brunch Stout gives you so much to love and savor, and there are standout features. However, there are some downsides you should keep in mind.
Pros
Thick, strong mouthfeel
Aroma of bourbon and maple syrup
Nice 12 percent alcohol content for people who love hardy stouts
Perfectly ideal after large means, and it goes well with a wide range of rich, decadent foods
Best companion stout in the cold weather
Cons
Some people may find it too thick and strong
It may fill you up fast
It tends to warm down rather quickly
– Overall
The Kentucky Brunch Brand Stout is a superb barrel-aged beer that holds up every part very well. The coffee is smooth, and the stout is not overly roasty or bitter. Highly flavorful and complex, this beer will never disappoint you!
Ingredients
Although there are various tones and notes exquisitely combined throughout this stout, it also contains basic beer ingredients. These ingredients include the following:
However, there are other various aromatics infused within this beer. The flavors include mocha, maple syrup and espresso. There is also the bourbon maple candy accompanied by a chocolate finish.
– How Is This Stout Made?
Toppling Goliath brewed this exquisite dark beer using a rich blend of hops, roasted barley, yeast and water. A careful combination of coffee and tones of mocha patiently aged in whiskey barrels helps to make this 12 percent ABV Brunch Stout.
This beer takes its time to age appropriately in the barrel room, which ensures that it releases all the tones of bourbon, mocha and maple syrup. No surprise that the brewery decided to make it a limited-release beer. So whenever you get to enjoy the flavor and aromas of this beer, you can tell how long this beer took to reach its peak flavor.
Nutrition Facts
Kentucky Brunch stout comes with about 300 calories for every 473 ml or 16-ounce serving. This same serving comes with 9 grams of fat and 50 grams of carbs. Most stouts are generally heavier and more indulgent because of the amount of hops and barley brewed into them. Toppling Goliath took it a few steps further with careful consideration to bring out an exquisite beer with a little heavier pour.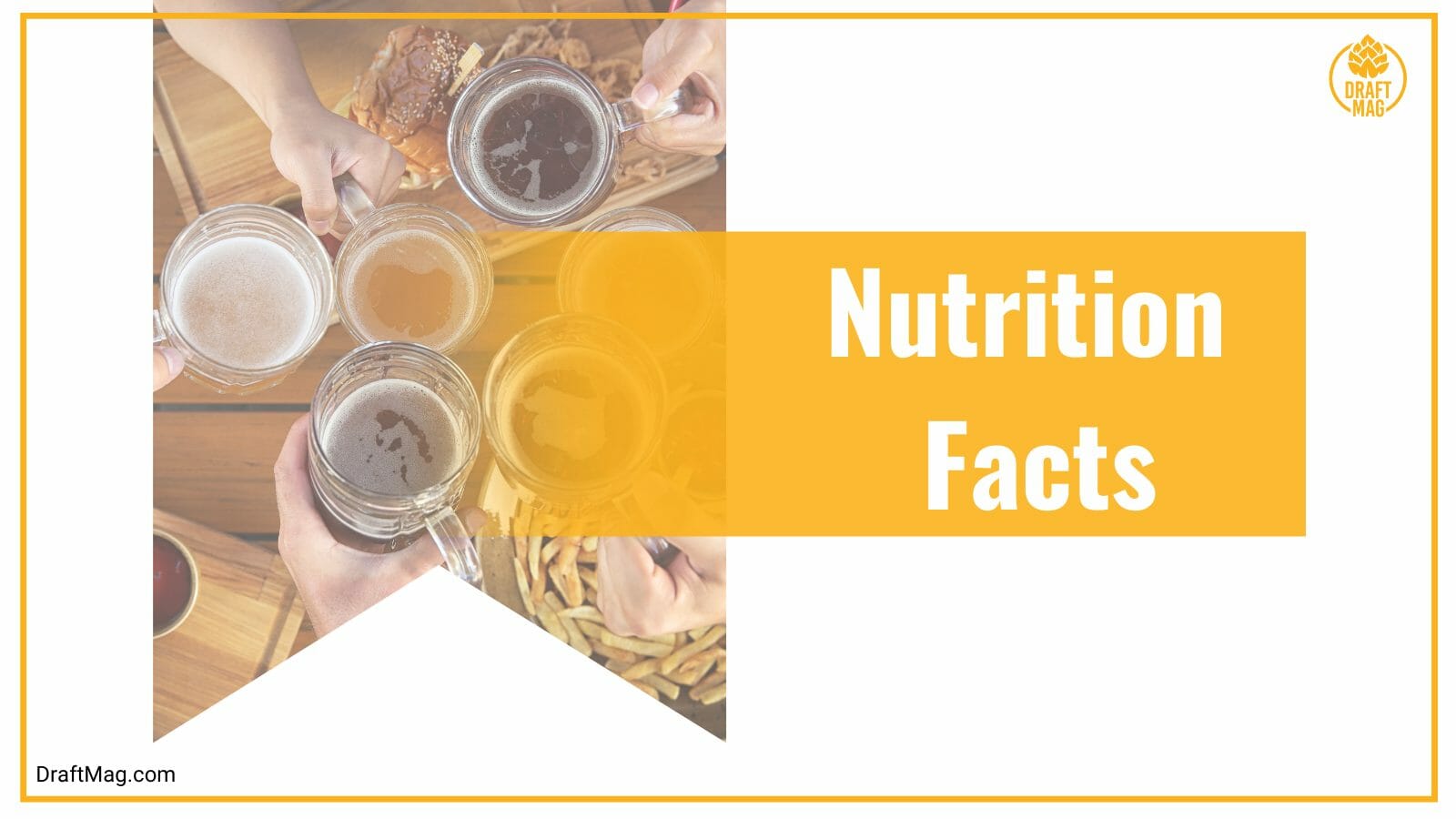 The high amounts of carbs and calories found in this stout may put you off if you are diet conscious. However, it is a perfect beer to savor and sip in moderation. Once you have a feel of the great blend of aromatics in this stout, you may be compelled to have a longer pour.
– Alcohol Content
The Kentucky Brunch Brand Stout has an alcohol content of 12 percent. If you love your stout to come with some alcohol, then this barrel-aged beer is an excellent choice. The alcohol content does not compromise the delicate savor you will get on your taste buds. There are higher chances that you will fall in love with this stout!
History
This beer has been among the hottest beers since its release from Decorah, Lowa. It was released by Toppling Goliath Brewing Company in 2013 and has become highly rated since then. Many beer lovers enjoy this beer so much, leading to a counterfeiting scandal in 2014.
An interesting thing about this great stout is that the brewer releases it once a year. Also, only about 300 to 400 bottles are released straight from the brewery. This was probably a means to ensure the credibility and rarity of this exciting offering. You are very fortunate if you're able to have a taste of this exclusive beer.
– The Difference Between KBBS and KBS
KBBS stands for Kentucky Brunch Brand Stout, while KBS is Kentucky Breakfast Stout. Both beers are imperial bourbon barrel-aged stouts with 12 percent alcohol content. They are somewhat similar when it comes to their incredibly silk and full body as well as their flavors and aromas.
However, they have some differences. KBS is brewed by Founders Brewery Company, and it is available all year round. However, KBBS is a product of Toppling Goliath, and only 300 to 400 bottles are released once a year. While there's no recorded IBU for KBBS, KBS has an IBU of 45.
Kentucky Breakfast Stout also has 340 calories per 16-ounce serving as opposed to Kentucky Brunch Stout's 300 calories. Regardless of their differences, these stouts will grace your taste buds with delight.
– About the Brand
Toppling Goliath Brewing Company was an innovation of Clark and Barbara Lewey in 2009. This company is located in Decorah, Lowa, and is famous for its exquisite IPA beers. Many of the beers that came from this brewery are world-renowned. A perfect example is the Kentucky Brunch Stout.
This brewery is also notable for the many awards it raked for the interesting flavors and exciting aromatic blends in its beers. Beer Advocate recognized it as the second-best brewery worldwide. It also rated Kentucky Brunch Brand Stout as the top beer in the world since 2015.
Toppling Goliath does not only specialize in top-quality stouts, it also produces a wide range of IPAs, flagship brews, limited-release beers, collaborations, and rotational beers. You will get different packed beers, including bottled and canned beers, as well as flavorful pours in its taproom.
– Helping the Community
Toppling Goliath Brewing Co. is not in the spotlight only because of its award-winning beers. It is also popular because of its endeavors in the community since its establishment. This brewery has hosted a fundraising gala for the Winneshiek County Fire Department.
It was also a member of the Seed Savers Exchange, promoting and conserving the culturally diverse heritage of America. Another notable achievement was Valkyrie Strike, the collaborative beer created to celebrate the history of Vesterheim Museum, encouraging Norwegian American heritage. The team members at Toppling Goliath help raise funds at the Holiday Lights exhibit in northeast Iowa.
What's more, the brewery is also involved in promoting water conservation. It combined with Big Grove and Lua Brewing companies in the Upper Lowa River Alliance. Toppling Goliath is now a partner in the Project Fish Responder scheme. All these show how dedicated to sustainable development in the community.
FAQ
Is Kentucky Brunch Brand Stout a breakfast stout?
No, Kentucky Brunch Brand Stout is not classified as a breakfast stout.
Does Kentucky Brunch Brand Stout have caffeine?
No, Kentucky Brunch Brand Stout does not contain caffeine.
Is Kentucky Brunch Brand Stout a bitter stout?
It is not typically described as a bitter stout, but it may have some bitterness due to its high alcohol content and roasted malt flavors.
Conclusion
Kentucky Brunch Brand Stout is the ideal stout for you to enjoy on a chilly morning, whether alone or with a couple of friends. This review gave a clearer insight into its many exciting features and history, so here's a quick recap of the essential points we discussed:
Kentucky Brunch Stout is a barrel-aged American imperial barrel-aged stout that is perfect for lovers of rich, dark and flavorful beers. It is a clean-tasting beer with a perfect mix of everything you would desire on a chilly morning.
It has a small, delayed-release mocha-hued head that reduces quickly. It has a less heavy and a bit less developed body that does not flow easily because of its thickness. It has an intense aroma of maple syrup and espresso with bourbon notes of chocolate brownies and maple candy.
The mouthfeel is smooth and pure, with bourbon fudge and rich maple to give you the much-needed beer thrill. The Kentucky Brunch Brand Stout recipe ensures that you get flavors of barrel bourbons and espresso coffee notes, with some caramel malt sweetness as support. The ingredients used for producing this beer include hops, yeast, barley, and water.
Kentucky Brunch stout has about 300 calories for every 16-ounce serving. It also comes with 9 grams of fat and 50 grams of carbs. A strong 12 percent ABV complements these to give the boozy feel.
This beer has many mocha and maple-infused notes, so it is best sipped with roasted food, smoked foods, thick soups and stews and desserts.
The Kentucky Brunch Stout has been among the hottest beers since its release in 2013 by Toppling Goliath; only 300 to 400 bottles of this beer are released yearly, so it will be a great delight to get a taste of this beer. If you care for top beers with top-notch quality flavors and aromas, you should get a glass or two of Kentucky Brunch Stout today!