Cerveza Palma Cristal (Cuba) Review: A Complete Guide to This Brew
Cerveza Cristal Cubana is a lightly alcoholic beverage of ancient origin. Thanks to its refreshing taste, it is one of the most famous and favorite in Cuba.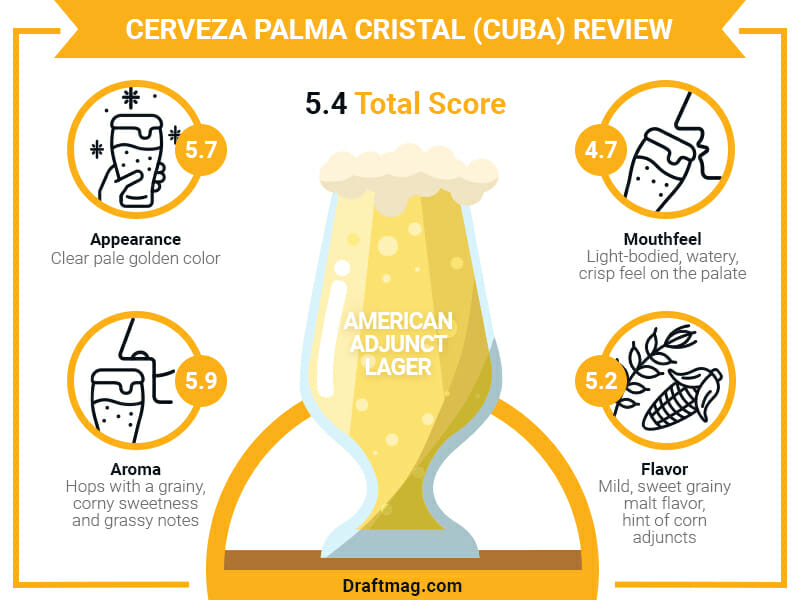 Here, you'll find a detailed review of the Cuban beer, including its appearance, aroma, mouthfeel, nutrition facts,and so much more. Keep reading so you do not miss out on the exciting food pairing ideas with the Cerveza Cristal Cubana beer.
Cerveza Cristal Cubana Stats
| | |
| --- | --- |
| Country | Cuba |
| Brand | Cerveceria Bucanero S.A. |
| Style | American adjunct lager |
| Taste | Faint hoppy |
| Body | Light |
| ABV | 4.9 percent |
| Flavors & Aromas | Faint grainy, slightly hoppy with corny sweetness |
| Serving Temperature | 35-40 degrees Fahrenheit |
Tasting Notes
Cerveza Cristal Cubana Tasting Profile
Cerveza Cristal Cubana Review
In this detailed section, we'll review the beer's characteristics and food pairings.
– Appearance
Cerveza Cubana is available in cans and bottles. Upon pouring into a beer glass, Cristal appears clear pale golden with high carbonation, characteristic of American-style light lagers. Also, the light-bodied beer has a white head with light to medium thickness and decent retention.
– Aroma
Cerveza Cristal has a faint aroma of hops with a grainy, corny sweetness and grassy notes typical of a light American adjunct lager.
– Mouthfeel
Being a light-bodied beer, Cristal has a watery, crisp feel on the palate. Like the aroma, it has a faint grassy hoppiness with hints of grains. The traces of corn or wheat could be mistaken for sweetness, as its level of bitterness is very low. Also, its high carbonation often gives a mild carbonic bite on the tongue with no aftertaste.
– Flavor
It has a mild, sweet grainy malt flavor with a faint hoppiness and a hint of corn adjuncts.
– Food Pairings
Pairing food with beer is essential to achieve a perfect blend between all flavors perceived when tasting. With this in mind, what class of dishes pairs well with Cerveza Cubana?
As we mentioned said, the beer is a light American adjunct lager. Hence, going by the general guess that pale lagers are excellent pairs for light dishes, there is a broad selection of foods to enjoy with this beer. You can enjoy the refreshing taste of Cristal with fish dishes, including the likes of salmon, grilled tuna, baked sea bream, roasted sea bass, or swordfish. You can also try it with a classic combination of fried seafood.
Being a beer with a low ABV, Cristal can accompany salads, pizza, spicy dishes, appetizers, and light snacks. Don't panic; we didn't forget to include white meats like chicken, rabbit, and turkey. It is also vegan-friendly, so the list of pairings is endless as this is a versatile beer. However, for a better experience, Cerveza Cristal is best served chilled for a more pleasant moment on hot summer days typical of the Cuban climate.
Ingredients
Cerveza Cristal Cubana is made with high-quality brewing processes and ingredients, which include:
Malt barley
Yeast
Natural spring water
Hop
Corn
Sugars
Enzymes
Understandably, Cerveceria Bucanero S.A. uses additional local Cuban ingredients to produce this beer which may not be revealed to the public.
Nutrition Facts
The Cuban Cristal beer has a 4.9 percent ABV, which is within the range of beers under the American-style light lagers. It contains about 145 calories, 13g of carbohydrates obtained from the brewing sugars, and 1g of protein.
So be mindful of how much you consume if you're on a low-carb diet. The Cerveza Cristal Cubana beer is also a source of calcium vital for strong bones and teeth and vitamins B1, B2, and B3. However, it is void of fats and cholesterol.
History
La Cerveza Cristal del mundo is an ancient drink. Cervecería Bucanero S.A was established in 1888 but launched the Cristal beer in 1922. Cristal is produced in Holguin, a city in eastern Cuba. Based on statistics, Cerveza Cristal Cubana is among the most popular beers in Cuba with Bucanero beer. This is because it was brewed with high-quality malt and hops, including local Cuban ingredients and natural spring water.
You'll find the slogan "La Preferida de Cuba," which means Cuba's favorite, on the base of cans and bottles of Cristal, showcasing its pride. Also, there is a stamp of a Royal Palm, the Cuban national tree, on each can and bottle. Cristal beer is part of the proud Cuban tradition that exudes ​​quality and integrity.
In 1997, Cervecería Bucanero S.A was acquired by Anheuser-Busch InBev and has since been a subsidiary of the company. Cervecería Bucanero S.A also produces a variety of Cristal beer in the Holguin Brewery. Cristal induces pleasant moments in Cuba, from its beautiful citizens to the lively nights, fresh tropical waters, and beaches. In 2007 the Cuban Cristal beer received the Gold Medal at the International Monde Selection for its excellence and flavor, consistent for over 70 years.
Frequently Asked Question
– What Is the Best Beer in Cuba?
According to statistics, Cristal beer (4.9 percent ABV) is the most popular beer in Cuba. Cubans and tourists love it due to its refreshing taste and flavor. The Bucanero beer (5.4 percent) is also popular in Cuba.
Cerveza Cristal Cubana beer is of Cuban origin, made in Holguin, a city in the country's eastern region. It has a light alcohol content, typical of an American-style lager with 4.9 percent ABV. You can serve a chilled La Cerveza with pizza, fish dishes, white meat, light snacks, appetizers, and spicy foods.
Conclusion
If you're curious about American adjunct lagers, try Cerveza Cristal and enjoy its light, hoppy, and refreshing flavor. Here are keys points to note from this review:
Cerveza Cristal Cubana beer is an American adjunct lager with 4.9 percent ABV.
It is a light-bodied beer with a faint grainy, hoppy flavor with corny hints.
From a beer glass, it appears as a clear pale golden color with a white head.
This beer is vegan-friendly and is very versatile when it comes to being paired with different kinds of dishes.
La Cerveza has versatile compatibility with several dishes like pizza, white meat, etc. However, whether you're pairing your food with the 350ml bottle or 355ml can, ensure it is chilled for a more pleasant experience.