Special Export Beer Review: Should You Take a Chance on This Brew?
Heileman's Special Export beer is an American-style lager with a crisp and smooth flavor dating back to the 1930s. Being an ancient beer, you may wonder if the beer is still made.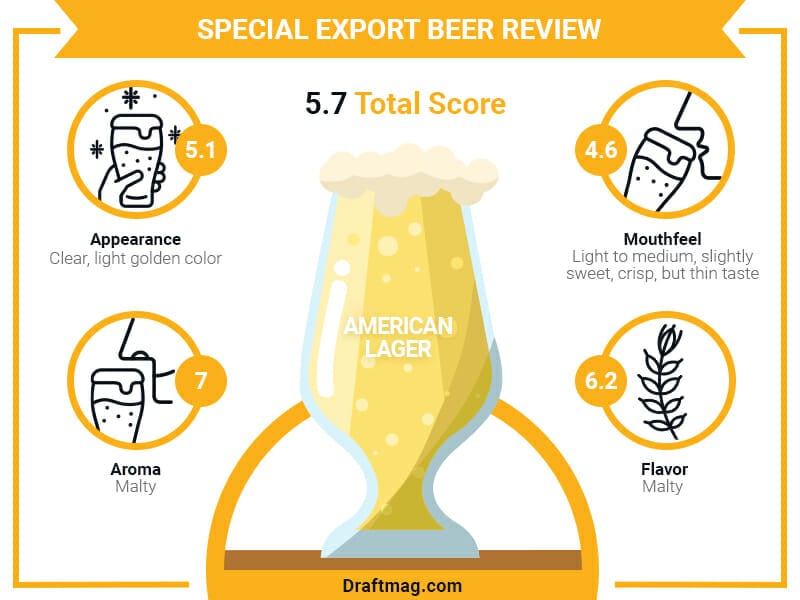 Also, questions concerning its history, nutritional facts, taste, ingredients, aroma, and alcohol content have been raised. Worry no more as this complete review will give you in-depth details about the beer.
Special Export Beer Stats
| | |
| --- | --- |
| Country | United States |
| Brand | Pabst Brewing Company |
| Style | American-style lager |
| Taste | Sweet with a little bitter aftertaste |
| Body | Light to medium |
| ABV | >6 percent |
| Flavors & Aromas | Malty flavor with grainy, corn and a little skunky note |
| Serving Temperature | 35-40 degrees Fahrenheit |
Tasting Notes
Special Export Beer Tasting Profile
Special Export Beer Review
As mentioned earlier, Special Export is an American-style lager. Below is a complete review of its characteristics and food pairings.
– Appearance
The beer has been in the market for many years, available in cans and bottles. But what does it look like in a glass? The beer appears to be a clear, light golden color from a glass with lots of bubbles and an almost thick white head that clears quickly, leaving little to no lacing. Also, it has a light to medium body with light carbonation.
– Aroma
Like most American-style lagers, the beer has a chiefly malty aroma. Also, this aroma is accompanied by a sophisticated grainy, skunky, and slightly fruity finish. These aromas represent the beer's taste between sweet and thin bitterness. In addition, they are not strong and fade rapidly.
– Mouthfeel
This beer has a light to medium mouthfeel with a slightly sweet, crisp, but thin taste leaving little to no aftertaste. However, the taste is sharper and richer, unlike the regular American-style lagers.
The beer is also tolerable for relaxation across seasons, thanks to its light carbonation. Also, the taste incorporates the aromas giving a malty, grassy, and slightly fruity feel with a dry finish on the tongue.
– Flavor
This brew perfectly represents the American-style lagers as most lagers under this category generally have a malty flavor. The beer also includes additional impressions leading towards grainy, corn, grassy, and slightly fruity. These mixtures give a neutralized blend of a not-so-strong flavor.
– Food Pairings
Now that you have an idea of the taste and flavor of the beer, you may be curious to know if it's compatible with any dish. And if so, what kind of dish can you pair with this lager?
Thanks to its thin body, you can enjoy the beer with several dishes. Generally, light beers pair perfectly with light foods because their flavor is not overwhelming, so when you crave or eat Italian cuisine, barbeque, pork, noodles, chicken, shellfish, and light seafood, top it with a chilled glass of Special Export. However, when paired with chicken, pasta, or seafood, it is best to avoid thick cream or sauce for a better experience.
The beer can also complement spicy foods, Asian dishes like sushi, and Latin dishes like Guacamole and Mexican rice. It is vegan friendly, making it a suitable combo with salads. Also, like most beers, it is an excellent pair with cheese and other cheese-based dishes, including pizza, sandwiches, and goat cheese salad. This beer has a vast food pairing, and its versatility is due to its carbonation which removes the fatty taste in a dish, resulting in a lighter acidity.
Ingredients
The beer is a blend of essential beer ingredients including the following:
Malted barley
Filtered water
Corn syrup
Hop
Cultured yeast
While these ingredients may be common to other beers, this beer possibly contains other proprietary ingredients that make it unique.
Nutrition Facts
Special Export beer alcohol content is over 6 percent, which is slightly higher than the average American-style lager range, giving it a full mouthfeel. The ABV makes it a suitable beer for light and heavy drinkers. However, the IBU data is unknown, but from its taste, it seems slightly above the standard bracket of 5-15.
Furthermore, a 12 fl oz can contain 155 calories, 10g of carbohydrate, and 1g of protein. Be cautious about drinking this beer if you're trying to maintain a healthy carb intake. However, the beer is void of fats, dietary fibers, and vitamins.
Special Export Beer History
This beer dates back to 1934. It was the second commercial beer of the Gottlieb Heileman brewing company after the Old Style Lager, the pioneer product in 1902. However, between 1920 and 1931, the US government signed a law prohibiting the production of any beverage with over 0.5 percent ABV.
During this period, the company transitioned into producing sodas and malt beverages. In 1931, the prohibition was suspended. As a result, the company returned to making beers which birthed Special Export.
Since its inception, the company has been a blend of partnership and a family business. After the death of Gottlieb Heileman, there has been a series of transfers of ownership and intellectual property; however, buyers still maintain the Heileman name. The beer is now a product of the Pabst Brewing Company after the split of the Stroh Brewery Company. Since 2001, Pabst doesn't have a brewery of its own, so the beer has been contract-brewed in the US and exported to other countries.
Frequently Asked Question
– Do They Still Make Special Export Beer?
Yes they do, but in the past years, Pabst brewing company started contract-brewing the beer as it has no brewery to its name. It is now made in Milwaukee and Michigan, United States, and you can get the beer online or in restaurants and bars in Chicago, California, Milwaukee, and surrounding cities.
Conclusion
If you enjoy crisp and smooth beers, the Special Export beer won't be an exception. Above is a detailed review of the beer, and here are the most important key points to note:
Heileman's special export beer is an American-style lager.
The beer has a clear golden color, a white head, and a light to medium body.
The beer is a contract-brewed product of Pabst Brewing Company.
The beer's primary ingredients include hop, cultured yeast, malted barley, filtered water, and corn syrup.
The beer has a refreshing taste for every season and is compatible with a vast selection of foods. Now that you've read this complete review, what dish would you love to try with your next glass of chilled Special Export?