Red Dog Beer Review: One of The Best Brew for the Summer
Red Dog Beer is one of America's most popular craft beers, and it's no wonder why. As you read this beer review, you are probably looking for a beer perfect for the summer.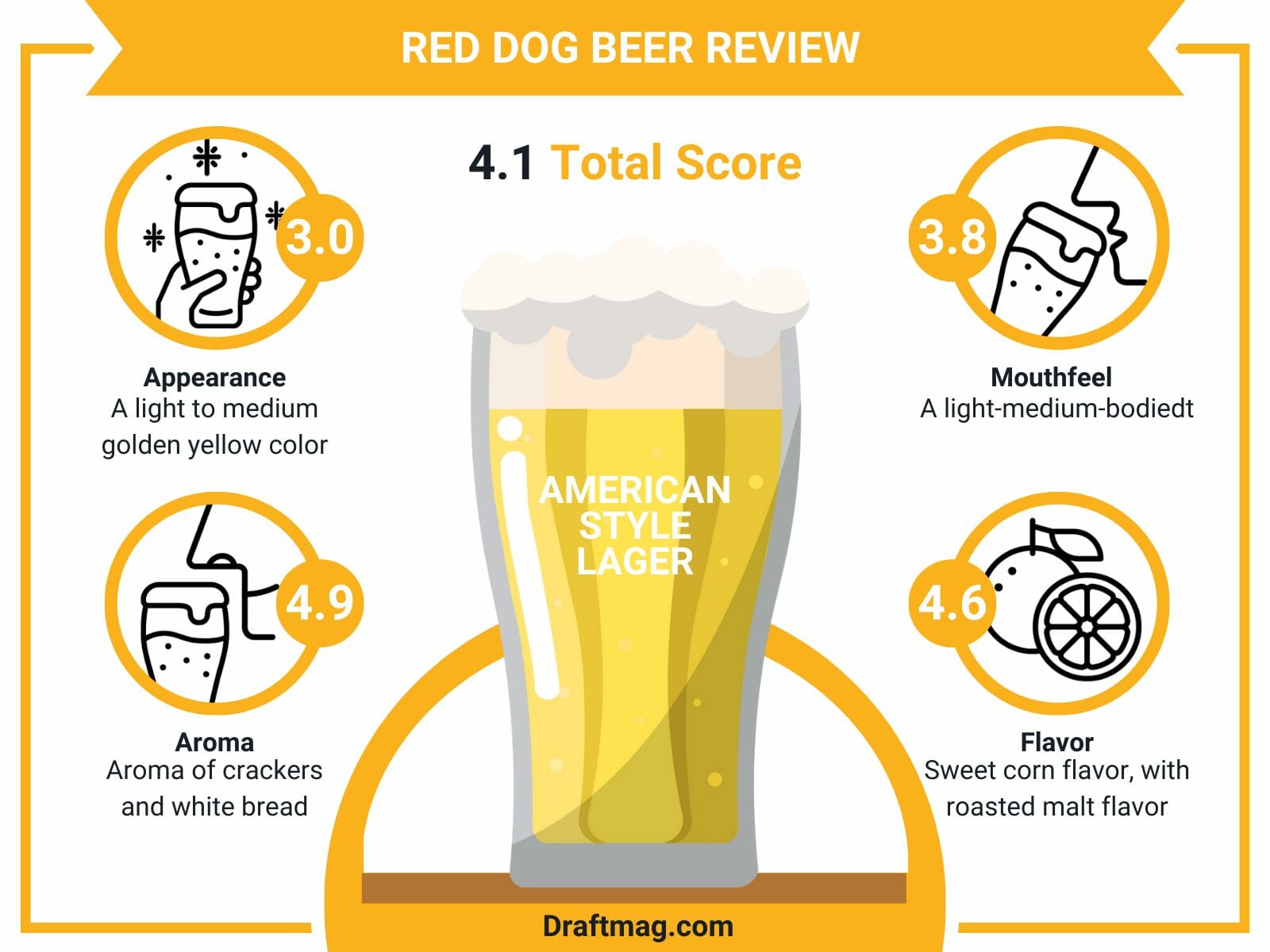 Well, This light, refreshing beer makes it the perfect choice for a hot day. Additionally, the slightly fruity flavor makes it an excellent option for those not fans of traditional beer taste. Keep reading, to know all about this popular balanced beer.
Red Dog Beer Stats
| | |
| --- | --- |
| Country | Wisconsin, the United States |
| Brand | Miller Brewing Co. |
| Style | American-style lager |
| Taste | Balanced, Crisp, Refreshing finish |
| Body | Light-medium bodied |
| ABV | 4.8 percent alcohol content |
| Flavors & Aromas | A sweetness reminiscent of corn flakes, a mild, toasted aroma |
| Serving Temperature |  39 to 45F |
Tasting Notes
Red Dog Beer Tasting Profile
Red Dog Beer Review
Miller Brewing introduced this beer in 1994 as an American-style lager or ale. It's made with two kinds of barley malts and five varieties of American hops. Overall, below you will find all about the beer's details as it is light and refreshing.
– Appearance
This Beer is a popular beer choice among those looking for a light and refreshing beverage. The pour is crystal clear, and the color is a light to medium golden yellow. The head is thick and creamy, leaving a decent amount of lacing on the glass.
– Aroma
The Dog beer has a unique smell that is unlike any other beer on the market. When you first open this beer's can, you are hit with a wet grain smell reminiscent of a light beer. However, a touch of hops also lets you know this is not a light beer.
When you first smell this beer, your nose is hit with the aroma of crackers and white bread dough. The beer has a sweet corn aroma with a lightly roasted malt flavor. However, the corn aroma is not overpowering. There is also a touch of fruity aromas, but they are not overwhelming.
This Beer has a pleasant, mild aroma with pale malt/grains and light-moderate earthy hop notes; moderate alcohol.
– Mouthfeel
The beer is a light-medium-bodied, easy-drinking brew that isn't too carbonated or heavy. The flavor profile has hints of caramel, adding complexity without overwhelming your taste buds.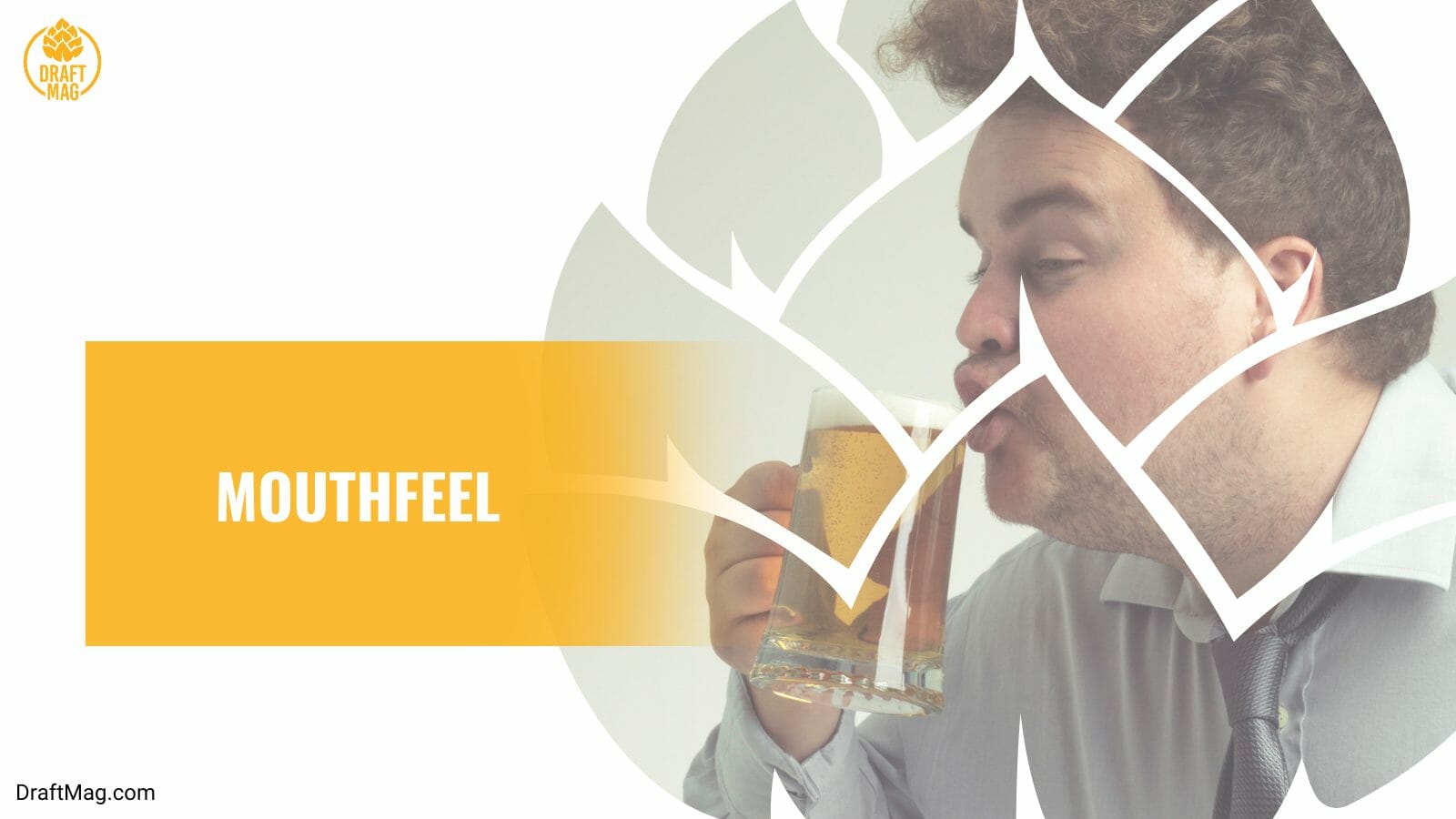 Overall, the mouthfeel is pleasant and well-balanced with a moderate carbonation level in your mouth. In addition, the finish is semi-dry, with a slight bitterness from the hops.
– Flavor
The flavor of this beer is similar to the smell. You are first hit with the sweet corn flavor, followed by a lightly roasted malt flavor. The corn flavors are present but not overwhelming, malt provides a balancing taste, and there are also hints of fruit without being too powerful.
– Food Pairings
This beer is a versatile beer that can be paired with various foods. Nonetheless, note that it goes great with grilled food, burgers, BBQ, and fried foods. This beer can also be paired with different desserts such as cookies or cake, because of its sweet aroma and crispy taste.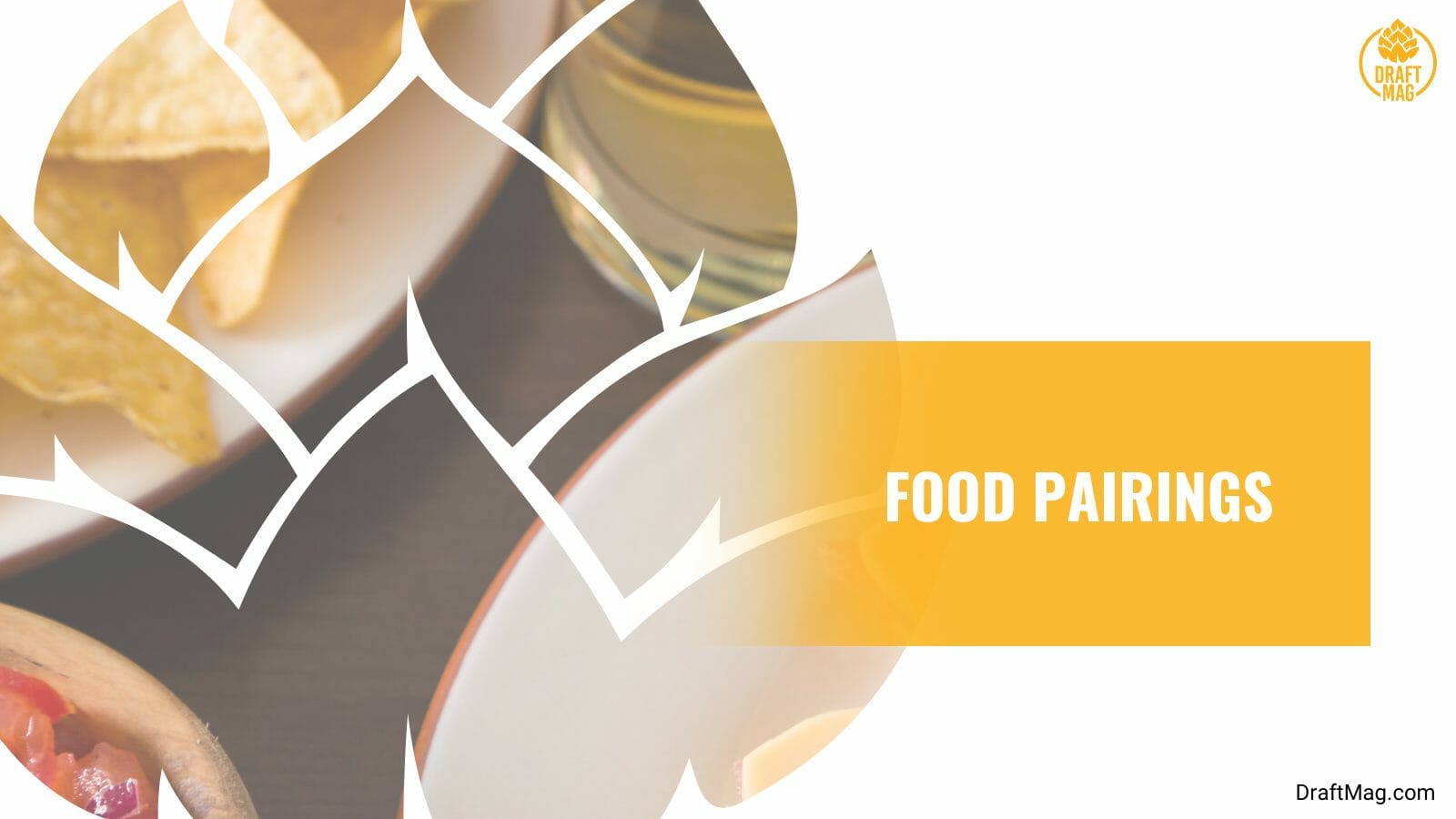 This beer is best enjoyed cold which is why you will love drinking it in winter time as well, as long as you are pairing it with foods that are meaty or maybe a little greasy, this beer works like a charm with these types of food.
Ingredients
This beer is brewed with water, barley malt, corn syrup, yeast, and hops. The barley malt gives the beer its characteristic flavor, while the corn syrup provides sweetness and body. The yeast helps to create the carbonation in the beer, and the hops give it a bitterness that balances out the sweetness of the malt.
Nutrition Facts
This Beer contains 12.0 fl oz per serving size, and there are two servings per container, and the beer calories are 105 per 12.0 fl oz serving. A 12-ounce can of Dog Beer contains only 147 calories and 11.5 grams of carbohydrates. It is low in sodium and saturated fat, Cholesterol, and fiber-containing zero grams of each.
This Beer is a good source of protein, with one gram per can. Despite its low calorie and carbohydrate content, it is still a flavorful, enjoyable beer. It does contain alcohol, but the percentage of alcohol in is not as high as some other beers. As a result, this Beer has low level of calories, than in other beers, hence it is great if someone who wants to drink but is watching their calories.
History
In the 19th century, Frederick Miller founded the Plank Road Brewery in Milwaukee, Wisconsin. The brewery's flagship beer was Red Dog, a light lager that became one of the most popular beers in the United States.
The Miller Brewing Company first introduced Red Dog beer in 1995. The beer is part of the Plank Road Brewery Family, including Miller Lite and Milwaukee's Best beers.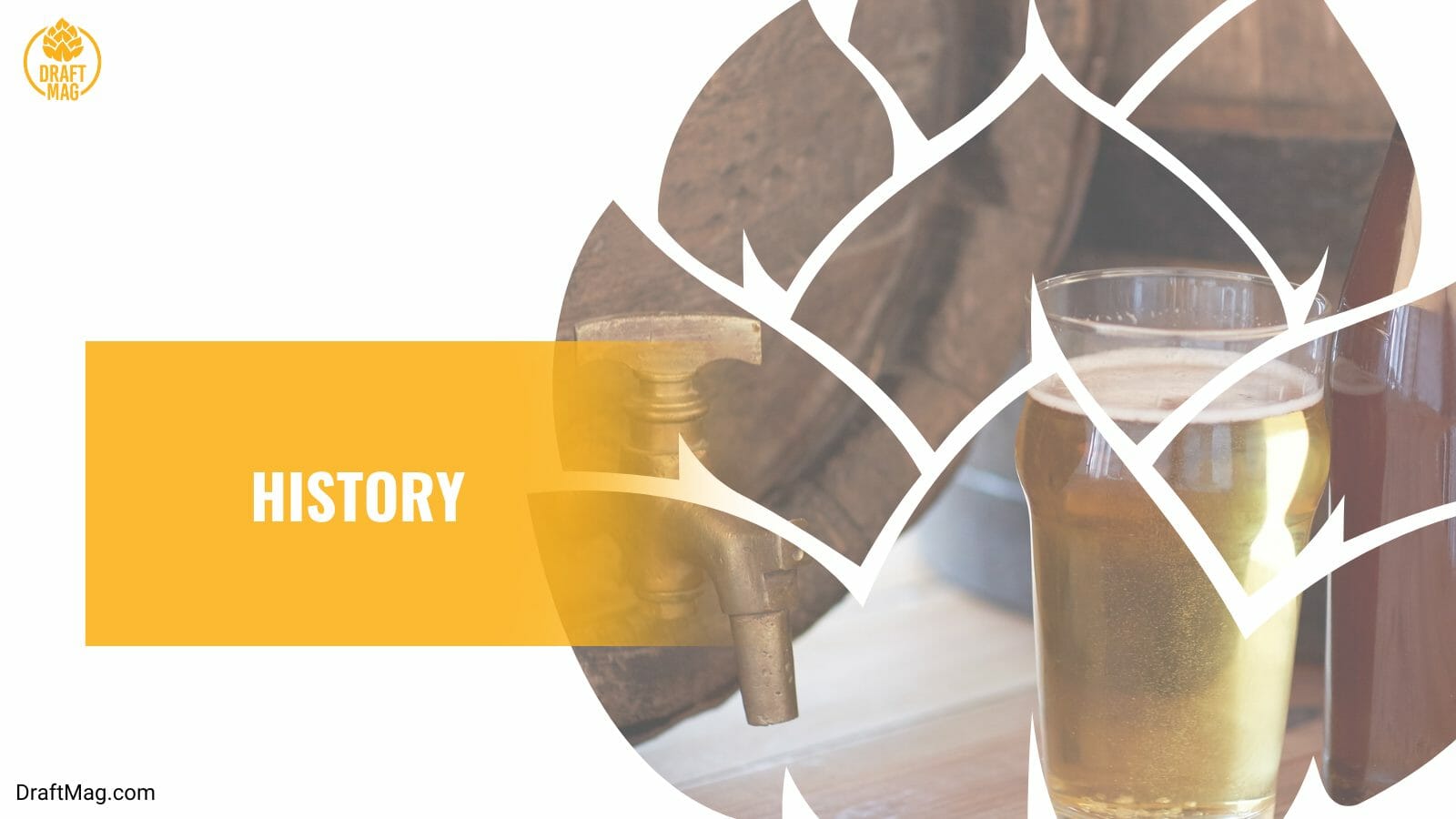 After, in the early 20th century, the Plank Road Brewery was acquired by the Miller Brewing Company, and Red Dog continued to be produced by Miller until the beer was discontinued in 2012.
Today, however, It can be found in convenient stores and gas stations across the United States. The beer is also exported to countries such as Canada, Mexico, and Japan. Nonetheless the company has even made it easier for fans around the world to buy red dog online.
Conclusion
Red Dog beer is a light lager that refreshes from the delicate balance of malt and hops. The perfect choice for those sunny days, this crisp brew slips down easily.
Pours a light golden color with a foamy white head
The aroma is of sweet malt and grain, with a hint of hops
The flavor is of sweet malt and grain, with a slight bitterness from the hops
This beer is low in calories per serving of 12 ounces, it has 147 calories.
You can always pair this beer with foods such as burgers and BBQ.
If you are looking for a light and refreshing beer, I recommend trying red Dog. The fruity flavor makes it an excellent beer alternative for those who dislike the typical taste of beer.