Saranac Pumpkin Ale Review: Your Beer For Fall
Saranac Pumpkin Ale is a great choice as we are drawing close to the fall season, when everything pumpkin comes out, including beers like this. However, what is unique about this beer?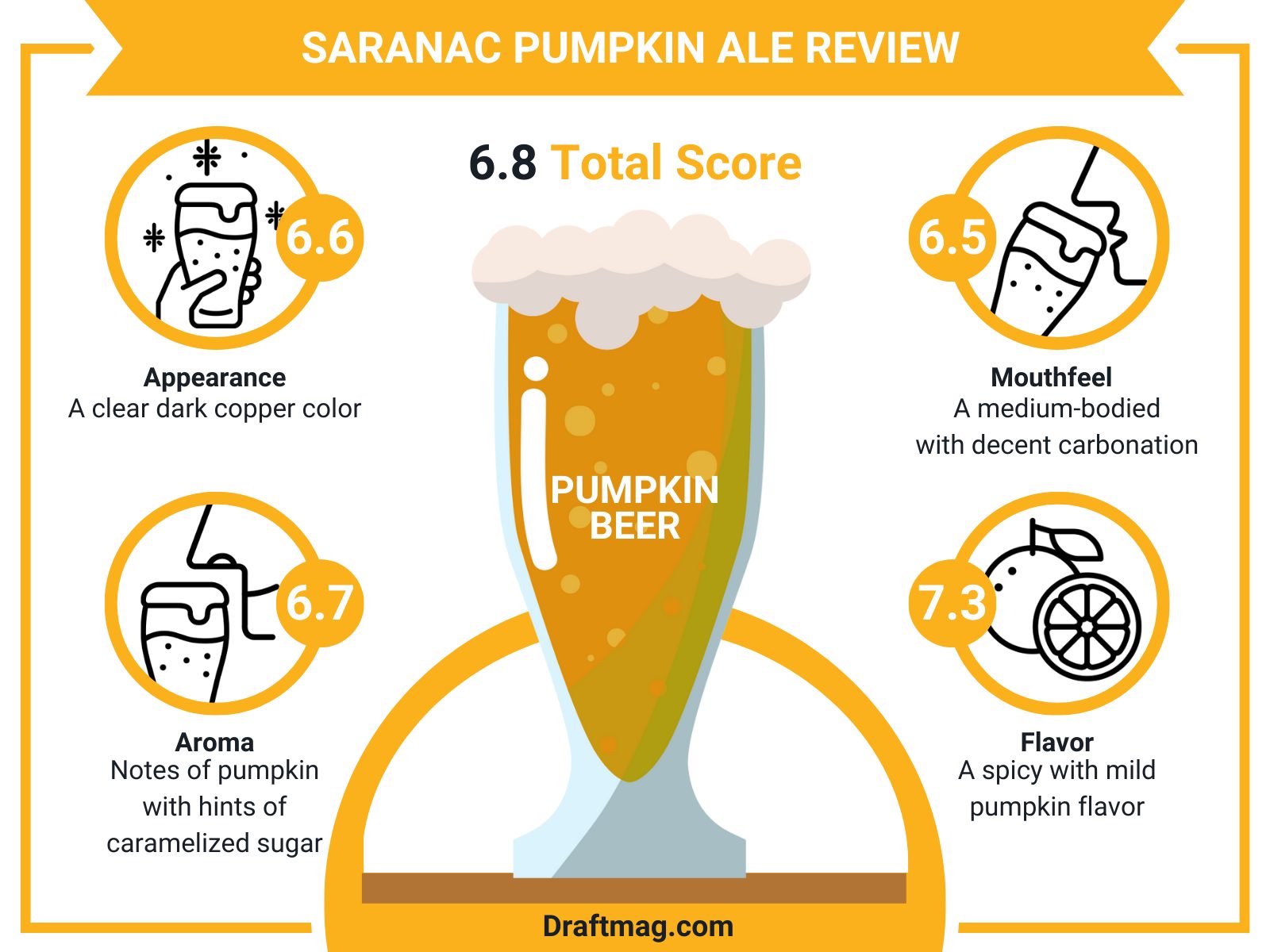 Keep reading, as this review will answer your curiosity, giving you insights into its aroma, flavor, and appearance. In addition, we will discuss the beer's history, food pairings, and nutrition facts.
Saranac Pumpkin Ale Stats
| | |
| --- | --- |
| Country | United States |
| Brand | Matt Brewing Company / Saranac Brewery |
| Style | Pumpkin beer |
| Taste | slightly nutty, mildly sweet, cinnamon |
| Body | Medium |
| ABV | 5.3 percent |
| Flavors & Aromas | Spicy, Pumpkin, cinnamon, |
| Serving Temperature | 45-50 degrees Fahrenheit |
Tasting Notes
Saranac Pumpkin Ale Tasting Profile
Saranac Pumpkin Ale Review
Below is a description of the beer's organoleptic character and possible food pairings.
– Appearance
When it comes to the appearance of this beet, it pours a clear dark copper body with decent carbonation bubbles rising. Nonetheless, it is key to note that it has about half a finger thick, creamy tannish head that doesn't hang around for long and leaves a few lacing.
– Aroma
In the nose, the beer gives off notes of pumpkin, but it's not so intense. Then you get hints of spices, cinnamon, nutmeg, ginger, clove, and walnut shells. Moreover, there are hints of caramelized sugar on the backend, hence, this beer is a lot spicier than traditional ales.
– Mouthfeel
The beer is spicy, crisp, easy to drink, and finishes dry when it comes to the mouthfeel. It is medium-bodied with decent carbonation that makes you know it's beer. On the palate, it begins with a subtle pumpkin note followed by cinnamon and gradually ends with mild vegetative notes that linger.
– Flavor
The flavor follows the aroma. It is spicy with mild pumpkin, more of a pumpkin pie, cinnamon, and caramel malt notes. As it progresses, you encounter hints of cloves, ginger, nutmeg, brown sugar, and citrus hops. However, there are floral and allspice notes on the backend, though it doesn't linger as the beer's sweetness bounces back.
– Food Pairings
When considering beer and food pairs, the aim is to choose flavors in the glass that travels with those on the plate or vice versa. Interestingly, you can achieve this through contrast and harmony. First, to make the pairing, you need to think about the dish's main ingredient and the cooking method. Another factor to consider is the sauces and condiments used.
Saranac Pumpkin Ale is a perfect pair with thanksgiving dishes. Thus, light appetizers like a walnut or cranberry salad will go well. On the other hand, you can consider pumpkin puree, blue cheeses, cheese pies, and bruschetta.
This beer is also suitable to complement and cut the flavor of foods such as ribs with barbecue sauce, spicy food, risotto, or a pizza with a lot of cheese.
If the desserts arrive and you are still with the pumpkin beer, the ideal thing would be for you to order a rice pudding, stuffed mushroom, apple pie, pumpkin pie, or chocolate cheesecake. Cheese again? Yes! It is an excellent beer to pair with slightly cured cheeses. Interestingly, waffles can also play the game as it complements the caramel sweetness in the beer. Also, the beer's subtle pumpkin flavor cut through the greasiness in fried chicken and fatty foods.
If you still want to compliment flavors, look towards slow-cooked meats, as the nutty and savory notes go well with the malt character of this beer.
Ingredients
This Saranac beer is brewed with a variety of different ingredients such as pumpkin, malt, yeast, hops, water, cinnamon, allspice, cloves, ginger, and vanilla.
Nutrition Facts
A 12fl. oz serving contains about 175 calories and 17g of carbohydrates. But it doesn't contain proteins, fats, cholesterol, vitamins, and micronutrients. However, this beer has an average carb load; thus, it calls for concern if you're regulating your carb intake.
Saranac Pumpkin Ale has 5.3 percent ABV, which is average compared with other breweries' pumpkin beers.
History
Saranac Pumpkin Ale is brewed by a New York-based brewery, Matt Brewing Company. This company has existed since 1888 and was the first to regain a brewing license in the United States post-prohibition. The brewery offers different beer styles, from lagers to Ales, IPAs, etc. Saranac, a flagship line under the brewery, is named after a lake in Adirondack called Saranac lake and is recognized in the US.
The Saranac brand deals in craft beers; interestingly, it was the first to curate beer in various packs. One of the brand's recognized packs is the "Adirondacks Trail Mix," which contains Saranac Legacy IPA, Saranac Pale Ale, Saranac Black Forest, and Saranac Adirondack Lager. Saranac also brews sessions, especially for the fall season. These beers include Saranac Pumpkin Ale, introduced in 2010, Honey Pils, 1888 Octoberfest, and the Black Forest.
When it was initially released, Saranac Pumpkin Ale was labeled to have 5.4 percent ABV. In recent times and with the new designs, it is now marked as 5.3 percent ABV. The beer is available in 12fl. oz bottles and cans. You can also find the can in the "12 Beers of Fall" variety pack containing the seasonal beers earlier mentioned.
Check out the best fall beers for 2023 you can not miss!
Conclusion
Are you looking for a seasonal beer as fall draws nearer? You should lay your hands on the Saranac Pumpkin Ale and enjoy the spiciness to cool off the cold. This review has discussed the beer's organoleptic characteristics and its nutrition facts. Here are key points to note:
Saranac Pumpkin Ale is a pumpkin beer with 5.3 percent ABV.
The beer is brewed with pumpkin, cinnamon, malts, clove, hops, water, yeast, ginger, allspice, and vanilla.
The beer appears clear with a dark copper color and half a finger thick tan head.
It is a medium-bodied beer with decent carbonation.
This is a versatile beer, and the pairing list is endless. You can best enjoy it with shepherd's pie, chestnut soup, buffalo wings, turkey sandwich, grilled chicken, or mashed potatoes.
Pumpkin beers are versatile; thus, you can pair them with an endless list of meals. All you need is to flow pairing guidelines discussed in this review and serve at the right temperature. So what food are you pairing with this beer when the fall season arrives?