Sixpoint Sweet Action Review: Hoppy Blonde Ale With a Semisweet Taste
Our Sixpoint Sweet Action review covers all you need to know about this American blonde ale. An authentic NYC pale ale, the beer brilliantly balances barley malts with hops to give you a bittersweet ale.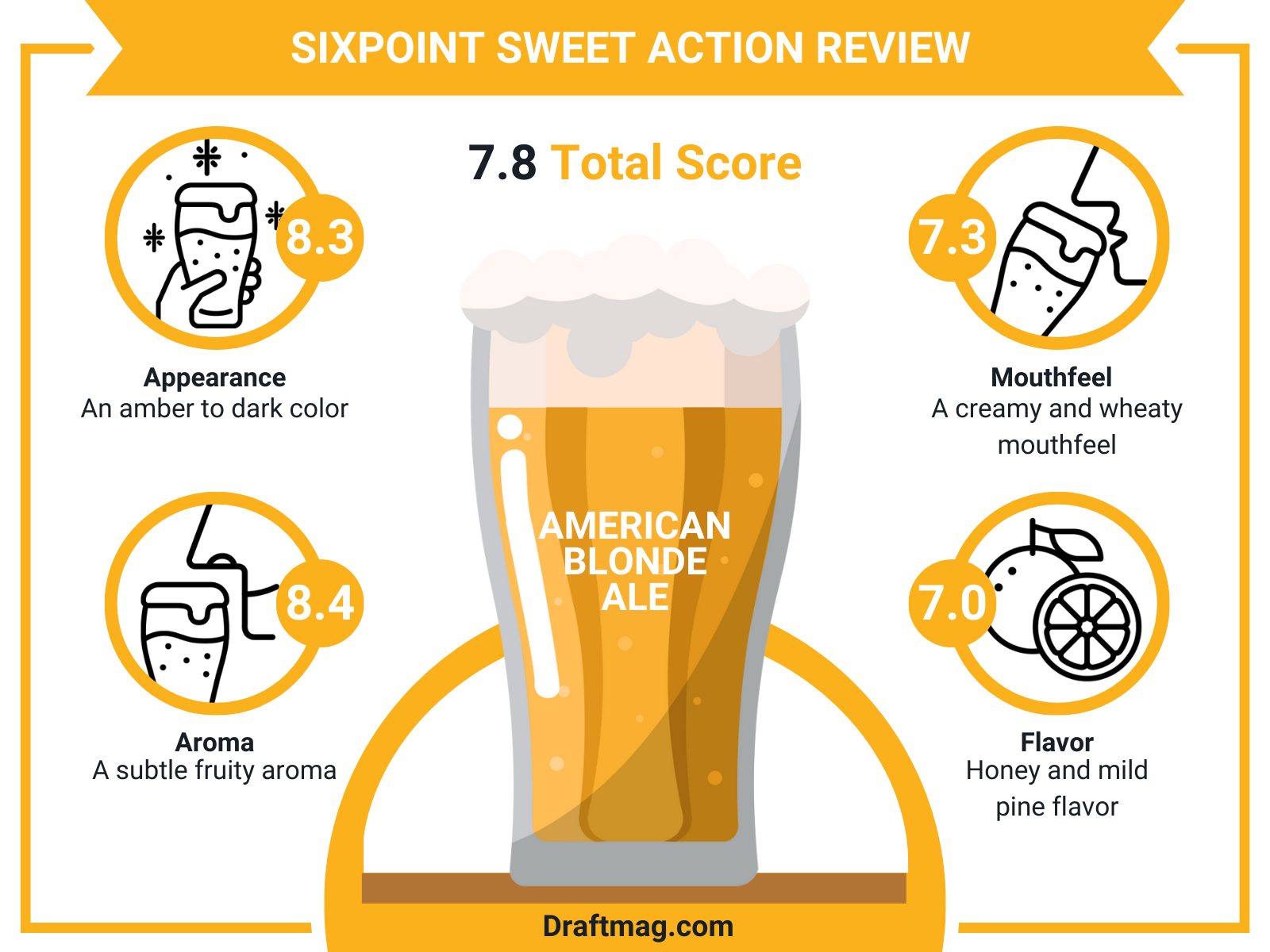 It is brewed by Sixpoint Brewery, with hoppy and citrusy tasting notes that any beer lover will enjoy. Read on to learn what the Sweet Action ale tastes like and the top food pairings for this beer.
Sixpoint Sweet Action Beer Stats
| | |
| --- | --- |
| Country  | United States |
| Brand | Sixpoint Brewery |
| Style | American Blonde Ale |
| Taste  | Hoppy, semisweet |
| Body | Light to medium body |
| ABV | 5 percent |
| Flavors & Aromas | Lemon citrus, peach, hoppy bitterness, caramel, honey |
| Serving Temperature | 45 – 50 degrees Fahrenheit |
Tasting Notes
Sixpoint Sweet Action Tasting Profile
Sixpoint Sweet Action Review
Sweet Action is an American blonde ale with a 5 percent alcohol content, brewed by Sixpoint Brewery in the United States. The beer has a hazy amber appearance, with aromas and flavors of lemon citrus, caramel, and honey. This blonde ale is gently hopped, which gives you a lot of hoppy bitterness and balances this with a malty sweetness.
When having the Sweet Action ale, you should serve it in a pint glass and ensure it is cold. You can add ice cubes and citrus garnishing like an orange slice to enhance the lemon citrus flavor. It is a delicious take on the American blonde ale style.
The Sweet Action beer is a drinkable and refreshing beer that can best be described as the perfect summer delight.
– Appearance
The Sixpoint Sweet Action beer has an amber to dark copper appearance, as expected from the blonde ale style. It is slightly cloudy, with orange highlights at the top. On top of the beer is an off-white head up to one finger and moderate retention on the rim. The beer leaves moderate lacing against your glass.
– Aroma
As for the aroma, the Sweet Action ale has a subtle fruity aroma, with muted citrus and peaches. The citrus leans towards lemon and is balanced with hints of pine and star anise. The beer also smells a bit sweet, driven by caramel and honey. Its hop-induced aroma offers you tropical fruits and flowers.
– Mouthfeel
The Sweet Action beer has a light to medium-bodied mouthfeel that feels great on your palate. It is moderately carbonated too, offering a tingly feeling at the back of your throat as you drink. The beer feels creamy and wheaty, which complements its tasting profile.
– Flavor
The flavor of the Sweet Action ale follows the aroma, just as laidback and muted. The beer is smooth and bittersweet, with a balance from the hoppy bitterness that offers pines and resinous notes. The sweetness of the beer is offered by the caramel, peach, and citrus flavors.
As you drink, you can enjoy the flavor of honey and mild pine. The hop bomb might be too much for drinkers, as some beer lovers consider this beer overly hopped. It finishes hoppy and dry, with the bitterness following into the aftertaste.
It seems to combine styles of a blond ale, pale ale, and wheat beer, which is probably why Sixpoint describes it as an NYC pale ale.
– Food Pairings
When having the Sixpoint Sweet Action ale, you should pair it with seafood, pasta, and chicken. The honey malt sweetness and gentle hoppy bitterness will pair well with lightly seasoned dishes. A good meal is a grilled chicken, apple, brie, and a ginger mustard sandwich.
The smooth, malty, and sweet flavor of the NYC pale ale goes well with spicy and hot foods like chicken, salads, bratwurst, salmon, or Middle Eastern dishes like hummus and falafel. Seafood like lightly-flavored sushi and whitefish also go well, or you can opt for any green salad with a light dressing.
When having the Sweet Action beer, you should have sweet desserts like caramel cheesecake, carrot cake, and crème brulée. Also, try out chocolate bread pudding or peach pie. Creamy and mild cheeses like Fontina will complement the malty sweetness and fruity notes.
Ingredients
The Sweet Action ale is made with Canadian white wheat, early harvested Simcoe hops, yeast, and water. The Canadian white wheat gives it a light to medium body, smooth mouthfeel, and hazy appearance. It also provides some malty sweetness and a strong backbone.
As for the Simcoe hops, it offers a peachy and citrusy aroma. The beer is described as part blonde ale, part pale ale, and part wheat beer, something that your palate will definitely appreciate. If you're allergic to wheat, you should avoid drinking this beer as this is part of the malt list.
Nutrition Facts
The Sixpoint Sweet Action beer features a 5 percent alcohol content, while the IBU is set at 34 – 40 due to the slight bitterness. The calories of the beer are 156 per every 12-ounce can, which is a pretty decent level for a blonde ale.
You can't have this beer while on a keto diet due to the high net carbs, which is 32 grams per every 12-ounce serving. Sweet Action is not a gluten-free beer either.
History
The Sweet Action beer is brewed by Sixpoint Brewery, based in New York. According to the brewery's story, the beer was first brewed for a friend's party. In three different phone calls, the friend requested a wheat beer, lager, and then a pale ale.
So the brewery put it together and fermented it with Belgian yeast. The beer has now become one of the top choices from Sixpoint. It is named after Sweet Action magazine, a short-lived sensation.
Conclusion
The Sweet Action beer is a unique take on the American blonde ale style, with a complex flavor and enticing aroma. Here's a summary of our Sixpoint Sweet Action review:
Sweet Action is an NYC pale ale with a 5 percent ABV from Sixpoint Brewing Company.
The beer has flavors and aromas of lemon citrus, peaches, malts, and caramel, offering a dry and bittersweet taste.
It is brewed with Canadian white wheat, Simcoe hops, Belgian yeast, and water.
The beer is best served in a pint glass when cold, with citrus garnishing.
The Sweet Action goes well with chicken, pasta, seafood, spicy foods, sweet desserts, and creamy cheeses.
You can easily purchase the Sweet Action ale online or at stores near you to give it a try or visit Sixpoint in New York.