Elysian Full Contact Review: Fascinating Facts About This Beer
Elysian Full Contact imperial hazy IPA is a member of the contact series of the Elysian Brewing company in Washington, USA. The beer incorporates a series of hops and fruity flavors that can't be ignored.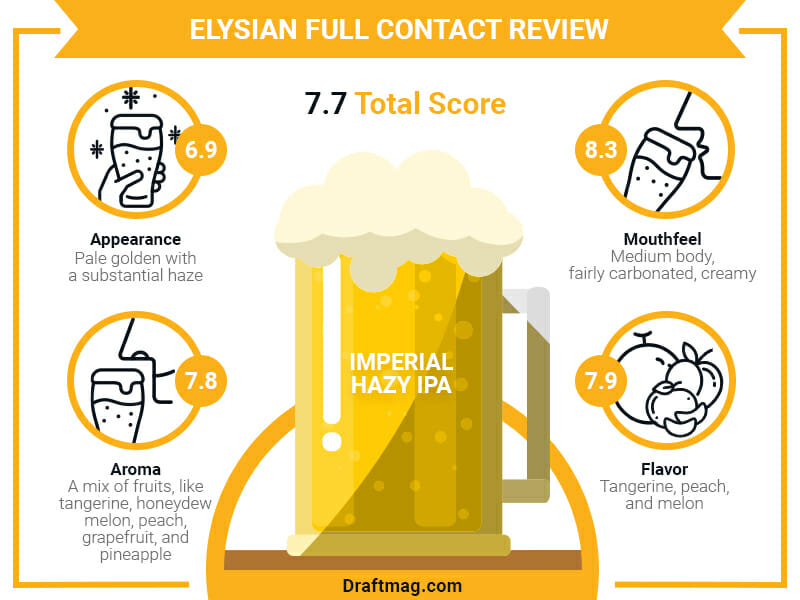 However, there is more to this beer than its flavor, so keep reading as this review also talks about its appearance, aroma, mouthfeel, and ingredients. It doesn't end there — our experts also discuss the beer's history and nutrition facts.
Elysian Full Contact Stats
| | |
| --- | --- |
| Country | United States |
| Brand | Elysian Brewing Company |
| Style | Imperial Hazy IPA |
| Taste | Fruity (tangerine and melon mix) with mild bitterness |
| Body | Medium-bodied |
| ABV | 8.8 percent |
| Flavors & Aromas | tangerine and melon, pine, grass, malty notes |
| Serving Temperature | 45-50 degrees Fahrenheit |
Tasting Notes
Elysian Full Contact Tasting Profile
Elysian Full Contact Review
What are the characteristics and possible food pairings with this unique IPA? Let's find out in this in-depth review section.
– Appearance
The artwork on the Elysian Full Contact can show a finger pointing at you. Why is that, you ask? Out of curiosity, you will want to see its contents.
In a beer glass, Elysian Full Contact appears pale golden with a substantial haze, though not too cloudy as other hazy IPAs. Under proper lighting, it seems to be glowing warmly. Also, it has a fluffy medium-to-thick white head, leaving a little lacing.
– Aroma
Elysian Full Contact beer's aroma is sweet and likened to a fruit salad with a mix of fruits, like tangerine, honeydew melon, peach, grapefruit, and pineapple. However, none of the fruity notes stands out. Also, malty hints accompany these fruity mixes, thus getting a lot going on in the nose.
– Mouthfeel
Elysian Full Contact has a medium body and is fairly carbonated, giving a juicy with a creamy mouth feel. However, unlike other IPAs, full contact has a subtle bitterness, thanks to its rich flavors. It starts with a sweet fruity cocktail sensation, including tangerine and grapefruit notes. Also, Elysian Full Contact finishes with a gentle mix of earthy hop flavors.
– Flavor
The alcohol perception and bitterness are masked by its blend of fruity flavors. The flavor starts with a mix of fruits like tangerine, peach, and melon. Slight wheat notes follow this, then a combination of hops and finishes like a cream soda. The flavor is irresistible, and you'll most likely ask for more.
– Food Pairings
As with food pairings, the aroma and taste of the Elysian Full Contact is the primary guide to choosing excellent aroma combinations. With this in mind, pairing aims to enhance its blend of fruity and hop flavors and bitterness.
The Elysian Full Contact alcohol content is high with moderate carbonation and, as a result, pairs well with greasy and creamy dishes. The reason is that the beer cleanses the palate, ensuring an intense taste experience. Given this, potato chips, onion rings, and french fries are perfect. Cheeses are also nice pairs, especially sharp cheddar, blue cheese, and cheeseburgers.
Also, the blend of hops pairs perfectly with spicy and grilled foods. So when you grab a chilled Elysian Full Contact, accompany it with Thai, Indian, or Mexican dishes, including grilled sausages, lamb, ribs, pork chops, and chicken. The grilled meat's taste with the beer's fruity flavors creates a pleasurable experience.
Sweet dishes and desserts are also not left behind. This beer will go perfectly well with the likes of caramel cheesecake, samosa, apple pie, carrot cake, crème brulée, etc.
Ingredients
The basic Elysian Full Contact ingredients include but are not limited to these adjuncts:
2-row
Malted wheat
Unmalted wheat
Centennial hops
Simcoe hops
Strata hops
Water
Yeast
Nutrition Facts
When it comes to Elysian Full Contact nutrition facts, every 12 fl. Oz serving has 260 calories, 20g carbohydrates, and 1g protein. The Elysian Full Contact calories and carbs are high. Therefore, Elysian Full Contact beer is not the best choice for frequent consumption if you're on a keto diet.
Also, it has a high ABV of 8.8 percent hidden in its rich flavors, so be wary of how much you take if you're not a heavy drinker. Excessive alcohol may limit your weight loss result. In addition, the Elysian Full Contact IBU is 60, which is typical of an imperial IPA, according to the brewers association.
Ordinarily, it is expected to be bitter with such IBU value. However, its bitterness is slightly masked by its vast selection of fruity and hop flavors. The beer also contains sodium, a micronutrient essential for balancing body fluids and optimum muscle and nerve function. However, there are no fat, vitamins, dietary fiber, or cholesterol traces.
History
Elysian Full Contact is one of the contact series of the Elysian brewing company. The company was established in Seattle, Washington, US, in 1995, by Dave Buhler, Dick Cantwell, and Joe Bisacca. These three individuals were experts in the brewery and spirit market.
Since its inception, Elysian has produced several beer styles, including IPAs. However, aiming to reach a larger audience, the company was sold to Anheuser-Busch InBev (AB InBev) in 2015. Later in 2020, Elysian Full Contact was produced, with the aim of expanding the company's contact series.
Elysian Full Contact is the imperial and bolder version of the company's pioneer contact series, "Contact Haze." But this time, it was brewed with special hops and malts different from the pioneer, giving it a richer flavor and aroma. Later in 2021, Elysian brewing company produced "Altered Contact IPA" to expand the contact family further.
Conclusion
Elysian Full Contact releases a vast selection of irresistible flavors for a pleasant experience with friends and family. One sip, and your thirst for more increases. Here are some key takeaways to note from this review:
Elysian Full Contact beer has 8.8 percent ABV and is best served between 45-50 degrees Fahrenheit.
It appears pale golden with a substantial haze and a white head with a little lacing.
Elysian Full Contact has a medium body with average carbonation.
Its primary ingredients are malted wheat, unmalted wheat, 2-row, hops (Simcoe, Centennial, Strata), yeast, and water.
So don't ignore that pointing finger on the Elysian Full Contact can — answer the call, grab a chilled can, and enjoy the pool of flavors that unravels with each sip!