Private Stock Beer Review: A Hoppy Malt Liquor You Won't Expect
Private Stock beer is popularly known as a malt liquor with an imported taste, especially since it has a dominantly hoppy taste. Its malt backbone is solid, and the esters don't taste weird.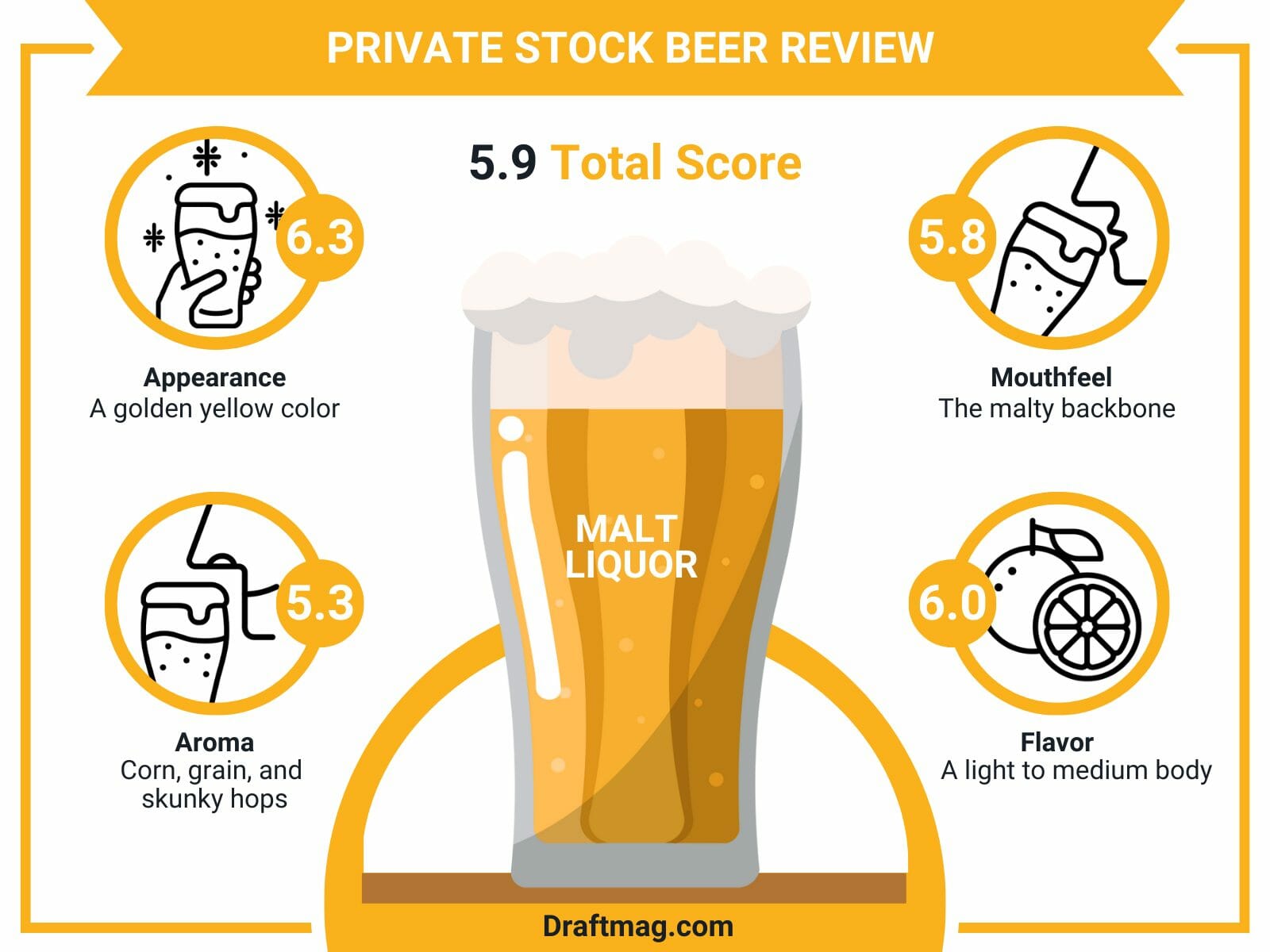 The delicious malt beer was made in Massachusetts and tastes great when you drink it fresh. Continue reading our complete review of the unique beer to know more.
Private Stock Beer Stats
| | |
| --- | --- |
| Country  | United States |
| Brand | Private Stock Brewing Company |
| Style | Malt Liquor |
| Taste  | Hops, bittersweet |
| Body | Light to Medium Body |
| ABV | 6.9 percent |
| Flavors & Aromas | Hops, bitter, corn, grain, floral, herbal, bready, alcohol esters |
| Serving Temperature | 35 – 40 degrees Fahrenheit |
Tasting Notes
Private Stock Beer Tasting Profile
Private Stock Beer Review
Private Stock malt liquor has a 6.9 percent alcohol content. The beer pours a yellow color into your glass with flavors and aromas of floral and herbal hops, bready notes, grains, corn, and alcohol esters. In its light to medium body, the beer is highly carbonated and highly hopped.
The beer is best poured into a pint glass, which features a wide opening that slims down to the end. It keeps the white foamy head in place and showcases the sparkling yellow color. It is best served cold, specifically at 35 degrees Fahrenheit. You can garnish the beer with a citrus wedge.
Even with the ABV level, the liquor offers decent drinkability and goes down easy, regardless of the occasion.  Appearance
The liquor pours a golden yellow color into your glass with a brilliant, sparkling appearance. Its light color features a foamy white head up to one inch high that will dissipate quickly. It leaves patches of lacing against your glass and has a lot of large bubbles floating to the top.
– Aroma
On the nose, the Haffenreffer Private Stock has aromas of corn, grain, and skunky hops. The aroma is mostly hops, but you can taste hints of grain and alcohol esters with a slight solvent scent. There is also a backbone of light floral notes from the hops.
– Mouthfeel
The feeling you get on your palate when you drink this beer is a light to medium body with moderate carbonation.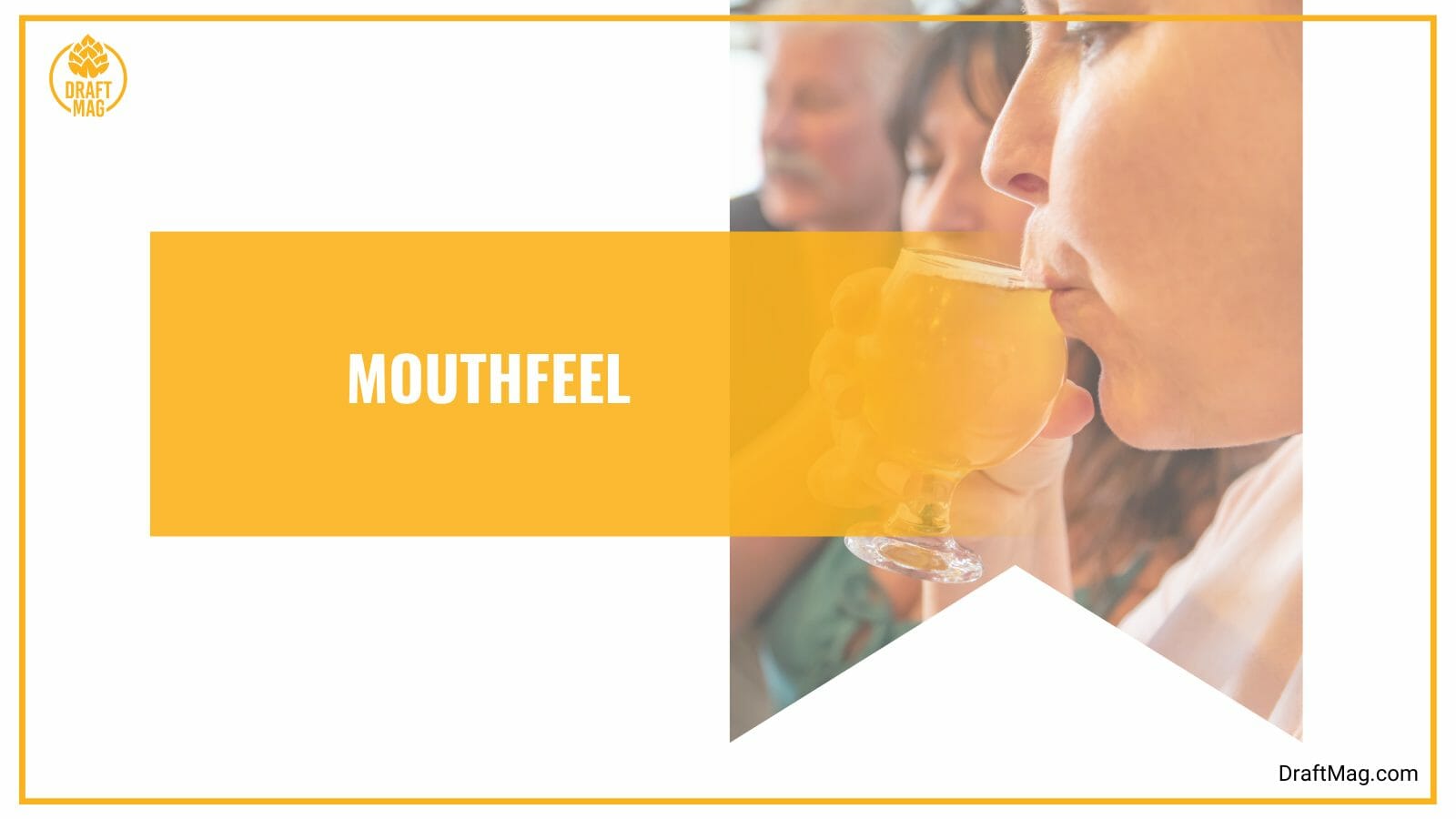 The carbonation offers a bubbly feeling against your tongue that feels fizzy. You will also taste an alcohol burn.
– Flavor
As for the flavor, the liquor offers a sweet taste from the malty backbone, while the hops offer some bitterness at the forefront. Right after the bitterness is a malty sweet taste, with a grainy taste hitting you mid-palate. The grains offer slight bready notes.
As the beer warms up, it offers some estery alcohol flavors that form the backbone of the overall taste. The taste is bitter and hoppy but also skunky and herbal, especially if you leave the bottle out for a long time. Overall, it's a unique malt beer that will surprise you with the hoppy flavor and aroma offered upfront.
– Food Pairings
When serving malty beer, you should consider flavorful foods that will linger on your palate. The sweetness and maltiness of the beer will go great with roasted, smoked, and braised meats, chicken, turkey, and game meats. You can also have the bitterness of the beer with spicy foods like burgers and tacos with barbecue sauce, noodles, Indian curries, and Mexican food.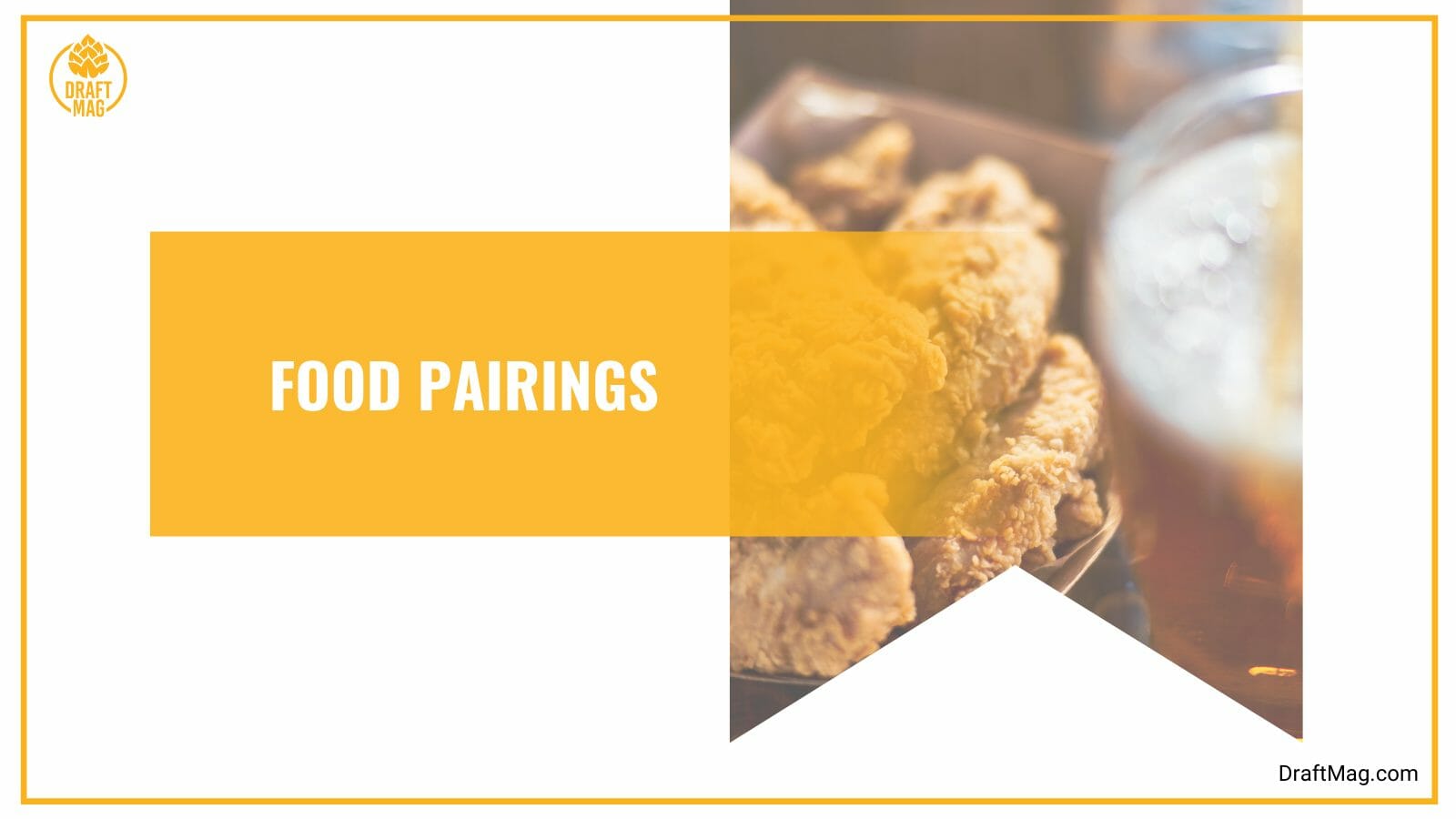 You can also have the liquor with toasted grains and bread, any earthy legumes, and vegetables like beets, mushrooms, and baked beans. Bread-based foods like pizza, sandwiches, burgers, pancakes, and toast will also pair well with the maltiness of this beer.
The malt beer pairs well with sweet, chocolatey desserts like chocolate cheesecake, brownies, cookies, and more. You can try out spicy and cinnamon-based desserts. Creamier cheeses go great with this beer too, with options like feta, ricotta, cottage cheese, cream cheese, and gorgonzola.
Ingredients
The brew is made with a blend of malted barley and special corn syrup, hops, filtered water, and cultured yeast. The beer is not made with high fructose corn syrup, as the brewery has continuously claimed. It is also a vegan-friendly beer as it is not made with any animal products.
Nutrition Facts
The liquor features an alcohol content of 6.9 percent, which is a pretty decent level. It offers a lot of alcohol warming as you drink and swallow. It is unsure what the number of calories, fat, and protein are in this beer.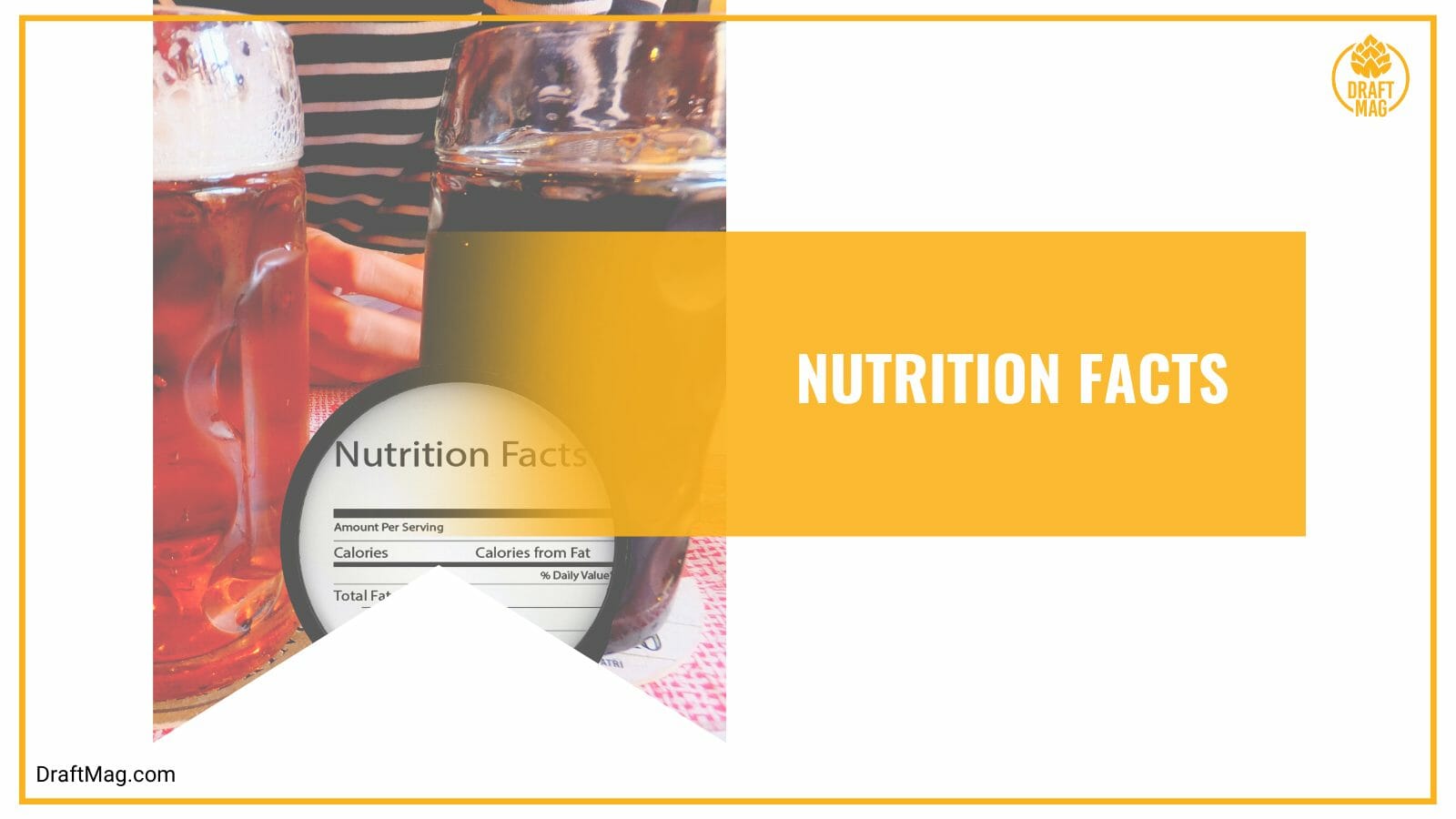 The beer is not gluten-friendly, even if it is vegan-friendly, so those that cannot consume gluten are not recommended to drink this beer. It is also not ideal for those that are allergic to barley or corn. If you are currently on a keto diet, you shouldn't consume this beer either.
History
The Haffenreffer Private Stock malt beer is brewed by Private Stock Brewing Company, which is based in Massachusetts, United States. It is also known as P-Stock, Head Wrecker, Haffen-Wrecker, The Green Death, Heffy's, or The Golden Cap.
The beer is the first malt beer to be released by the company and has remained popular since it was first brewed in 1953. The liquor is actually brewed by Haffenreffer & Co, which is doing business as Private Stock Brewing Co.
It was first brewed in Boston, and the brand has moved to different brewing companies before settling under the license of Haffenreffer & Co.
Conclusion
The liquor is a delicious beer that will surprise anyone that takes a sip once they taste the hops. Here's a rundown of our review:
Private Stock is a malt beer with a 6.9 percent alcohol content and is brewed by Private Stock Brewery.
The beer has aromas and flavors of skunky, floral, and herbal hops, sweet malts, corn, bread, and alcohol esters, with a light body.
It is brewed with malted barley, special corn syrup, filtered water, cultured yeast, and hops.
The liquor is best served in a pint glass when very cold.
You can pair this beer with grilled, smoked, and braised meats, chocolatey desserts, creamy cheeses, and spicy food.
If you're curious about this malt beer, you can purchase it at online stores, although it might be difficult to find it on sale at physical liquor stores near you.