Lucky Streak Beer Review: A Light Beer With Full Flavor
Lucky Streak beer is a classic American lager that will keep you refreshed on a hot day. Known as your typical lawnmower beer, it hits all the flavor notes that you would expect from a lager, and this makes it popular among drinkers.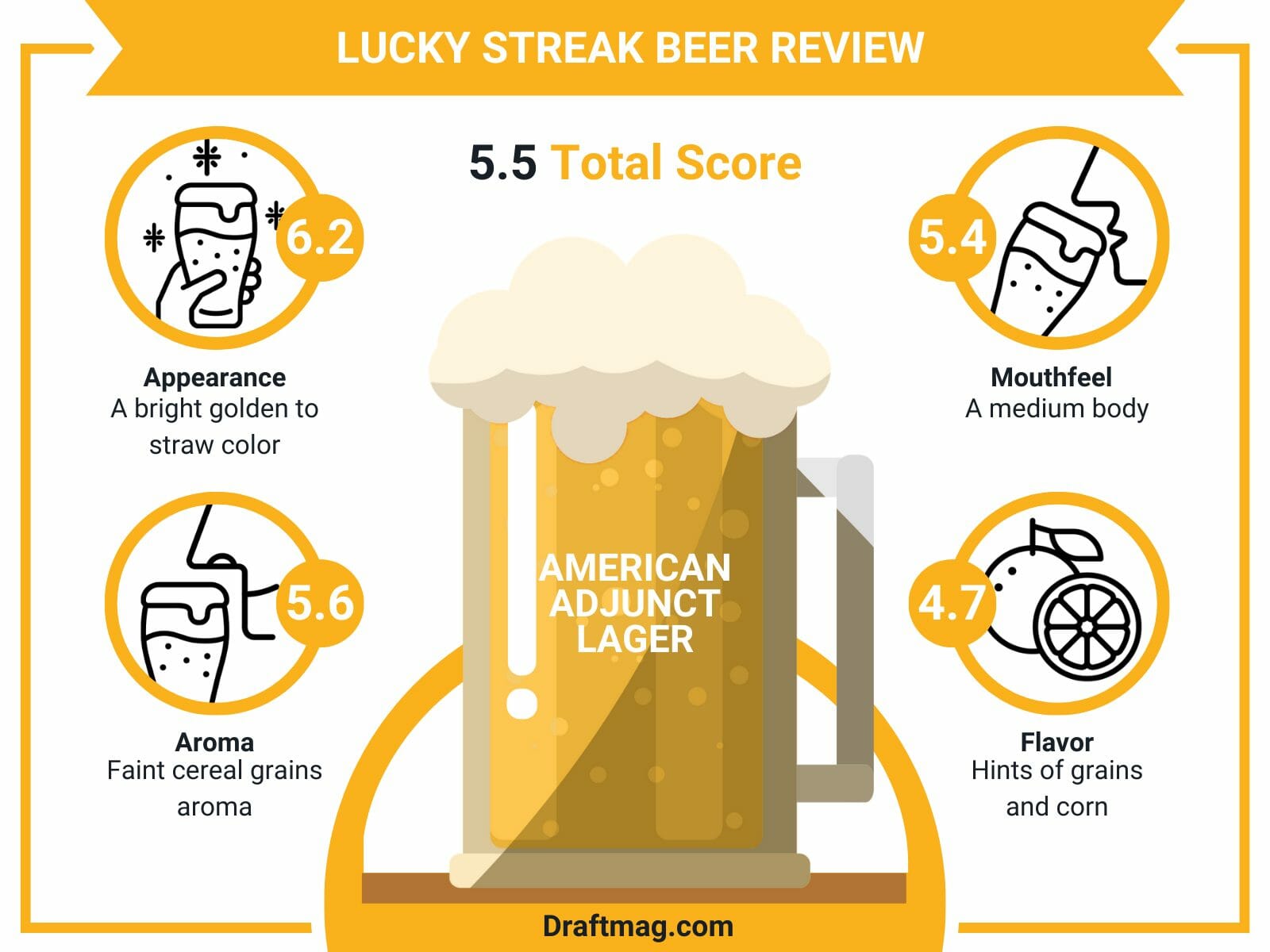 It's the ideal choice for those who want a simple and light beer that still offers a full flavor despite its style. In our review, we cover all the details of the lager, including the tasting notes and food pairing.
Lucky Streak Beer Stats
| | |
| --- | --- |
| Country  | United States |
| Brand | Anheuser Busch |
| Style | American Adjunct Lager |
| Taste  | Cereal, bread |
| Body | Medium-light body |
| ABV | 4.2 percent |
| Flavors & Aromas | Cereal grains, white bread, rice, sour, green apple, corn |
| Serving Temperature | 45 – 50 degrees Fahrenheit |
Tasting Notes
Lucky Streak Beer Tasting Profile
Lucky Streak Beer Review
Lucky Streak is an American adjunct lager made by the famous Anheuser Busch. The beer is made in the United States and is a perfect example of the style. Some beer lovers might say that there's nothing special about the beer, but it follows the classic style that will appeal to a wide range of drinkers. It has a 4.2 percent ABV.
The beer has a bright golden color with a medium body. It has flavors and aromas of cereal grains, white bread, rice, and green apple, with hints of corn and some sour notes. With a drinkable taste and a nearly non-existent ABV, it is a refreshing choice that goes well with any occasion.
If you decide to drink the beer, you should pour it into a pint glass. The glass shows off its golden appearance while holding the thick head in place. It's best to serve it at temperatures from 45 to 50 degrees Fahrenheit. Also, you can garnish it with a lemon wedge on the glass or an apple slice.
– Appearance
The lager pours a bright golden to straw color into your glass and is very clear in appearance. You can see the slight bubbles floating to the top from the carbonation, causing the beer to look even brighter.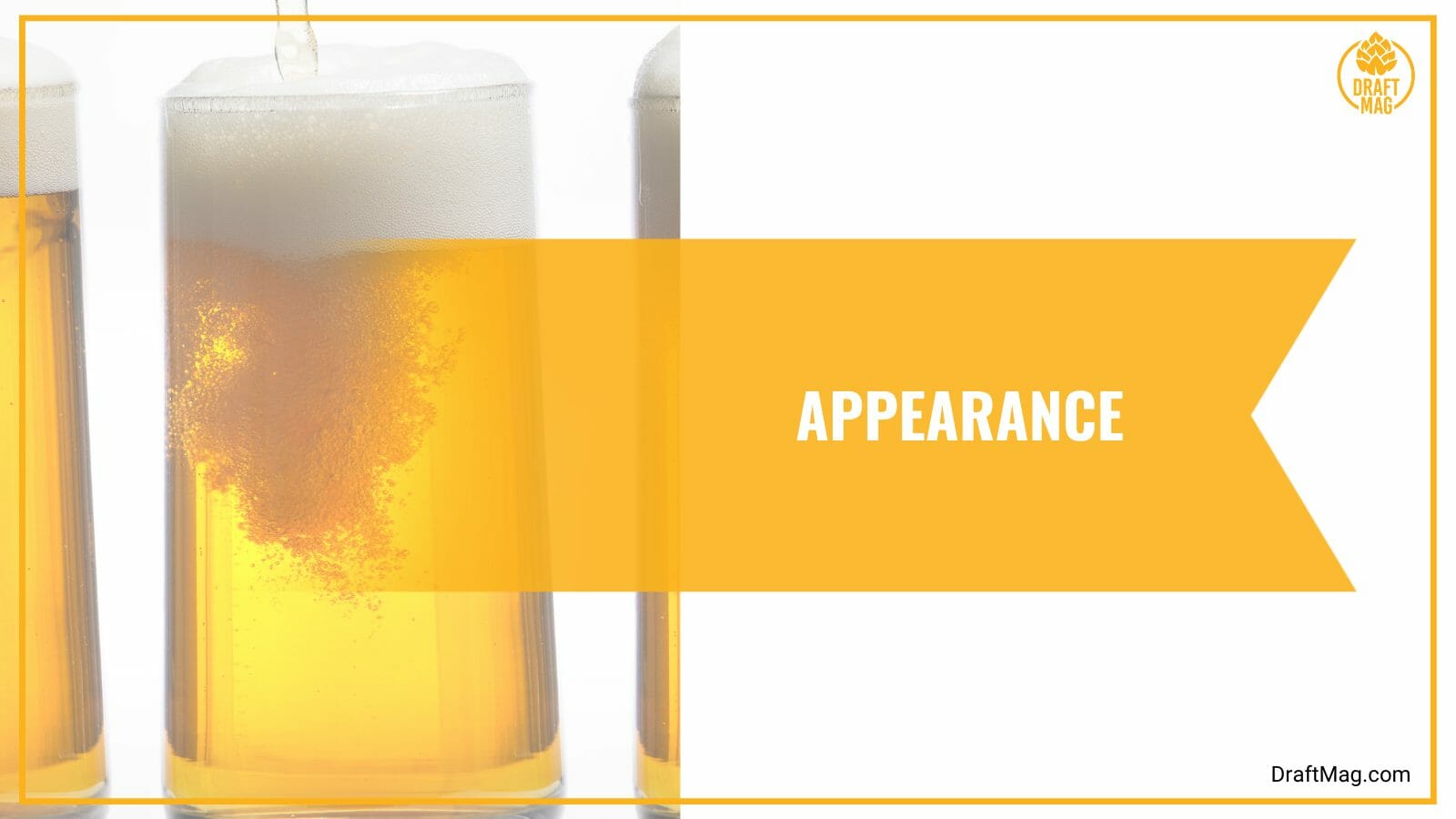 On top of the beer is a thick, white head with limited head retention. As it dissipates, it barely leaves any lacing except a thin film.
– Aroma
Bring the lager to your nose, and the first thing you notice is the sweetish, adjunct lager scent. The lager yeast is very prominent in the scent, and there's a slight touch of hops that you might notice at any time.
The faint cereal grains offered in the aroma are dominant, reminding you of the style. Despite this, it is mostly sweet and muted, so it will not overwhelm the flavor.
– Mouthfeel
As for the mouthfeel, the lager has a medium body that tends toward light. The medium body feel is probably because of the full flavor, but it still feels light and crisp because of the classic style.
The feel is simple, and there is some fizziness that reminds you of a soda due to the carbonation. It is a bit sour towards the end and has a crisp finish, but there is no bitterness or alcohol warming on your palate.
– Flavor
The flavor of the lager will remind you of a classic lager beer. It follows the aroma a bit but is much brighter and prominent, filling your palate with sweet and sour flavors. The first thing you taste is the flavor of white bread, which is quickly followed by rice.
As you go towards the mid-palate, you will notice hints of green apples and sourness from the fruits. It is a bit sweetish and bready, but some might find this bland. There is a touch of hop flavor, but it does not offer any bitterness. Despite this, it still tastes balanced.
You might also notice hints of grains and corn in the flavor. It finishes light and crisp, with notes of corn and malts at the end.
– Food Pairings
When having this classic lager, there are different kinds of food available to you to try out. Classic American foods like burgers and pizza, spicy food, salads with a light fruity dressing, and hearty stews are the best pairings to have with the beer.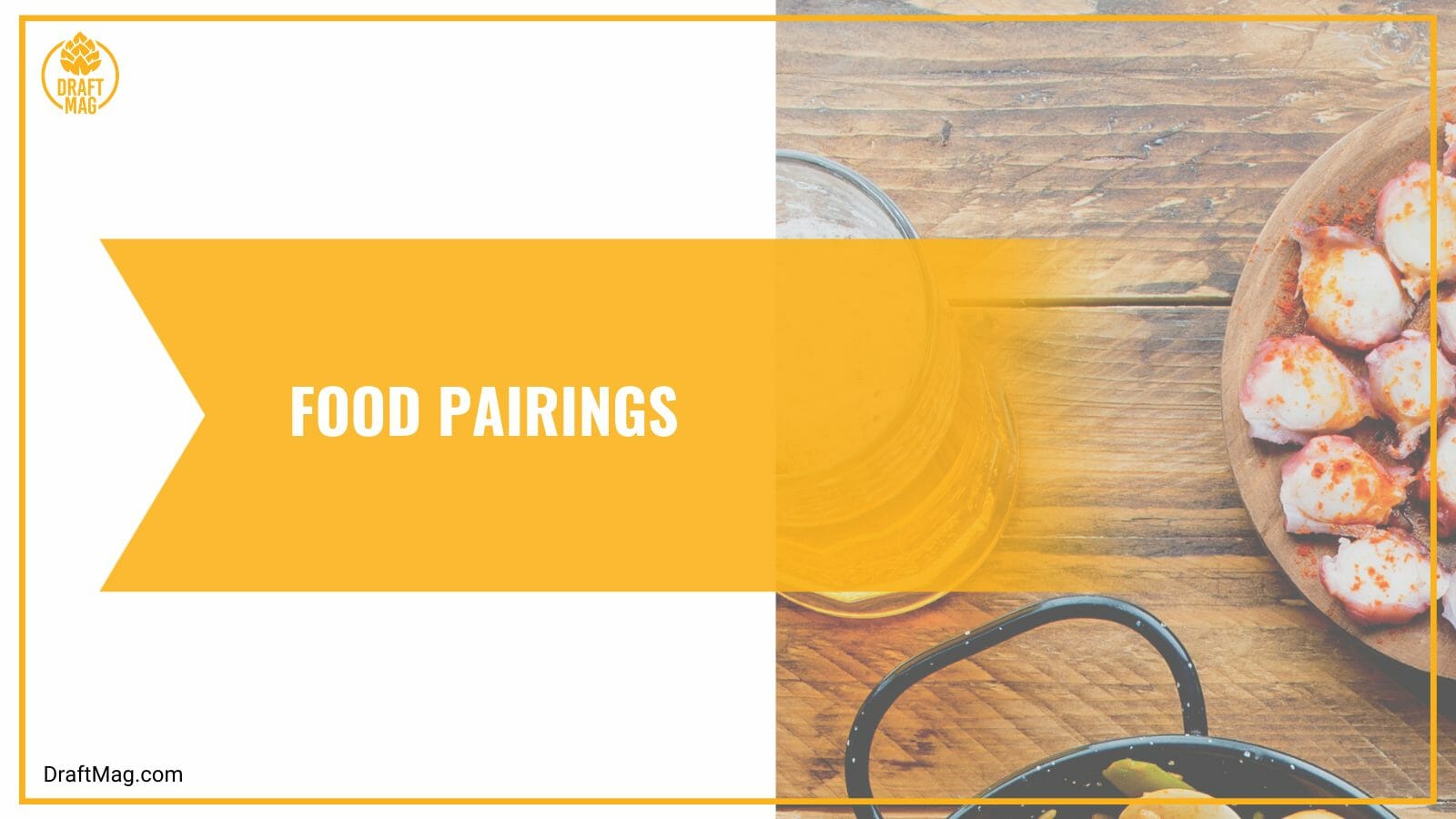 You can enjoy the lager with seafood, so consider light fish dishes, shellfish, and sushi. Also, grilled pork and chicken will pair well with the palate-cleansing nature of the beer. Try out light pasta dishes without any meat or cream sauce. Mexican, Southeast Asian, and Latino cuisines also pair well.
If you want to have your lager with cheese, you should consider soft cheeses like brie and other white mold cheeses. This brings out the malty notes in the beer. Aged cheeses like Cheddar will also pair well. For your dessert, consider having an apple tart or banana orange crepe.
Ingredients
The exact ingredients in the lager are unknown, but it is clear that it uses the classic recipe of malts, hops, yeast, and water. The malt list includes ingredients that offer a flavor of cereal grains, rice, corn, and slight caramel maltiness.
As for the hops, they are barely present in the flavor and aroma except for the slight hint of green apple that you can expect. The lager yeast is also prominent in the taste. All beers from Anheuser Busch are made with the finest ingredients that are sourced by their brewmasters.
Nutrition Facts
In the beer, you get an ABV of 4.2 percent, and this is an expected level from the style. The alcohol does not show up in the flavor or aroma of the beer. The exact IBU is unknown, but there is barely any bitterness or hoppiness in the beer.
The beer has 144 calories for every 12 ounces, and while this is a decent level, those on a diet have to consider it. It also has 13 grams of carbs, which makes it unsuitable for those on a keto diet as it is too high, and 1 gram of protein. It is not ideal for gluten-sensitive drinkers.
History
The beer was released by Anheuser Busch in 2018, so it is one of the more recent beers from the brewery. It quickly became one of the popular beers from the brewery. Along with the release, the brewery also filed for a trademark of the name as they predict that it will become a brand name.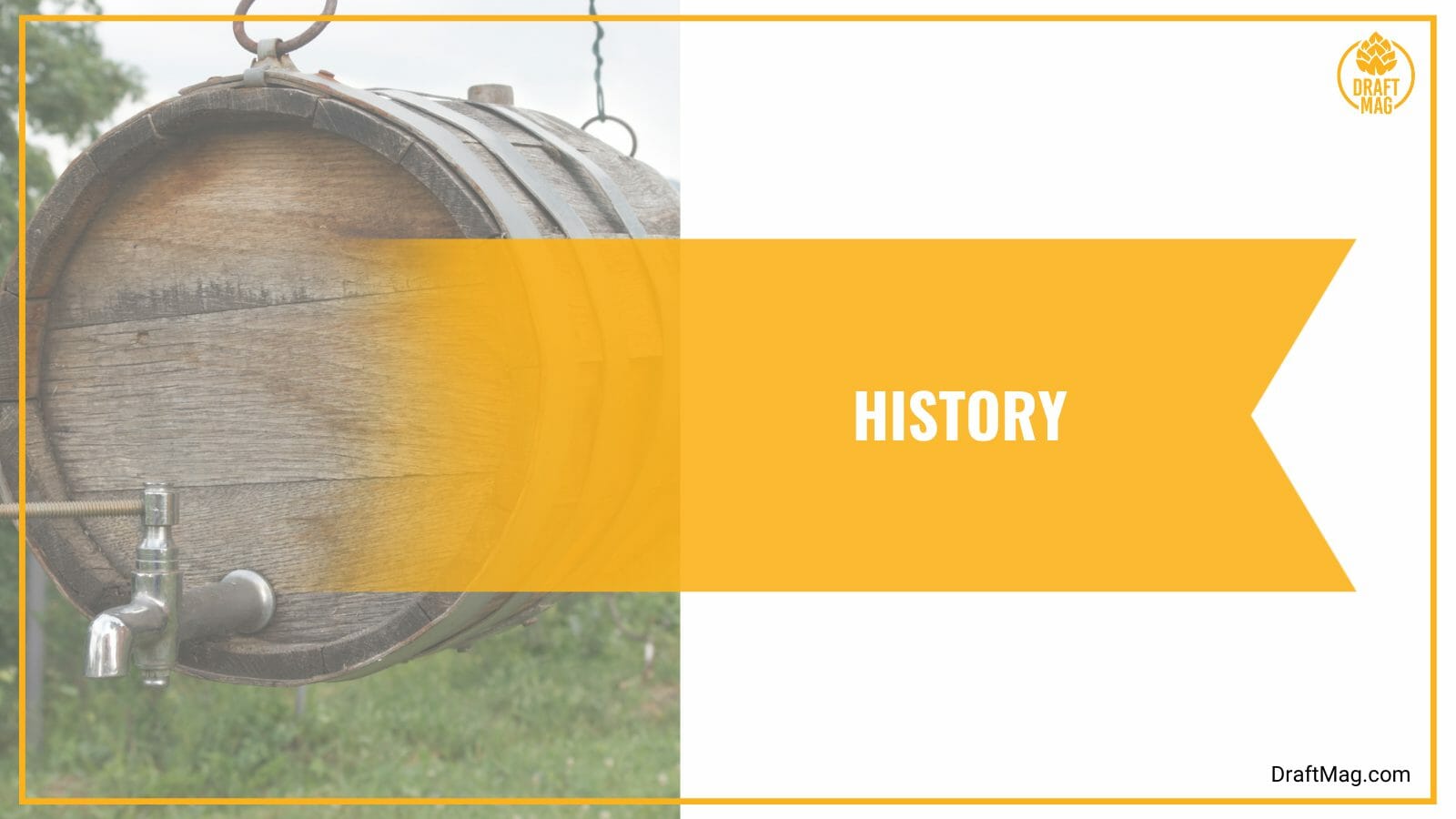 The beer falls in line with many beers from the brewery like Bud Light, Coors Light, Natural Light, and Miller Lite. It is brewed at the St. Louis brewery location and comes in 12-ounce cans. Anheuser Busch was founded in the 1850s and is one of the leading breweries in the world today.
Conclusion
Drinkers who want a classic lager without any of the uniqueness that you find in craft beers today will enjoy the Lucky Streak lager. Here's a rundown of this beer:
It is an American adjunct lager with an ABV of 4.2 percent and is made by Anheuser Busch.
The beer has flavors and aromas of cereal grains, rice, white bread, green apples, and corn, with a mix of bready, sour, and sweetish notes.
Lucky Streak's exact ingredients are unknown.
Serve it in a pint glass at 45 degrees Fahrenheit with a lemon wedge.
The beer pairs well with American foods, salads, grilled food, seafood, light pasta dishes, Mexican cuisine, soft cheeses, and fruity desserts.
Give it a try by purchasing at any store that sells beer and liquor near you. It is also available at online stores.