Modelo Naranja Picosa Review: Chelada Bursting With Oranges
Modelo Naranja Picosa is one of the popular beers from Grupo Modelo that follows the Chelada style. As a Chile beer, it offers drinkers a unique experience as it balances between malt liquor and a lager, with a lot of orangey flavor in between.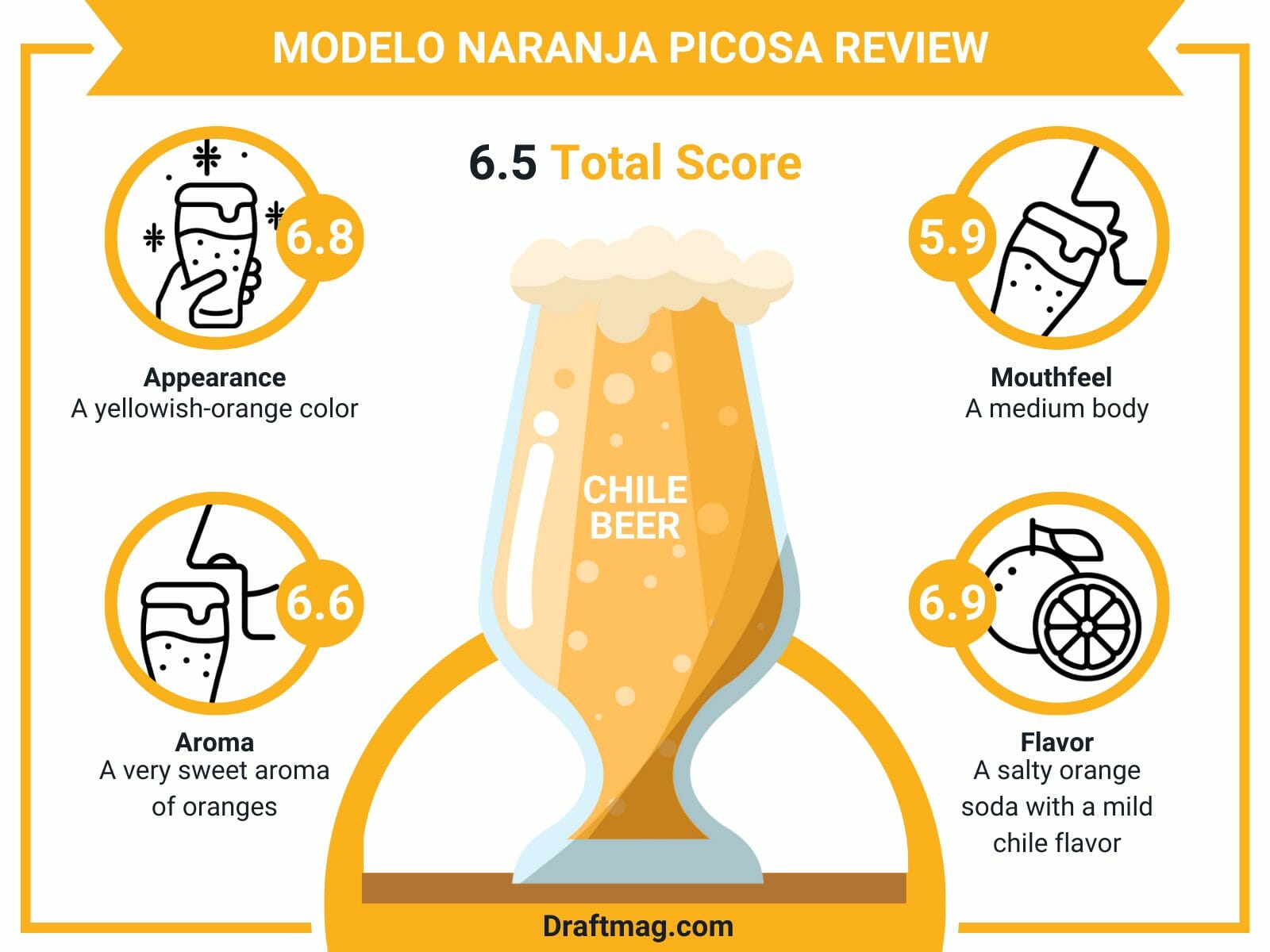 Best served cold, this beer is the ideal choice for feeling refreshed on a hot summer afternoon. In our detailed review, we cover all you need to know about this Chelada, from its tasting profile to the ideal food pairings. 
Modelo Naranja Picosa Stats
| | |
| --- | --- |
| Country  | Mexico |
| Brand | Grupo Modelo S.A. de C. |
| Style | Chile Beer |
| Taste  | Orange, malty |
| Body | Medium-to-Full Body |
| ABV | 3.5 percent |
| Flavors & Aromas | Orange, malty, tang sweetness, chili pepper, bready, fruit |
| Serving Temperature | 35 – 40 degrees Fahrenheit |
Tasting Notes
Modelo Naranja Picosa Tasting Profile
Modelo Naranja Picosa Review 
Chelada Naranja Picosa is a chile beer or malt liquor made by Grupo Modelo in Mexico. The unique beer features an alcohol content of 3.5 percent, which makes it a highly drinkable, low-ABV option for any occasion. With the carbonated body, it is really crushable and will keep you refreshed on a hot day.
The beer has a yellow-orange appearance while the body is medium but tends towards full. There are mostly flavors and aromas of orange, tang sweetness, fruit, malts, bread, and chili pepper heat. The beer does not have the taste of artificial fruit and offers a bit of peppery heat towards the end.
Serve the beer in a pint glass to show off the cloudy orange appearance and a thin film of foam on top of it. To enjoy the refreshing flavor of the beer, it's best to serve it cold, at temperatures from 35 to 40 degrees Fahrenheit. You can garnish it with a wedge of orange placed on the rim of the glass.
– Appearance 
On the pour, the Picosa looks closely like an orange soda, especially since there is barely any head. The color is yellowish-orange, and it has a cloudy, hazy appearance that makes it look like there is some orange pulp floating around
It features a fizzy head that fades away almost immediately, leaving no lacing except for a thin film that hangs on tightly. You will barely see the carbonation bubbles floating up.
– Aroma 
The aroma of the Chelada is mild and weak, and you mostly smell oranges throughout. It might even fool you into thinking it is an Italian orange soda rather than a beer. There are no artificial orange flavors in the aroma, either.
The beer smells very sweet too, with most of the sweetness coming from the orange. As time goes on, you might smell a little bit of light grain and chili.
– Mouthfeel 
The mouthfeel is thicker than you'd expect for a beer with a 3.5 percent ABV. It has a medium body, but it tends towards the light with a thick feel that slides down your tongue. The carbonation level is also average, which is suitable for the style.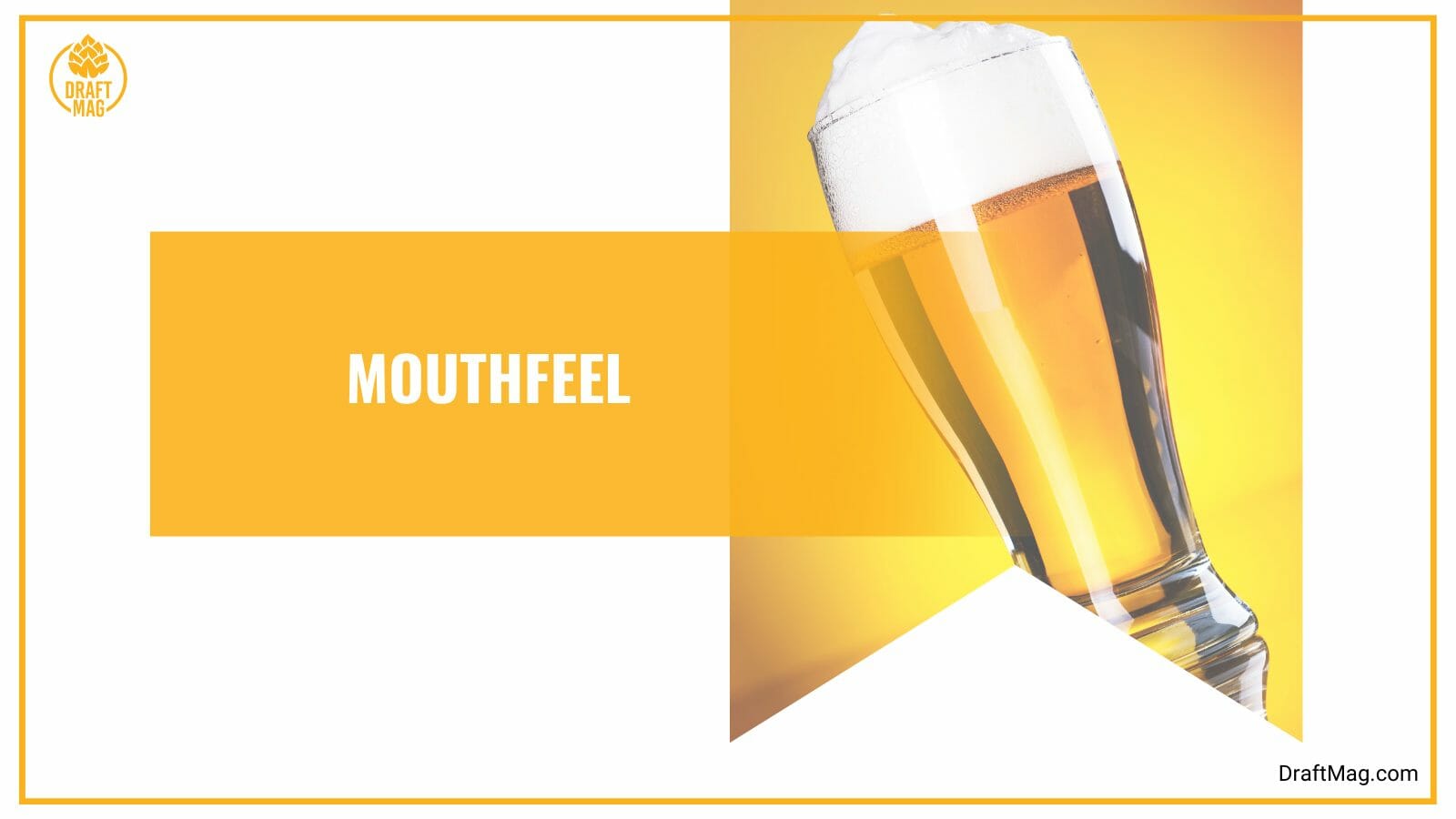 With the mouthfeel, you will be reminded of a typical Modelo beer. It is not very effervescent but tends towards creaminess instead. There is also a bit of spiciness on the mouthfeel.
– Flavor 
Although the Picosa smells and looks like orange soda, it tastes like a Mexican beer, which means you can expect a lot of flavor notes bouncing off your palate. The first thing you taste is a balance of salty orange soda with a mild Chile warmth. The hint of pepper offers a bit of spice, tending towards black pepper.
The beginning flavor is malty and sweet because of the oranges, and the chili pepper becomes stronger as the taste advances. You also get flavors of dough and bread that move on with the chili, and the orange soda flavor bounces back toward the end. This leaves you with a sweet and citrusy finish and a lingering aftertaste of orange and chili. 
– Food Pairings
When having this Chelada beer, you can't go wrong with spicy foods or some traditional foods that complement its flavor notes. Try out traditional Latino dishes like ceviche, tamales, and chicken enchiladas. Spicy dishes also work, like a spicy beef enchilada with ripe plantain.
The beer goes great with any food that has a smoky flavor, so consider having smoked, roasted, fried, and braised meats like pork, chicken, turkey, and beef. Barbeque and any food that has pickles, onions, olives, and marinated mushrooms go well with the beer. Or, you can top your smoked food with a tomato sauce to complement the chili.
If you enjoy having cheese with your beer, there are a few options for the Picosa. Consider having a smoked cheddar or gouda, or go for tangy and stinky cheeses. As for dessert, something orange or citrus flavored, like a blood orange sorbet or an orange cheesecake, will pair well. 
Ingredients 
The Naranja combines the authentic Modelo beer flavor with other ingredients to give something that represents the culinary tradition in Mexico. The classic Modelo beer is made with barley malts, non-malted cereals, hops, and water, which normally give a crisp and refreshing taste.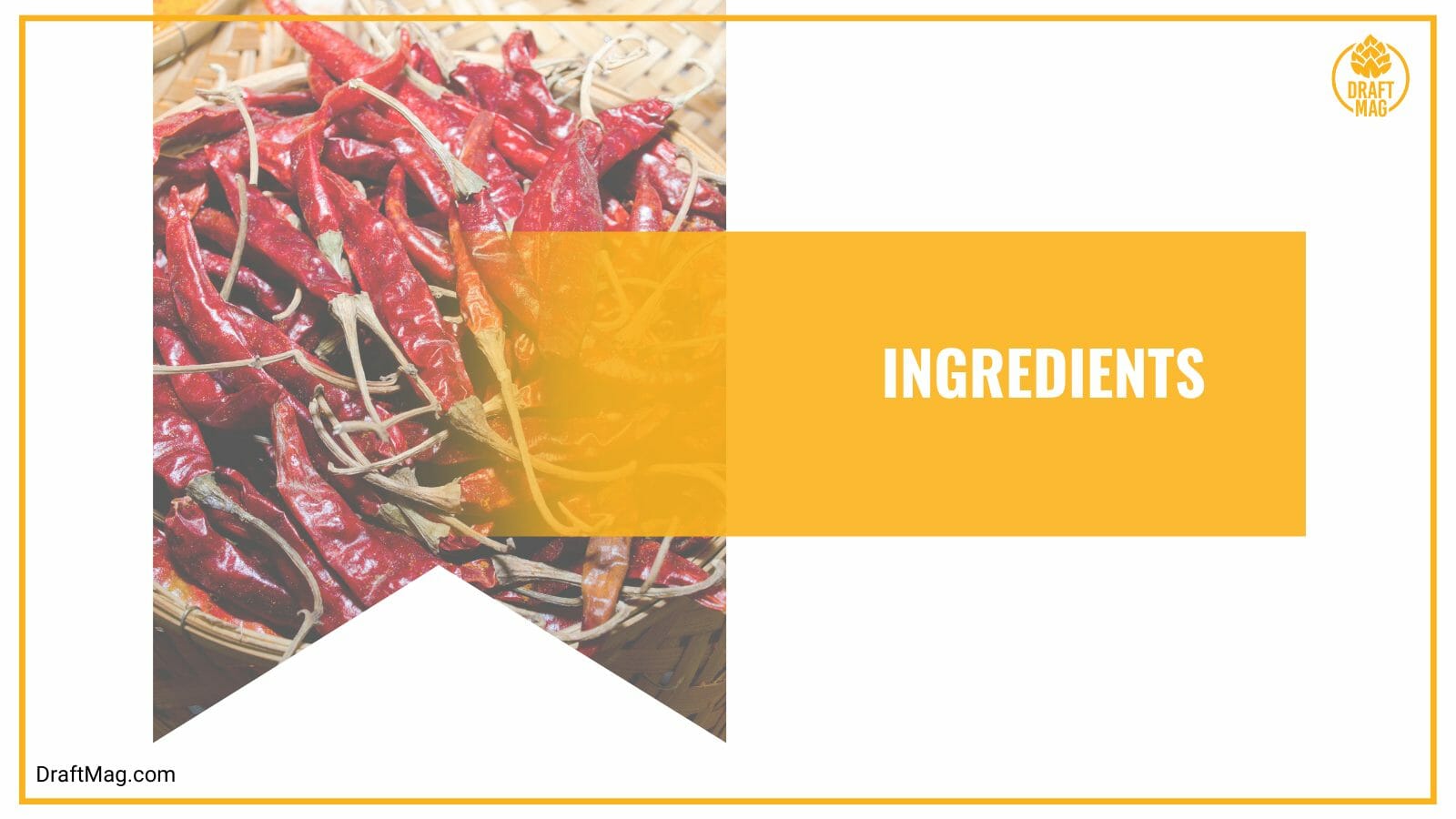 As for this Chelada, it is made with Modelo beer, zesty oranges, and chili peppers. The oranges are the prominent flavor of the beer, and the peppers provide some chili heat in the background. This does not cause the malts to disappear, as the beer remains bready and malty. 
Nutrition Facts 
The beer features an alcohol content of 3.5 percent, which is decent for a Mexican beer. You can't taste or smell any alcohol, even as the beer warms up. There is barely any hoppy bitterness throughout the flavor, so the IBU is low.
In every 12 ounces of this beer, you get 140 calories, 22 grams of carbs, 0.9 grams of protein, and 0 grams of fat. It's important to consider this when calculating your daily dietary requirements. The beer is not ideal for those on a keto diet due to the high carbs, and it is not gluten-friendly.
History 
The Modelo Chelada Naranja Picosa is one of the best beers from Modelo and it was released in March 2022. The Mexican import flavored beer joined its line of Cheladas, which include Pina Picante, Chelada Mango y Chile, Especial, Chelada Limon y Sal, and Tamarindo Picante. It is possible to purchase all the beers in a variety pack.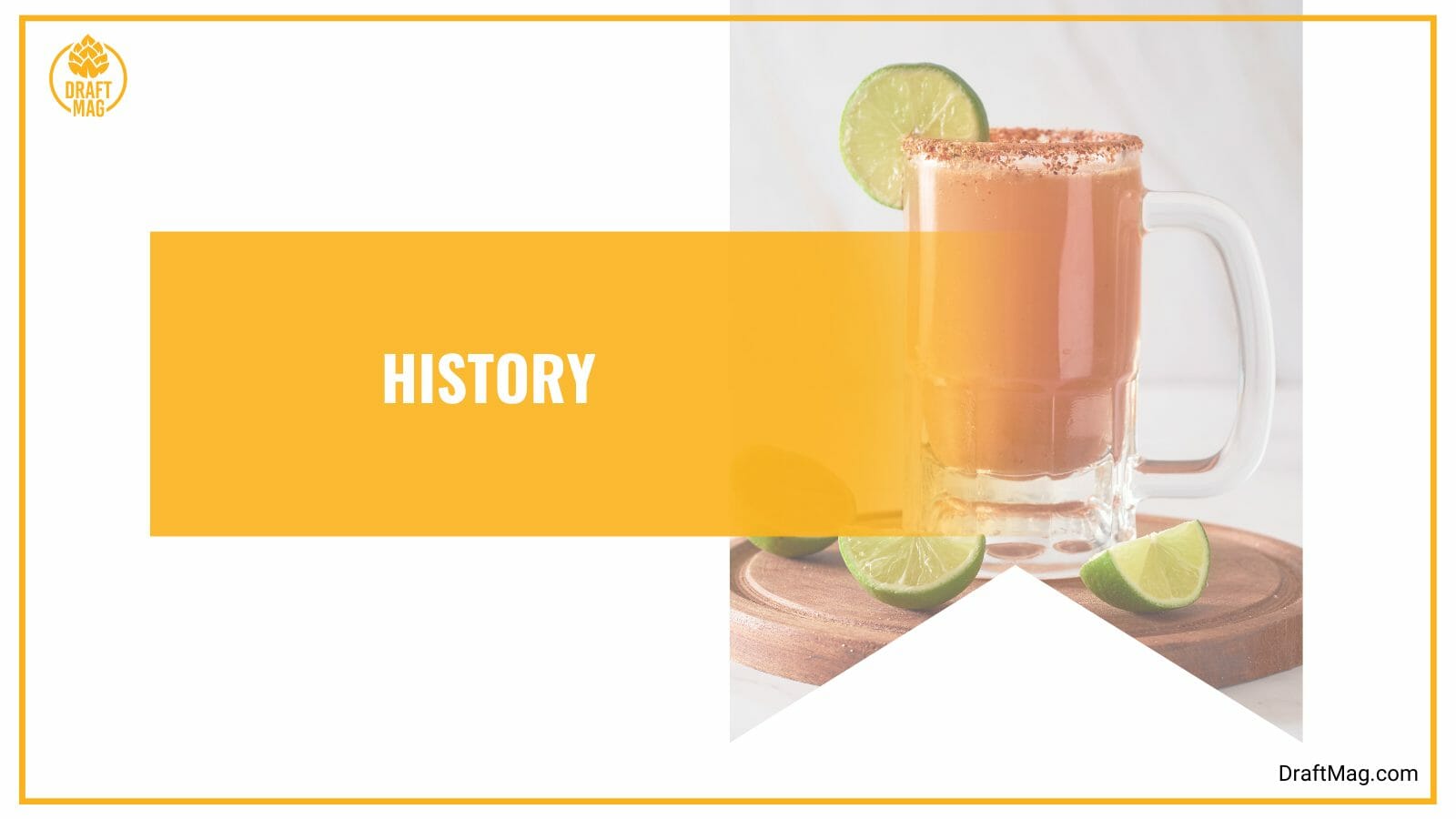 The name of the beer means spicy orange and follows the fruity character that you get in other Cheladas. The Modelo beers date back to 1925 in Tacuba, Mexico. The brewery is focused on making beers that are brewed in Mexico and are also rooted in the Mexican tradition. 
Conclusion
When you drink this Modelo Chelada, you're signing yourself up for a brilliant and full flavor of oranges and spice on a malty base. Here's a rundown of our beer review:
The Picosa is a chile beer with a 3.5 percent alcohol content from Grupo Modelo.
It has flavors and aromas of oranges, malts, chili, fruits, bread, dough, and a medium body.
The beer is made with Modelo beer, oranges, and chili pepper.
This brew is best served in a pint glass when very cold, at 35 degrees Fahrenheit.
Pair the beer with traditional Latino dishes, spicy dishes, smoked foods, barbecue, food with tomato sauce, stinky cheeses, and orangey desserts.
It's easy to give this beer a try by purchasing it at liquor stores near you or online. You can also buy it with other Chelada beers in a variety pack.