Magic Hat #9 Beer Review: Everything To Know About This Fruity Beer
The Magic Hat #9 beer is a high-profile offering from the Magic Hat Brewing Company. This American Pale Ale comprises everything you want from a fruity beer as it reveals a dry, crisp feel with a subtle bitterness.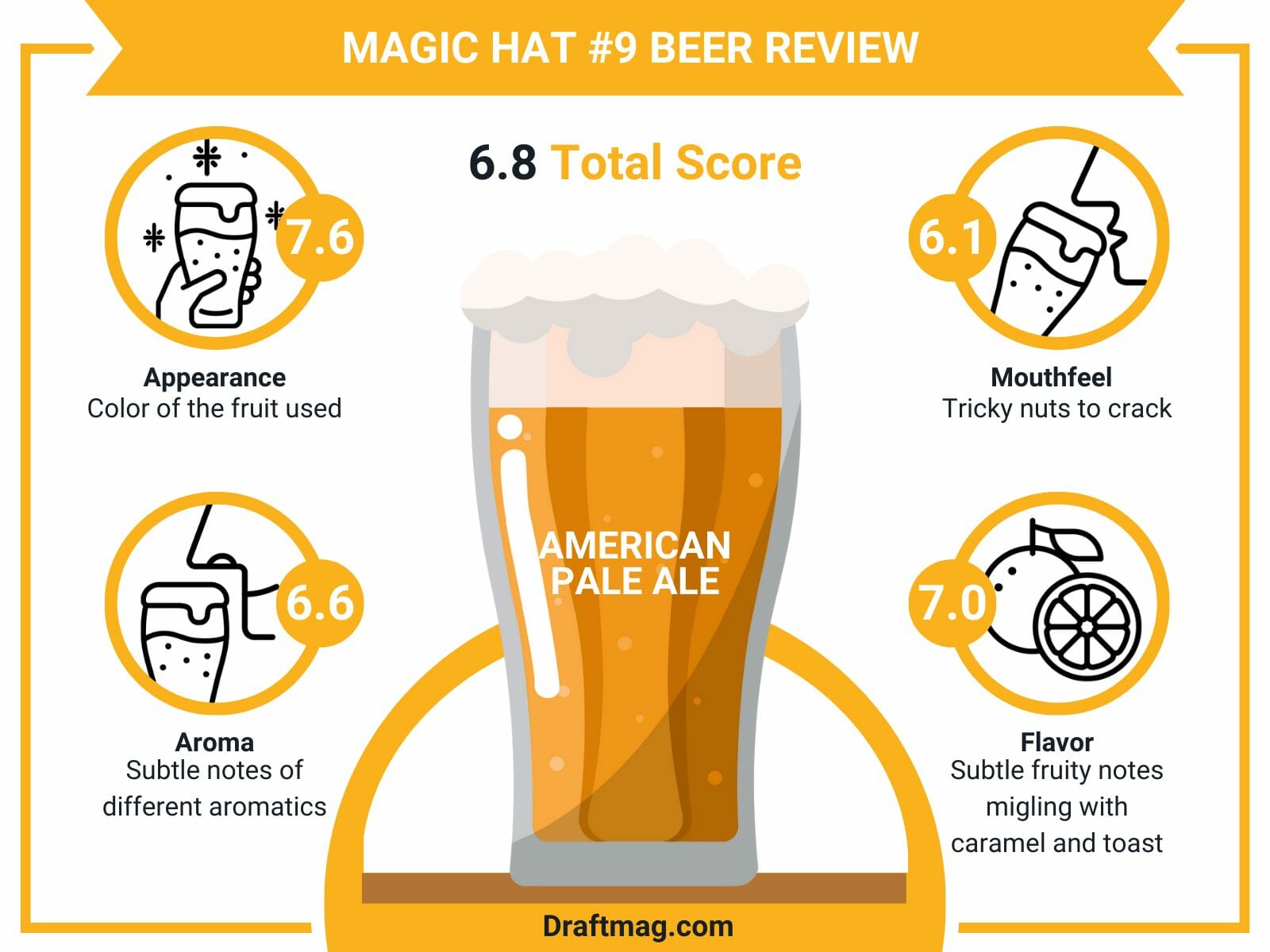 As a result, this perfectly blended brew is soon becoming everyone's summer favorite. Continue reading this review to learn more about this brew's tasting notes and features.
Magic Hat #9 Stats
| | |
| --- | --- |
| Country | United States |
| Brand | Magic Hat Brewing Company |
| Style | American Pale Ale |
| Taste | Fruity, malty, crisp with residual sweetness |
| Body | Medium-bodied |
| ABV | 5.1 percent |
| Flavors & Aromas | Refreshing flavor and aroma with general apricot notes |
| Serving Temperature | 45 to 50 degrees Fahrenheit |
Tasting Notes
Magic Hat #9 Tasting Profile
Magic Hat #9 Review
Magic Hat #9 is an excellent fruit beer option brewed in secrecy. At the same time, its name continues to raise more questions. Regardless, this brew's widespread reputation comes from its premium quality and crisp, refreshing taste.
Thus, it is the beer of choice for those seeking pale ales with a fruity feel yet underlying hoppy bitterness. Without further ado, let's examine the unique features of this beer.
– Appearance
Typically, a fruit beer's appearance showcases the beer style by taking on the color of the fruit used. The same applies to this brew as it appears as a clear orange amber color, related to the color of a freshly harvested apricot. It also pours with a thin, wispy white head that dissipates quickly, leaving behind a minor haze.
– Aroma
While opening this beer, strong scents of apricot will hit you first on the nose. Then, you will notice the subtle notes of different aromatics emerging from the bottle. It is a perfect mix of grainy malt, caramel and grassy hops content, along with delicate notes of pear ester.
– Mouthfeel
Fruit beers are often tricky nuts to crack when it comes to the mouthfeel, and the Magic Hat #9 is no exception from this beer category. This beer has an unusual mouthfeel as each sip swirls across your tongue to raise more questions than it answers.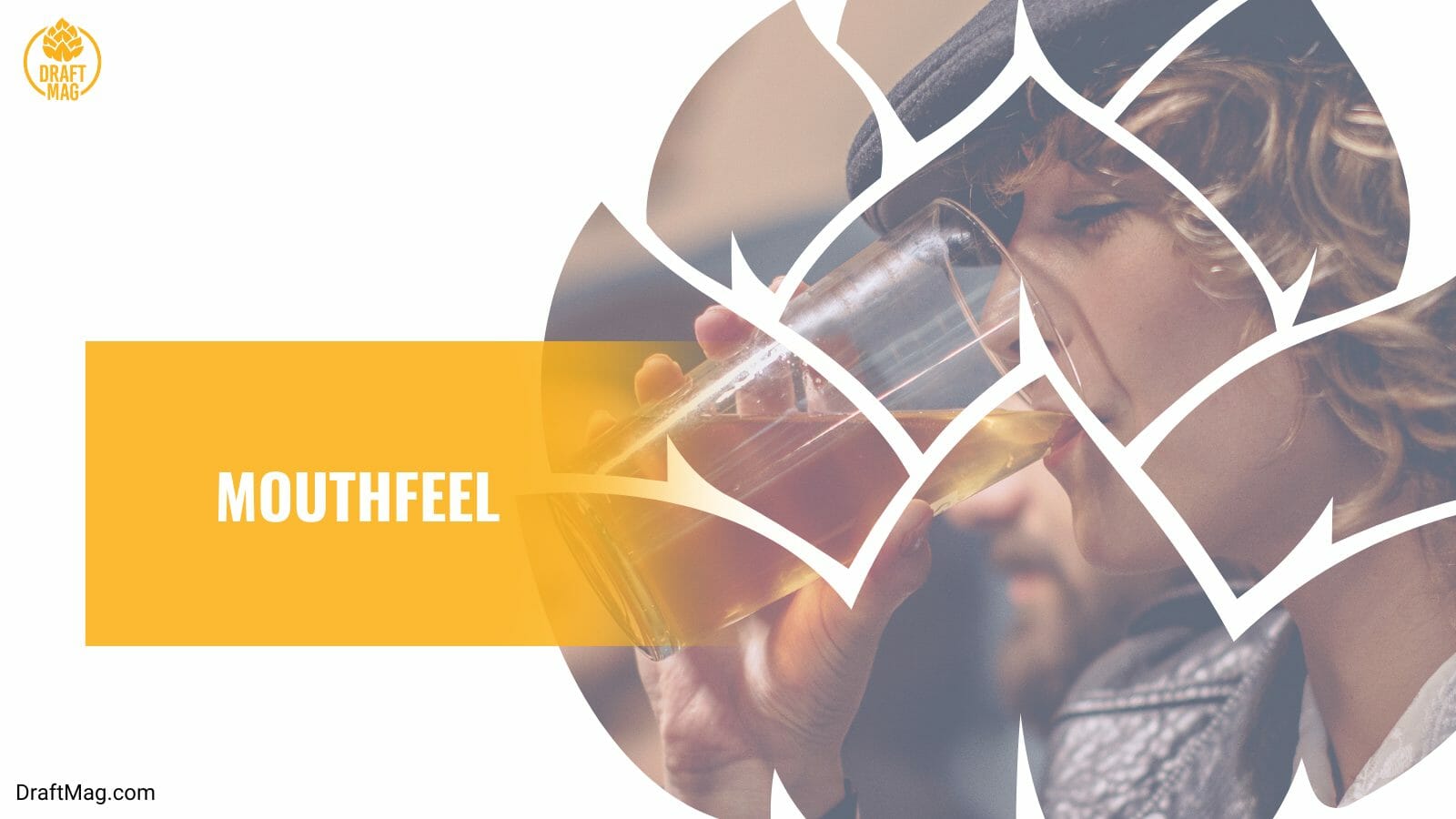 However, many beer drinkers attest that this unique brew offers a mild alcoholic warmth that sneaks into the aftertaste. Overall, this fruit beer has a nice medium body with moderate carbonation and a finish that coaxes you to go for another sip.
– Flavor
The Magic Hat #9 apricot content is deftly crafted to give subtle fruity notes mingling with caramel and toast. It also has a restrained hop flavor, but the laid-back hop bitterness helps balance the residual sweetness from the malt and fruit adjuncts. To sum up, this brew provides loads of titillating flavors that blend well with the palate – a truly magical piece.
– Food Pairings
This craft beer pairs perfectly with practically any dish. Being a specially brewed fruit beer, you can try the common combinations most beer lovers settle on. It is fantastic with burgers, fried foods, pizza, buffalo wings, pork dishes and steaks.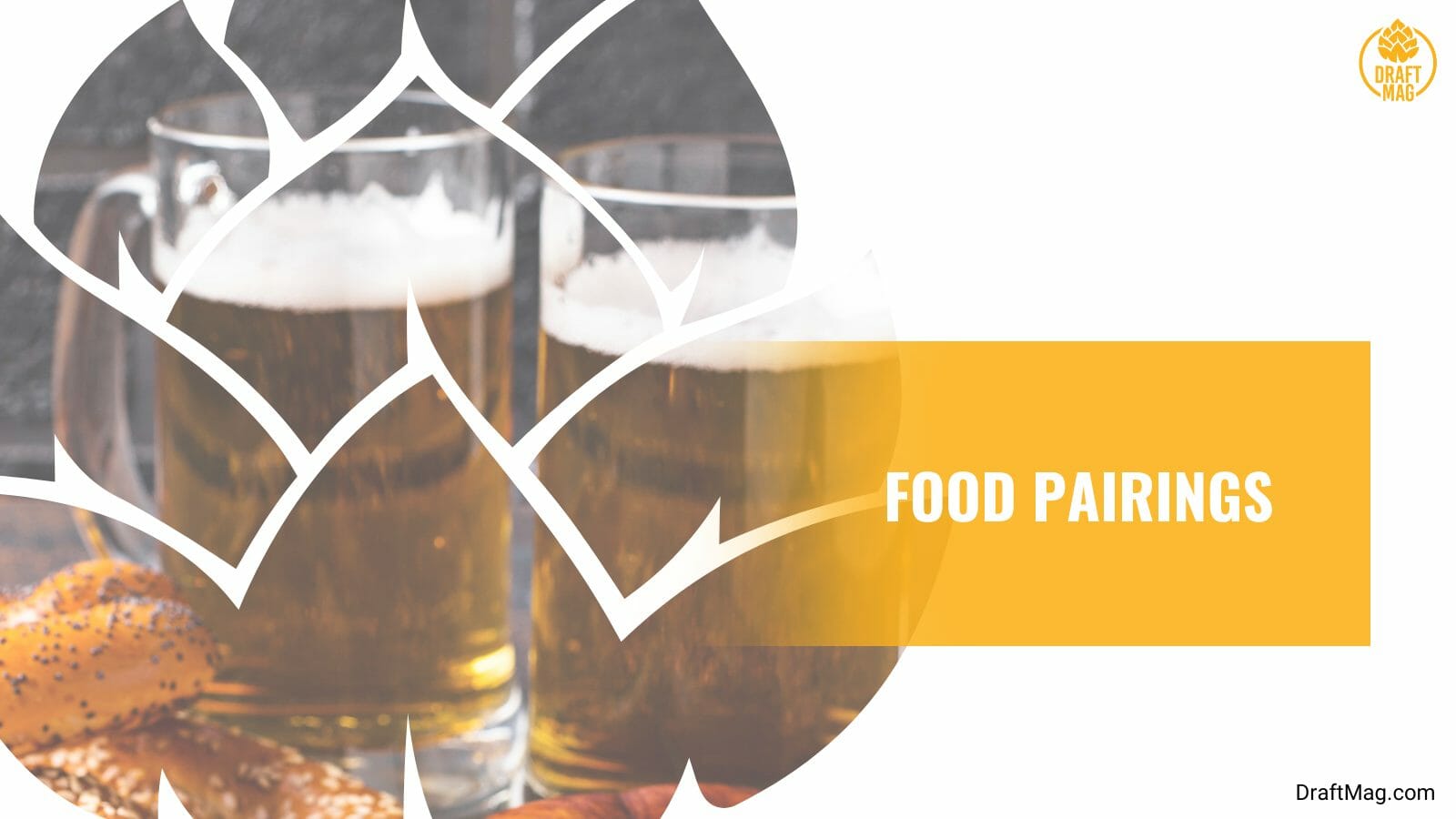 Pair this ale with spicy Mexican and Asian dishes. You should serve this beer chilled as it helps cancel out the heat from your spicy cuisines for a more enjoyable meal.
Ingredients
Magic Hat Brewing Company boasts a perfectly crafted fruit beer and remains bent on maintaining the uniqueness of its gateway release. Consequently, there's a been a lot of speculations surrounding the ingredients and brewing process for the #9 beer over the years.
The main ingredients include the following:
Hops: Cascade and Apollo
Malts: English 2-Row Pale and Crystal malts
Apricot Essence
English yeast
Water
Apart from this, other fruity aromatics are infused into this beer to add pleasant flavors and aromas that appeal to most drinkers. This is surely a brew you will want to try!
Nutrition Facts
The alcohol content of this beer is 5.1 percent, so it is mild and will not quickly get you tipsy. Nevertheless, keep in mind that all beer drinkers have varying alcohol resistance, so ensure you always drink in moderation. This beer has an IBU rating of 20, which justifies why you can enjoy it without a dominating bitterness.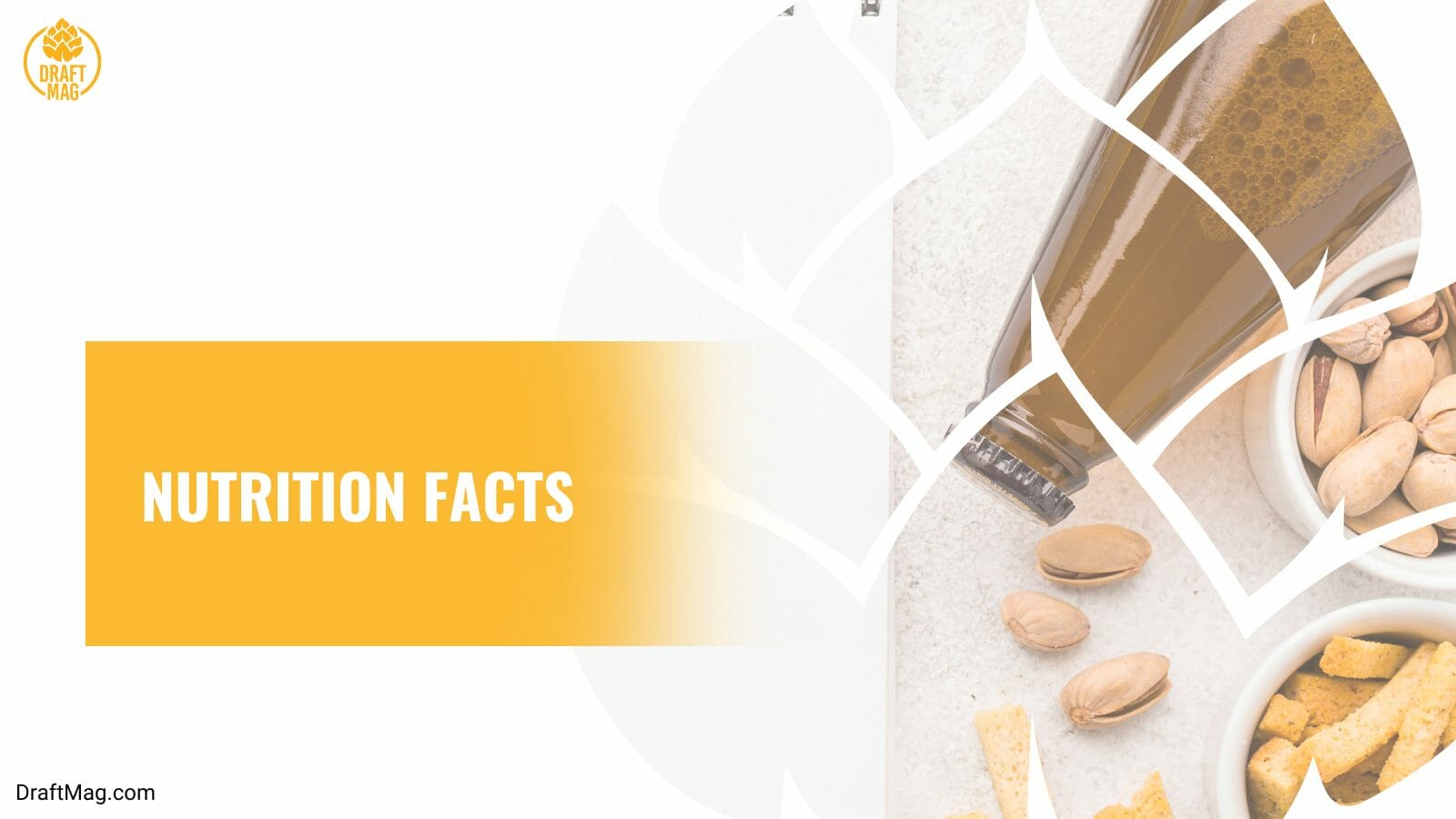 Furthermore, the Magic Hat #9 calories is 163 per 12-ounce serving. The 355ml serving of the beer contains a net carb total of 13.5 grams, while it contains zero grams of saturated fat and cholesterol. Therefore, this beer combines well with low-carb dishes, fitting your daily calorie requirement.
History
The Magic Hat Brewing Company was established in 1994 by Bob Johnson and Alan Newman in Vermont, United States. It has been producing quality beers ever since. As the exciting tale goes, Bob started the company in a bathtub on Vermont's Goddard College campus. The co-founders searched for a more suitable space before settling for a nerve center at Burlington's South End, Vermont.
Bob finally brewed and released the company's debut ale in the late 1990s. Soon after, the company released its debut batches of #9, Blind Faith and Fat Angel in the early 2000s. Today, the Vermont-based brewery boasts putting out 175,000 barrels each year, comprising its year-round offerings and seasonal brews.
The company's flagship beer, the apricot-flavored #9 beer, now easily stands up against many other fruity classics. The Magic Hat #9 is brewed clandestinely, and the rationale behind its name has not been revealed to date.
Conclusion
We examined different features and qualities of Magic Hat #9 for better insights on what to expect before trying this fruity beer. Here's a summary of the crucial points we mentioned:
Magic Hat #9 beer is an innovative fruity offering that pours with a clear orange amber color and a thin white foam that dissipates rapidly.
The beer has an intense apricot aroma and flavor, blending with delicate notes of caramel and toast.
It combines well with many dishes, mainly burgers, steaks, pizza, buffalo wings and spicy foods.
Magic Hat 9 ABV stands at 5.1 percent and has 20 IBU. Its 12-ounce serving contains 163 calories, making it relatively keto-friendly.
Grab a chilled bottle of this beer to savor all its refreshing and flawlessly blended flavor that will keep you coming back for more. Cheers!