Blue Point Imperial Sunshine Review: Is This the Perfect Blonde Ale?
This Blue Point Imperial Sunshine review will give you all the information you need to avoid confusion regarding blonde ales. As a lot of beer enthusiasts will attest, this brew is truly a bright, flavored and refreshing delight.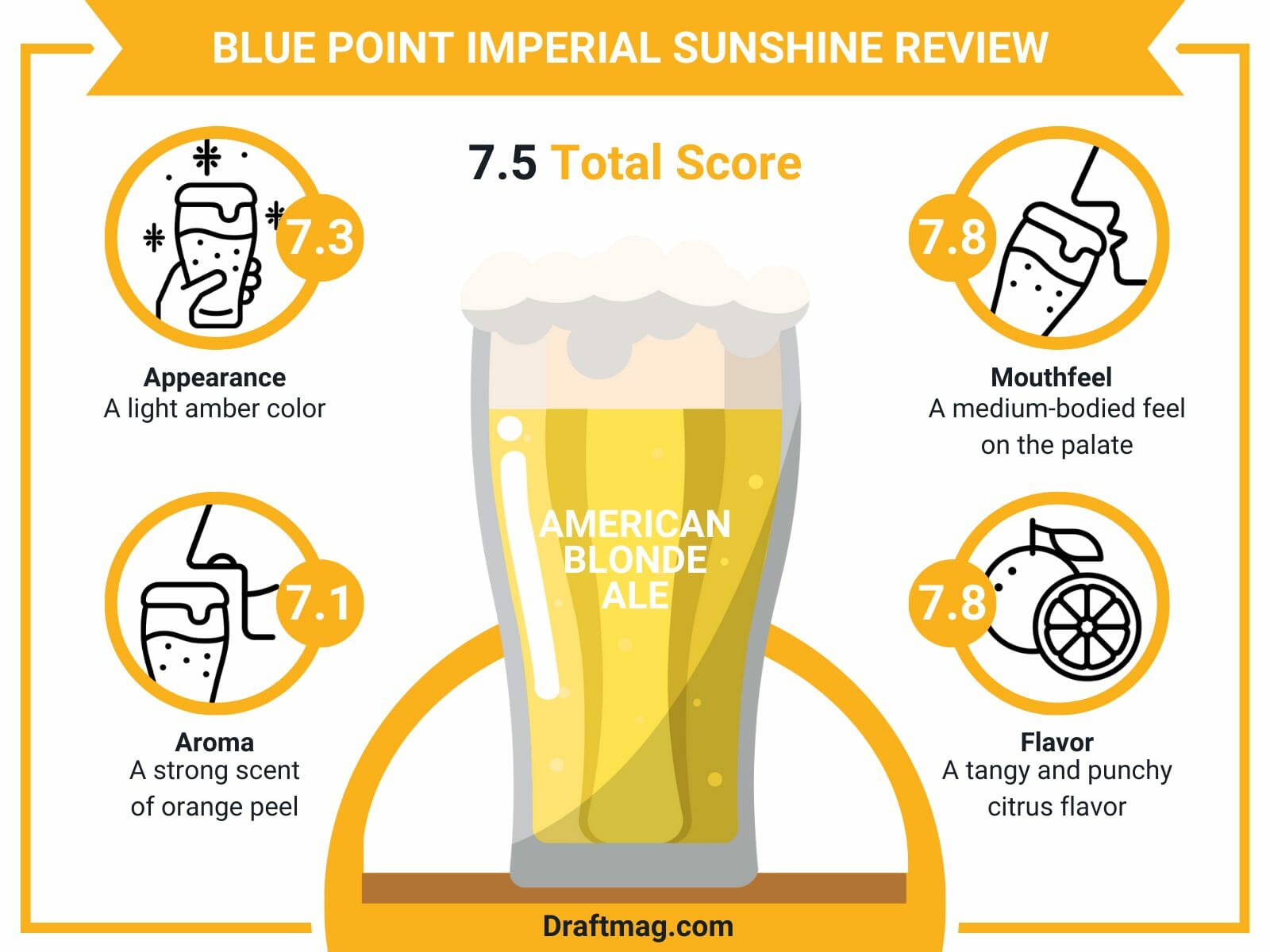 If you are a lover of stout beer, this strong blonde ale is a decent alternative. In this complete review, we will spell out everything you need to know about this exciting brew.
Blue Point Imperial Sunshine Stats
| | |
| --- | --- |
| Country | United States |
| Brand | Blue Point Brewing Company |
| Style | American Blonde Ale |
| Taste | Smooth, tang and orange candy with some alcohol burn |
| Body | Medium-bodied |
| ABV | 9.6 percent |
| Flavors & Aromas | Refreshing flavor and aroma with general orange cognac notes |
| Serving Temperature | 45 to 50 degrees Fahrenheit |
Tasting Notes
Blue Point Imperial Sunshine Tasting Profile
Blue Point Imperial Sunshine Review
Brewed by Blue Point Brewing Company, the Imperial Sunshine is a bold blonde ale that ticks all essential boxes.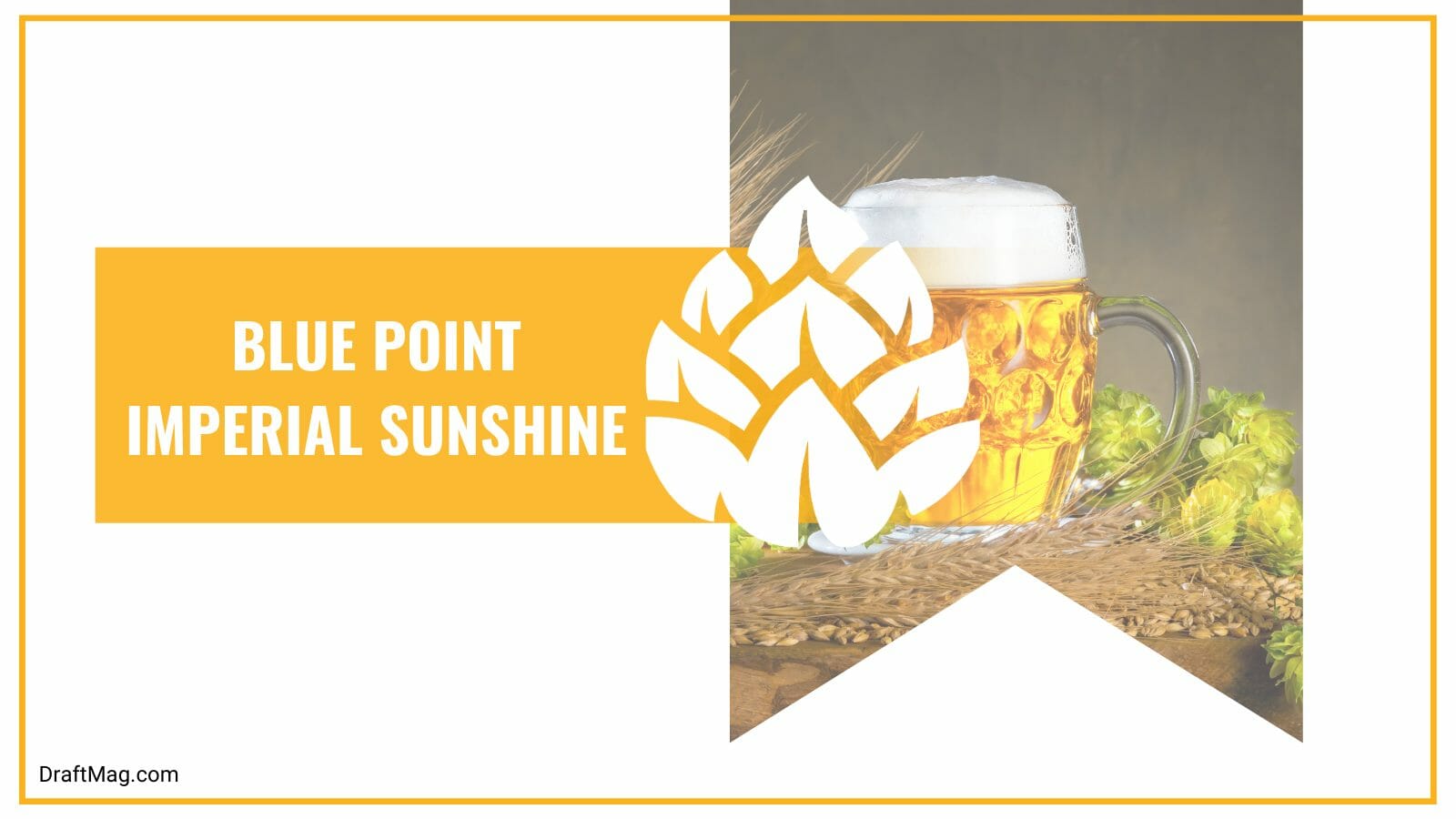 With no overpowering hop or malt flavor profile, this Blue Point brew combines well with various dishes to give you an exciting experience. Let's take a closer look at its features below.
– Appearance
The appealing color details on the can should give you a visual clue as to what you are about to gulp. You will find that this brew appears as a light amber color with just the slightest bit of haze. It pours with a thin layer of white foam that disappears quickly, leaving tiny bubbles covering the surface and collaring around the edge of the glass.
– Aroma
On the nose, this beer is not so hard to decipher. It gives off a strong scent of orange peel and hard candy. Then you will notice mild notes of honey that you can't miss.
– Mouthfeel
This strong blonde ale is pleasantly medium-bodied on the palate and has moderate carbonation. It flows gently on the tongue and settles at a light level to give a refreshingly smooth finish. It is very boozy and crisp with a sharp alcohol bite that packs quite a punch.
– Flavor
The flavor profile of this beer is not so complicated. It is tangy and punchy with a citrus-forward flavor profile.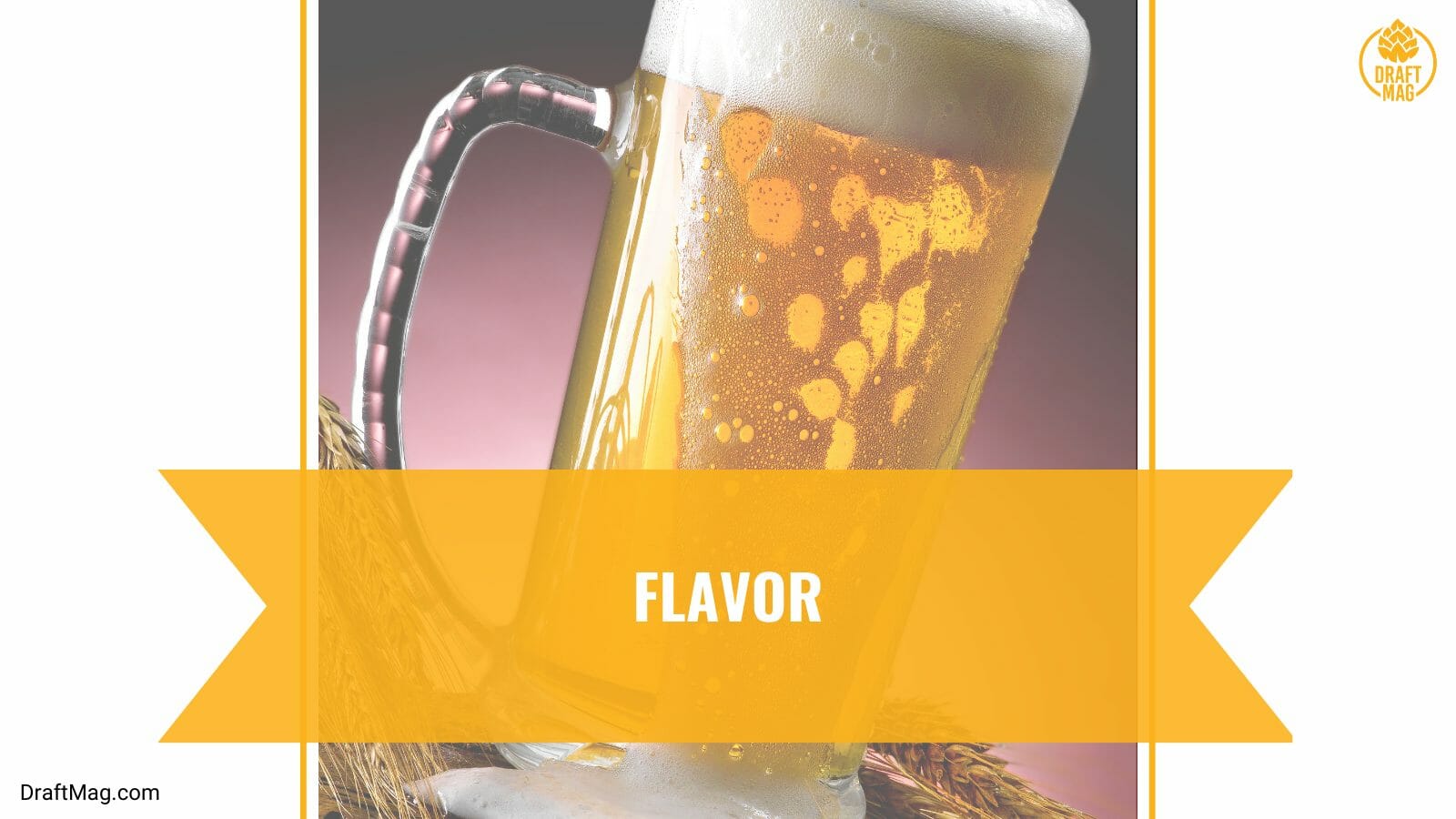 The absence of dominating hop or malt flavor and the sweet malt base in the Imperial Sunshine beer complements its high boozy nature. As such, the flavor and aroma of oranges add a new style to this pale ale, making it an enjoyable sipper.
– Food Pairings
The well-balanced and zesty flavor profile of this Blue Point beer makes it fantastic with comfort foods like meatballs and spaghetti. Try this beer with falafel, sushi, hummus and cheese (such as Monterey Jack or Pepper Jack) for an exhilarating food and drink combination.
More so, it is best to drink this beer chilled while you enjoy it outside on a hot summer day. Just take note that it would be best to ensure you sip it slowly, not gulp it down like a soda.
Ingredients
This beer boasts a unique orange flavor character that gets most beer lovers head over heels for it. Besides, it is well known for its simplicity and easy drinking due to the perfect blending of its ingredients. Blue Point Brewery used the following major ingredients for this exquisite beer:
Candied Orange Peel
Sweet Malt
Citrus
Belgian Yeast
Banana Clove
These ingredients combine to deliver a refreshing, tangy flavor so you can sip slowly while it also hits hard.
Nutrition Facts
Blue Point Imperial Sunshine alcohol content is 9.6 percent. As such, excessive drinking of this beer will quickly get you intoxicated. Remember that the legal limit of intoxication in the United States is 0.08 percent blood alcohol concentration, so we suggest you limit your intake of this beer to 1 to 2 drinks per day to avoid physical legal consequences.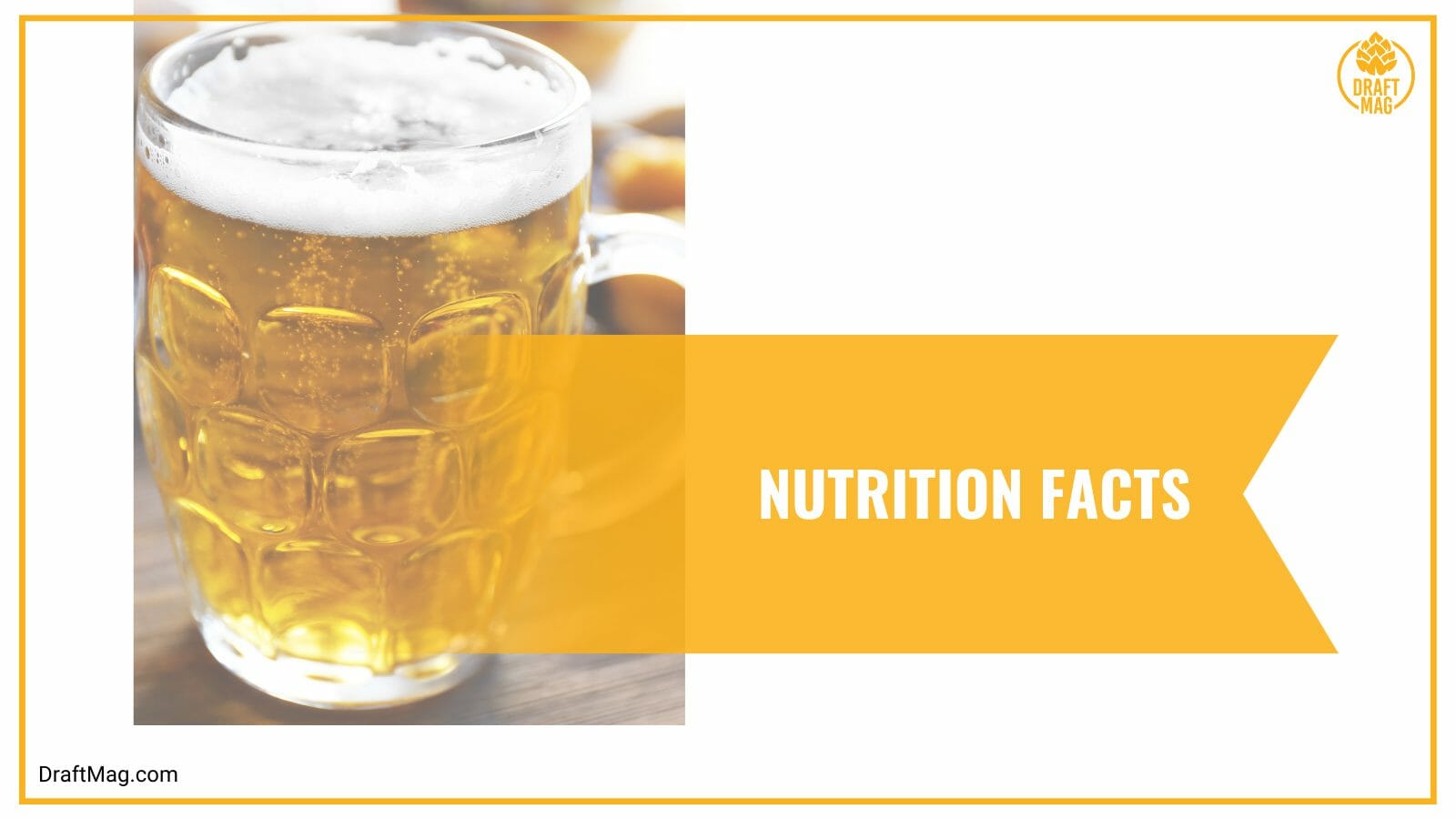 The Blue Point Imperial Sunshine calories is 284 per 12-ounce serving. Also, the 240ml serving of the beer contains a net carb total of 14.67 grams. Therefore, this beer is not keto-friendly as excessive drinking may slow down your fat burning and cause weight gain.
The beer has an IBU rating of 24, which justifies why you can enjoy it without an overriding bitterness. Therefore, this Blue Point brew gives you a pleasant aftertaste and combines well with your low-carb dishes.
History
The Blue Point Brewing Company was founded by Mark Burford and Peter Cotter in 1998. It is an independent craft brewery in Patchogue on the South Shore of Long Island. Not long after its launch, this brewery came to the limelight with its first beer – Blue Point Toasted Lager.
This unique brew garnered attention with its nutty richness from toasted malt. It is still excellent and still sought-after to date. Soon after, the Blue Point Imperial Sunshine beer sprung from this brewery as a top-flight offering serving as a great example of their approach to innovation. It adds a new style as it is not brewed with the Belgian yeast and banana clove – the signature ingredients of Blue Point Brewing.
Besides, it has a distinct orange flavor and alcoholic balance giving a clean, pleasant finish. Seemingly a whitespace opportunity, this beer still begs comparison to no other blonde ale today.
Conclusion
This review has given more insights into this refreshing Patchogue beer. We are positive you now have a better view of its unique tasting notes and features. Here are some of the essential points we mentioned:
Blue Point Imperial Sunshine is a strong blonde ale that pours with a light amber color and a thin white head that disappears quickly.
This beer has a distinct orange peel aroma with a moderate mouthfeel and carbonation.
It has added a new style with the orange forward flavor that makes the brew tangy and punchy, making it combine well with comfort foods like spaghetti and meatballs.
Blue Point Imperial Sunshine IBU rating is just 24, making it easy to drink and refreshing.
This beer's ABV is 9.6 percent. When it comes to Blue Point Imperial Sunshine nutrition facts, it contains 284 calories per 12-ounce serving, justifying its high carb content and need for limited daily intake.
If you're looking for a top-flight brew with orange-packed flavor that hits hard, get a can of this brew today!