3 Floyds Barbarian Haze Review: New England IPA with Tropical Flavors 
If you're looking for a delicious NEIPA, we've put together a 3 Floyds Barbarian Haze review to help you with that. The hazy IPA from 3 Floyds Brewing is bursting with tropical fruits and citrus flavors, with a juicy character that keeps drinkers hooked.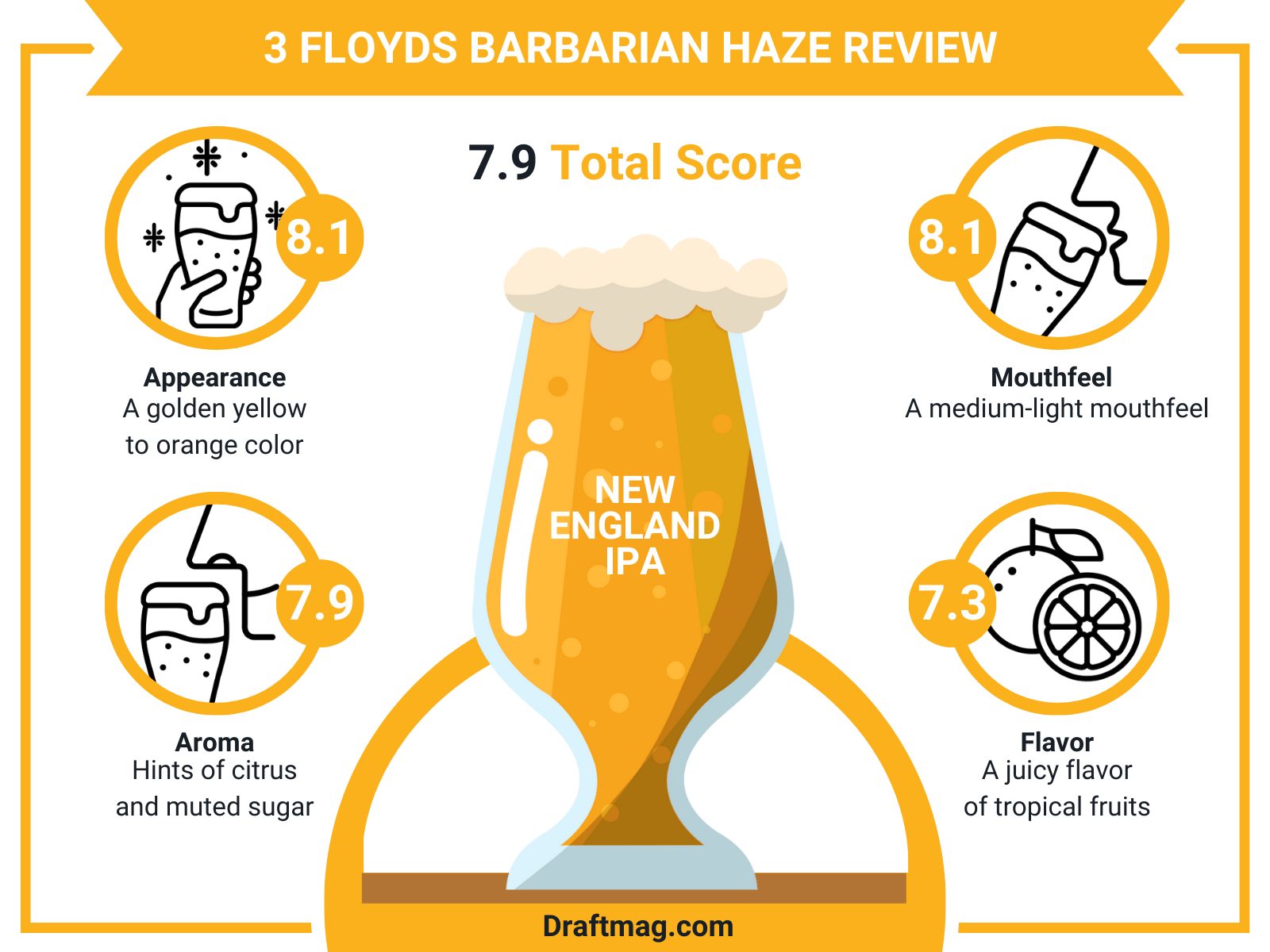 Despite the complex character, Barbarian Haze is highly drinkable. Continue reading our guide to know more about this tasty beer.
3 Floyds Barbarian Haze Stats
| | |
| --- | --- |
| Country  | United States |
| Brand | 3 Floyds Brewing Co |
| Style | New England IPA |
| Taste  | Fruity, Grassy |
| Body | Medium-Light body |
| ABV | 6.5 percent |
| Flavors & Aromas | Tropical fruits, citrus, grassy notes |
| Serving Temperature | 45-50 degrees Fahrenheit |
Tasting Notes
3 Floyds Barbarian Haze Tasting Profile
3 Floyds Barbarian Haze Review
Barbarian Haze is a New England IPA made by 3 Floyds Brewery. The beer features a 6.5 percent ABV, with a hop-forward, unfiltered and juicy character. The brewery combines new brewing styles with old-school techniques, giving you a complex malt character, soft mouthfeel, generous hops, and drinkability.
The beer has a hazy gold appearance and balances the solid malty foundation with the tropical fruits before finishing with a pithy bitterness. It is best served in a snifter, chalice, or goblet at temperatures from 45 to 50 degrees Fahrenheit.
You can garnish the refreshing beer with citrus slices, like orange or lemon, which will balance out the flavor and aroma of tropical fruits. An excellent take on the NEIPA style, Barbarian Haze is an all-season beer, whether you're working in the yard during the summer or relaxing by the fireplace in winter.
– Appearance
Barbarian Haze pours a golden yellow to orange color, with a medium haze that makes it appear murky. The large cream-colored head features good retention before pulling back into a ring on top of the beer. It leaves thick lacing against your glass.
– Aroma
The pineapple is the first thing you smell when you open the Barbarian Haze, which overshadows all other tropical fruit aromas. Up close, you will also perceive hints of citrus and muted sugar. There are notes of lemon, tangerine, mango, grapefruit, orange, pear, and peach. In the backbone, you might also notice sweet grass and caramel.
– Mouthfeel
Barbarian Haze features a medium-light mouthfeel and slight cloying on your palate. The beer feels crisp before settling down to offer a smooth feeling. The moderate carbonation is evident in the light tingly feeling at the back of your tongue. It finishes mainly dry and bitter.
– Flavor
As for the flavor, the Barbarian Haze beer features a juicy flavor of tropical fruits and citrus and slight bitterness in the finish. You will notice the bold flavors of pineapple, grapefruit, and oranges, balanced with moderate bitterness.
There are also hints of lemon, tangerine, pear, peach, and mango. You can enjoy notes of caramel, sweet grass, hay, and resin from the malts. There are also hints of pine flavor in the bitterness.
In general, the Barbarian Haze has a flavor of tropical fruit sweetness with toasted caramel in the backbone and finishes with sharp, piney bitterness.
– Food Pairings
If you have food with Barbarian Haze, make a meal with roast chicken, English peas, artichokes, and asparagus. The roast chicken goes well with the beer's fruitiness, while the crisp feeling of the vegetables complements its soft and smooth mouthfeel.
Barbarian Haze mostly goes with crunchy dishes like corn on a cob, fried chicken and chips, or a crisp potato salad. Also, you can't go wrong with greasy foods like a burger, juicy beef, lamb or pork, bacon, caramelized onions, and an egg. Complement the grassy notes with a steak or the crisp mouthfeel with pizza.
As for desserts, you can have the Barbarian Haze with citrus-flavored sweets like a lemon tart or an orange sorbet. Fruit cake is also a good choice for beer lovers with a sweet tooth. If you want to have cheese, the hoppy bitterness of the NEIPA cuts through high-fat content cheeses. You can also pair it with blue or spicy pepper cheeses.
Ingredients
The Barbarian Haze is made with water, malt, hops, and yeast, which are every beer's essential ingredients. The exact malt profile and hops are unknown. The malt adds hay flavors, toasted caramel, grassiness, and malty sweetness.
Also, the hops contribute flavors of tropical fruit sweetness and citrus to the overall character. You will also notice the piney flavors obtained from the hops. The Barbarian Haze is made with ale yeast. The ingredients combine to give you a soft malty character balanced with generous hops.
Nutrition Facts
Barbarian Haze features a 6.5 percent ABV and 63 bitterness units. It also features 220 calories in every 12-ounce serving, which you'll have to consider when calculating your dietary intake.
The beer has 18 grams of carbohydrates, 1 gram of sugar, 3 grams of protein, 10 mg of sodium, and 1 gram of fiber. The beer should be avoided on keto because it is high in carbohydrates. If you're looking for gluten-free beer, Barbarian Haze is not recommended.
Check the beer can before consumption in case of allergies.
History
3 Floyds Brewing Company brewed the Barbarian Haze IPA. The brewers took the hopping protocol further, combining some new-age brewing alchemy techniques with the old-school heavy-handed approach.
The brewery is based in Indiana and distributes its beer and spirits worldwide. You can also order the beer online to be delivered anywhere. You can schedule a brewery tour at 3 Floyds to find out how this hazy IPA is made.
Conclusion
The Barbarian Haze is the ideal all-season beer to keep you refreshed as it offers vibrant tropical fruit flavors and toasted caramel. Here is a summary of what we covered in this beer review:
Barbarian Haze is a New England IPA with 6.5 percent ABV by 3 Floyds Brewing.
The beer combines aromas and flavors of tropical fruit, citrus, caramel, and pine to give you a medium-light body.
The beer is made with malt, hops, yeast, and water.
It is best served cold in a chalice or goblet, with a citrus slice garnish.
The beer goes well with roast chicken, crispy vegetables, fruity desserts like sorbet and cake, and high-fat or peppery cheese.
If you're curious about the Barbarian Haze IPA, you can purchase it online from the brewery or visit the place whenever you're in Indiana. It is also sold in liquor stores and bars around the area.