Sloop Juice Bomb – An Unfiltered Beer You Cannot Miss
Sloop juice bomb is a New England IPA which is a hazy, golden, and unfiltered beer. Chances are, if you reside in the United States, you have at least come across this in some form across liquor stores or bars.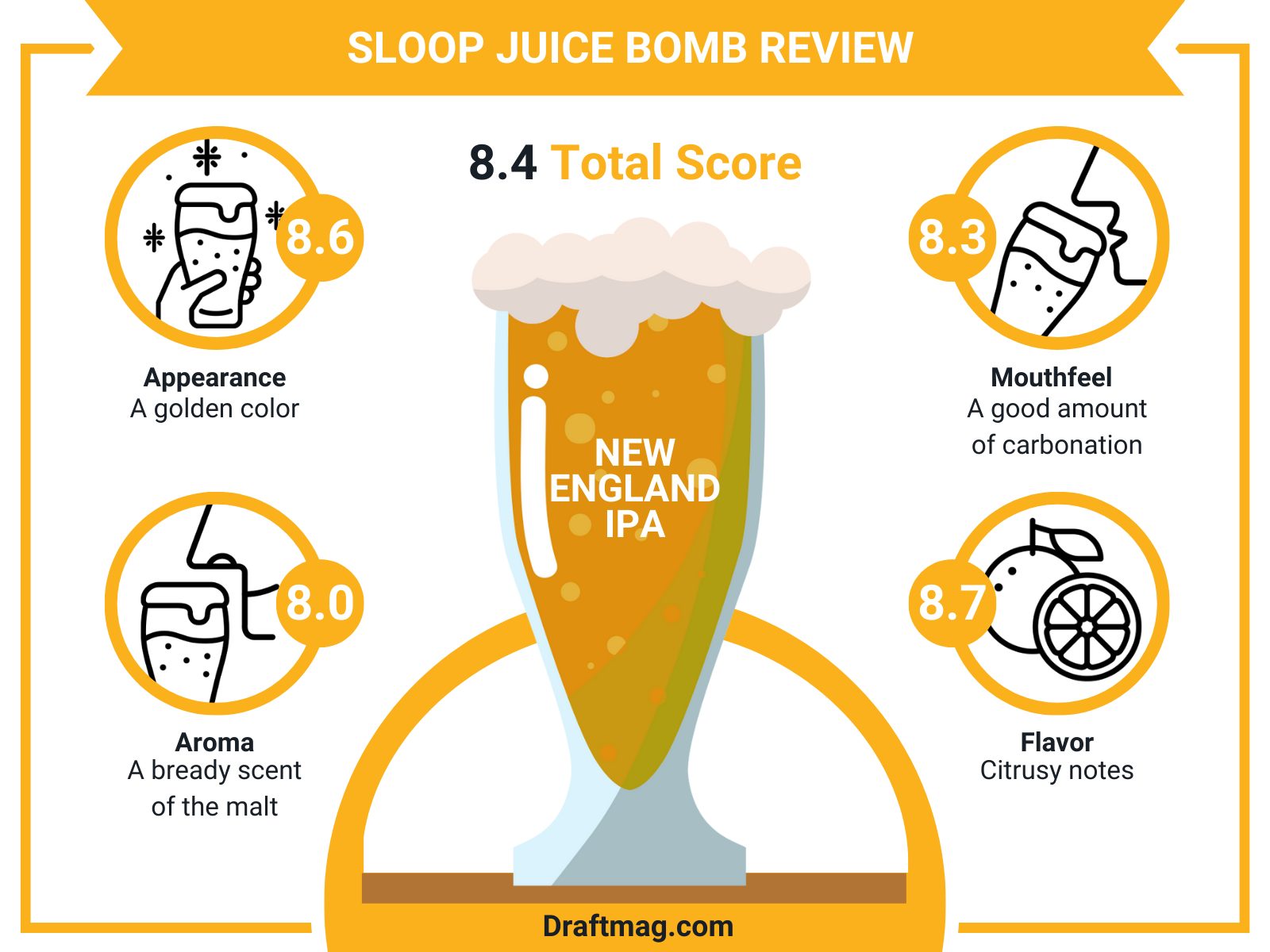 However, if you want to take your very first sip of this IPA, we recommend you go through our review first to know what to expect.
Sloop Juice Bomb Stats
| | |
| --- | --- |
| Country | United States |
| Brand | Sloop Brewing |
| Style | New England IPA |
| Taste | Juicy and fruity notes with a slight bitterness |
| Body | Hazy orange body with a light tan head |
| ABV | 6.5 percent alcohol content |
| Flavors & Aromas | Soft, fruity citrus, with slight notes of hops |
| Serving Temperature | 65 to 68 degrees Fahrenheit |
Tasting Notes
Sloop Juice Bomb Tasting Profile
Sloop Juice Bomb Review
This beer is an IPA with a citrusy hint as you drink it. The low bitterness is what makes it enjoyable when you drink. Keep reading as we covered the best features.
– Appearance
As one of the premier New England IPAs, the sloop bomb fashions hazy hue of golden with a distinctly unfiltered appearance. This cloudy beer reminds you of a glass of hazy orange fruit juice.
The sloop bomb is observed to have a substantial white head and good lacing. In its serving glass, the sloop juice beer appears slightly translucent with a glowing golden body that is mellow yet robust in appearance. It is key to note that this beer comes in orange-colored decorated cans, which are exciting to look at.
– Aroma
The signature aromatic notes of juicy fruits with slight citrusy notes of the American hops assault your sense of smell even before you take the first sip. Thus, this beer is quite citrus forward and pairs well with the bready scent of the malt.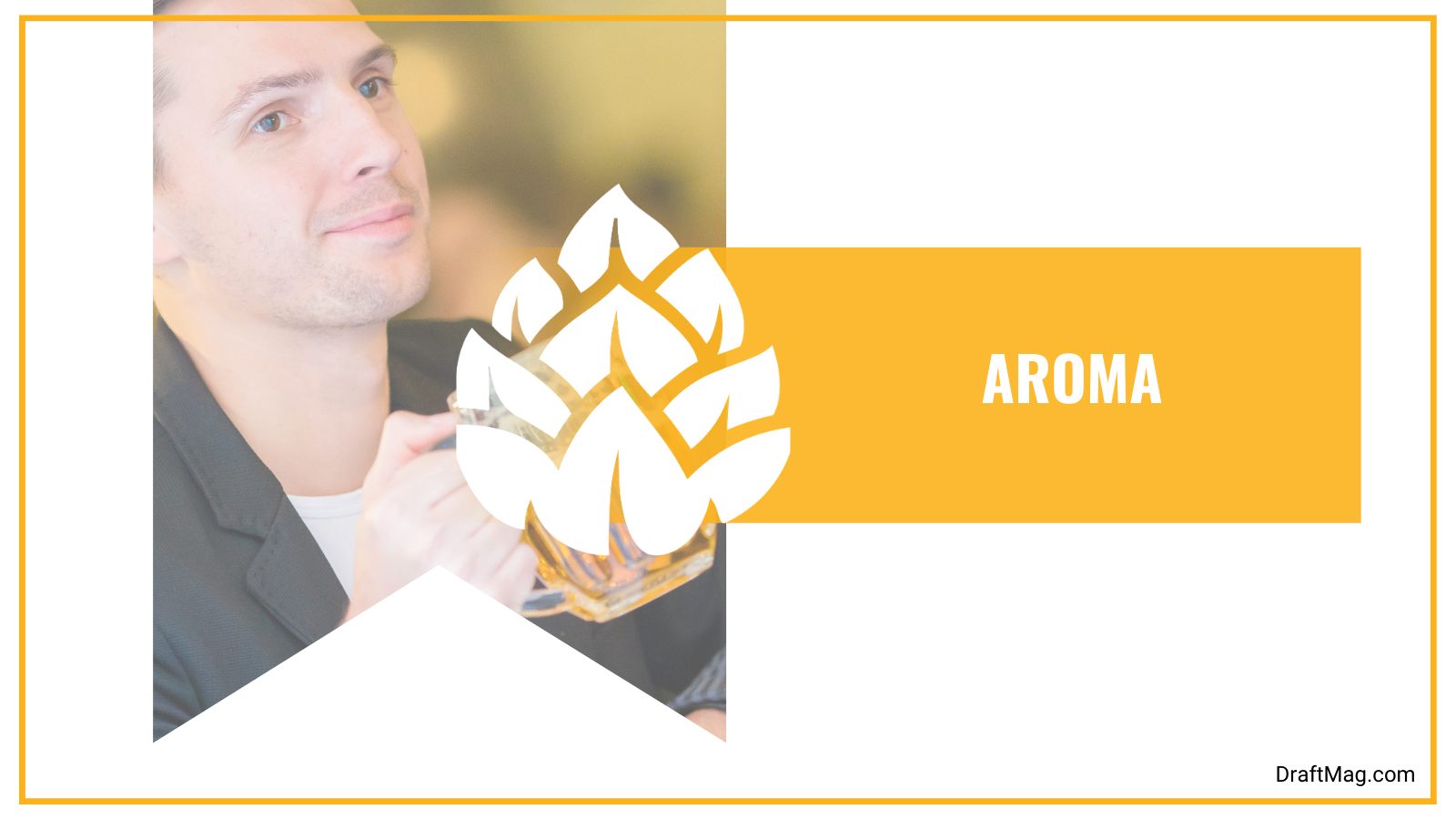 There's a significant herbal note that is more pronounced in the aftertaste and a great way to finish the tasting process.
– Mouthfeel
The IPA has a medium mouthfeel that feels soft. After you take the first sip, you can feel a good amount of carbonation forming. From there, the beer flows smoothly with light citrusy notes and a bold finish. You feel the medium-bodied beer forming a few bubbles that fizzle out when you take the sip.
– Flavor
The beer will taste familiar to those already introduced to New England IPAs. For starters, you get an excellent balance of hops and citrus right with the first sip. Justifying its name, the juicy, citrusy notes hit you in a rush or a burst of flavor. However, it is slightly more subdued than what you may be expecting. This tasty brew also has very slightly bitter notes of New England hops.
– Food Pairings
The fresh and fruity flavors of the sloop bomb pair equally well with fresh ingredients. You can pair this beer with anything that features a little extra heat and punchy citrusy flavors that goes well with the soothing texture and fruit-like flavors of this New England IPA.
While building a menu, consider a Pad Thai with a squeeze of lime and a side of sweet peanut sauce, Indian curries with green peas and sweet mango, and even fish tacos with pineapple salsa.
Ingredients
The main ingredients of the bomb beer include American Pale Malt, and different kinds of Hops like Columbus, Citra, Simcoe, and Amarillo. It has  English Ale Yeast and citrus flavoring.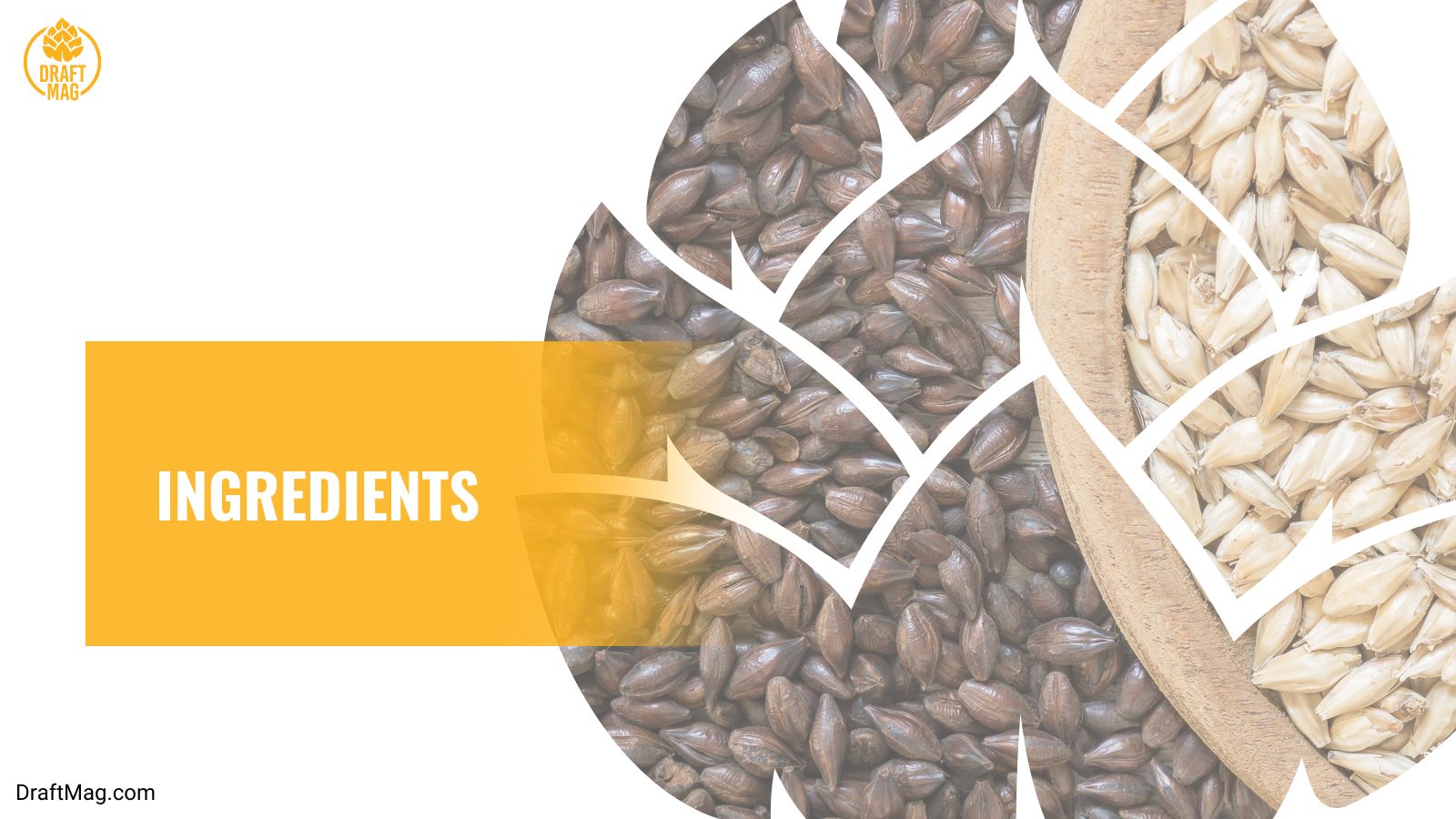 The ingredients are boiled for 60 minutes with 70 percent efficiency. The water profile should have equal parts of sulfate and chloride. The fermentation is done at a stable temperature of 68 degrees Fahrenheit.
Nutrition Facts
The sloop juice fIPA alcohol content is around 6.5 percent in a single serving. Talking about nutrition facts, with a standard 12 ounces of serving. The Sloop Juice Bomb calories are 211 when you consume it, as it has 24.8 grams of carbohydrates.
History
The Sloop brewery was founded by Justin Taylor and Adam Watson in the Hudson Valley in 2011. They named the brewery after the boats that once used to sail up and down the Hudson ferrying both cargo and people. They started off selling beer around farmer's markets in the region in a quest to introduce new beer styles and flavors and create new experiences for local beer lovers.
In 2014, Sloop opened its first production facility in Elizaville, NY. By 2018, their market had grown considerably to earn a second brewery in an erstwhile IBM facility at East Fishkill. Since then, they have carried the flags of love, care, and attention with every sip of their golden brew.
FAQ
– Is Juice Bomb an IPA?
Juice bomb is an unfiltered IPA that has a hazy appearance, almost like a glass of fruit juice. This kind of juice bomb IPAs are low in bitterness and the Sloop Juice Bomb hops are introduced pretty late in the process. The predominant flavor and aroma are that of citrus and fruits, which balances well with the malt and bread profiles of the beer. These thus produce an overall balanced taste that hints a tad more at the citrus and fruit profiles.
Conclusion
The sloop beer makes an excellent point of entry for intrepid beer lovers who wish to explore what it means to taste a NEIPA for the first time. This beer's juicy, citrusy notes have made it a national favorite around the United States and have found takers even outside. To sum up our observations: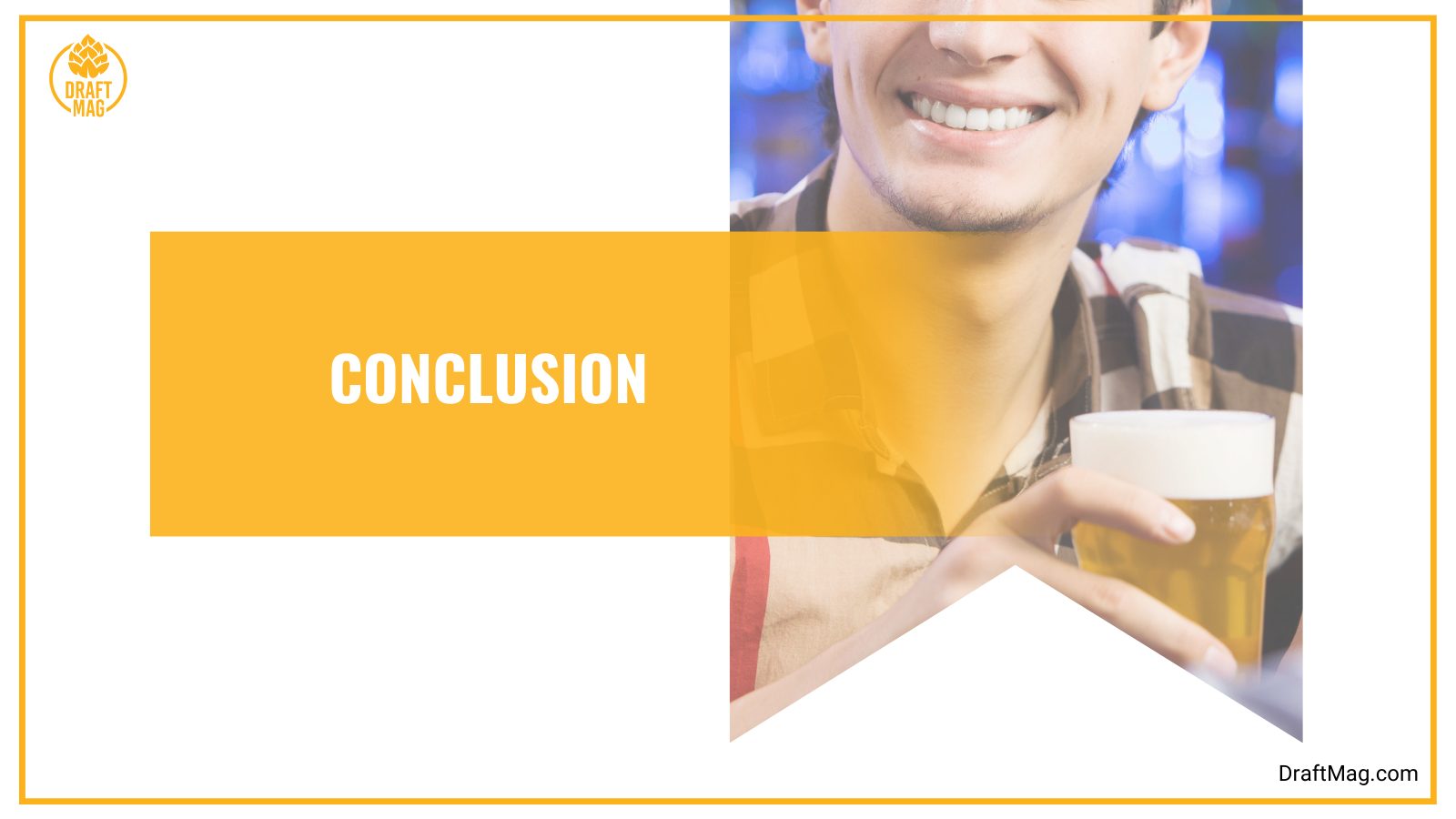 The sloop beer is a distinct New England IPA from the breweries of Sloop.
The late hopping and low bitterness of the brew reveal the juicy notes of American hops followed by a gust of tropical aroma and balanced flavor
The beer goes well with dishes made of fresh ingredients, whether Thai, Indian, Mexican, or something else
The beer is best served chilled within a temperature range of 65 to 68 degrees Fahrenheit
If you still haven't sampled the delicious freshness of the sloop bomb, what are you waiting for? We strongly recommend that you try this blend of uniqueness with signature NEIPA notes.