Daura Damm Review: Try This Expert-Recommended Spanish Beer
Daura Damm is a beer that would surely be on a list of popular Spanish brews. It is known for its distinctive malt and hops fusion that makes for a sweet and grainy taste.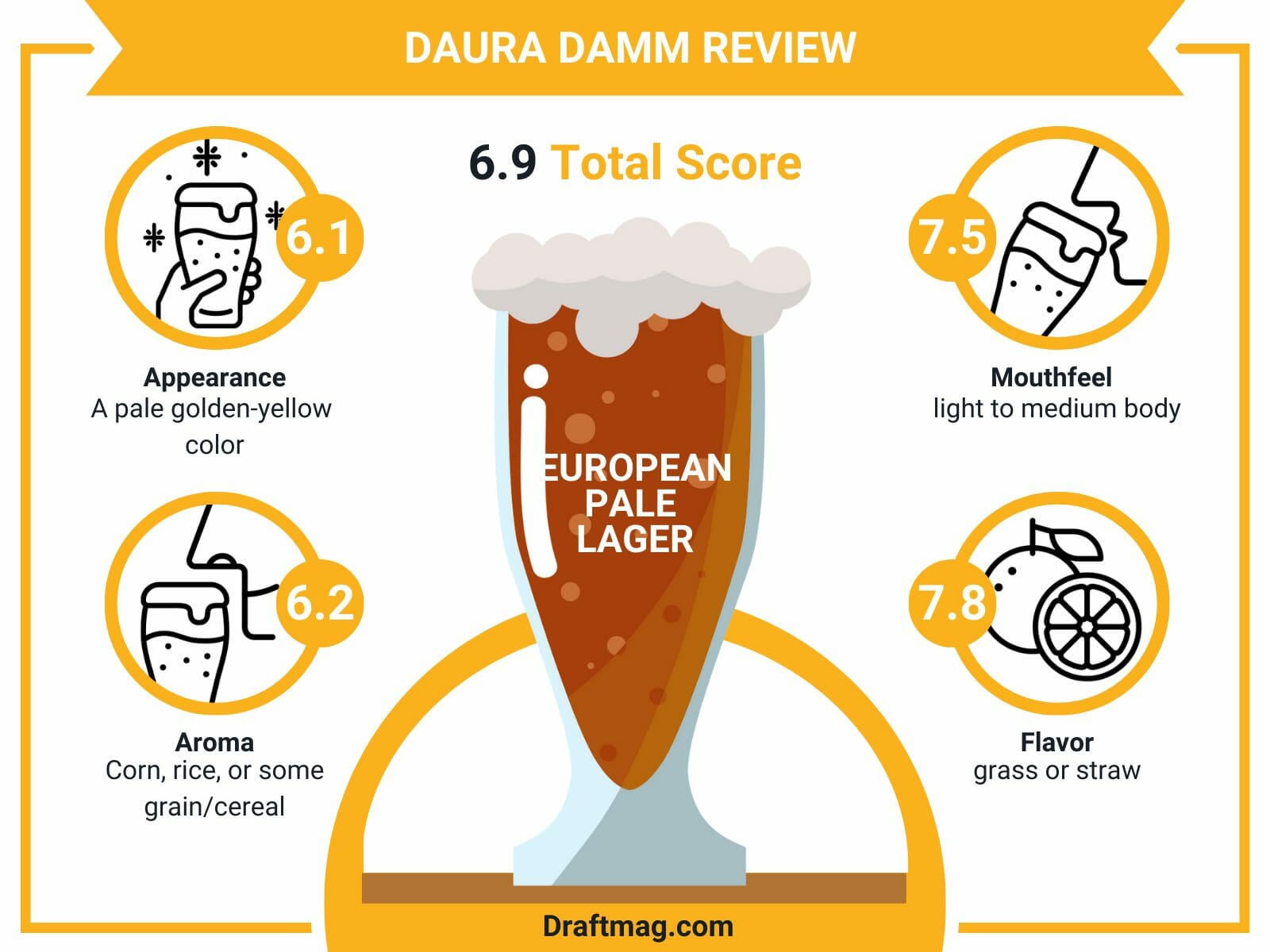 If European pale lagers are your favorite type of beer, then you might have been curious to try this one. We've compiled this review with detailed information about this beer to prepare you for the experience.
Daura Damm Stats
| | |
| --- | --- |
| Country | Spain |
| Brand | Damm S.A. |
| Style | European pale lager |
| Taste | Tastes grainy and sweet with hints of malts and corn. A moderate bitterness balances out this sweetness. |
| Body | It's between light and medium-bodied with moderate carbonation. The brew has a crisp yet slick mouthfeel that makes it easy to drink. |
| ABV | 5.4 percent |
| Flavor and Aroma | Its flavor and aroma are light malts, corn, rice, and hops. |
| Serving Temperature | 40 degrees Fahrenheit |
Tasting Notes
Daura Damm Tasting Profile
Daura Damm Review
This beer has amassed a fair amount of attention from beer drinkers. Our beer experts carefully review it based on several categories.
– Appearance
This European pale lager pours a hazy, somewhat pale golden-yellow color. A moderately thick, white foamy head appears at the top of the glass, with excellent retention. A decent layer of sud remains after the foamy head recedes, alongside a ring of lacing.
We particularly like its haziness, which ensures the beer doesn't look too filtered. We also like that the beer doesn't contain too much fizz, making it easy to concentrate on its appearance.
– Aroma
When you bring the beer to your nose, you'll catch a grainy scent that smells like corn, rice, or some other grain/cereal. There's also a subdued hint of malts and an herbal note. You can also make out a floral hop scent which gives the beer a bit of spice.
At the base of all these is a distinctive yeast-like, doughy note reminiscent of bread. The alcohol is present but muted. This beer surprisingly smells like a German pilsner. We particularly like its overall clean quality, with no scent overshadowing the other.
If you are a fan of aromatic beers with a distinctive profile, you may not like this because the scent is hardly memorable.
– Mouthfeel
This beer is between light and medium-bodied with moderate carbonation. It is slightly crisp but slick with an oily feel. This slick feel makes the beer very smooth, despite its noticeable graininess. It is not as thin as we expected from a pale lager.
You can immediately detect its grainy and malty taste, followed by a mild hoppiness and lingering grassy skunk. We like that this beer is more bitter than most lagers, perfectly balancing the grainy sweetness. It finishes slightly dry.
– Flavor
There's nothing extraordinary about this beer's flavors, which isn't surprising considering it's a pale lager. However, there is no missing its light barley malt note. You can also make out its spicy hop flavor that brings to mind noble hops. Another discernible flavor is a grainy note that indicates corn or rice.
An earthy flavor is also noticeable, reminding one of grass or straw. There's no denying a sulphuric flavor, indicating an alcoholic presence. Aside from these, there isn't much to discern from this beer.
Like most mass-produced lagers, this lacks any unique flavors. Although the result is a clean, simple, and easily drinkable beer, many beer drinkers might find this lack of flavors disappointing.
– Food Pairings
You can pair this beer with anything due to its simple taste. Heavy or mildly flavored dishes complement this lager and enhance its taste. You can enjoy this beer with a burger, steak, grilled chicken, lobsters, or spaghetti and spicy meatballs. Other options include French fries, fried fish, creme brulee, cheddar cheese, rich soup, and beef skewers.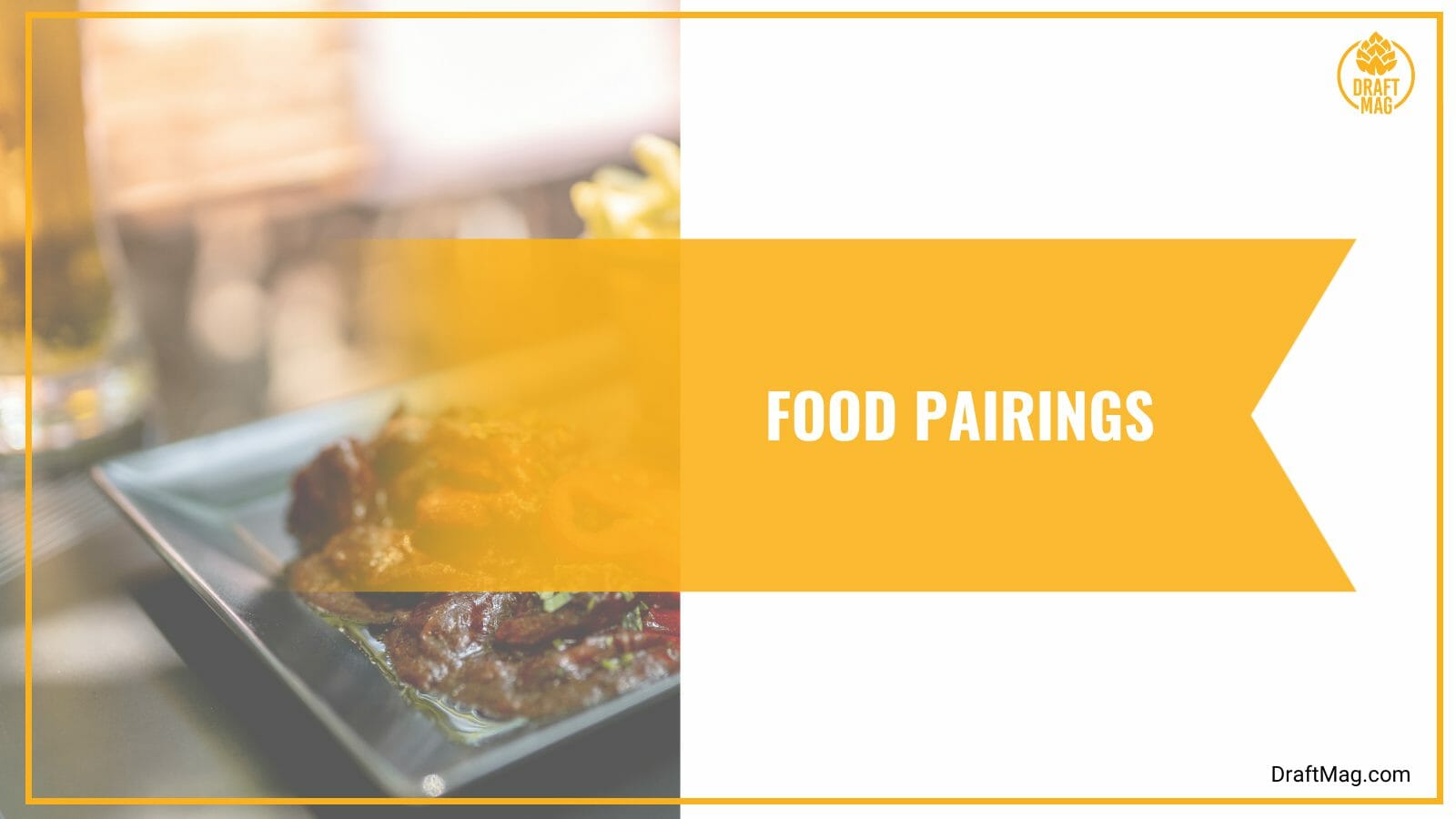 You can also pair it with salty dishes, salmon, churros, pizza, and fruit salads. International cuisines, especially spicy dishes from Asia, Africa, Mexico, India, and Jamaica, are all perfect accompaniments for this beer.
Ingredients
This Spanish European pale lager is made from simple ingredients including water, spicy noble hops, barley malt, corn, rice, sugar, and salt. There are no other known additives or preservatives in its composition. These ingredients are of the best quality and go through a careful brewing process to ensure a high-quality beer.
Nutrition Facts
This beer is reputed by its manufacturing company as a gluten free beer even though barley malt is part of its composition. Hence, it is an excellent option for those who are looking for healthier drinks. This beer also contains 40 calories, 3.2 grams of carbohydrates, and 0.3 grams of protein. It also contains zero grams of fat, zero grams of salt, and 0.5 grams of sugar.
This lager has a 5.4 percent ABV, an IBU of 26, and a color EBC of 10. The brewing company markets it as vegan-friendly.
History
Estrella Damm Daura is a lager beer first brewed in 1876 by Damm S.A. in Barcelona, Spain. It is the brewery's flagship beer and easily one of the oldest brands in Spain. The Damm S.A. brewery was founded by two Alsatians, August Küntzmann Damm and his cousin, Joseph Damm. This lager was first sold as Strasburger Bier, with its star logo making it very popular among beer drinkers in the country.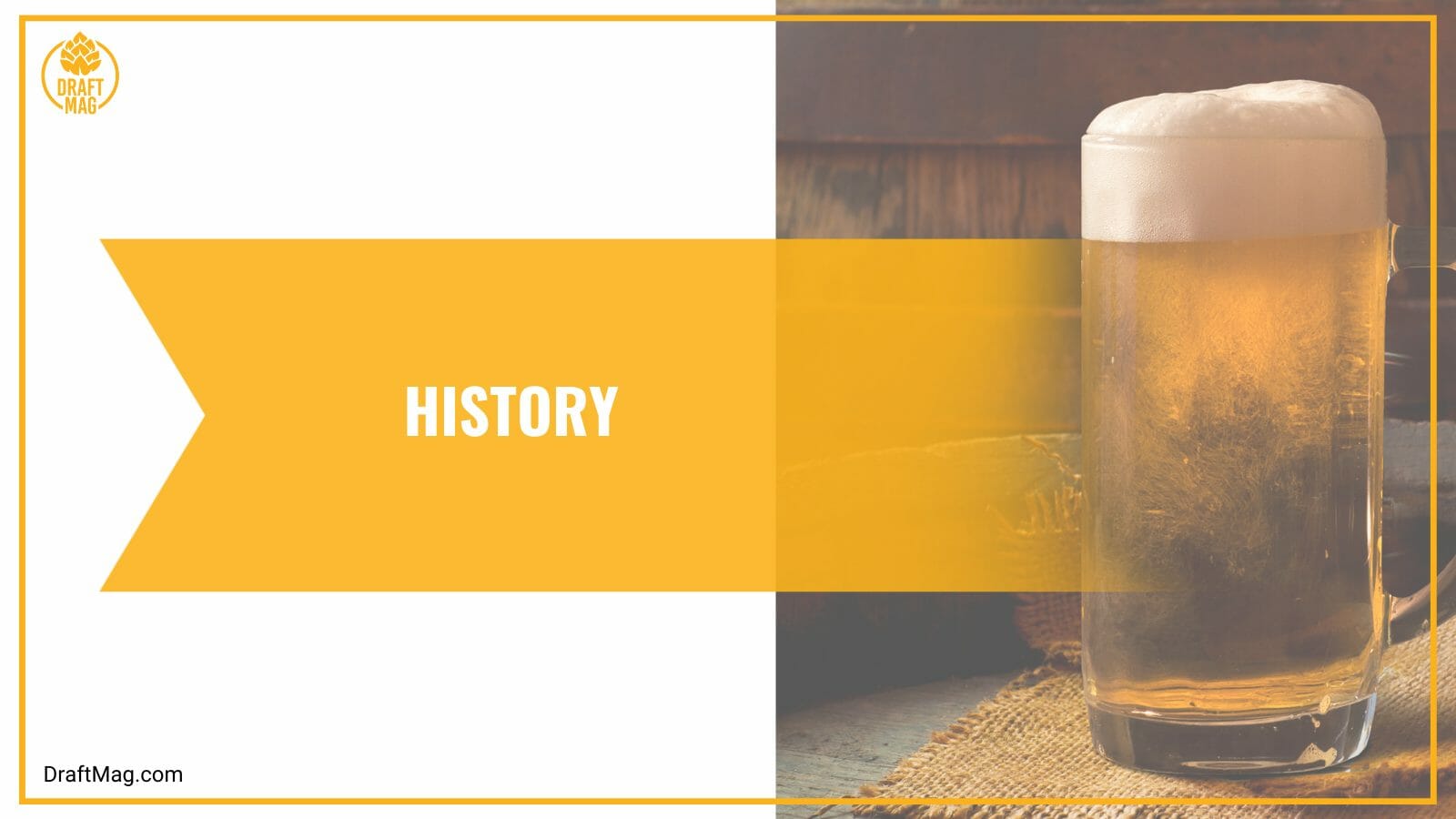 Over the years, the lager went through a series of name changes until 1991, when it was finally called Estrella Damm. This beer is known for its grainy, sweet, and refreshing taste. It is popular among international beer drinkers for being a gluten free beer. The beer has won the "best gluten-free beer in the world" award consecutively at the International Beer Awards in London.
Conclusion
Overall, this beer performs fairly above average and tastes better than most European lagers. Here's a quick rundown of all the points discussed in this review:
Estrella Daura Damm is a European pale lager with 5.4 percent ABV produced by Damm S.A. in Spain.
Its aroma and flavor are predominantly malts, corn, grass, and spicy hops.
This lager tastes slightly sweet and is balanced by a moderate bitterness.
It is between light and medium-bodied with moderate carbonation. It is crisp yet slick and leaves an oily feel.
You can pair it with spaghetti and meatballs, creme brulee, burger, BBQ, grilled chicken, and sweet desserts.
It has a unique taste and an admirable bitterness to back it up, coupled with the fact that it is gluten-free. We certainly won't turn down this beer if offered!