Loose Cannon IPA Review: A Unique Triple Hopped for IPA Lovers
The Loose Cannon IPA is the ideal beer for any IPA lover who is looking for loads of hops. With every sip you take, there are delicious hops and citrus flavors in this golden India Pale Ale.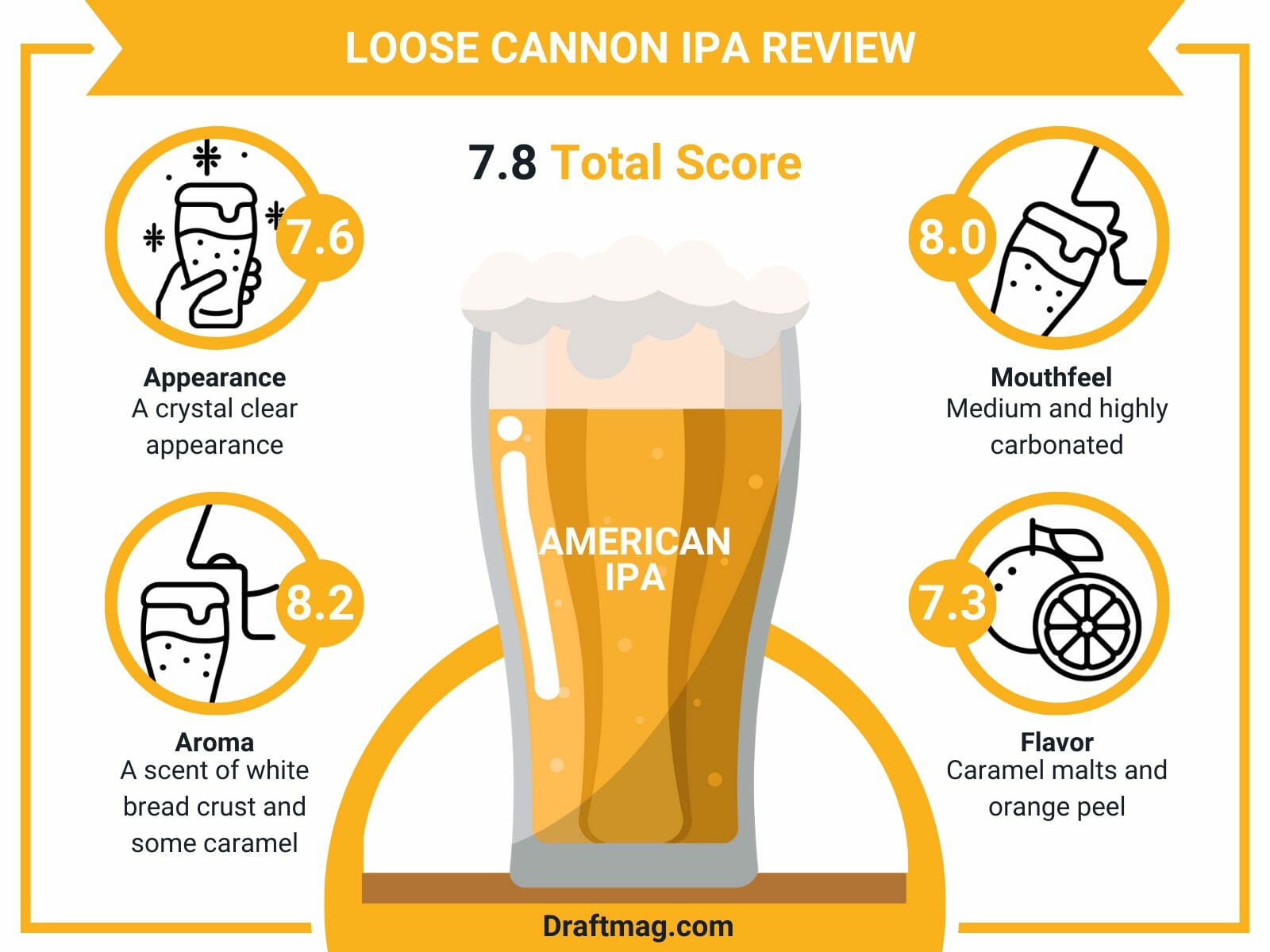 If you're looking for a refreshing, hoppy beer with moderate ABV and delicious food pairings, this American Hop3 Ale is a fantastic choice. But before you go further, check out our review to know more.
Loose Cannon IPA Stats
| | |
| --- | --- |
| Country  | United States |
| Brand | Heavy Seas Beer |
| Style | American IPA |
| Taste  | Citrus, hops |
| Body | Medium Body |
| ABV | 7.25 percent |
| Flavors & Aromas | Hops, citrus, white bread crust, caramel, pine |
| Serving Temperature | 45 – 50 degrees Fahrenheit |
Tasting Notes
Loose Cannon IPA Tasting Profile
Loose Cannon IPA Review
Loose Cannon is an American IPA with a 7.25 percent alcohol content from Heavy Seas. The delicious IPA is dominated by a flavor of citrus hops and a balanced aroma and taste of grapefruit, pine, and floral bitterness. The flagship beer also features hints of bread crust from the malt. It pours deep amber to gold, with a smooth mouthfeel.
When having the Loose Cannon beer, a pint glass is a perfect place to pour it in, allowing its fluffy head to form and giving you a clear view of the gold. It also looks great in a snifter, chalice, or goblet. Serve it at temperatures from 45 to 50 degrees, and add a citrus slice for garnishing.
Although there's a bit of alcohol warming, the beer is drinkable and juicy and will go down easy. It's a fantastic party beer, but it will also be good for drinking with food.
– Appearance
The Loose Cannon beer has a crystal clear appearance that makes the carbonation sparkle in the form of bubbles.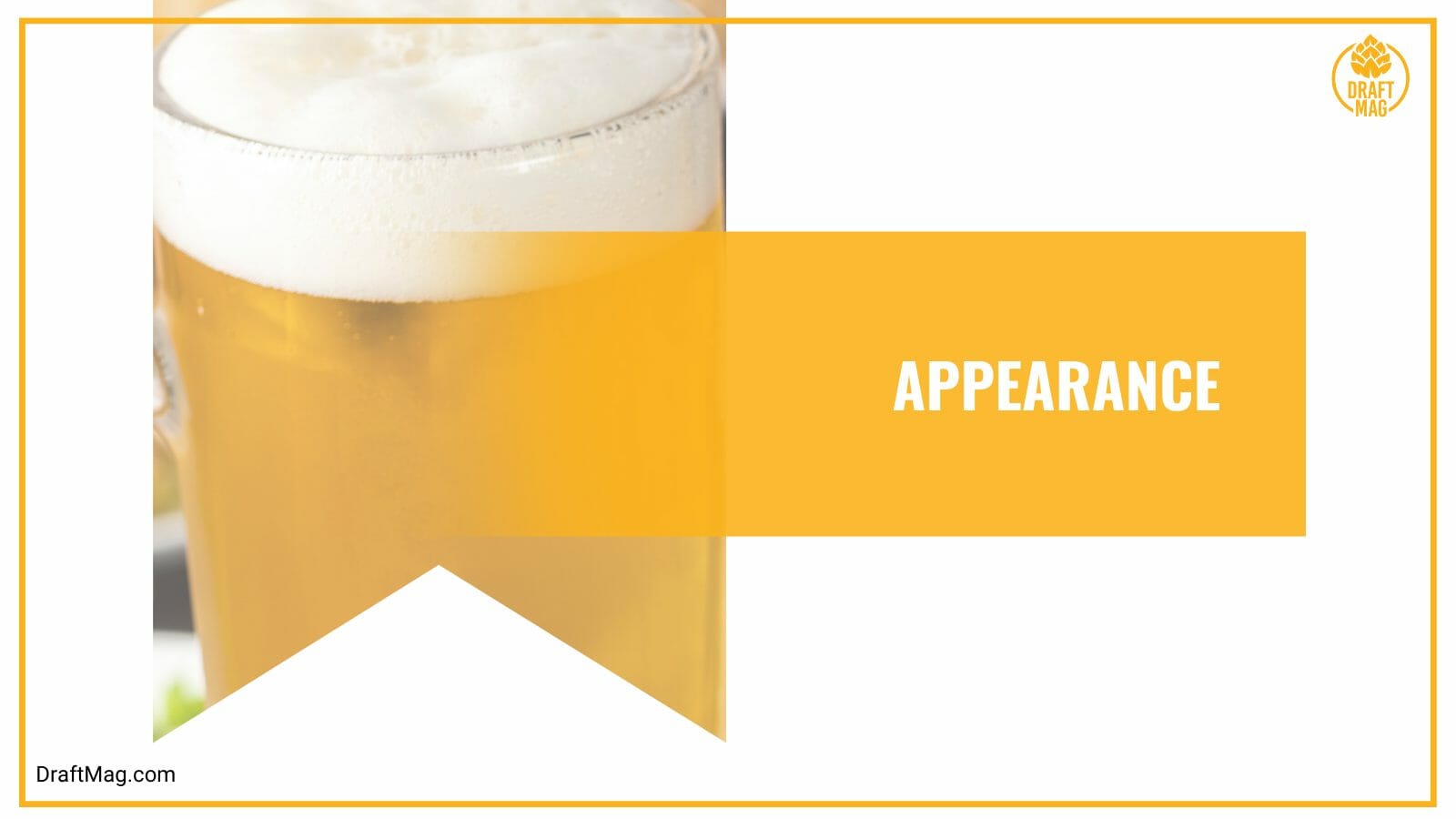 The beer has a golden, amber, or copper color, with an off-white head that retains itself for a while. Its thick, fluffy head leaves some sticky lacing against the glass.
– Aroma
On the nose, the aroma is faint, with a scent of white bread crust and some caramel. This is quickly overwhelmed by the fruity and piney aromas from the hops, with scents of grapefruit, dank melon, and lemon peel dominating the caramel.
Mouthfeel
The mouthfeel of the Loose Cannon beer is medium and highly carbonated, so you can expect a consistent and tingly feeling as you drink and swallow. There is some stickiness from the hops that offer slight bitterness, but it does not linger for too long.
– Flavor
As for the flavor, the Heavy Seas Loose Cannon ale tastes like a balance between caramel malts and orange peel before eventually warming up to taste like an orange liqueur. The beer's flavor is fruity and dank, with notes of grapefruit, peach, pine, and lemonade and a consistent bitterness that continues through the style.
Towards the finish, you taste more caramel and some hoppy earthiness. The craft beer is very bitter initially, but it quickly offers some sweetness from the citrus, toasted bread, and caramel. There is slight alcohol warming too, but it is nothing unpleasant.
– Food Pairings
The Loose Cannon beer will go well with a wide range of dishes since the American IPA is a versatile beer style. For one, you should match the hoppy intensity of this beer with some spicy offerings, like Indian or Mexican cuisine, curry, noodles, foods with spicy barbecue sauce, buffalo wings, and more.
The beer will go great with Caribbean jerk-style chicken wings, Korean BBQ short ribs, tacos with avocado, or a roast beef dip with pepper jack. Fish also works well with this thick beer, so try out mackerel or salmon with some fruity dressings. Crispy salads with fruity dressings also work well.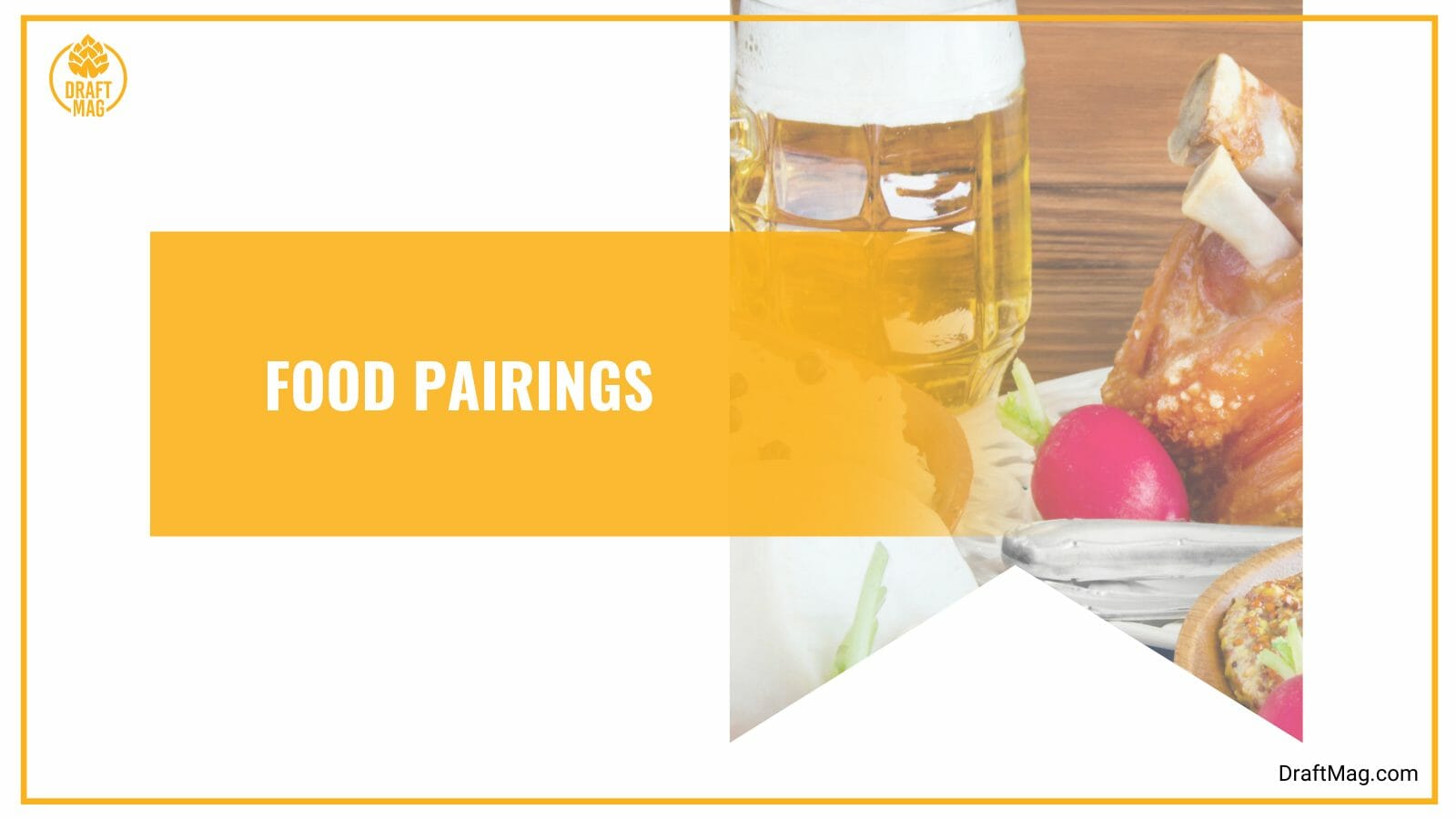 You can never go wrong with some blue cheese and IPA, as the hoppy bitterness pairs well with the creamy richness. Other cheese options include Gorgonzola and French triple cream cheese. High-fat content cheeses and spicy pepper cheeses are also great choices.
If you want something sweet, pair this hoppy IPA with carrot cake or a caramel-flavored dessert. You can have a fruit soup, fresh berries, or a blood orange sorbet alongside this beer.
Ingredients
The Loose Cannon IPA is brewed with malts, hops, yeast, and water. The exact malts are not known, but the hops are Simcoe, Centennial, and Palisade, giving it its big hop flavor. The three hops attracted the nickname American Hop3 Ale. It is brewed with three pounds of hops per barrel in three ways.
First, it is hopped in the kettle, then in the hop back, before finally being dry hopped. Thus, you can enjoy flavors of grapefruit, pine, floral bitterness, and hops in general.
Nutrition Facts
In the Loose Cannon IPA, you get a 7.25 percent alcohol content and 45 IBU. The beer has slight alcohol warming, and you will get tipsy quickly, but it does not affect its flavor profile. As for the IBU, it indicates moderate bitterness. Luckily, this quickly wanes into some citrus sweetness.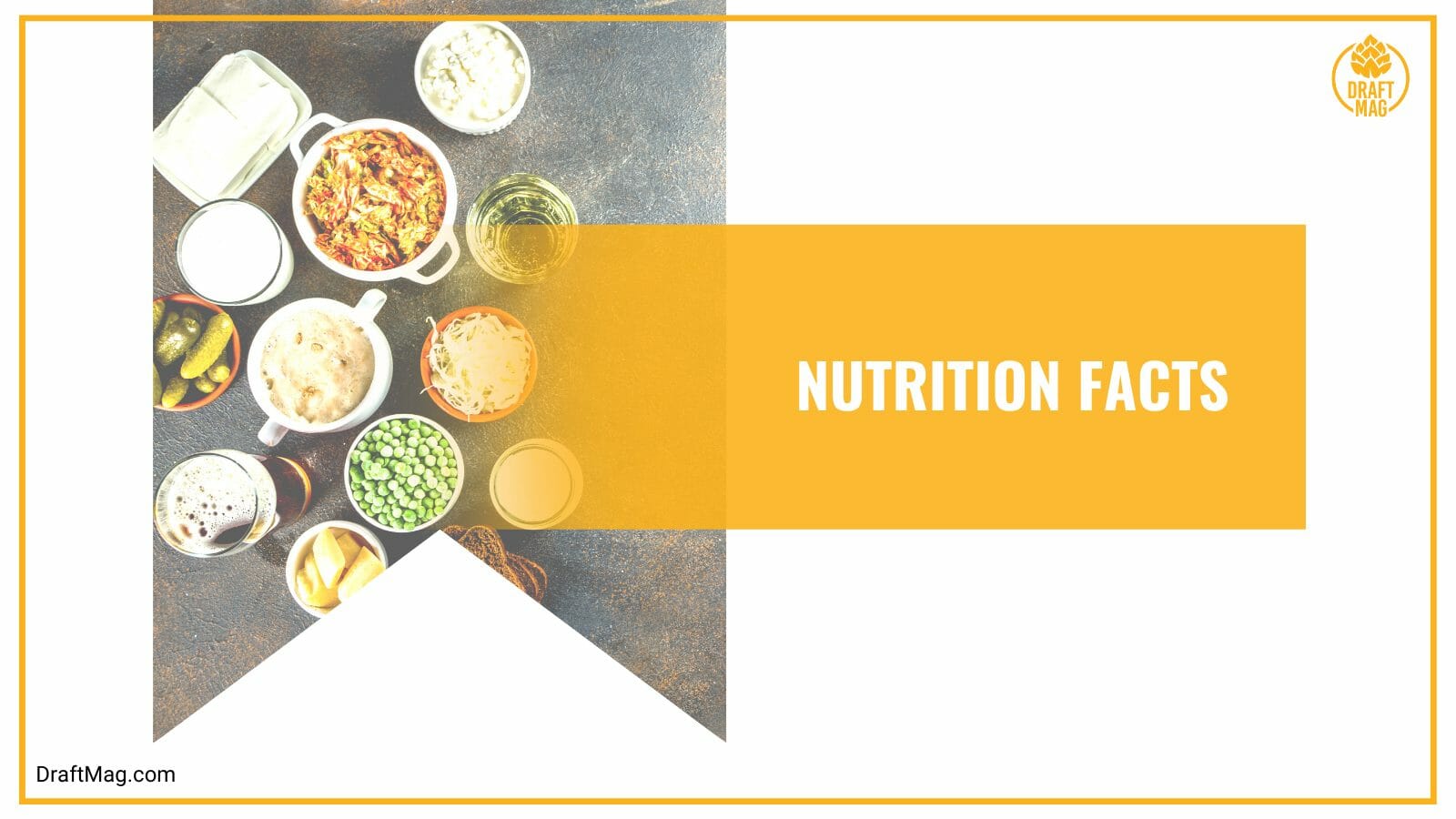 The beer features 220 calories in every 12-ounce serving, and this is a pretty high level. Consider this if you're calculating your daily dietary intake. Also, there are 25 grams of carbs in the beer, but no fat or protein. The beer is not good for those on a keto diet since the carbs are high, and it is not a gluten-free option.
History
Loose Cannon is a product of Heavy Seas Beer based in Maryland. It was released in 2004 and has been its flagship beer for a long time. When the beer was released, it became very popular among their fans, making it the flagship. The brewery was founded in 1995 as Clipper City before changing its name in 2010.
Conclusion
The Loose Cannon beer offers hop heads a delicious balance of hoppy nuances and malty caramel, all enveloped in a refreshing, all-season beer. Here's a summary of our review:
Loose Cannon IPA is an American IPA with a 7.25 percent ABV from Heavy Seas.
The beer has flavors and aromas of hops, pine and fruits, bread crust, and caramel, with a medium body and slight alcohol.
It is brewed with Simcoe, Palisade, and Centennial hops, malts, yeast, and water.
You can pour this beer into a pint glass with a citrus slice as the garnishing.
Pair this with your everyday foods, spicy and hearty meals, intense cheeses, citrus desserts, and seafood.
The best way to know Loose Cannon is to try it out at the brewery in Maryland, US. Alternatively, you can also purchase it online or at a store near you.