Red Horse Beer Review: A Sugary, Sweet and Strong Malt Liquor
Red Horse Beer is a sweet and strong malt liquor from San Miguel Brewery in the Philippines. If you're looking for a lager-like liquor with a complex flavor and enticing aroma, you'll definitely enjoy this beer.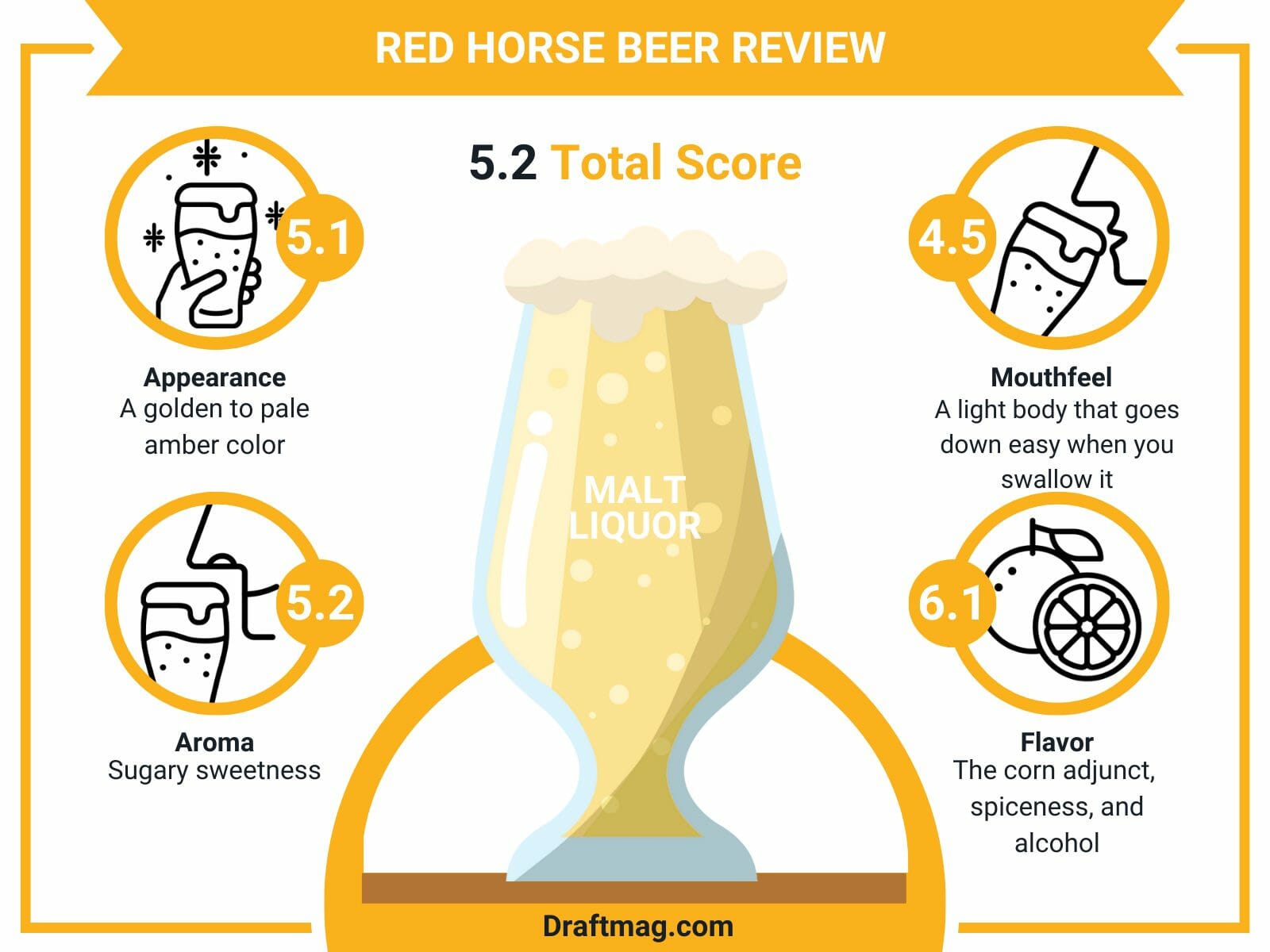 Before checking out the Red Horse Extra Strong, you should consider learning more about the brew's tasting notes and profile. Check out our complete review to know more.
Red Horse Beer Stats
| | |
| --- | --- |
| Country  | Philippines |
| Brand | San Miguel Brewery Inc |
| Style | Malt Liquor |
| Taste  | Sweet, corn |
| Body | Light Body |
| ABV | 8 percent |
| Flavors & Aromas | Corn, spice, cracker, sweets, alcohol |
| Serving Temperature | 38 degrees Fahrenheit |
Tasting Notes
Red Horse Tasting Profile
Red Horse Beer Review
Red Horse is a malt liquor beer with an 8 percent alcohol content and a lot of awards to its name. The high ABV presents itself in a consistent alcohol burn and spiciness, from the aroma to the mouthfeel. Pouring a pale amber color, Red Horse is sugary sweet, with aromas and flavors of corn, grassy hops, soda, and crispy bitterness.
All of this is enveloped in a light body. The strong, crispy, and clean beer is smooth and easy to drink, and it becomes even better when served cold. Enjoy it at 38 degrees Fahrenheit when poured in a pint glass. The wide opening supports the small head and enhances the aroma. A beer mug will also be a fantastic glass for this beer style.
Red Horse is the ideal party beer among enthusiasts, especially with the high ABV that kicks in quickly and a drinkable nature despite the alcohol. It's a fantastic choice for the hot days in the Philippines and worth a try if you're curious about what it will offer.
If you're looking for a beer to have with dinner, this is also a great option, pairing well with a wide range of foods.
– Appearance
The Red Horse craft beer pours a golden to pale amber color and appears crystal clear.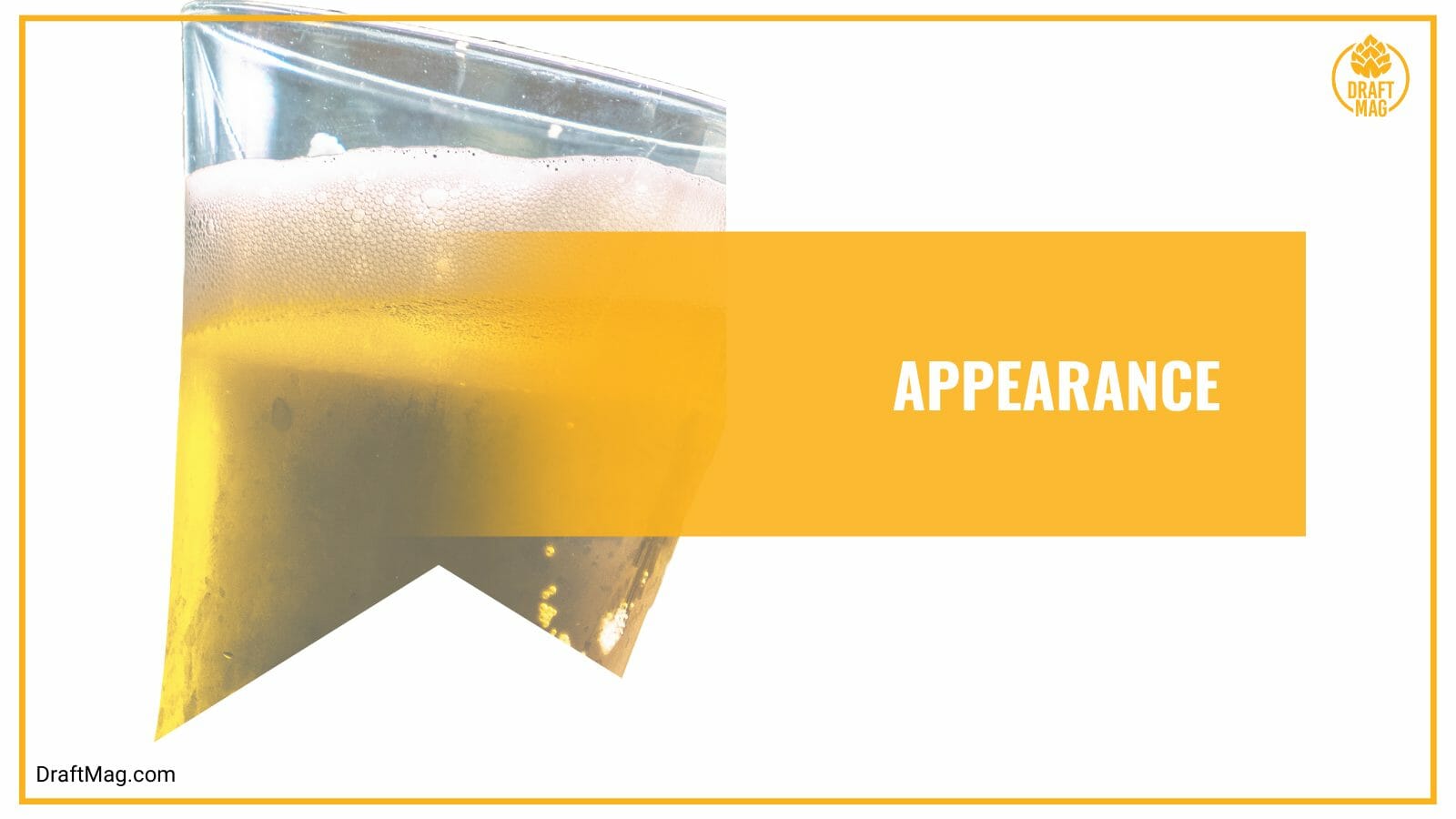 On top of the beer is a white and large foamy head, but this will dissipate rather quickly into nothing. There is a lot of lacing left on the glass, which keeps the aroma going. The medium carbonation presents itself in light bubbles in appearance.
– Aroma
Take a sniff of the Red Horse lager and the first thing you will smell is the sugary sweetness. Following this is the aroma of soda and malt crackers, which push the upfront sugar aromas. The malt and sugar will lead to the scent of corn and sulfur. There is also a lot of alcohol in the aroma due to the high ABV, which reminds you of white wine with slight grassy hops.
– Mouthfeel
The Red Horse features a light body that goes down easy when you swallow it. This is accompanied by medium carbonation, which adds a slight kick to your palate as it caresses your tongue. The beer finishes crisp and refreshing, with high saturation and no cloying from the hops.
– Flavor
When you drink the Red Horse malt liquor, the first thing you will taste is the corn adjunct, spiciness, and alcohol. The alcohol flavor is slight and not unpleasant, delicately balanced with some spiciness. This continues into sulfur and smoothly transitions to offer slight hints of baked bread or soda cracker.
The beer gives a slight illusion of white wine and is a bit crisp and bitter. All of this is set against the malty backbone, with grain and sweetness going through the alcohol. For some, the beer might taste like wet cardboard. Spicy hops are present with some minerals, and they might appear watery and thin.
– Food Pairings
There are different foods you can enjoy when having Red Horse beer, with its complex yet drinkable nature. Try it out with spicy and herbal chicken, or match its quality with shellfish, salmon, or any other seafood. The beer will go great with burgers, hot dogs, pizza, tacos, or any other daily food, especially those with barbecue sauce.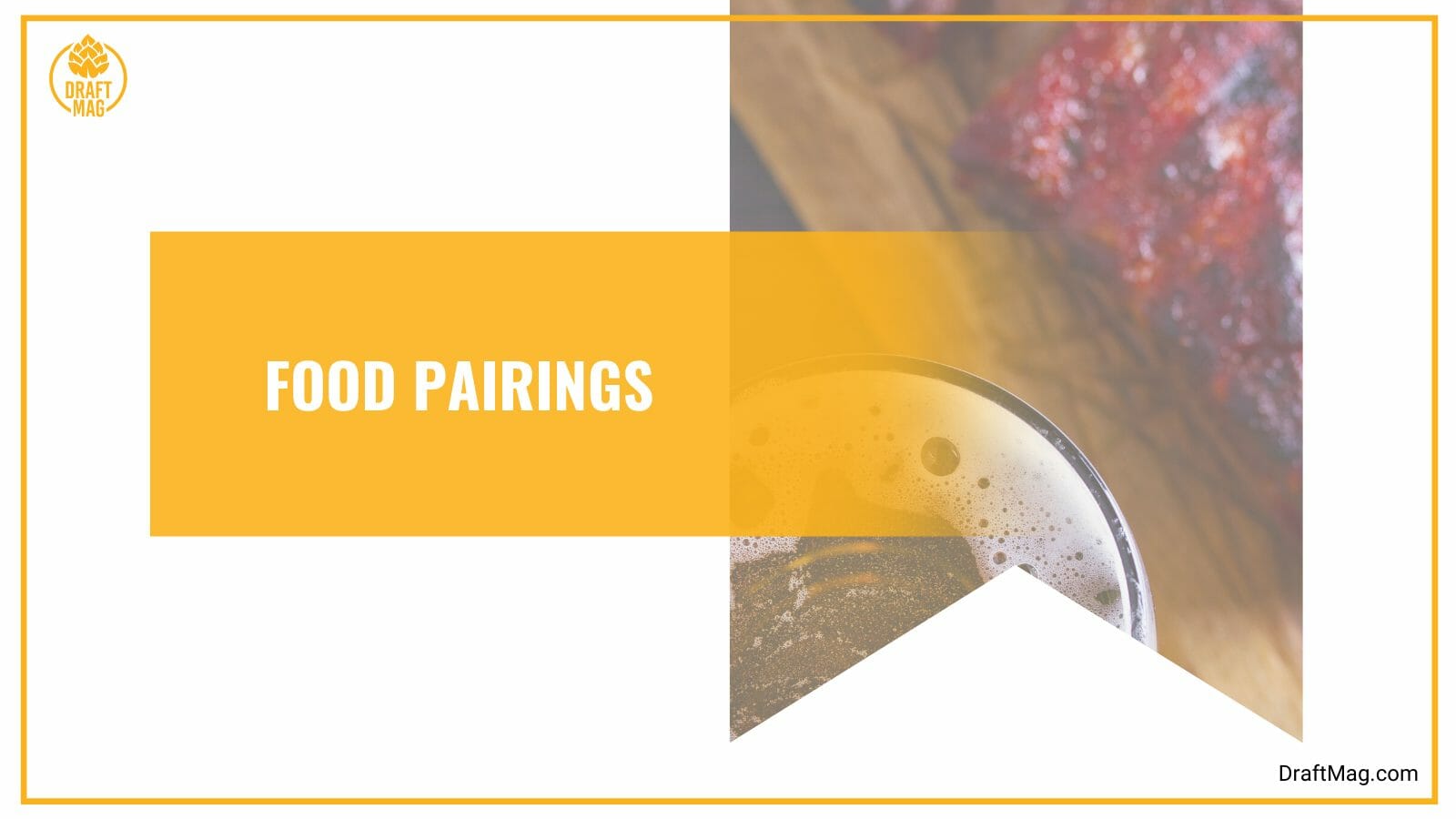 You can try it out with smoked meaty foods like pork, chicken, fish, or beef, especially those served at a barbecue. Also, spicy foods, salads, and cheese plates are a great choice. You can try out some fruity desserts like cake or pie featuring flavors of berries and citrus.
Match the intensity of the beer with spicy food like Indian curries, Mexican cuisine, noodles, and more, or go for heaty foods like roast pork and meat stews. As for cheese, you can have the beer with pungent and hard cheeses.
Ingredients
Red Horse beer is a typical strong lager, so there's nothing special in the ingredients. It is brewed with water, malt, cereals, sugar, starch, and hops. The beer's malts shine through the backbone and offer flavors of corn, baked bread, and soda cracker. You can also taste graininess and cereals.
As for the hops, they present themselves in spice that balances well with the alcohol flavor. The beer is not ideal for those who are allergic to nuts, wheat, cereal, or barley. Check the ingredients list on the can before you consume it.
Nutrition Facts
In the Red Horse malt liquor, you get 8 percent alcohol content, and the IBU is unknown. The high alcohol is evident in the aroma and flavor of the beer and will result in your night ending quicker than you'd expect. Despite the alcohol, it still goes down easy with limited burning.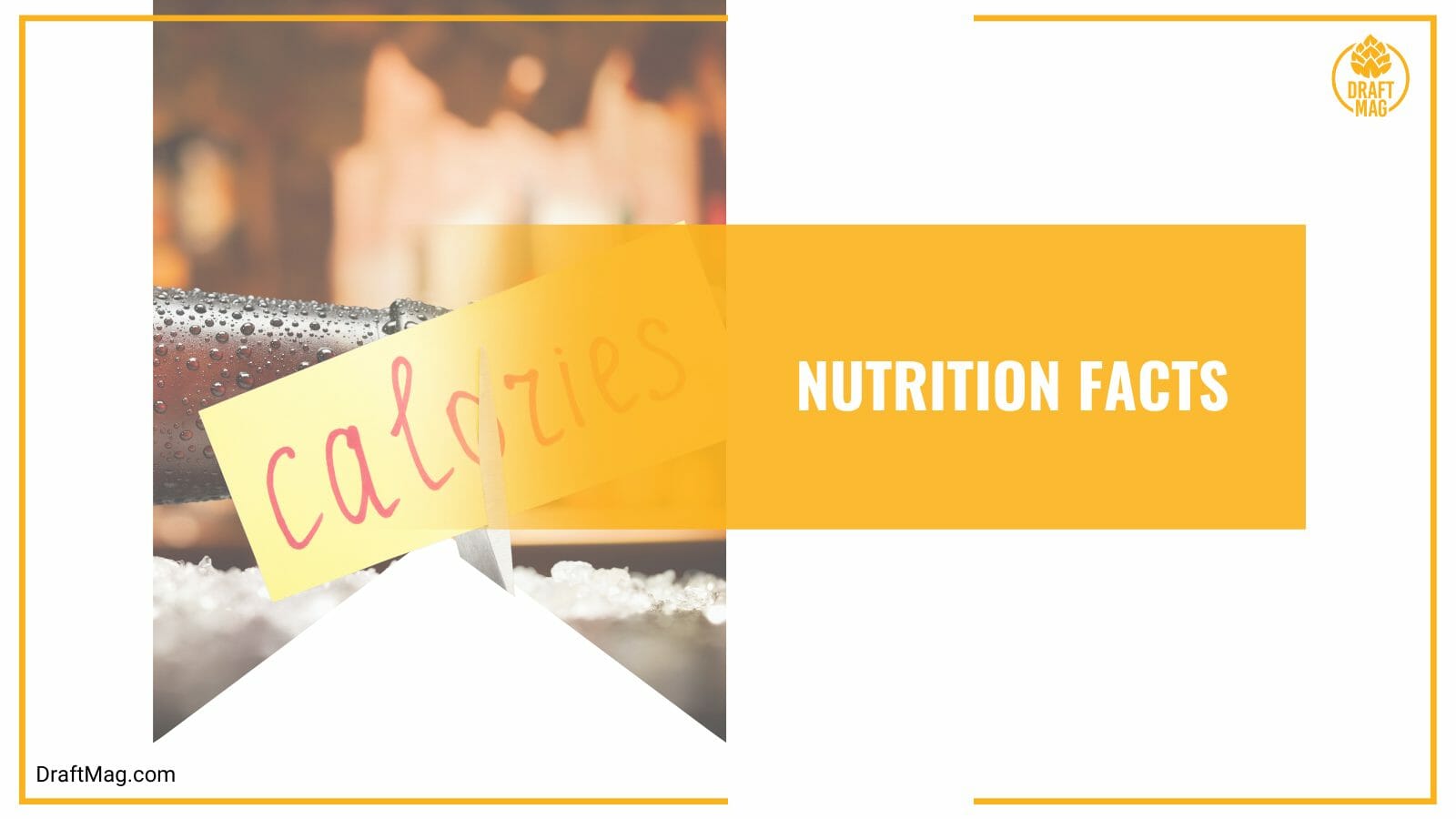 It features 220 calories in every 12-ounce serving, and this is a pretty high level. Consider this when calculating your daily dietary intake. Aside from this, the beer features 16 grams of carbs and 4 grams of protein, but there is no fat. If you're on a keto diet, you should avoid drinking this beer due to its high carbs content. It is also not gluten-free.
History
Red Horse is the first ever extra strong beer brand to be released in the Philippines, and it was released in 1982 by San Miguel Brewery. It has 6.9 percent alcohol in the home country, but the export version features 8 percent alcohol instead. The beer can be found in different sizes of bottles, cans, and kegs.
The Filipino lager is popularly known as a must-have whenever you visit the country, popular for its complex flavor and high ABV. Until now, it is still the only super strength lager in the country and can be found everywhere in the Philippines, including cans, bottles, on tap, and even in buckets.
It is also an award-winning beer. In 2014, it won silver at the Monde Selection and then a bronze medal in 2015. In 2016, it won gold in the same award ceremony. Also, it is the number 1 selling strong beer in the world and won a gold medal at the Australian International Beer Awards in 2018.
Conclusion
The Red Horse malt liquor is one of the most popular brews, and for a good reason as it offers high ABV, delicious flavor, and various food pairings. Here is a rundown of our beer review:
Red Horse is a malt liquor and extra strength lager with an 8 percent ABV.
The beer has aromas and flavors of corn, spice, alcohol, crackers, and sweet graininess in a thin and light body.
It is brewed with water, malt, cereals, sugar, starch, and hops.
The beer is best served in a pint glass or beer mug.
Pair it with hearty and spicy dishes, everyday foods, barbecue and smoked meat, intense cheeses, and fruity desserts.
If you're curious about the Red Horse and can't get to the Philippines, there are different ways to get the export version online or at your favorite liquor store.