Greater Good Pulp Daddy Review: Know Everything About This Neipa
Greater Good Pulp Daddy is a loved beer because it is predominantly brewed with one and only one thought in mind – to make it hazy and hoppy. This is the only Greater Good Pulp Daddy review that you will need. This stunning New England IPA is a citrus-forward beer whose pulp variation cranks up the haze.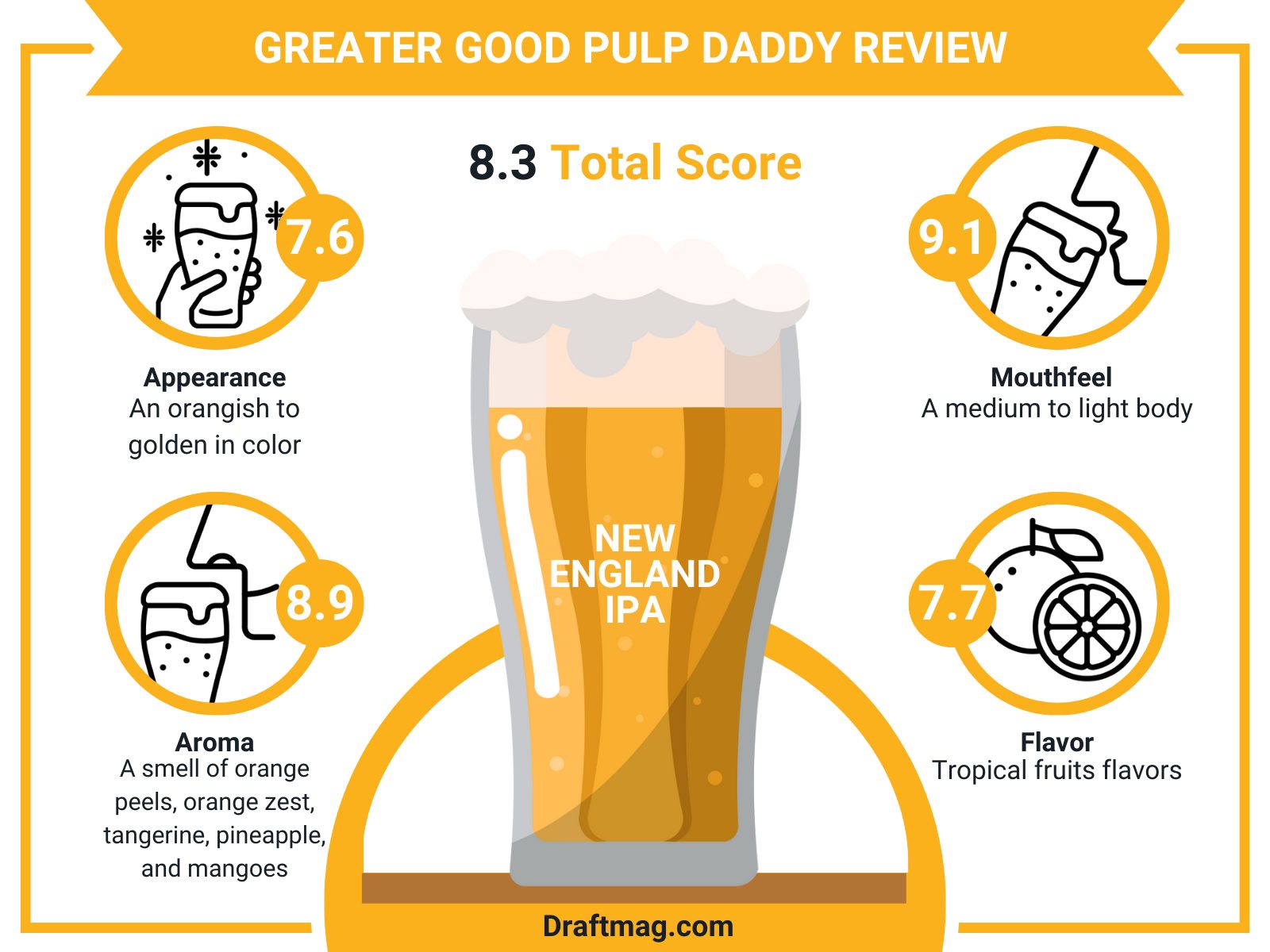 This hazy stunner uses a combination of Citra and Mosaic hops to bring the highest tropical, citrusy, and floral aromas. Just one sip, and you won't be able to stop, keep reading to discover every feature it will offer.
Greater Good Pulp Daddy Stats
| | |
| --- | --- |
| Country | Massachusetts, United States |
| Brand | Greater Good Imperial Brewing Company |
| Style | New England IPA |
| Taste | Orange zest, pine, caramel, sweet and hoppy |
| Body | Medium body, crisp and smooth with medium carbonation |
| ABV | 8.0 percent |
| Flavors and Aromas | Citrusy, hints of stonefruit and resin, piney hops and caramelized malt |
| Serving Temperature | 45 to 50 degrees Fahrenheit |
Tasting Notes
Greater Good Pulp Daddy Tasting Profile
Greater Good Pulp Daddy Review
Pulp Daddy is easy drinking, juice or PULP forward IPA that is extremely citrusy. This is basically a bigger and more powerful version of the PULP (Pauls's Ultimate Lupulin Protocol).
– Appearance
This beer is bright or tan orangish to golden in color. It pours a thin line of white head that diminishes quickly. The white head is only a finger high and collapses faintly fast leaving light lacing around the corners of the glass. The white also fades into bubbles, leaving dusty skin on top.
The appearance is delightful, although a little hazy which prevents clarity in the beer. The straw yellow – golden hues give the beer the right color making it look appealing at first glance.
– Aroma
The smell of orange peels, orange zest, tangerine, pineapple, and mangoes is quite predominant. These aromas are followed by subtle earthiness, some biscuity aroma, and some hints of floral esters too. There is some mild presence of dankness and notes of phenol at the back, that can be avoided as they go almost unnoticed.
The piney nose leads to some dankness followed by sweet and citrus aromas. The intense citrusy and tropical fruity smell is quite overpowering and makes this beer what it is.
– Mouthfeel
With a medium to light body, this beer is a breeze to drink. It goes down as easy as it pours. However, some may feel slight astringence in the mouthfeel. The beer shows a crisp and clean character on the palate. The beer also boasts medium carbonation that leads to slightly sticky after-finish.
The carbonation has a lingering finish, which surprisingly makes you reach out for another round of Hazy. There is also some mild boozy warmth in the mouth with light alcohol presence alongside a thin velvety texture, thanks to the haze. Overall the beer gives an appealing mouthfeel, not something you would regret.
– Flavor
The beer does show some powdered sugar sweetness. This is an extremely well-balanced beer when it comes to bright citrusy flavors and a warm malt base. There are notes of grapefruit and orange zest that take over on the first sip. This follows some notes of pineapple.
There is light bitterness hidden under the tropical fruity flavors that bring in some complexity to the beer. The mild bitter finish helps balance the sweetness of all the fruity flavors involved. There are light floral esters, herbal flavors, some light toasty malts, and basic earthiness to the beer, making it a flavorful fest.
– Food Pairings
When it comes to New England IPAs, roasted chicken is your go-to food pair. This style of beer is notoriously difficult to pair food with which is why it is best to stay on the designated list of dishes. NEIPAs have overpowering sweetness and fruitiness, thanks to all the complex combinations of hops.
Some other dishes to pair the beer with are peas, asparagus, radish, and green beans along with some roast chicken recipes. This shows that you can pair this beer with meat to vegetable options.
Ingredients
The ingredients used in brewing this delicious NEIPA are almost similar to any other beer in this category. Pilsner malt, white wheat, and flaked oats are used as the base to bring in the right amount of haze in the beer. When we talk of yeast, House yeast and dry Ale yeast are used in this case. About hops, a combination of Citra and Mosaic is used to develop a complex yet flavorful beer.
Nutrition Facts
Greater Good Pulp Daddy ABV is quite high being 8.0 percent. On the other hand, Greater Good Pulp Daddy calories would be 240. This goes without saying that this beer is a high-calorie, high-carb drink and should be avoided if you are on a low-carb diet.
The reason why it has such a high-calorie level is that it has eight percent of alcohol in a serving of one bottle, which is 12 ounces.
History
Greater good imperial brewing has a mission of brewing bigger, bolder, and stronger beers. This brewery has been tagged as America's first Imperial craft brewery. Their portfolio of high ABV beers is well crafted by using the best quality hops and malts that are sourced all the way from New Zealand.
Some of their other mind-boggling brews are the Greater Good Smooth which is an Imperial NEIPA at 8.0 percent ABV, and the Greater Good Greylock is a whopping 12 percent ABV Imperial NEIPA. Anything that comes out of this brewery has a reputation for being excellent.
Conclusion
This beer has managed to impress the crowds. For someone who enjoys NEIPAs, this beer is a must-try. With no foam and no head, this beer is surprisingly quite pulpy and hazy, thereby standing up to its name. However, the pulp is not felt heavily on the palate, which makes this an easy drink.
Pulp Daddy beer has strong aromas of orange, mango, and pineapple followed by some dankness that improves complexity.
The beer is best paired with roasted chicken recipes.
This beer feels light when it is drunk because it has a light to medium body, and this is due to the fact that it has light carbonation.
The reputation of the brewery adds to the fact that this beer won't go unnoticed or disliked. This is one of the finest beers from America's first Imperial craft brewing company. Thanks to the tonnes of citrus and fruity aromas, this will be your go-to beer for all your summer outings.