Wild Range IPA Review: What Makes This Hoppy IPA Beer Unique?
Wild Range IPA should be at the top of your bucket list if you're looking for classic American IPAs to try out. Known for its rich maltiness and pleasant hoppy taste, this beer is simple yet uniquely interesting to have.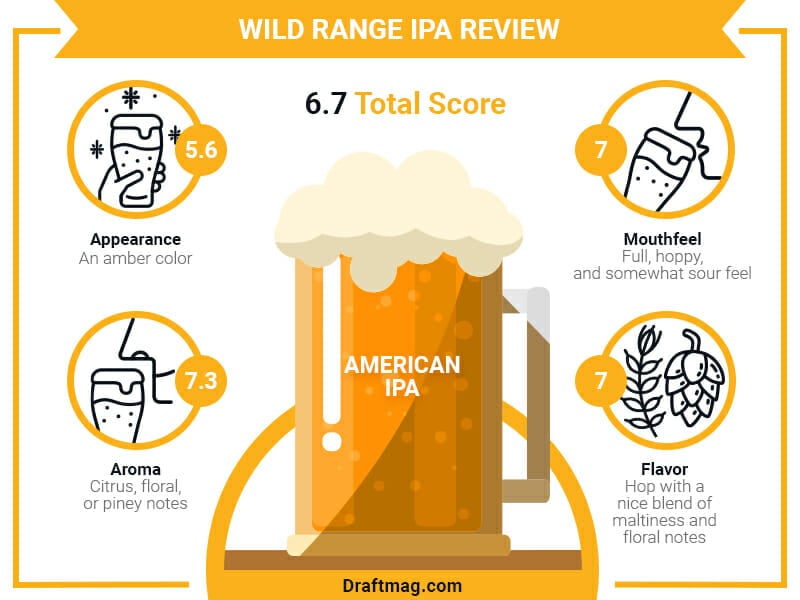 If you've never heard of this IPA or had a reason to try it, then our review will help you make a quick decision. Compiled by our beer experts, this review discusses important details to know about this beer.
Wild Range IPA Stats
| | |
| --- | --- |
| Country | United States (New York) |
| Brand | Custom Tap Brews |
| Style | American style IPA |
| Taste | It has a mix of malty, sweet, and sour tastes and is also marked by a distinctive hoppiness |
| Body | Has a hazy, almost light copper color with a thin foam head that lasts for 4 – 6 minutes before disappearing |
| ABV | 6.9 percent |
| Flavor and aromas | Its flavors include a lot of maltiness and hops, and it has hints of floral, citrusy notes when perceived |
| Serving temperature | 45 – 50 degrees Fahrenheit |
Tasting Notes
Wild Range IPA Tasting Profile
Wild Range IPA Review
Let's get into an in-depth review of the beer. Our beer experts reviewed the beer based on the following categories:
– Appearance
It is an American-style IPA that pours an amber color, although it's slightly closer to copper. It has a thin foamy head that appears off-white and quickly dissipates. If you're not a fan of beer with too much lacing and multiple bubbles, you'd like that the beer leaves no visible lacing. A closer look at this IPA shows that it may have been slightly filtered.
Another thing that we like about the appearance of this beer is its bottling. The bottle is dark in color and has an aesthetically pleasing drawing of a guy holding up a baton and two wolves, which lends it a nice touch of art.
– Aroma
One predominant aroma all our beer connoisseurs noticed about this beer is its citrus, floral, or piney notes. It gives off an aroma that you'd normally associate with a session IPA or shandy. When you sniff it, you catch hints of honey and, of course, a strong smell of malt. On closer inspection, you also get a whiff of chocolate and an earthy, nearly herbal scent.
Although it's easy to perceive these notes, one thing to admire about this IPA is that the aroma is balanced in a way that doesn't do too much, but is still very noticeable.
– Mouthfeel
Just like most IPA, this beer has a full, hoppy, and somewhat sour feel when drunk. It is a light-bodied beer with a high level of carbonation that leaves a dry finish in your mouth. It is quite thick and also leaves a rough, scratchy sensation on the palate.
This ale has a rich and unique mouthfeel, especially as its hoppiness is well-balanced with its malty and sour taste. It is a thick yet smooth beer that is easily drinkable.
– Flavor
The most distinctive flavor of this brew is its hop flavor. It is quite assertive and is present from the pouring to the drinking stage. Although the hoppy flavors are quite predominant, there's also a nice blend of maltiness and floral notes to make for a pleasantly flavored beer. It is easy to tell that the flavors are carefully set in a way that balances the taste of the beer and slightly masks what would naturally be quite a bitter beer.
One thing to like about the beer is that it doesn't have overly assertive flavors, which makes it a boozy drink. If you're a fan of IPAs with bold flavors, you may not really fancy this one. However, it is quite a nice drink to have especially when paired with the right meal.
– Food Pairings
If you're looking for an everyday beer to drink or your go-to beach beer, then the brew isn't for you. It is more suited as a beer to have alongside a heavy meal.
This craft beer is best enjoyed with some vintage cheddars, juicy Italian steak, spicy Asian food, and even your favorite Mexican delicacies like tacos. You can also enjoy your cold glass or bottle of this brew with burger, spicy buffalo, or chicken wings.
You can serve your beer in a pint glass, a chalice, and even a goblet if you'd like that.
Ingredients
This beer doesn't consist of too many ingredients. It consists mainly of malts/barley, yeast, water, and hops. Although the type of hops used in brewing this beer isn't known, it is important to note that most IPAs make use of Simcoe, Centennial, Citra, and Chinook hops, among others.
Nutrition Facts
Like many other IPAs and beers in general, it contains more calories and carbs. The beer contains 155 calories, 13 – 15 grams of carbohydrates, 1.66 grams of protein, and 0 grams of fat. It also contains an ABV of 6.9 percent, and although it may boast of being gluten-free, there's no guarantee that it is accurate.
This hoppy brew contains 6.9 percent ABV, which can be quite powerful if you're a light drinker. A bottle is enough to leave you with a buzzy feeling bordering on tipsiness. Two or more bottles will surely get you drunk fast.
History
Wild Range Brewing IPA is produced by Custom Tap Brews in conjunction with Genesee and High Falls Brewing House, New York.
Although not much is known about the history of this IPA beer or the brewing company that produces it, this India Pale Ale is from Custom Tap Brews alongside Genesee/High Falls Brewing House. These brewing houses are located in the Rochester area of New York, United States. Very little is known about the release year of the IPA, or when the brewing company behind it was founded.
Conclusion
You can get this beer from any ALDI store close to you, or you can also get it at any liquor store, bar, and restaurant around your location. Let's take a look at this summary of the points discussed in this review
From the above, it is clear that this beer is a rich, classic American-style beer to have.
Wild Range Brewing IPA is a manly, hoppy, and pleasantly sour brew that has a great taste.
It is difficult to miss its citrus, pine, honey, and malty aromas, all of which make a nice blend for such a hoppy beer.
The beer is best enjoyed with spicy food and burgers, and you could even add blue cheese to enhance the taste of your beer.
Now that you've seen our detailed review, rush down to your nearest ALDI or liquor store to have a taste of this true American-style IPA.