Amstel Bright Beer Review: Exploring This European Pale Lager
Amstel Bright beer is a European pale lager from the Netherlands. It's a light beer you'll love, especially if you don't like the characteristic bitterness of beers.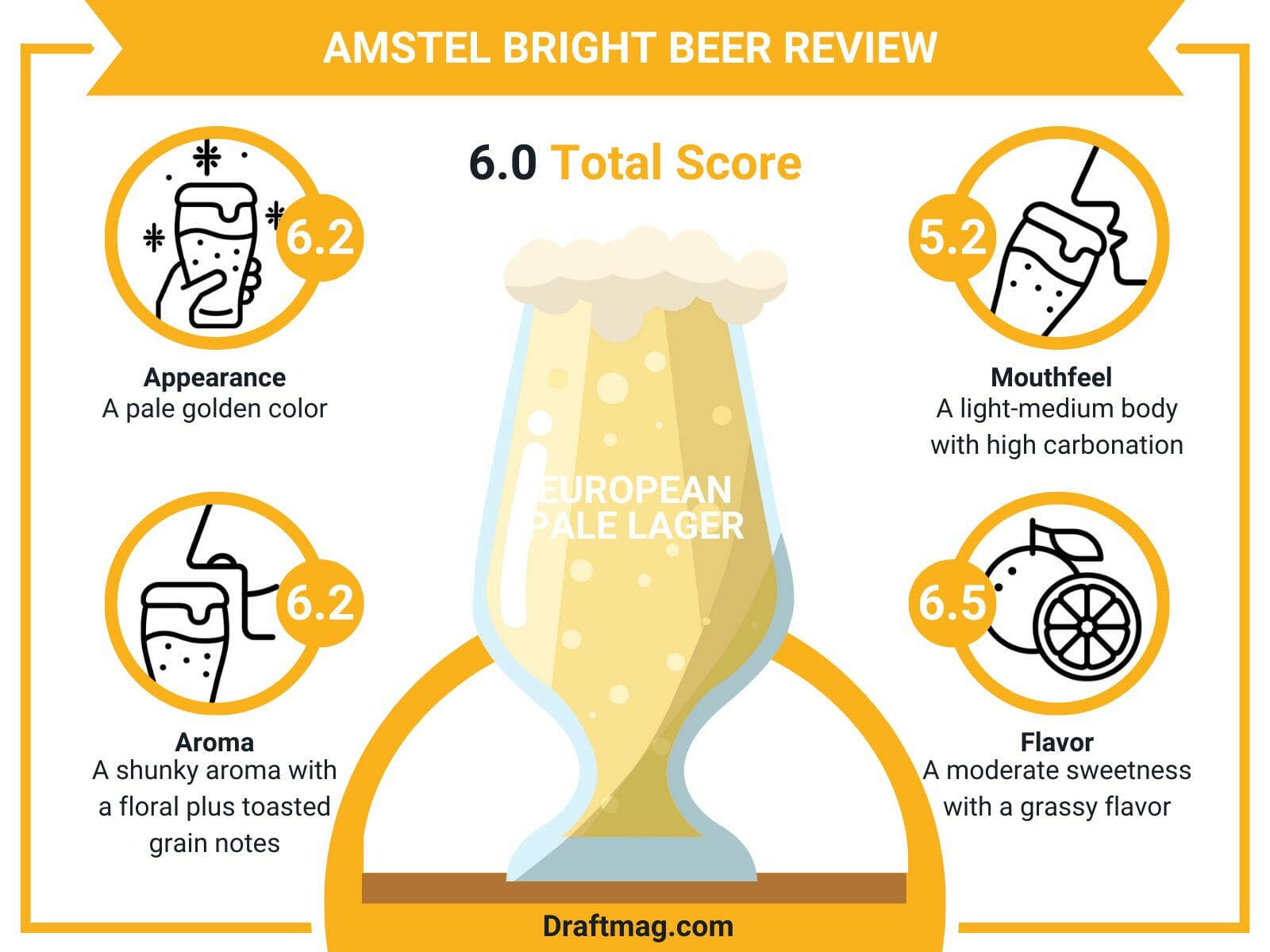 To help you know what to expect, this complete review will reveal the beer's appearance, mouthfeel, ingredients, aroma, and flavor. Read this review to the end, as we'll also share a brief history and possible food pairings for this brew.
Amstel Bright Beer Stats
| | |
| --- | --- |
| Country | Netherlands |
| Brand | Amstel Brewery |
| Style | European Pale Lager |
| Taste | Moderate sweetness with a metallic aftertaste |
| Body | Light-medium |
| ABV | 5 percent |
| Flavors & Aromas | Skunky, grassy, toasted grain, and bready notes |
| Serving Temperature | 40–45 degrees Fahrenheit |
Tasting Notes
Amstel Bright Tasting Profile
Amstel Bright Beer Review
The European pale lager style was introduced due to consumers' desire for light and refreshing beers that are easy on the palate. Let's find out what Amstel Bright has to offer.
– Appearance
Looking at the bottle, you'll know it's a transparent beer with a pale golden color like its sister Amstel light. Then pouring into a beer glass, you get a lot of carbonation bubbles coming up to meet the half-finger thick white head. The head clears rapidly, leaving a few lacing.
– Aroma
Amstel Bright beer approaches the nose with a skunky aroma that lingers, which is why the beer is commonly served with a lemon wedge on the bottle's neck. Also, you get floral plus toasted grain notes on the back end.
– Mouthfeel
The beer has high carbonation with a light-medium body.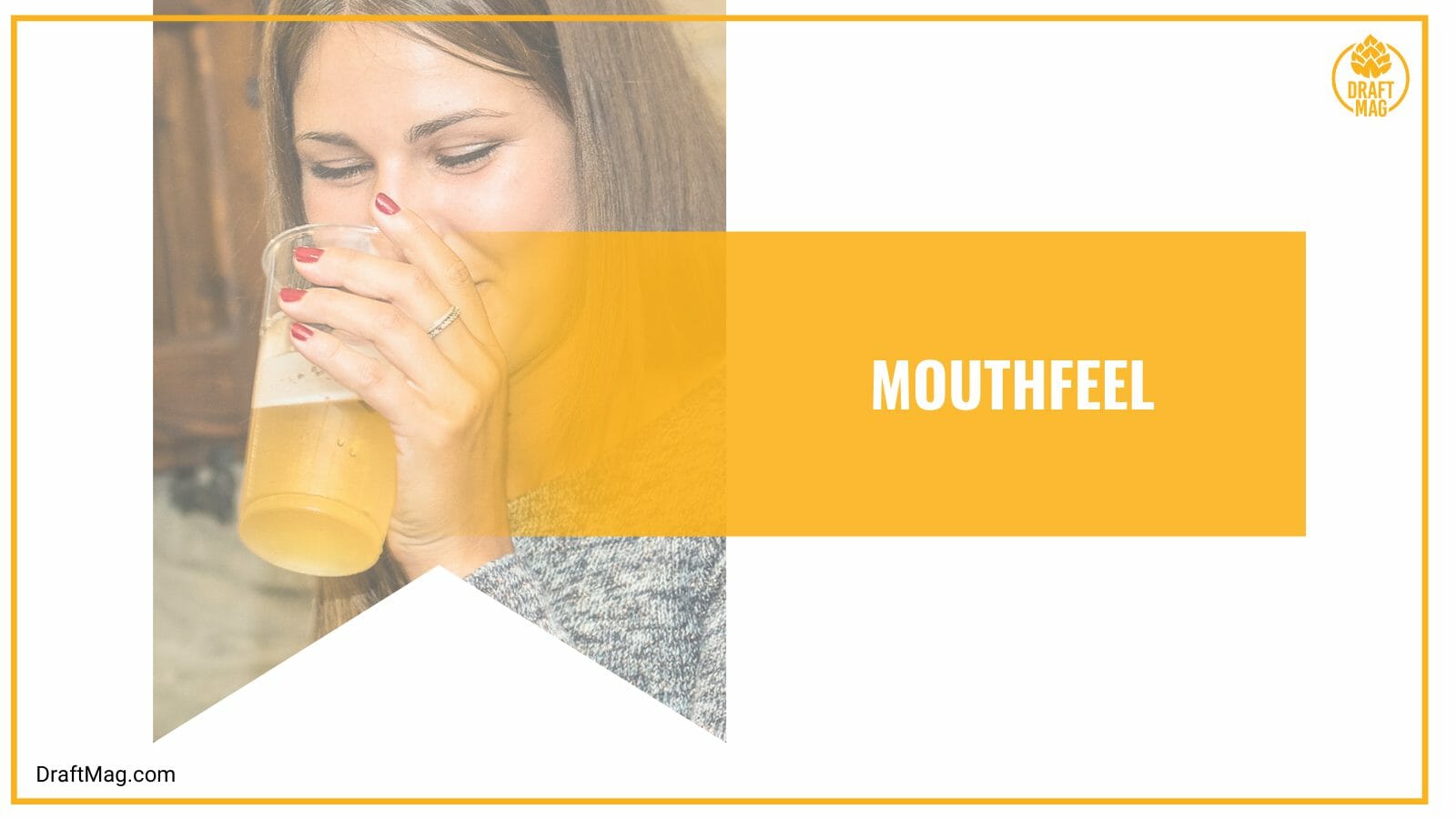 Also, it is smooth and watery on the palate, with carbonation bubbles tingling the tongue. It's easy to drink and finishes dry.
– Flavor
Amstel Bright has a moderate sweetness with a grassy flavor from the grains and bready notes. Following this is a slight astringency that lingers, leaving a persistent metallic aftertaste.
Pale lagers are pale golden beers of low intensity with limited use of noble hops. They typically incorporate barley malts and are bottom-fermented with lager yeast. A typical European pale lager has about 4.5 to 6 percent alcohol by volume with mild bitterness, and the Amstel Bright beer sits right in the middle with 5 percent ABV
– Food Pairings
Now that you have an idea of what Amstel Bright tastes like, let's see the kind of food that pairs well with it. The beer's characteristics make it ideal to accompany simple meals that are neither very intense nor very complex. For example, it goes well with vegetarian salads and rice. Also, it goes well with slightly processed dishes like pasta, cheese, and noodles, and the same with lightly grilled, lightly seasoned turkey breasts.
Regarding cheese, consider brie, cottage, feta, Boursin, Roquefort, camembert, buffalo mozzarella, and goat cheese. Light seafood like oysters, sardines, salmon, albacore tuna, and rainbow trout can also join the table.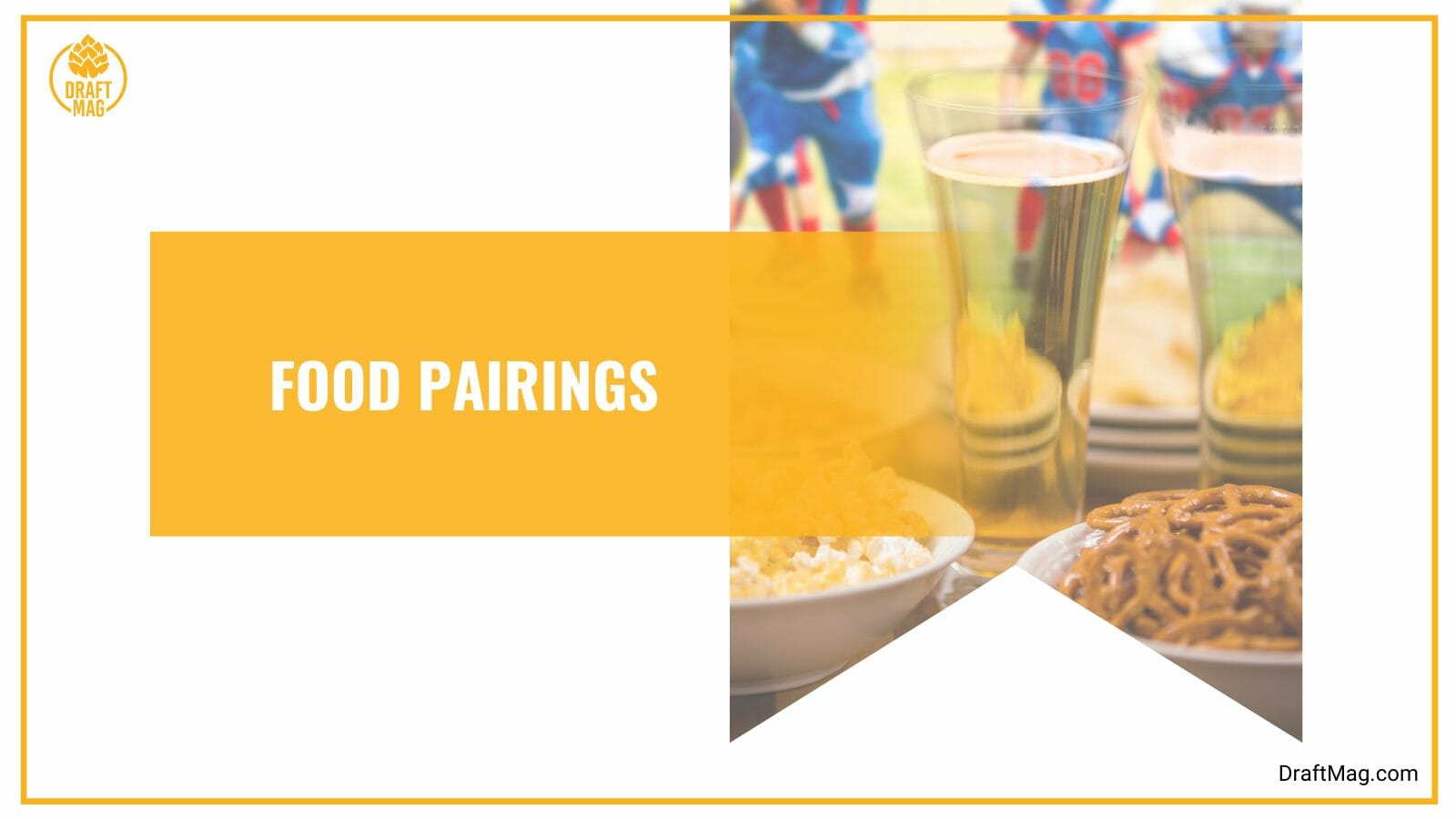 The beer does not have a wide range of flavors due to the simple ingredients, so it can travel with spicy dishes. You can try Spicy Meatball, crispy chili beef, tuna rolls, pepperoni pizza, and Indian, Thai, and Mexican dishes.
In addition, the beer's dry finish helps cleanse the palate in snacks and sausages, so consider tapas, crackers, chocolate cookies, and cheesecake. It also goes well with dishes with a grain flavor like risotto, chickpea, freekeh salad, toasty orange muffin, and chocolate blueberry cake. Other possible foods include french fries, hot dogs, buffalo wings, and burgers.
Ingredients
Amstel Bright ingredients are not disclosed to consumers, but is likely to contain basic beer ingredients like:
Malted barley
Hops
Sugar
Water
Yeast
Nutrition Facts
The 27.5 cl bottle of Amstel Bright contains about 102 calories, 7 grams of carbohydrates, and 1.2 grams of proteins. This data shows that beer can fit into a keto diet plan like its sister brew, Amstel Light. But comparing Amstel Light vs Amstel Bright, the former has lower carb and calorie content of about 5 grams and 95, respectively.
Also, Amstel Bright is a light chill beer with a 5 percent alcohol content, so you can drink multiple bottles without getting filled or drunk. Be careful not to exceed your alcohol limit in order to avoid any untoward incidents.
History
Amstel Bright beer is a product of Amstel Brewing company, a subsidiary of Heineken International. The beer was initially brewed in 1999 in Curacao solely for the Caribbean market and was loved by many.
Later in 2005, Amstel Bright lost control of the beer market due to the strength of the Venezuelan Polar beer and the introduction of Balashi beer. Because of this, Amstel brewery liquidated in 2006, and in 2010, the Curacao facility was demolished.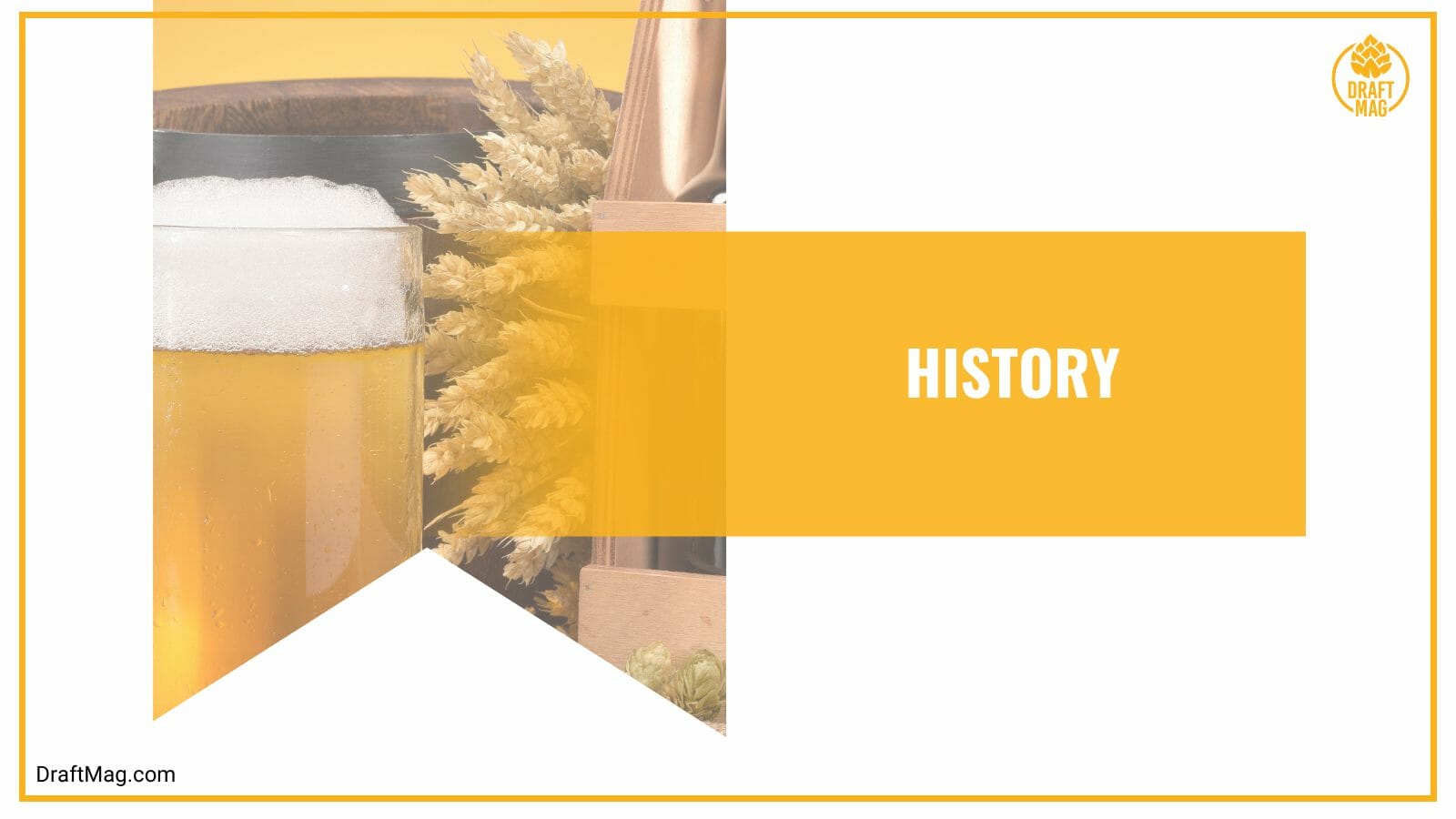 Afterward, Heineken International acquired the company and transferred operations to the Netherlands. Despite that, Amstel Bright still maintains its tasting notes. The beer was available in 27.5cl bottles and 24-packs, then exported to Caribbean islands like Curacao and Aruba. Later, in 2020, Heineken resorted to stopping Amstel Bright retail sales.
Other Heineken offerings under the Amstel brand include Amstel light, a pale lager with two ABV variants, 3.5 percent in the USA and 2.5% in New Zealand. Also, there is Amstel Radler, a 2 percent ABV shandy that is a blend of lemonade and lager beer.
In addition, there is Amstel Zero, a non-alcoholic beer offered in Greece, and the Netherlands, among others. Another famous brand is Amstel Bier, available at 4.1 percent ABV in the UK and 4.0 percent in the Mexican markets.
Conclusion
If you have read this review to this point, you should now be familiar with Amstel Bright beer. This light and thirst-quenching beer is perfect for cooling off after a busy day, so here are some of the vital points to remember:
Amstel Bright beer is a European pale lager with a 5 percent ABV.
The beer is skunky on the nose and has a light-medium body with high carbonation.
The beer appears light golden with about a half-finger thick white head that clears quickly.
The beer goes well with delicate foods like salad, pasta, noodles, lightly grilled chicken, etc.
This beer is best served chilled for a pleasant experience, so store it between 40 to 45 degrees Fahrenheit before serving. You can get the beer from beer stores across the country, as well as order it online.