Sam Adams Wicked Easy Review: Try Out This Easy Drinking Fruity Ale 
There's nothing like an easy-to-drink ale like the Sam Adams Wicked Easy. The American ale gives you a drinkable, light beer bursting with delicious tropical fruits and hops.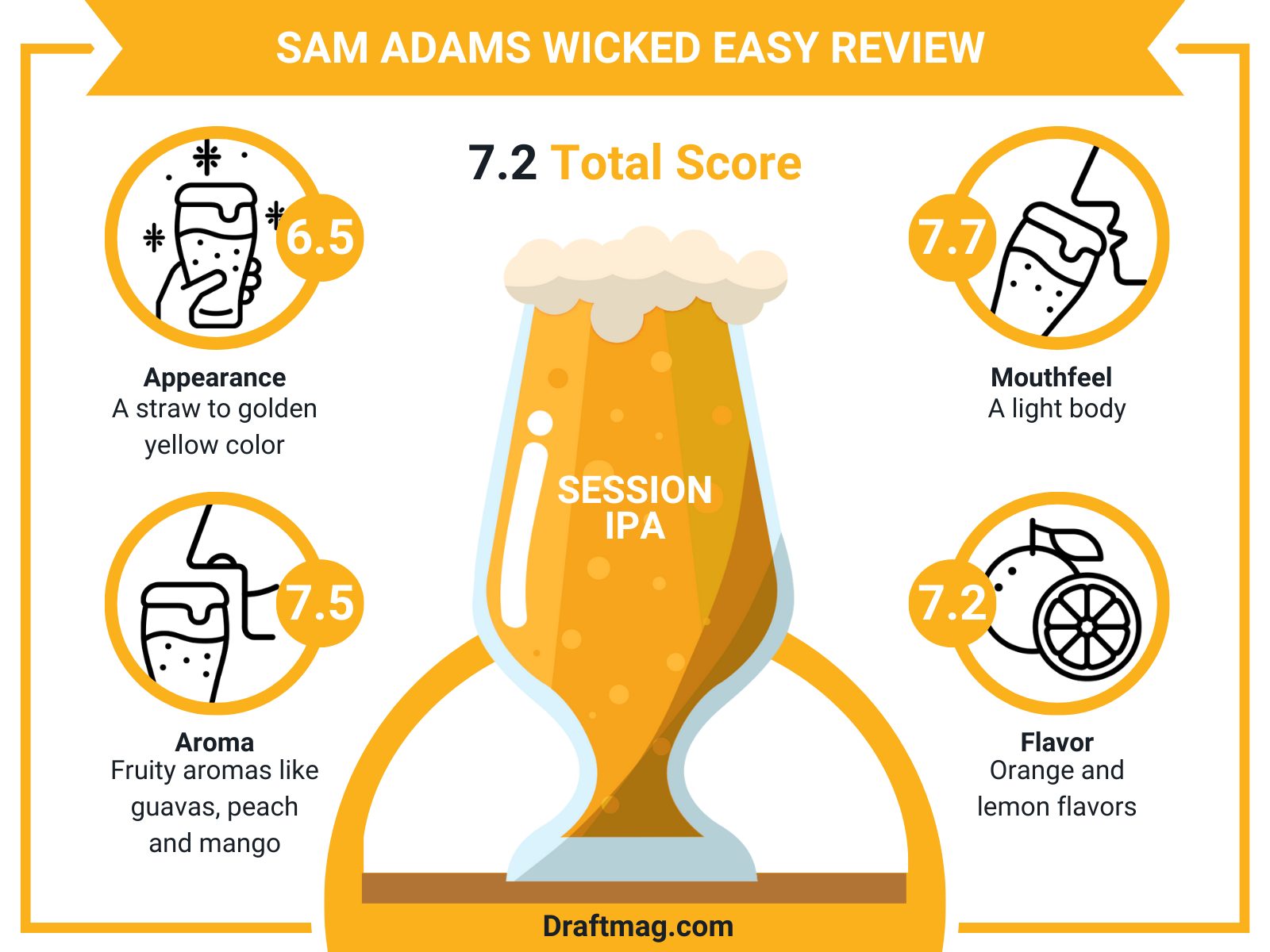 You can enjoy the Wicked Easy beer any time as it's super drinkable and goes down easy, like the name. This review will take an in-depth look into this light ale, including how it tastes and what you can eat it with.
Sam Adams Wicked Easy Stats
| | |
| --- | --- |
| Country  | United States |
| Brand | Samuel Adams (Boston Beer Company) |
| Style | Session IPA |
| Taste  | Fruity, earthy |
| Body | Light body |
| ABV | 4.7 percent |
| Flavors & Aromas | Fruity, citrus, hops, earthy |
| Serving Temperature | 35-40 degrees Fahrenheit |
Tasting Notes
Sam Adams Wicked Easy Tasting Profile
Sam Adams Wicked Easy Review
Wicked Easy is an American light ale made by Samuel Adams, offering a hazy appearance, flavors, and aromas of mango, guava, peach, and earthy hops. The beer is as advertised, giving you a highly drinkable beer that cleanses your palate and goes down pretty easily.
The beer is brewed with a delightful combination of hops, as all the ingredients work well together to give you a delicious, everyday beer. Regardless of the season, it's the ideal refreshing beer that appeals to any beer lover.
If you have the Wicked Easy ale, you should pour it into a pint glass, which has a narrow bottom but becomes wider towards the top. This allows it to have a foamy head without any limitations and will enhance the beer's aroma. It would be best to serve the IPA when it's cold, from 38 to 40 degrees Fahrenheit.
Wicked Easy can be garnished with citrus slices like orange or lemon to increase the citrus aroma and enhance its flavor. The beer is refreshing and crushable, whether sipping it slowly or downing it quickly. Wicked Easy can be your go-to when you need a flavorful light beer.
– Appearance
The Wicked Easy beer pours a straw to golden yellow color and has a big, foamy, and persistent white head. It has a dull color that contrasts its bright flavor and aroma. The head has decent retention and will keep the scent strong, leaving slight lacing against the inside of your glass.
As the head shrinks, it leaves behind a faint, white ring on top of your beer. It pours a hazy or cloudy appearance which you can notice through the transparent glass. You might also notice slight bubbles from the carbonation.
– Aroma
When you take the Wicked Easy beer to your nose, you first perceive the fruity aromas like guava, peach, and mango from the hop schedule. The fruit-forward ale offers persistent and mild aromas of fruits, grassy herbal hops, citrus-like oranges, and lemon.
You might also notice a slight grain scent intertwined with the fruity and citrus aroma, giving you the smell of a classic IPA. The beer smells sweet and sour, with a good balance of intertwined aromas that invite you into drinking the beer.
– Mouthfeel
On the palate, the Wicked Easy has a light body with some effervescence from the carbonation. The carbonation gives you a fizzy and tingly feeling at the back of your tongue, enhancing the experience. It has a smooth, soft, drinkable mouthfeel that goes down easily, making it ideal for anyone who enjoys beer.
The beer has a juicy finish that might feel watery against your palate. It barely has any aftertaste, except a bland ale taste that will fade away quickly. Wicked Easy has a poppy mouthfeel at the start, and this tapers down towards the end.
– Flavor
The Wicked Easy flavor follows the aroma, especially the hop profile. You will first notice the taste of grassy herbal hops and citrus, with a light malty backbone that combines all the flavors. As a fruity ale, you can distinguish guava, mango, and peach flavors, along with the orange and lemon flavors of citrus.
There is a nice balance between the citrus and hops of the Wicked Easy ale, with an earthy taste and a dry finish. The flavor is more subtle than the aroma, especially since it's a light beer, and some might find this bland.
You might also taste hints of pepper or spice with the citrus hops. The beer is not sweet and will finish dry and smooth on your palate. Wicked Easy has a lively flavor at the start, but it quickly transforms into a typical ale taste and clean finish.
The Wicked Easy beer has a zesty and earthy flavor, with a slight, almost unnoticeable amount of nuts in the taste. It appears a bit dry and piney towards the end too. It is a pretty interesting beer for an ale, with a few surprises as you drink it.
– Food Pairings
If you decide to have the Wicked Easy ale, you need fitting food to pair with it. You can't go wrong with fried food and meat, as the American ale gives you a clean and crisp taste that can cut through the fatty nature of fried foods. These include fried meats, chicken, fish, and pork.
You can also pair the Wicked Easy beer with your everyday pub food including burgers and fries, pizzas, tacos, and sandwiches. The beer goes well with grilled, smoked, and salty foods. Health-conscious persons can also have this beer with salads, especially a classic Caesar salad.
If you enjoy eating cheeses, you should have the Wicked Easy beer with tangy or lighter cheeses. Some good examples include mild cheddar, gouda, and mozzarella cheeses that will balance out the malty flavor of this beer.
You can also satisfy your sweet tooth while having the Wicked Easy beer. The beer goes well with chocolate-based desserts, as the chocolatey flavors go well with the roasted malts taste of the beer. You can also try out citrus-flavored desserts like a citrus cake or lemon cupcake, which go well with the hoppy, fruity flavor of the beer.
Ingredients
The Wicked Easy IPA is a session IPA brewed with the standard ingredients, water, hops, yeast, and malts. The malt list consists of the Sam Adams two-row pale malt blend and white wheat malts, which give you a malty backbone as you drink the beer.
Cascade, Mosaic, Citra, and Simcoe are the hops used to brew this beer. This gives you delicious fruity and citrus flavors, including peach, guava, and mango. There are also some hoppy herbal flavors that you might notice, with some earthy notes.
The beer is brewed with Sam Adams lager and ale yeast, which gives it its classic ale flavor and style. The ingredients combine to provide a light and hazy session IPA. If you're allergic to wheat, you should also avoid drinking this beer because it is brewed with white wheat malts.
Nutrition Facts
The Samuel Adams Wicked Easy IPA features a 4.7 percent ABV, a low level expected from a standard India Pale Ale. The beer does not have a strong boozy aroma or flavor due to the low ABV, which makes it more crushable and drinkable whether you're mowing the lawn or hanging out with friends.
The beer also has 12 IBUs, which are more fruity than bitter. There are barely any flavors of bitterness in the beer, but tropical fruits and citrus dominate it. Wicked Easy has 126 calories every 12 ounces, which is a decent level. The average calorie level is ideal for health-conscious drinkers.
It also has 7.4 grams of carbohydrates and 1.2 grams of protein, with 0 grams of fat in every 12-ounce serving. The beer is not ideal for those on a keto diet because it is a high carb alcoholic drink, or you can limit your intake to one drink per day. It is also not gluten-free.
History
Wicked Easy IPA is a sessionable beer from Samuel Adams. It was originally called Sam '76, but when the brand created the Wicked Sub-Brand in 2021, it changed to Wicked Easy. Another beer part of this series is the NEIPA, which was branded Wicked Hazy.
The original beer was released in 2017 and called Sam '76 because the brewers experimented with lager and ale yeast strains, besides being called a session IPA. It is also a year-round beer from Sam Adams.
Sam Adams is the flagship brand of the Boston Beer Company and is named in honor of Samuel Adams, a founding father of the United States who is believed to have been a brewer by some historians.
Conclusion
The Wicked Easy India Pale Ale is a refreshing and drinkable beer that is perfect for all occasions, offering drinkers some pleasant, fruity surprises along the way. Here is a summary of what we reviewed in this guide:
Wicked Easy is a 4.7 percent ABV session IPA from Sam Adams.
The beer has flavors and aromas of tropical fruits, citrus, herbal hops, and earthy notes.
It is brewed with water, malts, hops, ale, and lager yeasts.
The beer is best served in a pint glass when it's cold and tastes great on a refreshing day.
It would be best to have the IPA with fried and meaty foods, citrus-flavored desserts, pub food, tangy cheeses, and salads.
If you want to try out the Wicked Easy IPA, it's available year-round at liquor stores, online shops, bars, and restaurants.