Stoneface IPA Review: What This Unique Brew Brings to the Table
Stoneface IPA, a hop-forward IPA from Stoneface Brewing Company, is one of the most requested IPAs from the brewing company. Known for its unfiltered taste marked by assertive flavors, aromas, and a distinctive bitterness, it's little wonder why it is loved by many.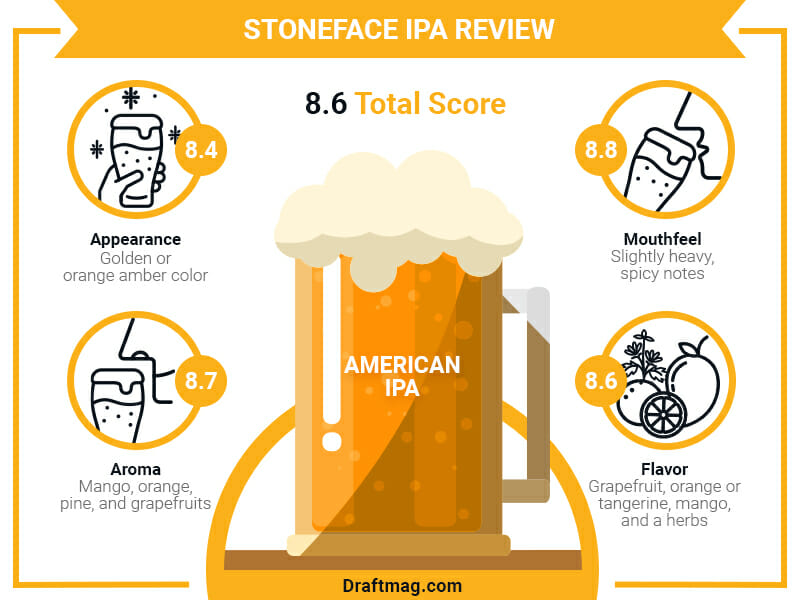 If you've not tasted Stoneface IPA yet, it's safe to say you're missing out on this canned hoppy goodness. Here's a detailed review compiled by our beer experts to help you with the necessary information about this IPA.
Stoneface IPA Stats
| | |
| --- | --- |
| Country | United States (New Hampshire) |
| Brand | Stoneface Brewing Co |
| Style | American-style IPA |
| Taste | It has a fruity taste with a balanced malt profile, pine, and caramel sweetness that subtly masks its bitterness |
| Body | Hazy golden or orange amber color with an off-white foam head |
| ABV | 7.2 percent |
| Flavors and aromas | Its flavors give off citrus notes like mango and orange peel, alongside a mild hoppiness. When perceived, you'll get fruity notes alongside grassy or piney notes and malts. |
| Serving temperature | 45 – 50 degrees Fahrenheit |
Tasting Notes
Stoneface IPA Tasting Profile
Stoneface IPA Review
Our beer reviewers spent some time with this beer to give you an idea of what to expect. They've covered the key points below.
– Appearance
Stoneface IPA pours a hazy, almost translucent golden or orange amber color that is visually appealing. When poured, you immediately get a frosty off-white foam head that isn't quite thick.
Although thin, this foam head lasts for quite a long time with a generous amount of lacing visible on the pint glass. You can also note a nice amount of bubbles in the glass, although it isn't too fizzy.
– Aroma
It's easy to be slightly deceived by the aroma of the Stoneface IPA. This IPA packs a whopping 7.2 percent alcohol by volume but is characterized by fruity scents. The scents encompass mango, orange, pine, and grapefruits. You also perceive bits of caramel malts, which all make for a unique blend.
Perhaps one of the biggest reasons why many people like the Stoneface IPA is the inviting aroma that makes it an interesting beer to try out.
– Mouthfeel
Stoneface IPA has a mouthfeel that is slightly heavy. While this is a smooth beer, you can still feel the taste in your mouth, partly due to its bitterness and assertive flavors. Fortunately, this IPA isn't too creamy, although you get a mouthfeel of spicy notes. You also get a caramelized sweetness that carefully masks the intensity of its hops.
Stoneface IPA is light-bodied, and it has balanced carbonation. It leaves a slightly dry finish on the palate.
– Flavor
If you're a fan of assertive flavors in a beer, then we totally recommend that you try out this IPA. It has an interesting blend of flavors that first give off the impression that you're having a fruit shandy.
It features a variety of fruity flavors, including grapefruit, orange or tangerine, mango, and a herbal flavor close to pine. You can also perceive a subtle maltiness; of course, the hops are quite pronounced as well.
Food Pairings
Most beer lovers and experts agree that the best meals to pair an Indian Pale Ale with are spicy meals. This is because these spicy meals balance out the strong flavors of the Indian pale ale. You can enjoy your cold glass or can of this IPA with a nice plate of Indian curries or Mexican delicacies like tacos, cilantro, roasted chilies, and so on.
This beer also goes well with salted nuts, burgers with sauces, French fries, and sausages. For a more sophisticated taste, you can pair your dry hopped Stoneface IPA with steak.
Ingredients
Stoneface IPA is made with a lot of hops and citrus notes. The ingredients used include water, barley, malts, wheat, caramel malts, Citra hops, Simcoe, Amarillo, and Columbus hops as well as citrus notes like grapefruit, orange, mango, and pine peels.
Nutrition Facts
A can of Stoneface IPA has 49 calories, zero grams of fat, and zero grams of protein.
Stoneface IPA cannot be described as a triple IPA because it has lower than 10 percent ABV. Stoneface IPA has a 7.2 percent ABV, so it falls under the Double IPA category.
History
Stoneface IPA is a product of Peter Beauregard and Erol Moe, founders of Stoneface Brewing Company located in New Hampshire. Back in 2013, Beauregard had been practicing an IPA homebrew recipe that would later win an IPA category in the Boston Homebrew Competition.
This recipe was also the recipe for the company's IPAs. Beauregard partnered with Erol Moe, and they both quit their high-paying tech jobs. The brewing company officially started to sell its IPAs to the public in January 2014.
Aside from the Stoneface IPA, there are also various Stoneface beer products you can try out. These are Stoneface Rolling Blackouts, Stoneface Googly IIIPA, Stoneface DDH IPA and DDH Full Clip, and Stoneface Pull Start (Blonde Ale). Others include Stoneface Brewing Company's RIS Russian Imperial Stout and Pink Duct Tape.
– Stoneface Brewing Company
You can purchase the Stoneface IPA from any bar or liquor store around you. You can also visit the Stoneface Brewing Company at their New Hampshire address to have a taste of this IPA. The brewing company has a tasting room that opens Wednesday to Sunday from 11 am – 8:30 pm.
The company is also generous enough to include a search guide on their website to help you locate where you can purchase Stoneface IPA around you. All you have to do is type in the name of the product, the business type within at least 10 miles of your location, and your state's zip code.
Conclusion
Without a doubt, Stoneface IPA can be described as every beer lover's hoppy treat. Below is a summary of the points discussed in this review.
Stoneface IPA is an unfiltered beer with enticing citrus notes and hops character.
It is produced by Stoneface Brewing Company, located in the New Hampshire area of the United States.
The IPA has a nice taste that uniquely balances its citrus flavors and hops characters without each subduing the other.
There are a variety of other Stoneface beers you can try out, and you can get them at any bar, liquor store, or at the Stoneface Brewing Company.
Stoneface IPA is perhaps one of the darlings of the craft beer industry. With a unique aroma and flavors that are inviting, we recommend you try this beer right away!