Stacys Mom Beer Review: A Delicious Overload of Citra Hops
Stacys Mom beer is an all Citra hopped classic American India Pale Ale, dry-hopped exclusively with Citra hops making it the perfectly citrusy and juicy summer beer. This beer is extremely soft on the palate as opposed to other classic IPAs making it lay closer to a Session IPA or Pale Ale.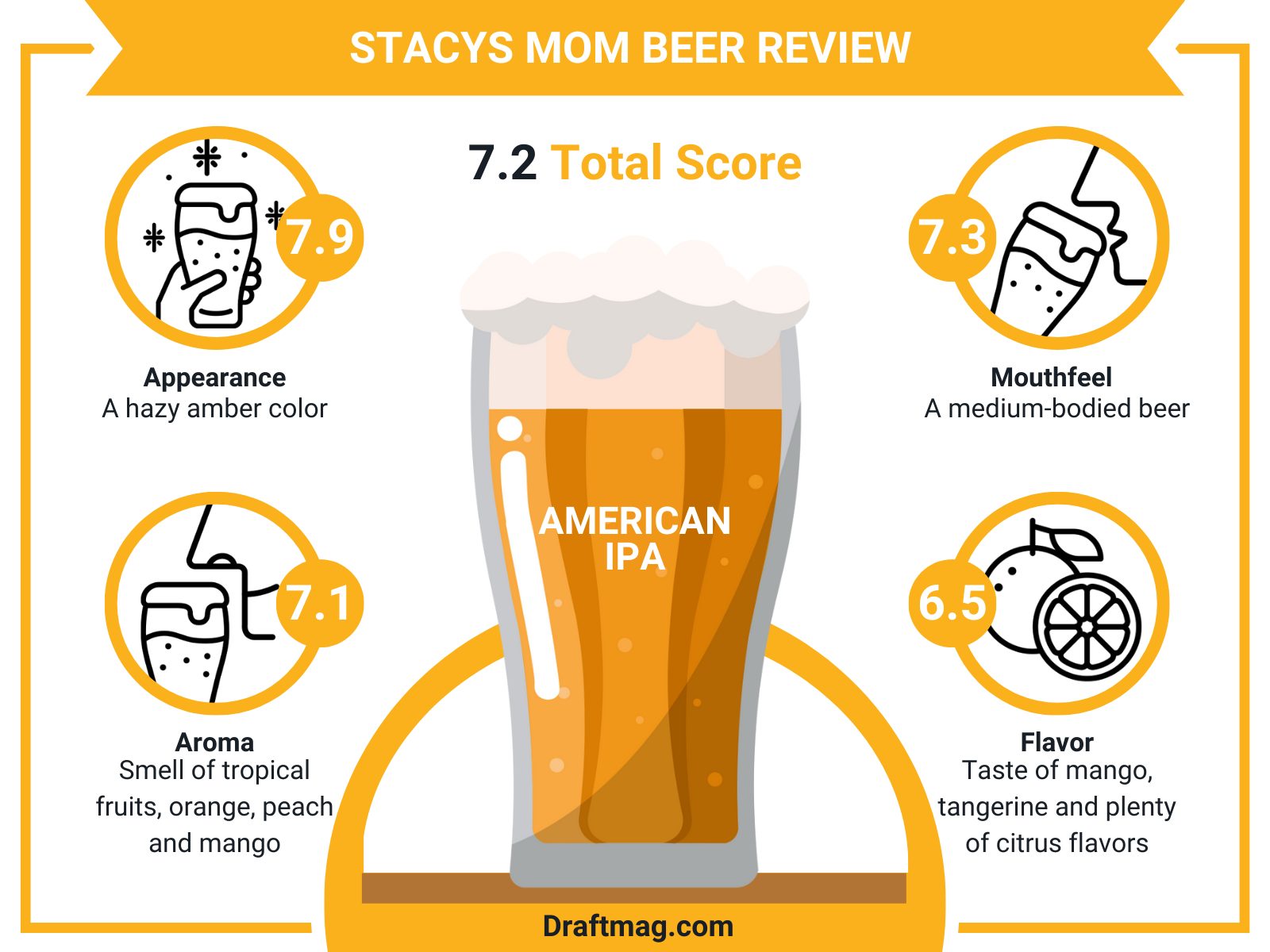 Read this review about Stacy's Mom All Citra IPA and know everything there is to this delicious beer.
Stacys Mom Beer Stats
| | |
| --- | --- |
| Country | Pennsylvania, United States of America |
| Brand | Evil Genius Brewing Company |
| Style | American IPA |
| Taste | Malty, white peppercorn, earthy hops, grapefruit, tangerine |
| Body | Medium body, fairly smooth |
| ABV | 7.5 percent |
| Flavors & Aromas | Citrus, bread, cracker dough, juicy hops, citrusy, tangerine, mango |
| Serving Temperature | 40 to 45 degrees Fahrenheit |
Tasting Notes
Stacys Mom Beer Tasting Profile
Stacys Mom Beer Review
The beer is termed as an IPA, but some of its characteristics are closer to a Session IPA or a Pale Ale. This beer is lighter than other IPAs with a much lower bitterness index. With 85 IBUs and a 7.5 percent ABV, here is everything you need to know about this stunning yet unique IPA brew. Dive in.
– Appearance
The beer pours a hazy amber color, almost in the family of deep gold. The beer has a frothy cream-colored two-finger high head with moderate head retention. Some would call the color of the beer to resemble a darker Blonde Ale.
The light yellowish head is about one inch tall and tightly beaded. The beer is also extremely effervescent which helps keep the head intact for a longer time. As the head vanishes, it leaves a light lace around the glass as you drink it.
– Aroma
There is a rich blast of citrus flavors, as the name suggests. There are flavors of stone fruit with some mango bites on the back. There is additionally some grainy sweetness paired with some light spiciness. There are light aromas of caramel, orange, and light pine. The fruit-forward hops showcase slight melon sweetness too at the back.
The Citra hops provide an explosion of tropical fruits, orange, peach, lemon peel, and mango complimented with a toasty malt base. Overall, the beer has fruity, citrusy, earthy, and piney flavors and is very light and pleasant on the nose. Nothing bitter or strong, like some other IPAs.
– Mouthfeel
The beer is medium-bodied and lined with slightly harsh bitterness. The bitterness balances out the malty sweetness and adds some edge to the beer. There is persistent carbonation with a tart-like and dry finish. There is a light touch of sour bitterness at the back of the mouth. There is some faint alcohol warmth present in the aftertaste.
– Flavor
The taste of this IPA is slightly on the sweeter side. On the palate, it has a finish of cracker dough with a fair share of juicy hops. There is an evident taste of mango, little pithy, tangerine, and plenty of citrus flavors. It is not extremely creamy and has a well-balanced crispness with the use of flaked malts.
The beer is also slightly bitter on the palate as the Citra hops bring in citrusy bitterness to the recipe. The bitterness also lingers on the aftertaste with some strong peppery flavor.
– Food Pairings
This beer goes best with spicy dishes and salty flavors. Fried food, spicy barbeque chicken, Indian food and curries, tangy Mexican food, burgers, and stakes are some of the many food pairing options for the Beer. Furthermore, the beer is lightly sweet to taste which is a good thing as it would bring out all the rich flavors of the spices used in making Indian and Mexican food in particular.
Ingredients
The beer is made of rich and high-quality ingredients to bring out the best flavors in the end product. In addition, the brewers have used classic 2-Row Crystal malts Citra hops in excess to bring out the right balance between bitterness and bready-maltiness.
Nutrition Facts
Stacy's Mom Beer calories are about 222, and this beer goes all the way into being enjoyable with a little guilt. So if you are someone watching your calories, you may just want to share one of these. This high-carb alcoholic beverage will sway you with its complex flavors. The reason why this beer is caloric is that the ABV level is 7.5 percent, and not only that, but it has 14.5g of carbs in a serving of 12 ounces.
History
College friends and passionate beer lovers Luke Browen and Trevor Hayward started the Evil Genius Beer Company in 2010 with the help of a few friends and family and under the guidance of brewer Mark Braunwarth. The idea behind the Evil Genius Beer Company was to create delicious craft beer with a strong brand and innovative marketing tactics.
After moving between different locations, they finally found a home in Pennsylvania. The Evil Genius Brewery has a historical and industrial feel to it. Besides Stacy's Mom IPA, some other Evil Genius beer names are Purple Monkey Dishwasher Beer which is a chocolate Peanutbutter Porter, Evil Genius Hazy Mango IPA is light, refreshing, and easy to drink, and Adulting beer which is a fruity guava IPA.
Now, you can even buy this easily available across the United States. Almost all online alcohol delivery portals also deliver this beer like Total wine, Drizly, and many more.
Conclusion
One sip of this delicious brew and you will be taken aback by the complexity of the flavors. Below are the key points that we have covered:
This beer has a medium to thick body with a rich malt base and an explosion of citrus flavors that creates the right balance and doesn't allow the beer to become too sticky.
Once the pour is complete, you will discover that there is plenty of orange citrus presence, especially in the aftertaste.
This beer is rather sweet, considering the IBU ratings of 85 units.
It pairs perfectly with flavored food, which are Mexican food, burgers, and even stakes.
Drink a couple more sips before you judge this beer and allow it to compliment your taste buds. From lemony, citrusy orange flavors to light earthy and piney notes, this beer will blow your mind with its level of complexity.
This beer is available year-round. So what are you waiting for? Grab one of these and discover a new beer yet again.