Bluepoint Hoptical Illusion Review: Well Balanced IPA
Bluepoint Hoptical Illusion is a full-bodied and vibrant India Pale Ale that is bursting with sweet notes of hops, citrus, and piney flavors. It is the ideal beer for any occasion, whether you want a fruity IPA for spicy foods or you want to enjoy the beer with friends.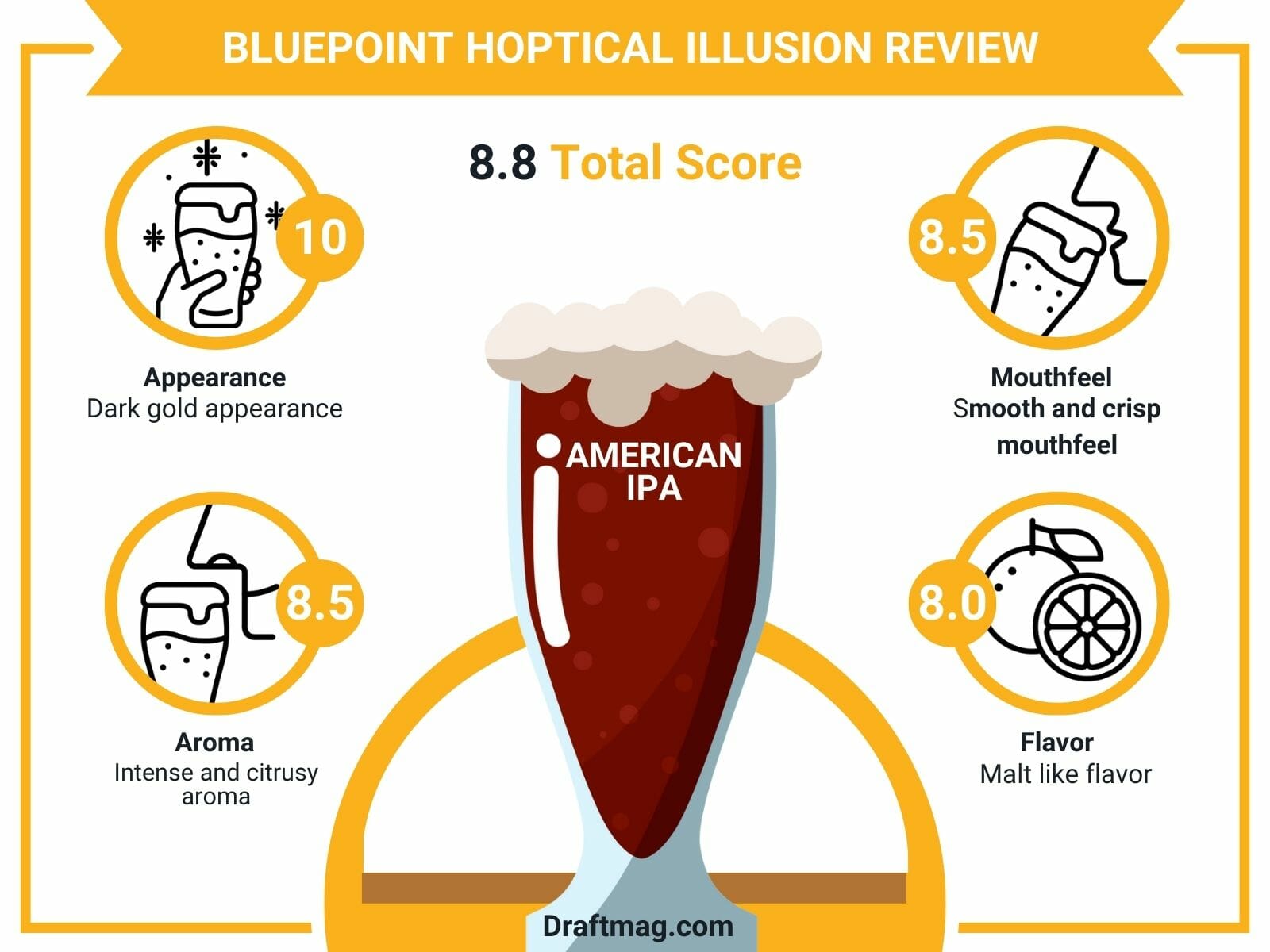 The IPA is a solid beer that is made with a selection of unique, hand-selected hops to give you a piney and dank East Coast IPA. In our review, we cover all you need to know about the IPA, from the tasting notes all the way to the food pairings. 
Bluepoint Hoptical Illusion Stats
| | |
| --- | --- |
| Country  | United States |
| Brand | Blue Point Brewing Company |
| Style | American IPA |
| Taste  | Citrus, hoppy |
| Body | Full body |
| ABV | 7 percent |
| Flavors & Aromas | Citrus, tropical fruits, pine, cookie dough, grapefruit, grassy |
| Serving Temperature | 45 – 50 degrees Fahrenheit |
Tasting Profile
Bluepoint Hoptical Illusion Tasting Profile
Bluepoint Hoptical Illusion Review 
Hoptical Illusion IPA is an American IPA made by Blue Point Brewing Company that offers a flavorful and balanced taste as you drink. The IPA features an alcohol content of 7 percent, and the pine resin lends to the body while there's more malt than you would expect from the IPA. 
The IPA features a golden orange appearance, and the body is full. The beer has aromas and flavors of citrus, pine, grapefruit, tropical fruits, grassy hops, and cookie dough. There's a decent level of IPA-expected bitterness, with no off-flavors as you drink.
Serve the IPA in a pint glass to get the most out of the bright color at temperatures from 45 to 50 degrees Fahrenheit. You can enjoy the beer in a snifter, chalice, or goblet too (you can also pick one of the 20 most famous beer glasses!). The beer tastes great when you garnish it with a juicy citrus slice like lemon or orange. 
– Appearance 
On the pour, the IPA features a dark gold appearance that looks great in your glass. There is mild carbonation, so you get sparse bubbles floating around the glass. It is a clear beer too, making it easy for you to see the bubbles.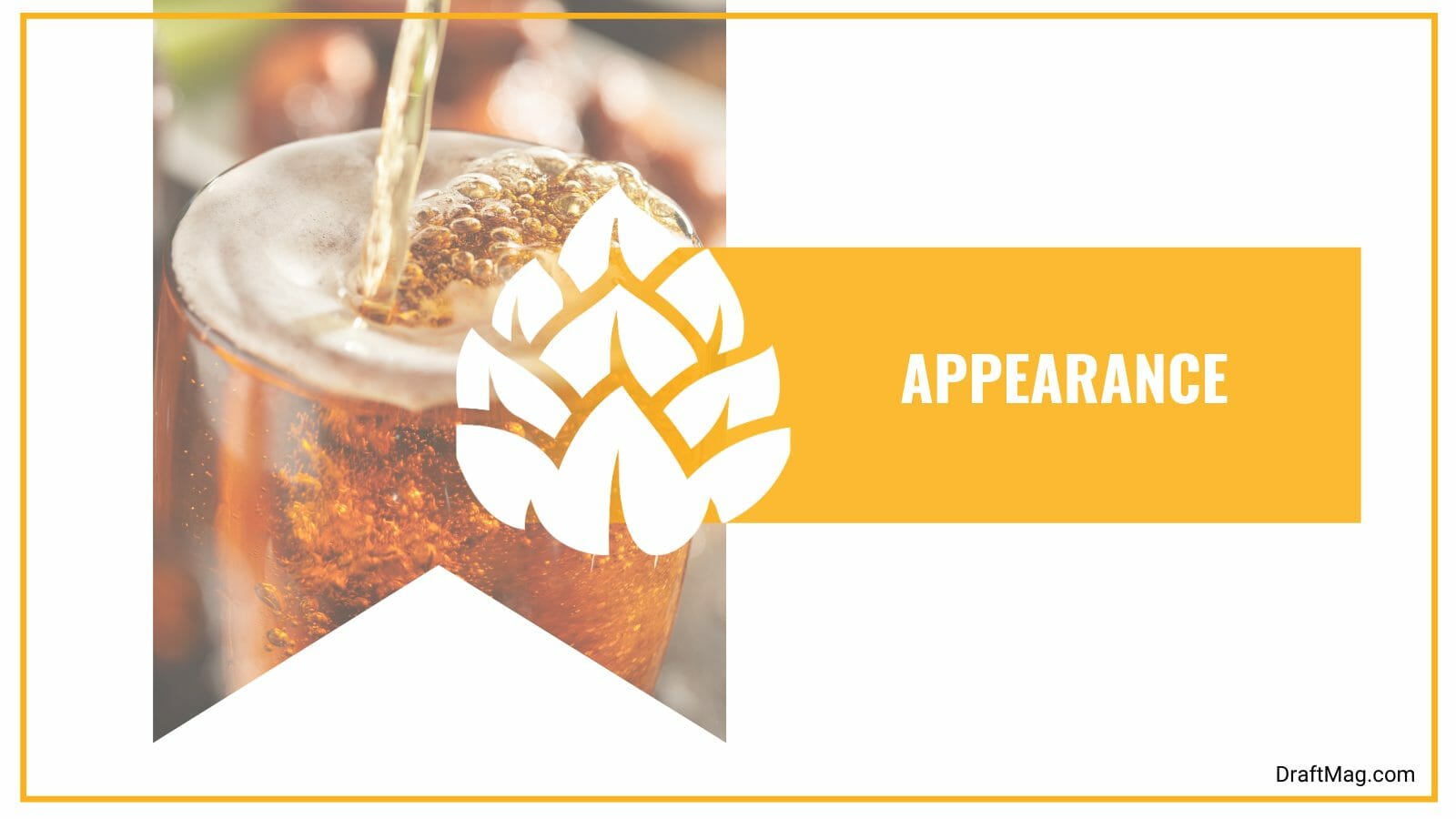 If you make a vigorous pour into your glass, you get a massive four-finger head that will last for a long time. The thick foam head offers good retention and sticky lacing. 
– Aroma 
Bring the craft beer to your nose to enjoy an intense and citrusy aroma. The beer will hit your nose with the strong aroma of piney hops, and you will also get sweet tropical fruits. The slight citrusy smell is in the backbone. 
In the undertones of the aroma, the IPA will give you some pine grapefruit and grassy earth hops. There's a bit of sweet caramel in the aroma too, which gives you a toasted background.
– Mouthfeel 
The mouthfeel of the IPA is full and deep, giving you a thick and sticky feel against your tongue when you swallow. This gives you a smooth and crisp mouthfeel with a thick body that slides down your throat.
The grapefruit and hops give you a dry mouthfeel towards the end, making the beer crisp and light. There is a bitter aftertaste, and all the notes are well-balanced against your palate. 
– Flavor 
The taste of the IPA is more flavorful than its aroma, and most of it emerges in the mid-palate and at the end. The first thing that you taste is the malt-like flavor that reminds you of sweet cookie dough and some fruity hops, which give you a bit of bitterness. Towards the middle, the flavor moves towards pine resin and grapefruit notes. The combination of this beer's malt types gives this unique taste and color.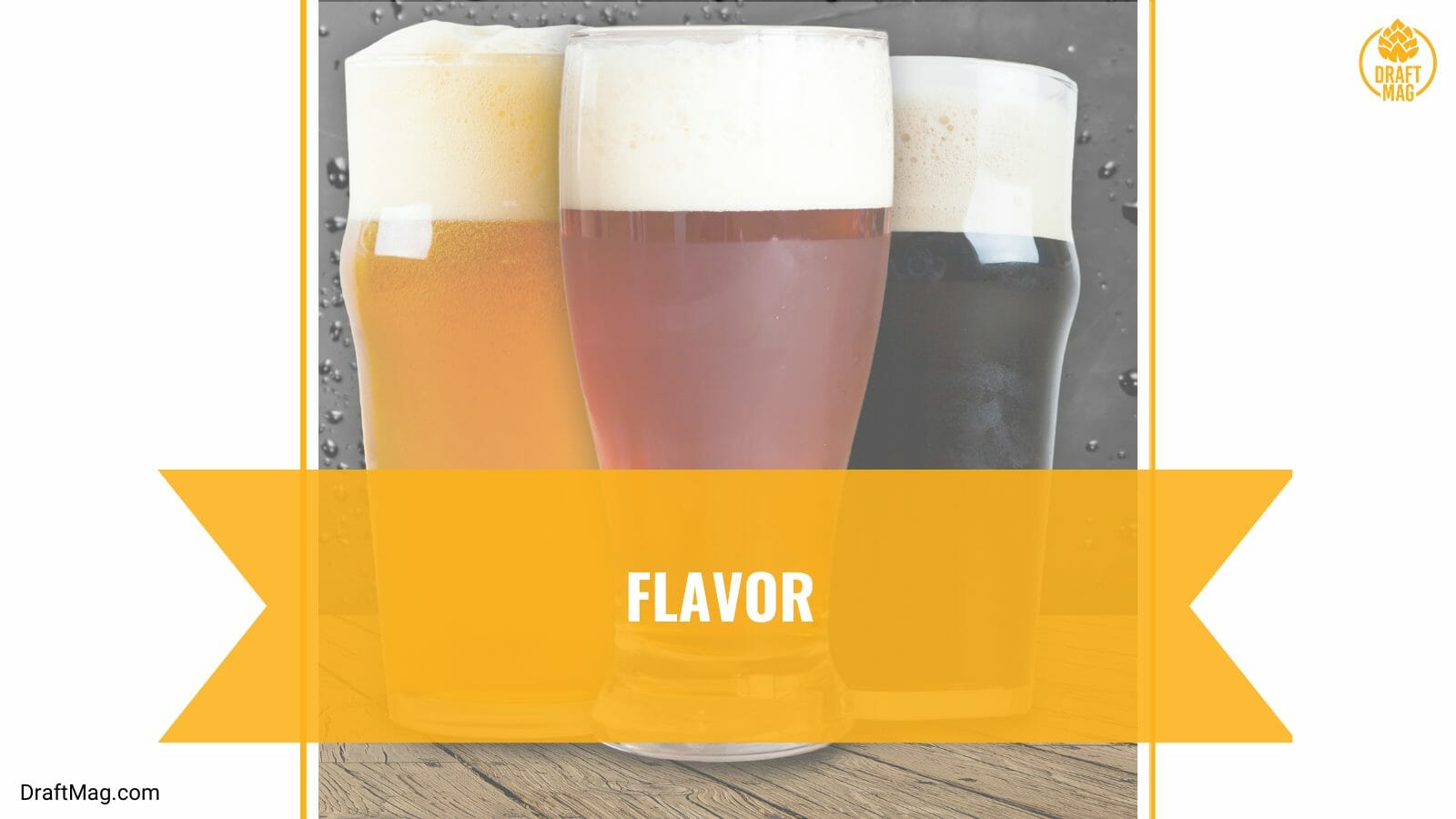 The flavor gives you a balance of grapefruit and other citrus flavors, pine hops, and grassy hops. The sweet caramel malt offers a strong flavor, and you might notice a bit of pepper that makes it a bit spicy. The alcohol isn't completely hidden, but that doesn't mean that the beer is too boozy. It is well-hopped and has more malt flavors than you would expect from an IPA.
– Food Pairings
The strong and thick flavor of the IPA makes it go great with oily fish that is served with a lemon, salsa verde, or mango salsa. You can try it out with salmon or mackerel. Another good pairing for the beer is Goan curry and other Indian curries, a meaty and simple burger, and Thai food. 
The beer also goes great with mango dishes, so try it out with a salad or a curried Coronation chicken. You can also enjoy the beer with a crispy salad that is topped with a citrus dressing. Vietnamese food also goes well with the IPA, so try out pho soup, galangal, and tamarind. 
For your dessert serving, try out something with citruses, like a lemon tart or orange cake, or a key lime that is not too sour. You can also try out a dessert with syllabub. For your cheese pairing, you should have it with cheddar and blue cheese. 
Ingredients 
Blue Point does not announce the ingredients used to make the IPA, but you know that it is made with malts, hops, yeast, and water. The hops are the obvious part of the beer's flavor, giving you notes of citrus, pine, and tropical fruits. 
The malts offer a strong base as you drink, with notes of caramel and cookie dough. It is well balanced with the hoppy flavor too, and it is made with top-quality ingredients. The beer is dry-hopped to increase the intensity.
Nutrition Facts 
The IPA features an alcohol content of 7 percent, which is a pretty decent level. The brewery does not bother to hide the ABV, so you will taste a bit of alcohol as you drink. As for the IBU, you get a bitterness level of 70, as expected from an IPA. It gives a bit of a hop bite.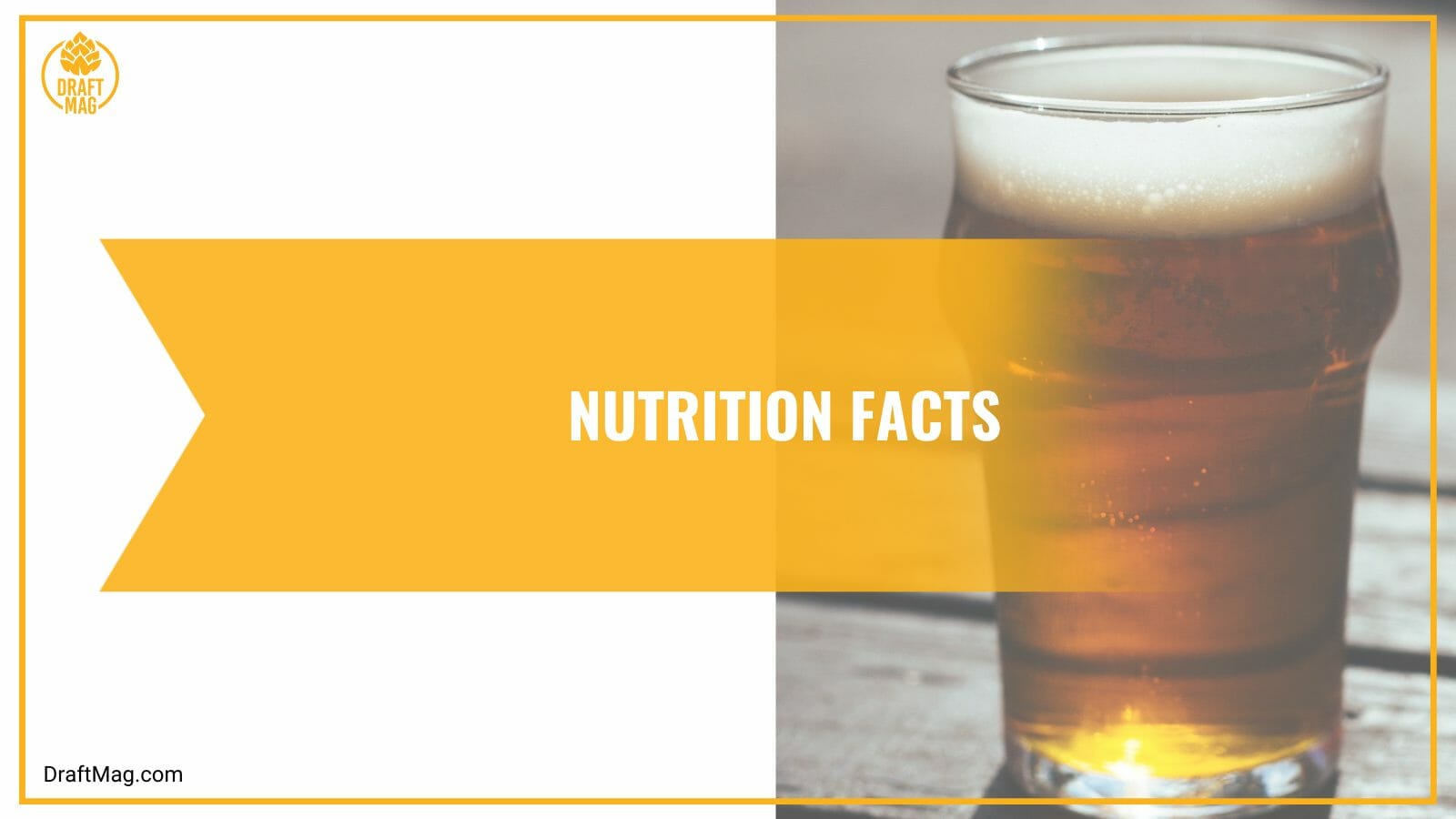 The beer features 180 calories in every 12-ounce serving. It also has 15 grams of carbs, making it unsuitable for drinkers that are on keto. If you can't consume gluten, this beer is not ideal for you either. 
History 
The Blue Point Hoptical Illusion was released in 2004 by Blue Point Brewing Company, which is based in New York. Beer is an important part of the brewery's history, and this makes it popular among fans of the brewery. The malt-forward and hoppy body has attracted different awards, including a medal from the Great American Beer Festival.
The brewery was founded in 1988 by Mark Burford and Pete Cotter, who were home brewers. More than 20 years later, the brewery has released up to 30 beer brands, with their IPAs being the most popular. It was acquired by Anheuser Busch. 
Conclusion
You can always give this IPA a try whenever you're in the mood for hoppy notes and a malty base.
Here's a rundown of our beer review:
The beer features an alcohol content of 7 percent.
It has aromas and flavors of citrus, grapefruit, tropical fruits, pine, caramel, and a cookie dough base.
Its specific ingredients are unknown as they are not advertised by the company.
Enjoy the beer in a pint glass at temperatures from 45 to 50 degrees Fahrenheit, with a citrus garnishing.
The IPA is best paired with oily fish, curries, burgers, Thai and Vietnamese food, mango dishes, citrus desserts, and cheddar cheese.
Give this beer a try by purchasing it online or at a liquor store near you. You can also enjoy the beer on tap from the brewery.