Orange Blossom Pilsner Review: Beer That Uses Real Orange Blossom Honey
Orange Blossom Pilsner is a light sweet honey beer made with real, organic orange blossom honey where the sugar is fermented which leaves the beer tasting incredibly crisp and clean. This is the a key review that you will need when discovering reasons why you must try it.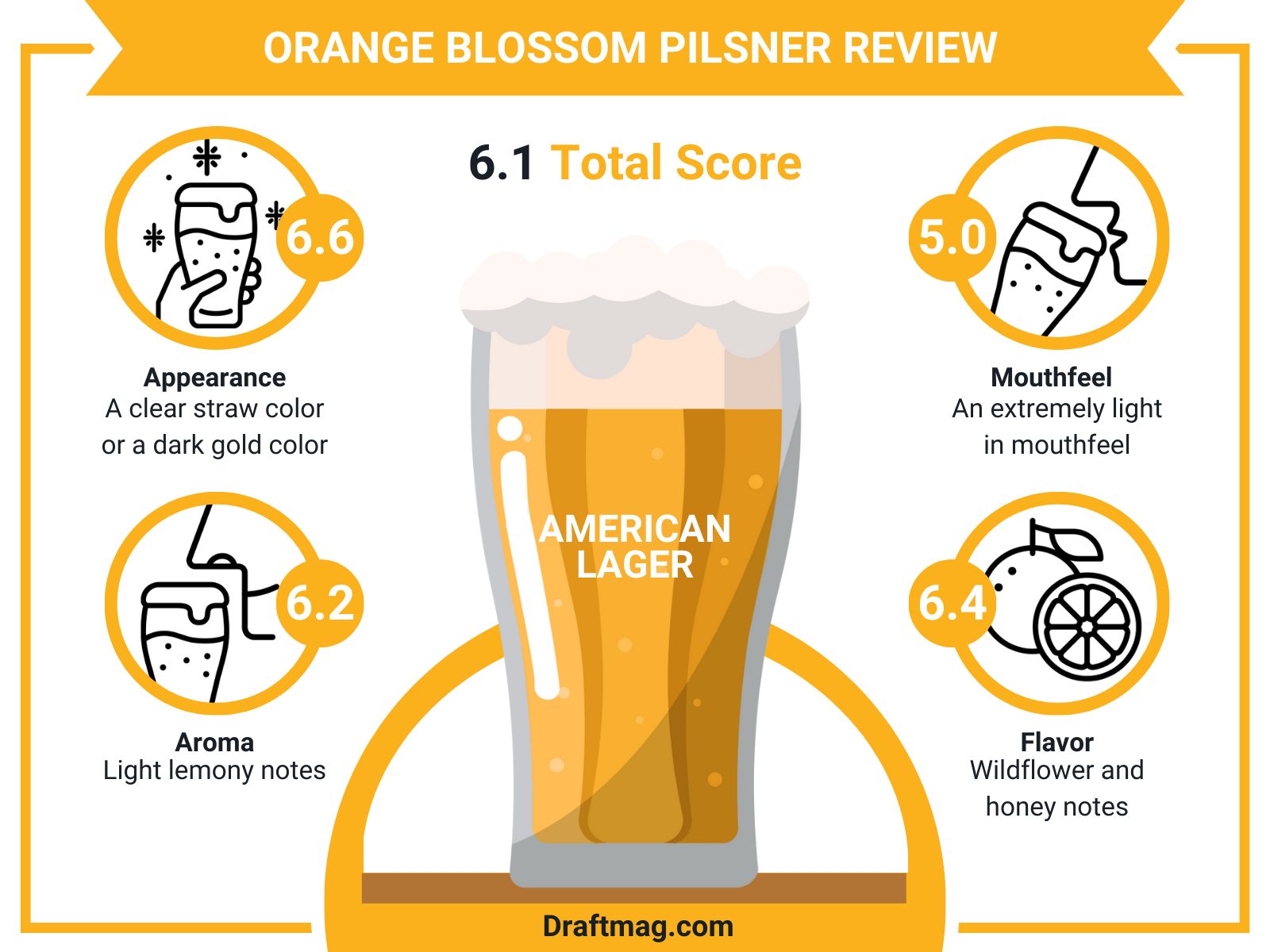 Here are key facts you need to know about this delicious brew which is also listed as Florida's first craft beer.
Orange Blossom Pilsner Stats
| | |
| --- | --- |
| Country | Florida, United States |
| Brand | Orange Blossom Brewing Company |
| Style | American Lager |
| Taste | Mild lemon citrus, honey sweetness, minimum bitterness |
| Body | Full bodied, heavy carbonation |
| ABV | 5.5 percent |
| Flavors & Aromas | Lemon, honey, light orange peel flavors |
| Serving Temperature | 33 to 40 degrees Fahrenheit |
Tasting Notes
Orange Blossom Pilsner Tasting Profile
Orange Blossom Pilsner Review
Orange Blossom Pilsner has had mixed reviews. While it belongs to the classic American Pilsner family, there is one distinct feature that makes this a unique beer. The addition of orange blossom honey is the unique selling point of this beer. Here is everything to know about OBP.
– Appearance
This is a semi-transparent dark Amber Ale with a nice honey tinge than most other Pilsners. The beer has a clear straw color or a dark gold color as some others would say, with a large head that lasts shorter than expected. With little to no head retention and almost nill white lacing, the head dissipates fast.
The pour is smooth and almost frizz free with little bubbling. Overall, the dark-orangish hue stays in tune with the name of the beer itself, thereby defining its physical characteristics the best.
– Aroma
On the nose, the beer is clean and crisp. The base has a strong bready-malt character topped with light pepper. It also has light lemony notes and an obvious honey presence. However, OBP does lack the initial punch of a classic Pilsner.
It takes a couple of sips to start enjoying the beer. There is also a light presence of orange peel on the back of the throat. But it lacks the earthy, grassy notes of a classic Pilsner. Overall, this beer has the aromas of citrusy lemon and sweet honey with a tinge of orange peel.
– Mouthfeel
Just like a classic Pilsner, the OBP is extremely light in mouthfeel. The beer has an overall refreshing feel, making it an excellent catch for a mid-day summer beer. The honey is completely fermented out which lessens the sweetness in the beer. A little offtrack from a classic Pilsner, the Orange Pilsner is slightly creamy on the palate, a little sticky but easily drinkable.
The body brings out the sweetness of the malt, hence evoking the sweetness of honey. Overall, the beer is light-bodied and a perfect mid-day summer beer.
– Flavor
The taste followers the nose in this case. It lacks the classic earthy, grassy notes of a Pilsner, but it doesn't have any unpleasant notes. The right balance between the malt bill and hop presence makes it less malt-noisy and a balanced yet refreshing drink. The strongest notes are of wildflower and honey with lighter notes of lemon, rye and orange peel.
– Food Pairings
The best type of food that would go well with OBP are Thai food, and Indian-Chinese food. Char grilled chicken sandwiches with tots are also a big hit on the side of this delicious brew. Classic Pilsners are also paired well with lighter foods like salads, salmon, bratwurst and cheese like the Vermont cheddar.
On the dessert front, lemon shortbread and fresh berries go well with this beer. Some agree that this beer goes with seafood, light sushi, Southeast Asian food, Mexican food, Latin food and overall spicy dishes.
Ingredients
A classic Pilsner is made using Pilsner malt and Lager yeast. In this case, the new addition to the recipe is the orange blossom honey. This honey is sweet and fruity. It has a citrusy smell with a light floral aftertaste. This honey is majorly produced in Spain, France, Israel, and Mexico. The brewers specifically source this honey to make this brilliant, one-of-a-kind brew.
Nutrition Facts
Orange Blossom Pilsner has about 160 calories in total, it has one gram of sugar, two grams of protein, and 10mg of sodium. Don't forget that 2.3 teaspoons of orange blossom honey are used in every can of OBP beer. While it isn't too heavy, this is still an easy drink for the ones on a light diet. Which means you can grab one for yourself and enjoy the hot summer day with this perfect beachy beer without thinking so much about the calory-count.
History
The Orange Blossom Brewing Company started in 1988 with the OBP being Florida's first craft beer. Brewer Tom Moench is the seventh generation Floridan with roots from Orlando. Tom grew up amidst the sweet scent of the orange's flowers. He even started brewing much earlier than his legal drinking age.
They tied up with Brew Hub to expand production, package and distribute the beer across the country. With this tie-up, what just started as a simple beer, OBP now grew into Orange Blossom Brewing Company (OBBC). The packaging also shows a jar of orange blossom honey, which is the main ingredient in this beer.
Conclusion
While Orange Pilsner lacks in appearance and aroma, it makes up with its delicious taste. The fact that every can of OBP contains 2.3 teaspoons of honey, makes it a delicious and authentic beer. Yes, it has a short head and bare minimum foam, but take one sip, and you will know what this beer is worth.
The yeast completely ferments the sugar in the honey and leaves a dry, crisp taste on the palate.
The beer has a smooth pour, even though it is a little bubbly.
The beer has less than 160 calories, which makes it an easy summer drink.
When it comes to food pairing, Pan Asian food, or mexican food is best suited for OBP.
With a tinge of orange blossom honey, this beer stands tall in its own uniqueness along with the supporting characteristics of a classic Pilsner beer. So what are you waiting for? Grab an OBP from your nearest store and judge it for yourself.