Lord Hobo Boom Sauce Review: A Fruity and Boozy NEIPA
Lord Hobo Boom Sauce is the ideal fruity IPA for hop heads, as the beer caresses your taste buds with every sip that you take. It is made with six different kinds of hops and a blend of malts and oats that results in a smooth body and citrusy taste.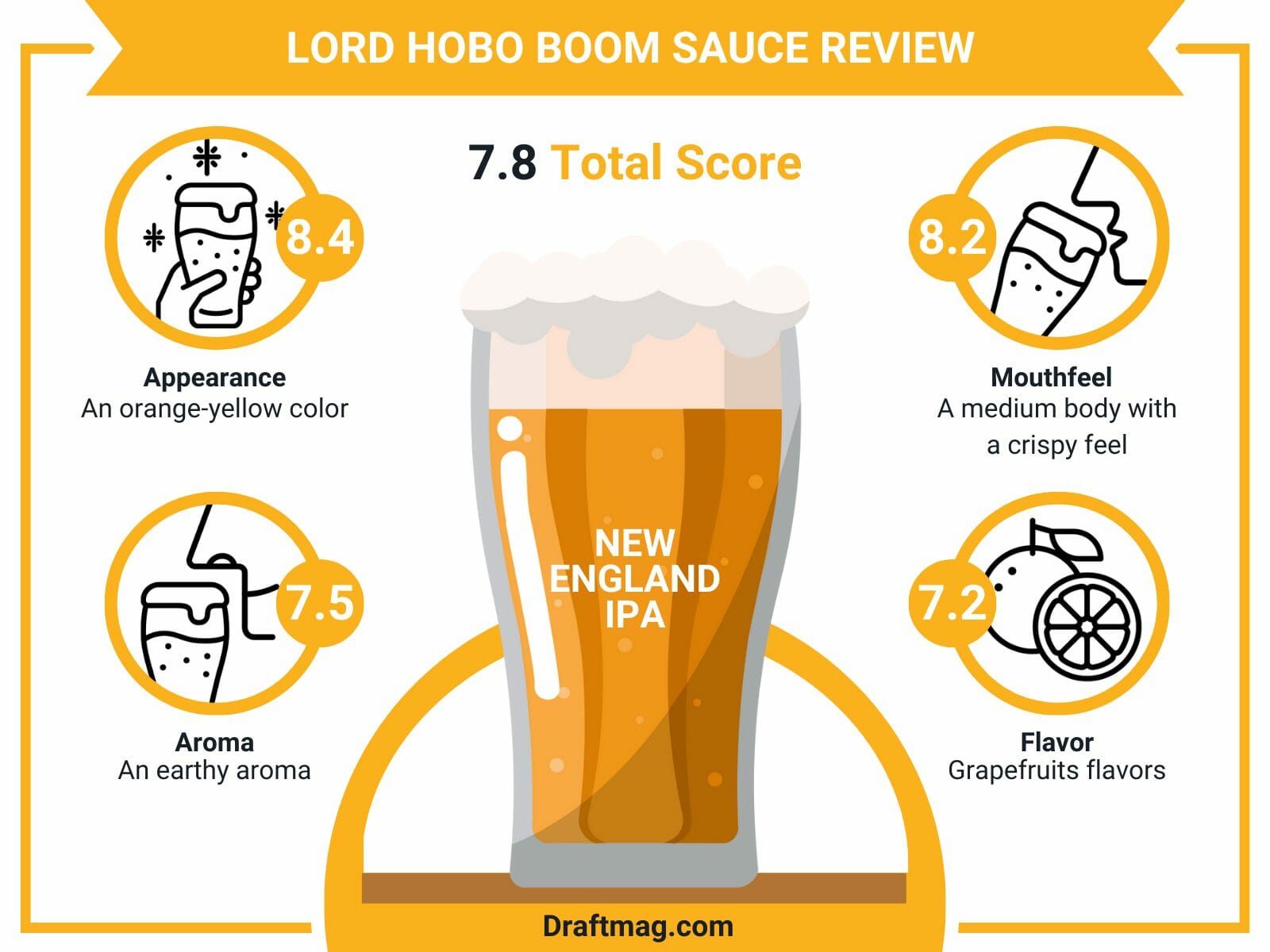 With the dry hops, the beer offers a tropical fruit finish, making it refreshing for any occasion as it goes down easy. If you're curious about what this beer tastes like, you can read our detailed review below to know more. 
Lord Hobo Boom Sauce Stats
Country 

United States

Brand

Lord Hobo Brewing

Company 

Style

New England IPA

Taste 

Citrus, tropical fruits

Body

Medium Body

ABV

7.8 percent

Flavors & Aromas

Citrus, hoppy, tropical fruits, grapefruit, pine, malty

Serving Temperature

45 – 50 degrees Fahrenheit
Tasting Notes
Lord Hobo Boom Sauce Tasting Profile
Lord Hobo Boom Sauce Review 
Boom Sauce is a New England India Pale Ale. A flagship IPA of Lord Hobo Brewing, the entire brewing process plus the dry hopping offers you a balance of citrus and tropical fruits. The beer features an alcohol content of 7.8 percent, with a bright bitterness. 
The beer pours a cloudy orange color, while the body is medium and easy to drink. It features flavors and aromas of citrus, tropical fruits, pine, grapefruit, and malts. There is the mild sweetness of grapefruit in the beer, but the hops always shine through the flavor and aroma.
You should serve the beer in a pint glass, with temperatures from 45 to 50 degrees Fahrenheit. The pint glass holds the head in place and shows off the orange color. Other ideal glasses that you can use include snifters, chalices, or goblets, which feature a bulbous shape. Garnish the beer with a citrus slice like an orange or lemon.
– Appearance 
When you pour the Boomsauce NEIPA into your pint glass, it shows off an orange-yellow color, although it is not as bright because of its cloudy appearance. You can barely see through the beer's color.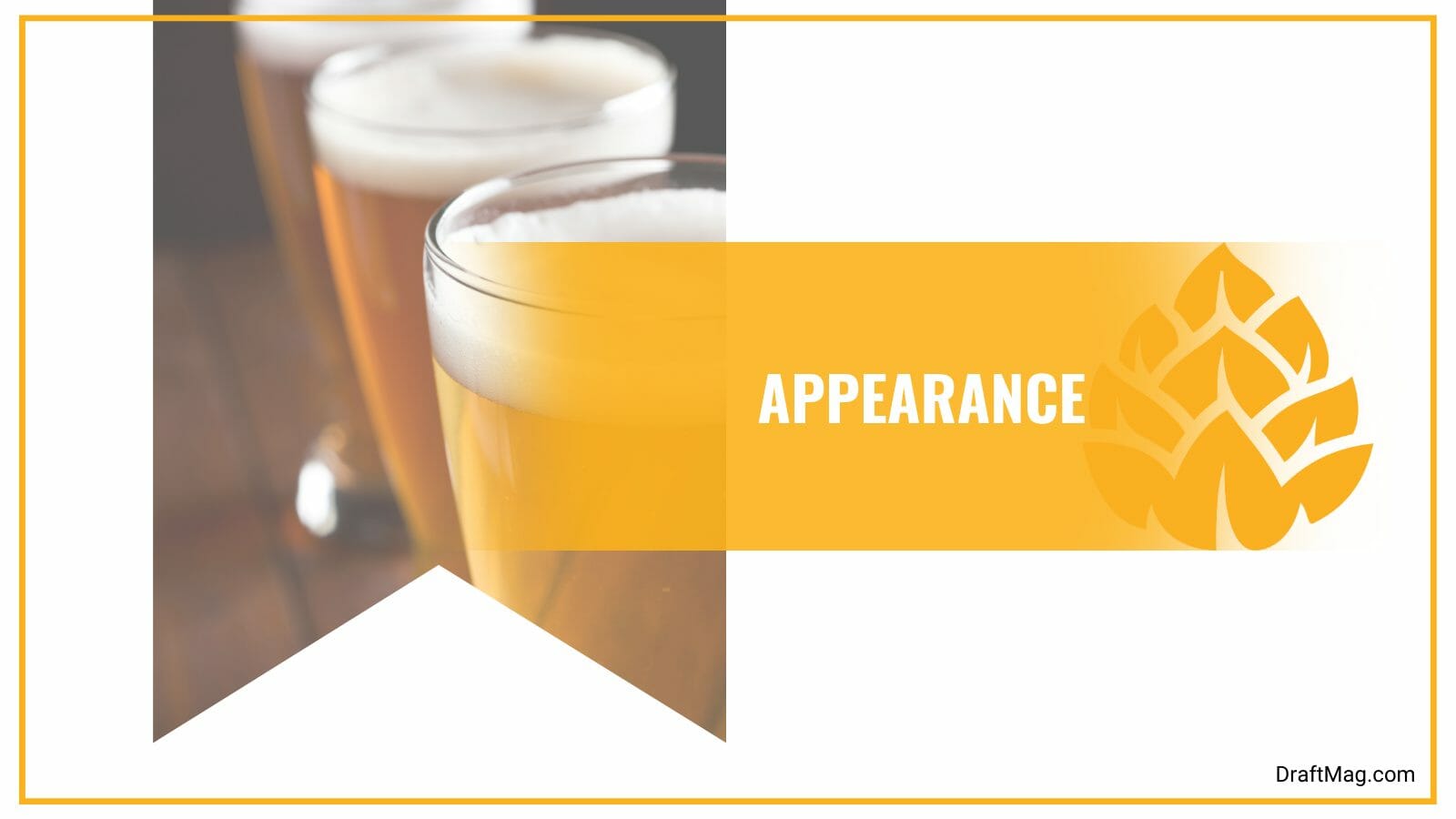 On top of it, there is a fluffy white head that stays in place for a long time. With decent retention, the beer slowly dissipates and leaves a lot of lacing against the glass. 
– Aroma 
On the nose, the beer has an earthy aroma, with the hops playing a prominent part. There is a mild aroma that does not overshadow the flavor or prickle your tongue harshly. The first thing you smell is the citric hops that come to your nose.
Aside from this, there are slight hints of grapefruit in the backbone of the aroma. The aroma offers a peppery citrus note and is a bit funky too. 
– Mouthfeel 
As for the palate, the Boom Sauce NEIPA has a medium body and it goes down very easily. The medium body tends a bit toward the light, giving you a crispy and clean feel on your tongue. It also has a smooth and dry feeling that is especially dryer towards the end.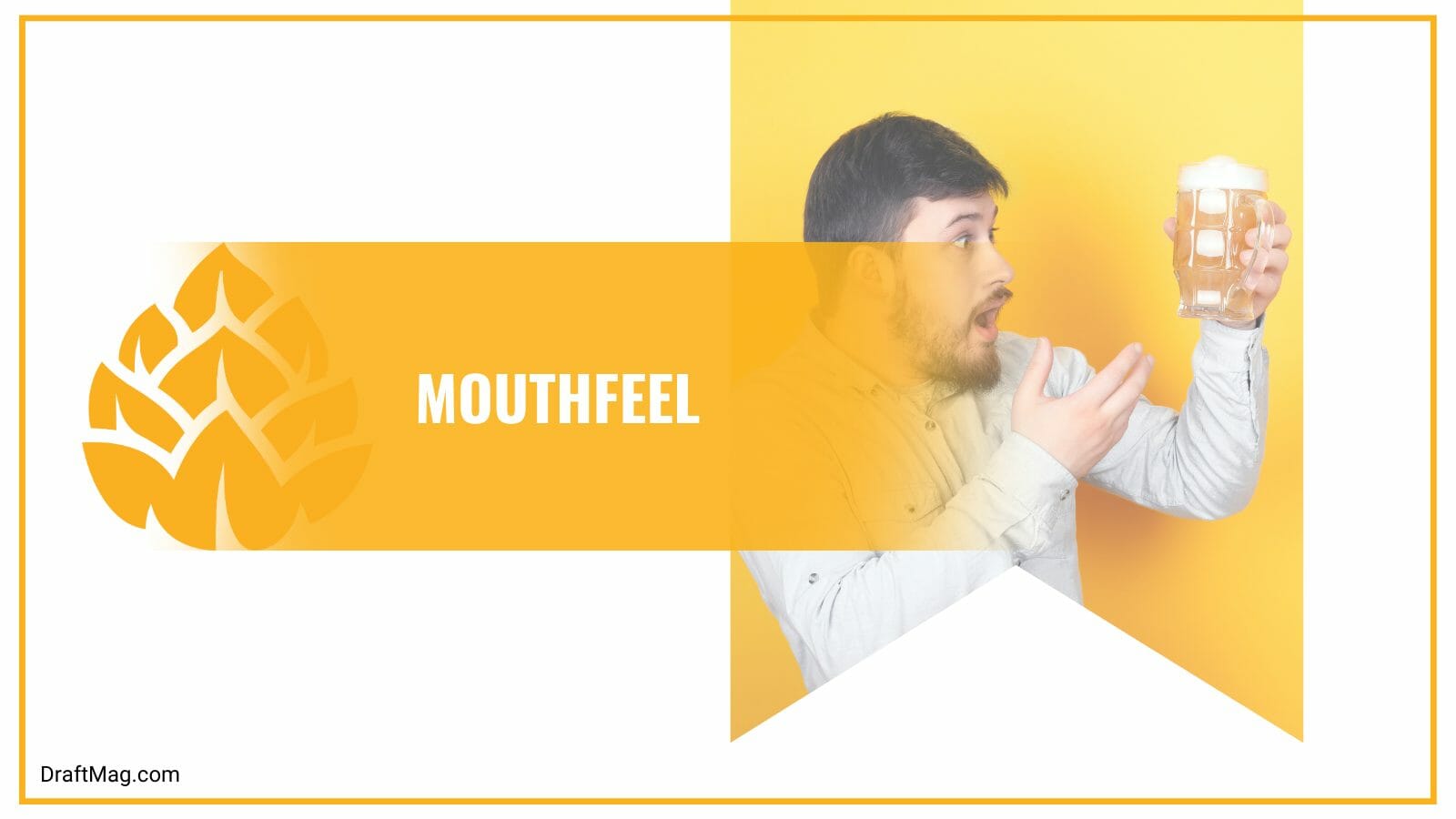 The fruits offer a mild sweetness on your tongue, but this is balanced with a hoppy bitterness and dry finish. 
– Flavor 
The flavor of the Boom Sauce IPA follows the aroma very closely, but it is more flavorful and brighter than you would expect with the simple scent. It has a smooth and tropical body with a mild malt finish. The beer does not taste too strong, and you can taste the alcohol very strongly with every sip that you take. 
When you drink the beer, you will first taste a lot of darkness that will hit your tastebuds. The flavor hangs nicely between every sip that you get and goes down very easily as you sip. There are grapefruit flavors too, with the hops shining through and piney notes that balance out with the malts. The caramel malts give you a sweet base and a crisp, dry finish from the hops.
– Food Pairings
When having the Boom Sauce IPA, you should pair it with crunchy and crispy foods as it contrasts the soft flavor of the beer. You can't go wrong with any type of roast chicken recipe, as the fruitiness of the beer adds to the flavor of the meal. 
Crispy and crunchy meals like corn on a cob, crisp potato salad, chips and French fries, or bright vegetables like asparagus, English peas, and artichokes are some of the best pairings for this brew. Pair your meal with green onions, scapes, ramps, and spring onions to bring out the bittering hops. Oily fish like mackerel and salmon topped with a mango salsa or lemon pair well with the beer.
If you want to get cheese with your beer, you should consider having creamy blue cheese or goat cheese. Also, a macha crème brulee or a panna cotta with lemon will pair well with this beer for dessert. 
Ingredients 
The Boom Sauce is made with different malts, hops, yeast, and water. It follows a classic brewing process, with a lot of malts and oats that lead to a creamy body, while the many hops bring the fruity and citrus flavors to life.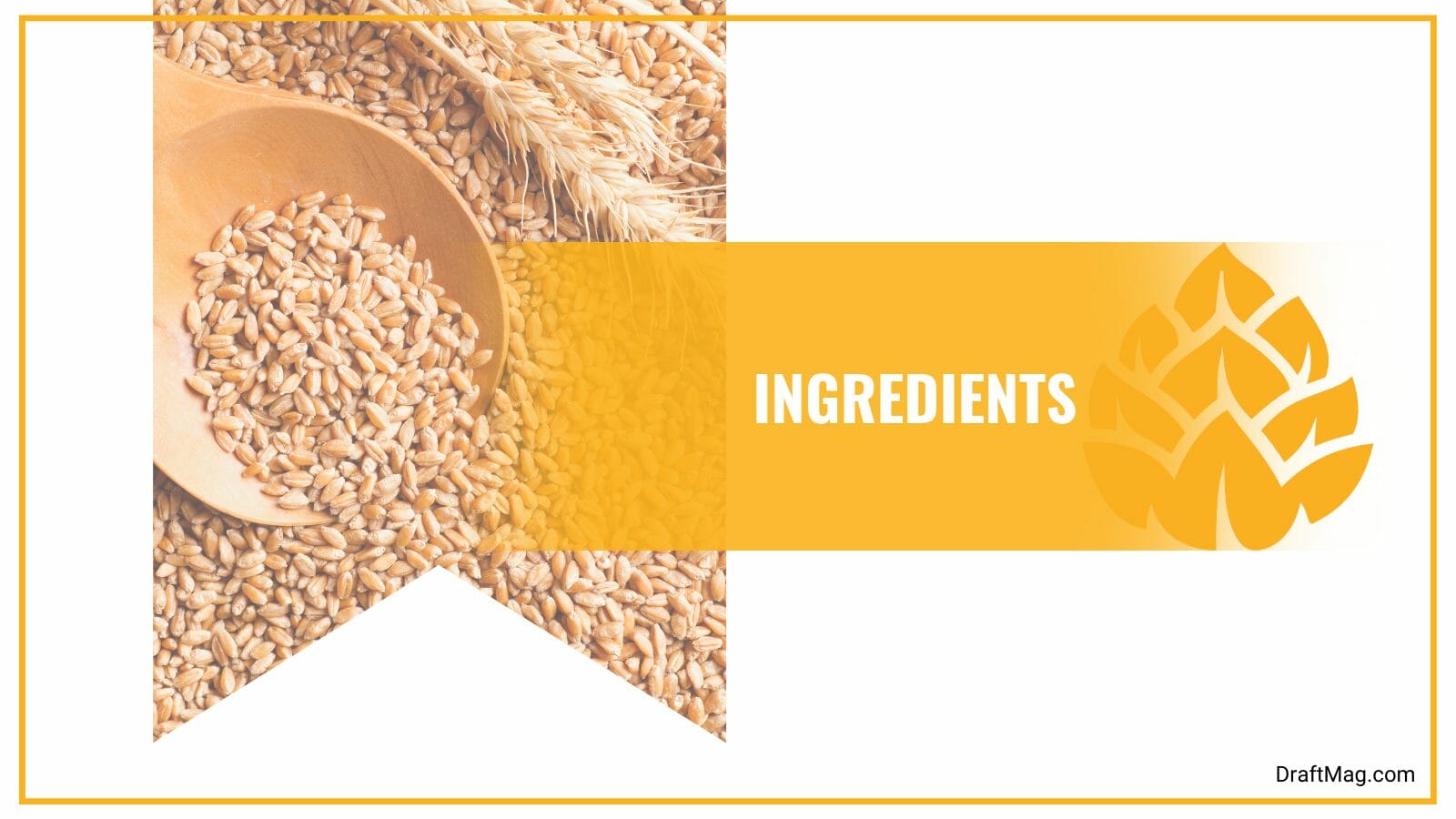 The malts used to make the beer include pilsner malts, red wheat, planet malts, spelled malts, oat malt, and flaked oats. It is also made with certain hops, which include Warrior, Ella, Falconers Flight, Amarillo, and Mosaic hops. The many hops offer a flavor of tropical fruits and citrus. 
Nutrition Facts 
In the beer, you get an alcohol content of 7.8 percent, which is a pretty decent level. The alcohol content is evident in the flavor and aroma of the beer. As for the IBU level, it is set at 78 bitterness units due to the many hops and fruits that are found in the flavor and aroma. 
In the beer, you get 240 calories in every 12 ounces. It's important to keep this in mind when calculating your daily dietary requirements. There are also 20 grams of carbs in the beer, which makes it unsuitable for those on a keto diet as it is high. Gluten-sensitive drinkers should not drink this beer.
History 
The Boom Sauce is a beer that was first released in 2015. The brewery made the beer by blending three hoppy-style ales that they originally made. It is the first beer that the brewery was known for and became an introduction to beer drinkers that wanted a new style of NE beers. 
The brewing company was founded in 2015, and the beer was released in the same year. It was founded by Daniel Lanigan, an entrepreneur when the New England-style IPA was becoming more popular. 
Conclusion
Whenever you're looking out for a fruity and hoppy beer, you should consider having the Boomsauce. Here's a rundown of our beer review:
Boom Sauce is a New England IPA with a 7.8 percent alcohol content. 
The beer has unique flavors and aromas of citrus, tropical fruits, grapefruit, pine, malts, and hops.
It is made with different malts, oats, hops, yeast, and water. 
The brew is best served in a pint glass, at 45 degrees Fahrenheit, with citrus garnishing.
Pair the beer with roast chicken, crunchy dishes, crispy vegetables, oily fish, creamy cheeses, and fruity desserts.
You can always purchase this beer online or at physical stores near you. The beer is also available on tap at the brewery.