Bubble Stash IPA Review: A Great IPA for Beer Newbies
Bubble Stash IPA is a drinkable American IPA that will impress drinkers with its delicious mix of pleasant fruits against a malty background. If you've never had an IPA before, this is a great first try as it's not a heavy hitter or too hoppy.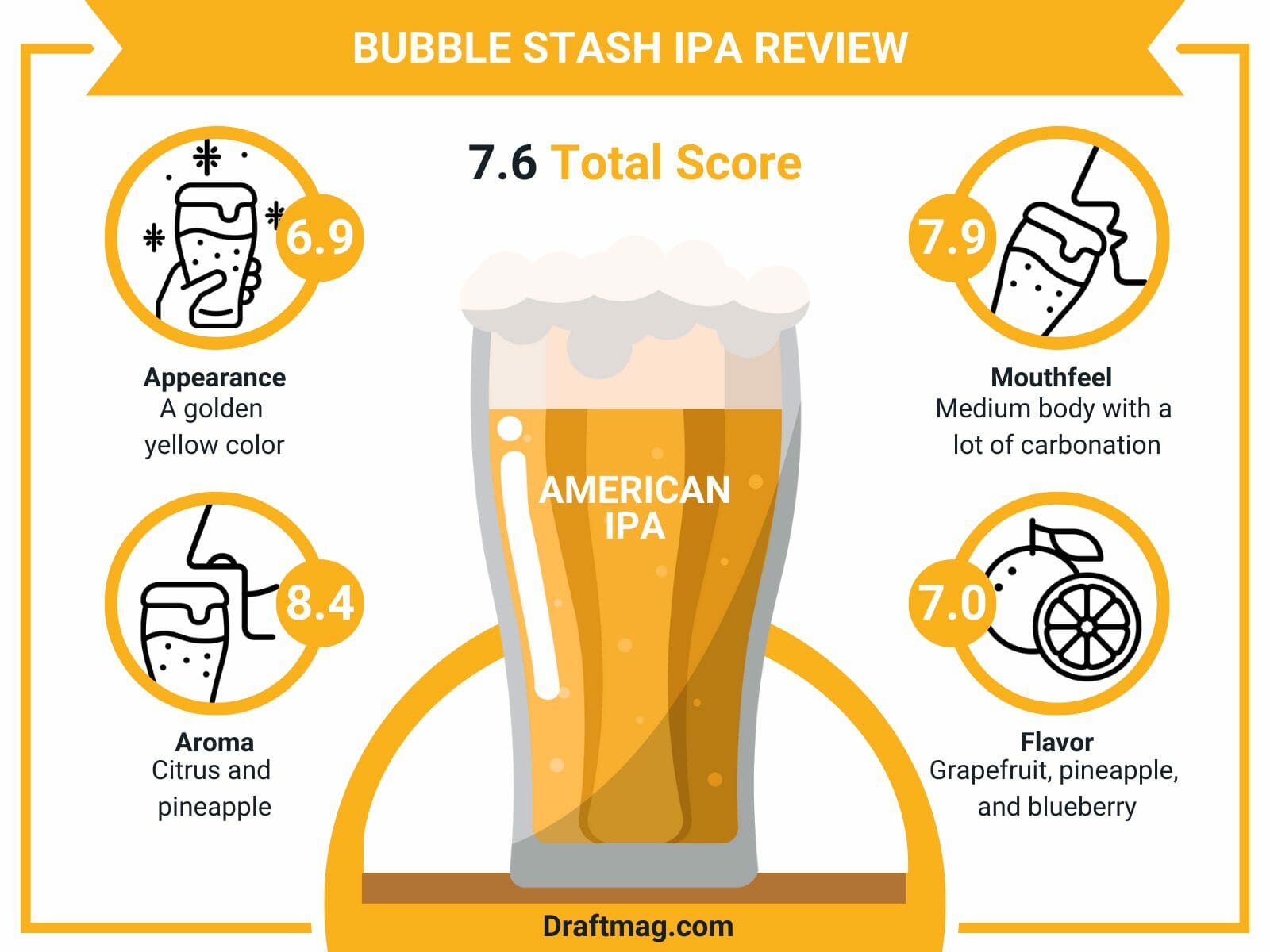 The Hop Valley Bubble Stash beer is a sweet experience with mellowed hops. In this complete guide, we cover all you need to know about this IPA before taking your first sip.
Bubble Stash IPA Stats
| | |
| --- | --- |
| Country  | United States |
| Brand | Hop Valley Brewing Company |
| Style | American IPA |
| Taste  | Fruits, malts |
| Body | Medium Body |
| ABV | 6.2 percent |
| Flavors & Aromas | Malts, fruity, citrus, pineapple, blueberry, sweet, honey |
| Serving Temperature | 45 – 50 degrees Fahrenheit |
Tasting Notes
Bubble Stash IPA Tasting Profile
Bubble Stash IPA Review
Bubble Stash is an American India Pale Ale with a 6.2 percent alcohol content, made in the United States by Hop Valley. With a character consisting mostly of fruits and malts, the west coast IPA is known for being highly drinkable and thirst-quenching, making it the go-to beer for different occasions.
The beer offers aromas and flavors of malts, citrus, fruits, pineapple, blueberry, and honey, with a good balance of hoppy bitterness with malty and fruity sweetness. Serve the IPA in a pint glass to show off its bright color and hold the foamy white head on top. You can also go for a snifter, which allows you to swirl the beer in the glass to enjoy the aroma.
The ideal serving temperature is from 45 to 50 degrees Fahrenheit, and you can garnish it with a citrus wedge on the rim of your glass.
– Appearance
The Bubble Stash ale pours a golden yellow color into your glass and has a clear appearance. You might notice hints of orange in the lights. On top of the beer is a moderately frothy white head that dissipates slowly, leaving some spotty lacing against your glass.
– Aroma
On the nose, you get what you'd expect from an IPA, with the malty notes fighting for dominance. There are hints of citrus and pineapple in the aroma, and you also get some honey and pine resin. As the beer warms up, you will notice a lot of caramel, earthy hops, and herbal notes.
– Mouthfeel
As for the palate, the beer is medium-bodied with a lot of carbonation that you might have noticed from the appearance.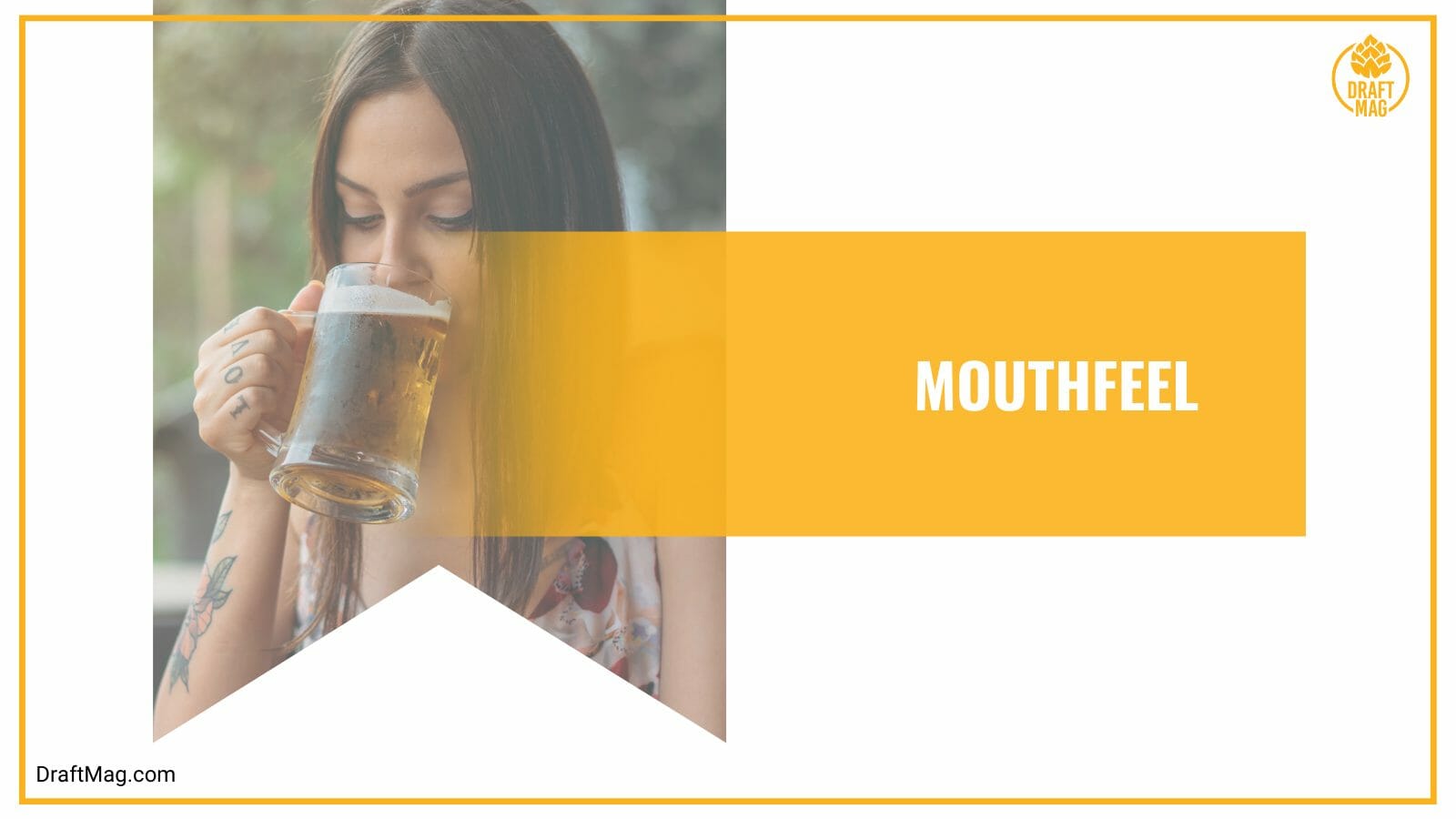 You will feel a slight tingly feeling at the back of your throat. It is smooth, clean, and crisp and feels like a thirst-quenching beer despite the ABV.
– Flavor
The hops in the IPA are more mellow than you would expect, and this contributes to its drinkability. Upfront, you get the hop flavors of citrus, pineapple, and caramel in the backbone. This is enveloped by the honey sweetness, and the pine comes towards the end of the flavor.
You will notice hints of grapefruit, pineapple, and blueberry in this hoppy beer, giving you a sweet IPA. The malts also offer some toffee and vanilla that accompany the caramel. Faint flavors of hay and lemongrass might peek through while you drink.
– Food Pairings
Pairing an American IPA like Bubble Stash with food is pretty easy, as there are different kinds of dishes that you can go for. The sweet intensity of the beer is the ideal contrast for spicy food, so try out tacos or burgers with barbecue sauce.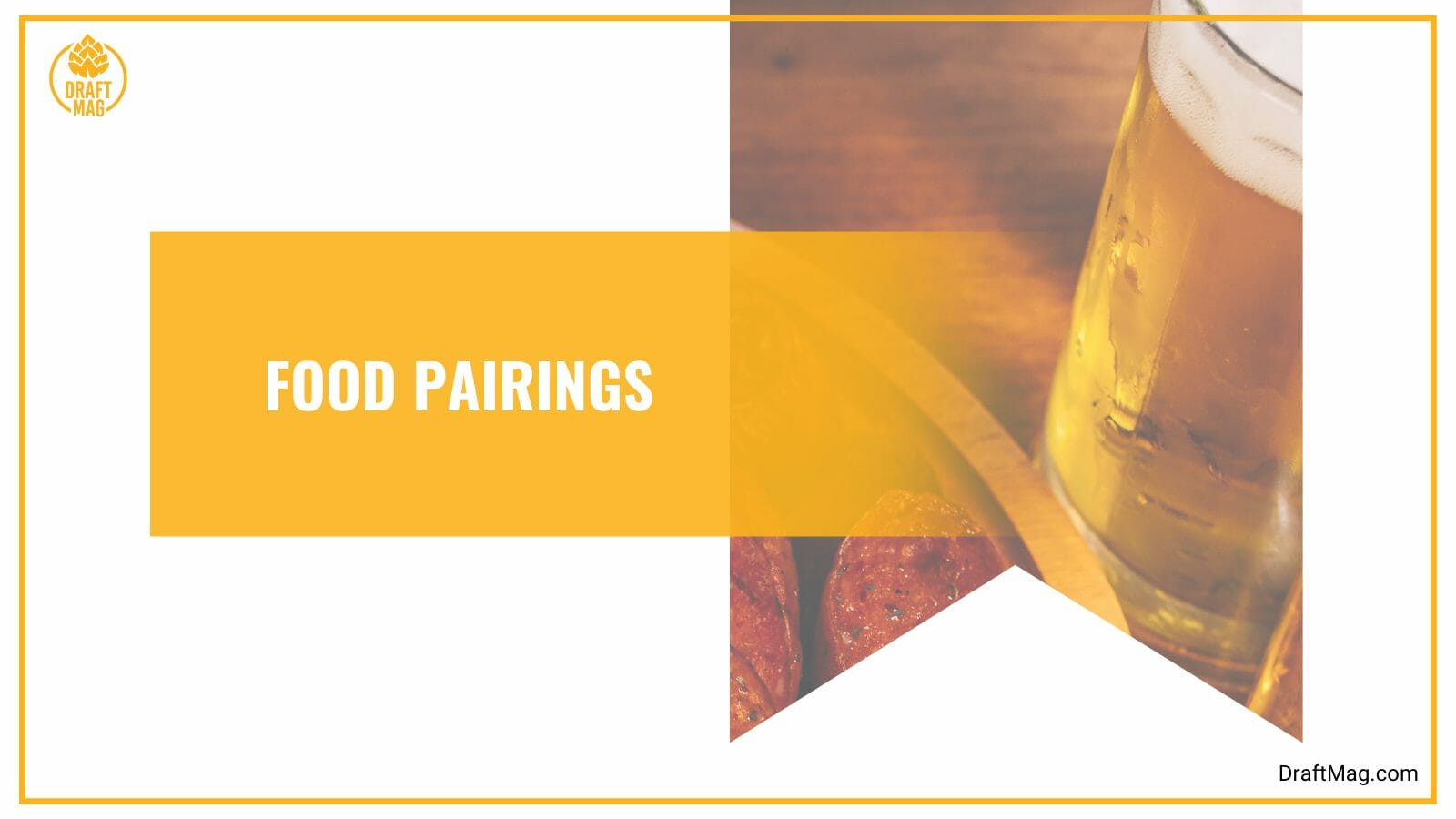 You can consider having oily fish like mackerel or salmon and any food with a sweet sticky sauce, like buffalo wings. The beer also goes great with steak, barbecue, Indian curry, spicy noodles, and Mexican food.
Dessert is a no-brainer, as anything loaded with fruits will pair well with this beer. Try out a fruit soup, apple pie, strawberry and cream, panna cotta with lemon, or a carrot cake. You can also try out a caramel dessert to highlight the malts in the beer. As for cheese, we recommend a medium or sharp cheddar, Parmegiano Reggiano, or blue cheese.
Ingredients
The highlight of Bubble Stash is the late addition of the Mosaic Cryo Hops, which add the flavors of blueberry and dank resin to the flavor. Aside from the hops, the malts used in the beer are two-row, CaraFoam and Caramalts.
Nutrition Facts
The refreshing IPA offers a well-masked 6.2 percent alcohol content that does not affect its drinkability. You can expect to get drunk a bit quicker than expected. As for the IBU, it is 45, as the beer is not overly bitter or hoppy.
The beer has 194 calories in every 12 ounces, while the carbs are 16.2 grams. It is not ideal for those on a keto diet due to the high carbs content, and health-conscious drinkers should consider this when calculating their daily dietary requirements. It also contains 1.9 grams of protein but no fat. It is not a gluten-friendly beer.
History
The Bubble Stash ale was released in 2014 by Hop Valley Brewing Company in Oregon, United States. It is one of the most well-known beers and the flagship ale of the brewery. It was the recipient of the Best of Craft Beer Awards in 2018 and 2022, winning the gold medal.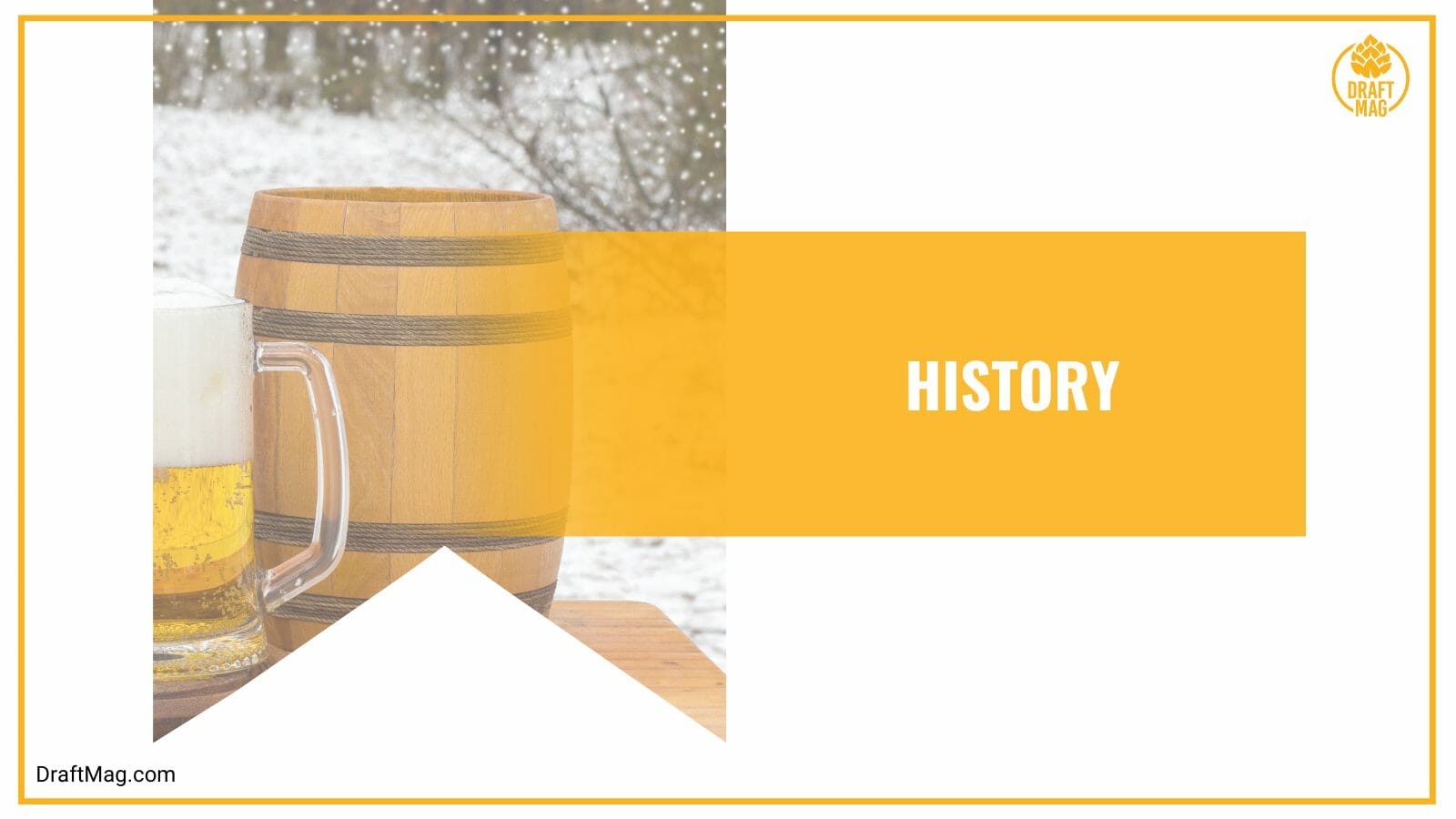 Other popular beers made with the Cryo Hoops are Stash Panda Hazy IPA and Cryo Stash Imperial IPA. The Bubble Stash beer is popular for being weed-inspired and is the first beer to be released in cans in the brewery's history.
Conclusion
If you're in the mood for a mellow IPA that won't overwhelm you with hops, this IPA is the ideal choice. Here's a summary of our review of this beer:
Bubble Stash is an American IPA with a 6.2 percent alcohol content and is made in the US.
The beer has flavors and aromas of hoppy fruits, malts, caramel, floral and herbal hops, blueberry, and more.
It is made with Mosaic hops, two-row malts, Caramalts, and CaraFoam.
The beer is best served in a pint glass at 45 degrees Fahrenheit.
Pair it with spicy food, oily fish, buffalo wings, steak, Mexican food, fruity desserts, and cheddar cheese.
You can easily purchase the IPA at a wide range of stores around you, at online liquor stores, or directly from the taproom in Oregon.