Best Beer for Cooking: Some Recipes Just Need Beer!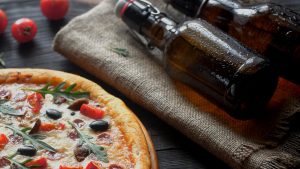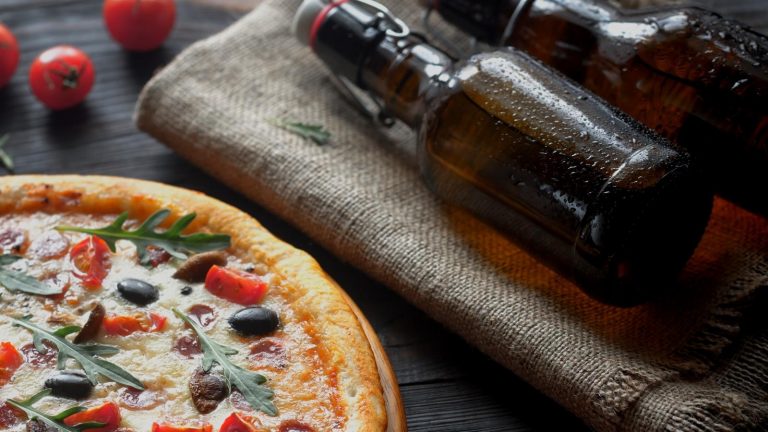 While looking for the best beer for cooking might seem weird to some, you'll be surprised at all the delicious food you can make with this beverage. One of the oldest, most popular, and probably the most versatile alcoholic drink is beer, and one of its many uses is cooking.
However, there are thousands of types of beers out there to choose from when trying a new recipe, and you need to use the right one to produce a delicious taste. In this complete guide, we will look at the best beers used for cooking and how to pair them with different types of food.
Best Beer To Cook With
We have compiled the list of the best beers you can cook with depending on what you're cooking, so if you're having trouble choosing a suitable beer for your recipe, check out our list and purchase these beers at the nearest neighborhood grocery or alcohol shop.
– Smuttynose Old Brown Dog Ale
If you're making barbecue, whether it's steak, chicken, ribs, hot dogs or burgers, the Smuttynose Old Brown Dog Ale is the best beer to use. This delicious brown ale for cooking comes with a nutty and caramel flavor perfect for spicy, smoky and sweet food. The beer has 6.5 percent alcohol and subtle hops combined with a bold, evident flavor but not overwhelming in your food.
– Guinness Stout
For beer batter, it's not surprising that Guinness Stout is the top choice. This is perfect for a stout-based batter as it features notes of chocolate sweetness and coffee combined with the malts. Using this batter, you can fry white fish, onion rings, potatoes and more for a complete experience.
– Protector Organic American Amber Ale
Next on our list is an American amber ale from Protector Organic, perfect for cooking grain-based foods with ingredients like farro, wild rice, quinoa, polenta and Arborio rice. This amber ale features a rich caramel malty flavor with hints of herbs and pines in the hops.
– Allagash Saison Violette
This Saison beer is a perfect choice if you're preparing shellfish like lobster, crabs, shrimps or clams. This wild lowbush blueberry beer originated from Maine, giving the berries a rich and refreshing flavor. It is a light beer, which means it won't overwhelm the taste of the seafood, only complement it.
– Garage Imperial Oatmeal Brown Ale
This brown ale on our list will fit perfectly well with recipes featuring green beans, lentils, fava beans, butter beans, chickpeas, split peas and other beans and legumes. It is a barrel-aged Hefeweizen with hints of toast, vanilla and nuts, adding diversity to your meal.
– Societe The Heiress Pilsner
Another excellent beer for rice and other grains is this pilsner from Societe, offering an earthy and floral taste with a bitter finish. The bready malts evident in the aroma and hints of crackers and bread in the taste go perfectly well with grainy food.
– Energren Schoner Tag
We also recommend the Energren Schoner Tag for shellfish, as the Hefeweizen was made with over 50 percent malted wheat and a cloudy flavor that will give you a delicious result. The evident flavors here are clove and banana, acquired from the fermentation, and you will get whiffs of these in your meal.
– Crooked Stave Wild Brett
Rich meats like rib eye, lamb, beef and loin beef will go well with this delicious wild ale. Fermented in oak foeders with vanilla, raspberry and lactose, this ale comes bursting with rich flavors that will complement your meats. It is a flavor-enhancing choice, whether used in marinating or boiling.
– Black Plague Acid Drop Light Lager
If you need a light beer for cooking poultry, this pale lager will do the trick. The Black Plague Acid Drop beer is perfect for chicken and turkey as it is a lemonade-tasting beer. The citrus taste and aromas are combined with the toasted malt base for a complete recipe, giving your chicken or turkey a rich flavor.
– AleSmith for Hope Hazy IPA
Another light beer on our list is this Belgian-style IPA which is perfect for any cut of pork you're preparing, regardless of how you're making it. The IPA features a bold blend of citrus, pineapple and tropical fruits, with a smooth and light body that will give your pork a rich flavor.
– AleSmith Speedway Stout
This is another beer from AleSmith, but this is for those who need a dark beer for cooking grilled vegetables. This German-style dry stout has a strong coffee and dark chocolate flavor, with a complete and smooth texture that enhances virtually any vegetable on the grill. It also feels warm because of the high alcohol content, which will add more fire to the grill.
– Cooperage Captain Curt Pale Ale
If you're preparing game birds such as duck, quail or guinea fowl, you can use the Cooperage Captain Curt Pale Ale. This American pale ale has a hoppy and soft taste on the palate as it features a brew of mosaic, Citra, galaxy and warrior hops.
How To Cook With Beer
It's not surprising that there are different culinary benefits to expect when you cook with beer, as this diverse beverage comes in different flavors. Beer can come in handy for a wide range of recipes.
It is excellent for tenderizing and marinating meats, and it gives you unique desserts and more flavorful bread. It also moistens food and is a perfect fit for baking because of its yeast. There are endless possibilities if you decide to make food with beer, and we will be exploring as many as we can in this guide.
The Best Beer Styles for Each Recipe
There are different kinds of beer styles aside from the basic categorization of ales and lagers or light and dark. It's essential to know the available types of beer that go with different foods, making it easier to put together a recipe or produce a unique taste. You can use beer in cooking chicken, fish, beef, pork, shellfish, bread, batter and chili.
– Chicken
Beer does not only go well with chicken after it's been cooked, but also during the cooking process.
American blonde ale or honey wheat ale will go great with boneless chicken thighs, giving you hints of garlic and honey. You can also enhance your chicken recipe with the help of fruity beers or go for Belgian wits, which offer notes of coriander, spice and orange. Doppelbock beer is another great option if you're planning to cook chicken.
– Beef
If you're braising beef and would like to add beer, styles like porter, doppelbock, stout, schwarzbier or Vienna lager are fantastic general choices. Short ribs go well with the roasty flavors of stouts and porters, and sweet and sour beef stew will pair well with strong Belgian ale.
– Shellfish
If you're preparing seafood such as crabs, mussels or shrimp, you can steam or boil them with beers with citrusy flavors or wheat ales. IPAs, pale ales, witbier and Gose all go well with seafood. You can also add Belgian beer styles to recipes for scallops, clams and mussels.
– Pork
First-timers when it comes to cooking with beer will do well to start with pork. Pork gives into beer quickly and results in delicious tastes. Your pork roasts will taste even better with seasonal, spiced and malty lagers and ales. You can go for amber ales or Vienna lagers to marinate the pork.
As for cooking it with cabbage, options like brown ales, amber ales or lagers, and Munich Helles are also a good choice. If you're making tenderloin, fruity beers like pumpkin ales or malty brown ale will taste great. Lastly, pork meatballs work well with pilsners in both flavor and texture.
– Fish
For fish, the beer you choose also depends on what you want to do. Marinating fresh raw fish in beer is a great idea and gives you a delicious taste. For this, you can use Lacto sours or kettle sours. You can also use American lagers, Belgian beer styles, Saison and wheat ales for your fish.
– Chili
When making a steaming pot of chili, you can't go wrong with using porter or stout as they offer a malty backbone and roast notes. If your chili recipe includes cocoa powder, chocolate stouts are a good idea. If you're making a turkey chili, you can use Saison or amber ale in the recipe. Other great beers for chili include schwarzbier, brown ales and dunkel lagers.
– Batters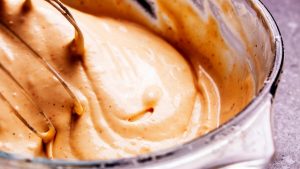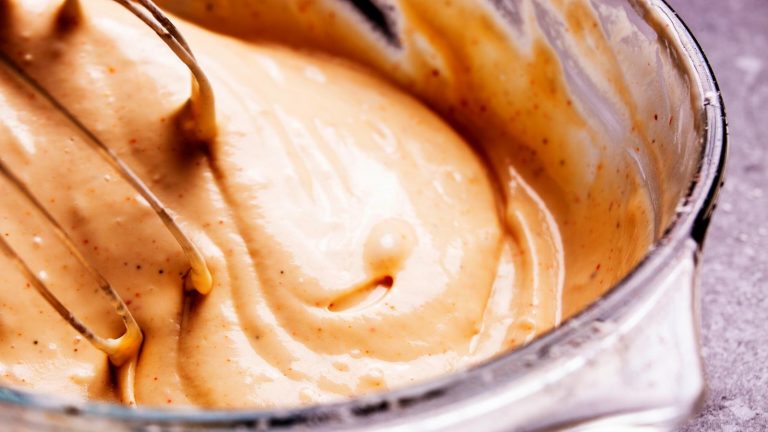 When using your beer to make a batter, it's important to note that it'll taste better when you use highly carbonated beers. If you're making batter for frying, beers like American lagers, wheat ales, pale ales, stouts, German lagers and porters will fit perfectly.
For even more carbonation, you can choose brown ales or amber ales.
If you're making crepes, cakes or pancakes with beer, there's no limit to your imagination. From fruity IPAs to Hefeweizen, there are various options available.
– Baking
Finally, you can use beer when baking biscuits, bread, cupcakes, muffins and rolls. The general options are American wheat ales, Hefeweizen and Belgian wits because they have wheat in the grain bill, but you will also do well with dark ales and lagers and fruity colored beers.
You can use stout, brown ale, porter or Munich Dunkel if you're making chocolate cake.
How To Choose the Best Beer for Your Recipe
Even if you know the different types of beers for each type of food you're cooking, it might still be challenging to select just one and make your food with it. If you want to choose a good beer to cook with, you need to know your beers first.
You should know the aroma, mouthfeel and flavor of the beer and check if it fits the recipe you're about to make. Beer enthusiasts will find this easier than newbies, but everyone can get the hang of it.
If the beer matches your recipe flavor, then you can carry on using that beer. If you're ever in doubt, a Saison beer is widely considered the most food-friendly type of beer. They have fantastic flavors, decent carbonation, and low bitterness that won't affect your food.
Benefits of Cooking With Beer
As long as you're cooking it right, beer can be a healthy part of your diet, and so there are a few benefits of cooking with beer.
Beer contains many nutrients and antioxidants like B vitamins and folate and other minerals like magnesium, insoluble fiber and potassium. It is also low in sodium. Aside from this, when you cook with beer, many of the minerals and fibers remain intact in the food, so you don't miss any of the health benefits.
Besides being relatively healthy, beer provides a lot of benefits when braising foods because it's a great way to season ingredients. With beer, you can enjoy an explosion of rich flavors. Marinating with beer is the next best thing, as it contains enzymes that break down the fibers in meat. Thus, your beef and pork will be more tender when marinated in beer.
Beer makes your batter for frying more crisp, airy and light because of the carbonation, regardless of what you're frying. It also brings out the tastes in desserts, especially when chocolate is involved.
Does the Alcohol Content Remain After Cooking With Beer?
No, it doesn't. The alcohol evaporates as the cooking process continues. If you're cooking beer in soup or any other hot liquid, you lose about 15 percent of the alcohol content. About 75 percent of the ABV will evaporate for curries, chilis and stews because of simmering.
You can even evaporate up to 95 percent of the alcohol when making roasts or any other food requiring long cooking. But if this is something you are worried about, it would be best if you use the beer in moderation because you can never evaporate 100 percent of the alcohol.
Conclusion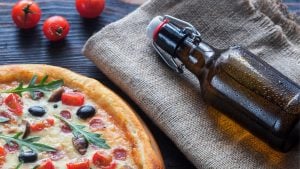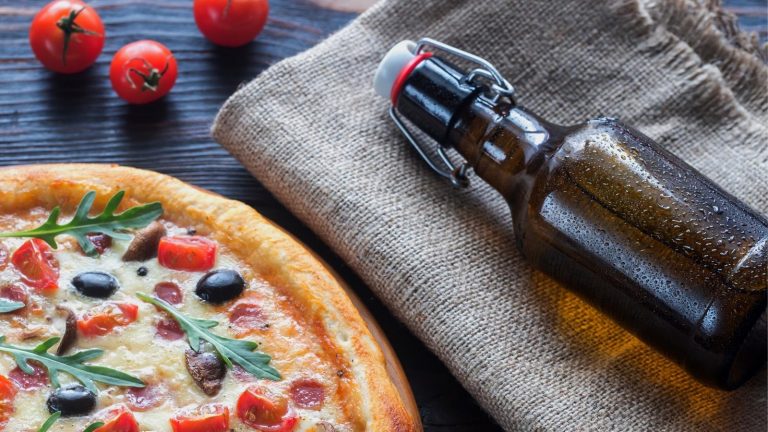 If you want to spice up your recipes or combine your love for beer with food, then use beer in your cooking today.
Cooking with beer offers different benefits like unique tastes in bread and dessert, softer and tender meats, and crispier batters.
You can use beer to cook chicken, pork, beef, seafood, fish, chili, batter, baked goods, soups, grains, beans and many other kinds of food.
The best beer for any recipe when you're unsure what to use is Saison.
When choosing the best beer for food, consider the mouthfeel, aroma and flavor.
Beer comes with different nutrients, which stay in the dish even during the cooking process.
You can remove up to 95 percent of the alcohol in beer.
Choose the right beer for your recipes and start enjoying its unique flavors in your dishes!