Wicked Weed Pernicious Review: What Makes This IPA Different?
Wicked Weed Pernicious IPA is a dry-hopped ale with a malty character and fruit-forward hoppiness that makes for an impressive rich taste. This ale is a favorite among many beer drinkers due to its clean taste and easy drinkability.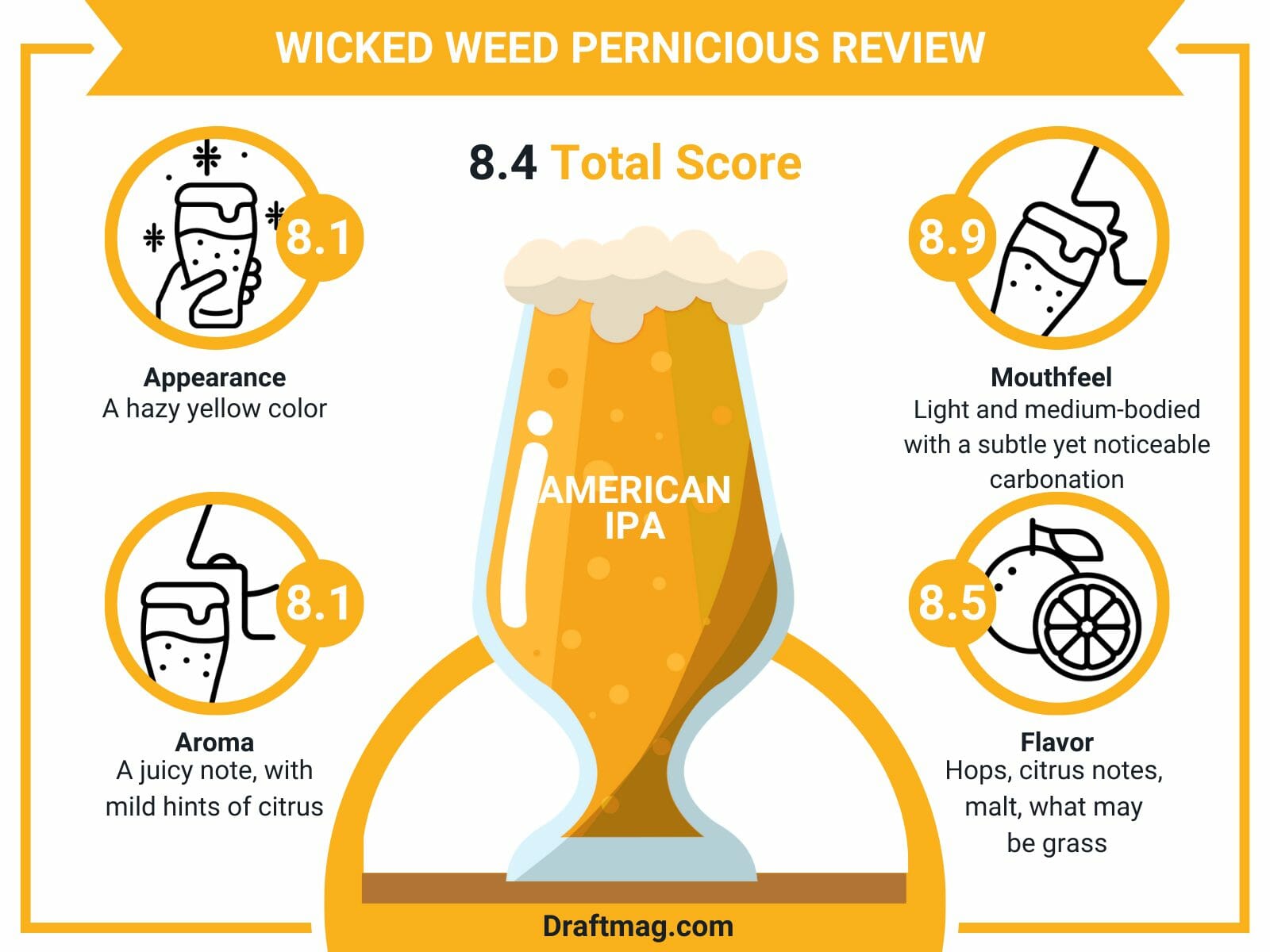 If you've been eager to grab a cold bottle of this beer but need a little more insight, then don't fret. Compiled by our beer connoisseurs, this review thoroughly analyzes this beer without any gimmicks.
Wicked Weed Pernicious Stats
| | |
| --- | --- |
| Country | United States (North Carolina) |
| Brand | Wicked Weed Brewing Company |
| Style | American IPA |
| Taste | It tastes clean with a predominant bitterness that isn't overwhelming and is balanced by a grainy malt character. |
| Body | This ale is medium-bodied with high carbonation and a clean, dry finish. |
| ABV | 7.3 percent |
| Flavor and Aroma | The flavor and aroma are of malt, a variety of hops, yeast, and an herbal grassy note. |
| Serving Temperature | 42 degrees Fahrenheit |
Tasting Notes
Wicked Weed Pernicious Tasting Profile
Wicked Weed Pernicious Review
Based on various categories, this review is all you need to decide if this IPA is worth the purchase. Our experts have provided this complete guide to help you with what to expect and compared this brew with other IPAs in the market.
– Appearance
This ale pours a hazy yellow color that is very translucent. It looks like the typical straw or hay color and may easily be confused as a bright gold color. An inch of white foamy head appears upon pouring and lingers for a long time, which is commendable.
Aside from its good foam head retention, this beer has a ton of carbonation, and bubbles are easily visible through the glass. Another impressive thing about this IPA's view is the streaks of lacing that stick to the glass all through the duration of drinking.
– Aroma
From its scent, you can tell that this beer has a juicy note, with mild hints of citrus flavors like lemon, lime, and grape. There's also a noticeable spicy herbal note that is seemingly from pine. A whiff of grass also hits the nose, and you can smell the malts, making it easy to think that the malty character in this beer is mild.
Overall, this beer smells sweet with bold hop notes to add complexity to the beer profile. From its unique fragrance, it isn't hard to see why many beer drinkers are crazy about this ale.
– Mouthfeel
This IPA is between light and medium-bodied with a subtle yet noticeable carbonation. The beer tastes almost sweet, with its maltiness coming to the front, giving it a slick feel. The hoppiness is more pronounced, although it isn't overboard, as the maltiness and juicy note balance it.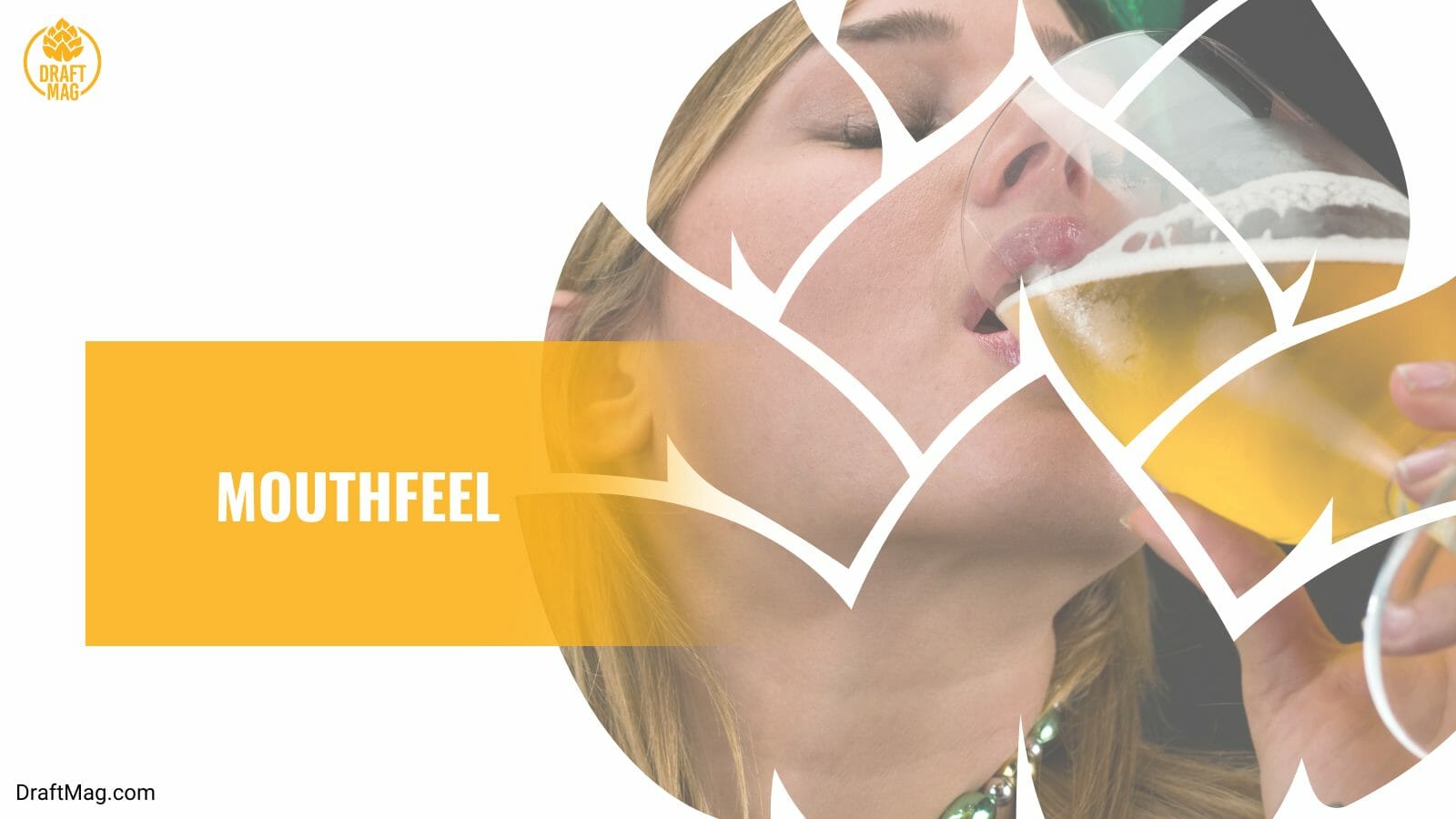 One thing we noticed about this beer is it is somewhat dry, and this dryness can be felt with every single gulp taken. Surprisingly, this beer is quite crisp. Coupled with the bold malt and hop character, it is similar in mouthfeel to a lager.
– Flavor
The most common flavors associated with this IPA are hops, citrus notes, malt, and what may be grass. You can easily detect the lemon, grape, lime, and pine flavors in this beer. One thing we like the most about the flavor profile is that although the malt note is discernible, the hop flavor takes dominance, adding an essence that only premium ales possess without being too astringent. There's also a hint of a dough-like flavor that is very muted but can be picked up upon closer inspection.
We like that while the primary flavors of this ale are pretty bold, they are combined in a way that complements each other perfectly.
– Food Pairings
Ales are undoubtedly one of the best beer styles to pair with spicy and heavily-flavored meals. These types of meals help complement and balance this beer style's bold flavors. You can pair the IPA with spicy chicken, buffalo wings, cilantro, barbecue, steak, roasted chilies, sushi, Indian curries, and tacos.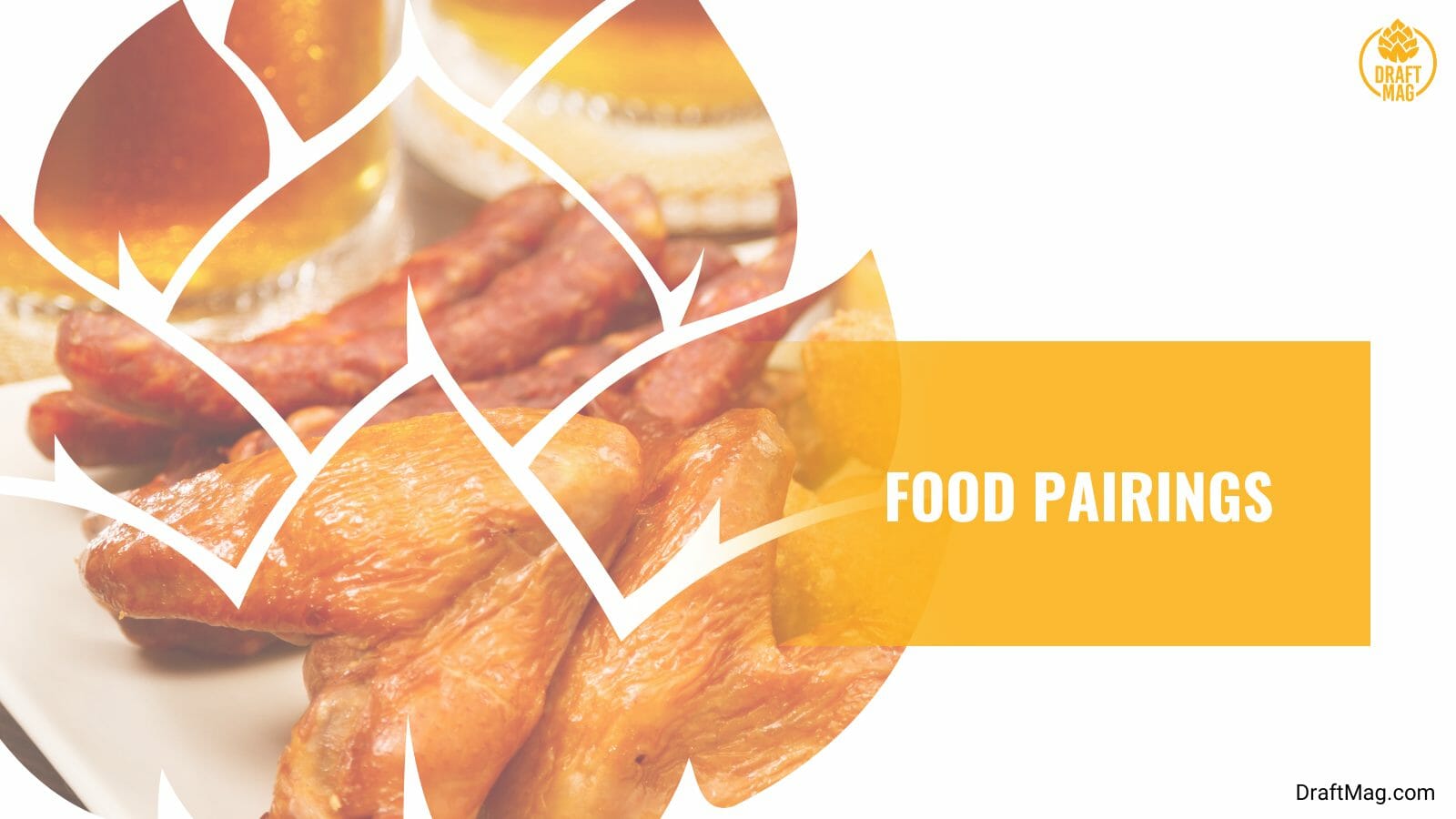 You can never go wrong with pizza and burgers if you need simpler choices. You can also enjoy the beer with salty nuts, goat cheese, and sweet desserts.
Ingredients
This IPA is made of a variety of beer ingredients that are rich and very complex. Aside from water, it is made from common hops including Amarillo, Warrior, Centennial, Motueka, Pacific Gem, and Columbus.
The company takes things further by adding extra dry hops like Galaxy, Citra, Pacific Jade, Citra, and Mosaic variety. It also contains Pilsner, 2-row malt, and Carafoam malt, as well as the exotic California Ale Yeast and hints of citrus extracts.
Nutrition Facts
This American Ale contains 210 calories, 12 grams of carbs, three grams of protein, and zero grams of fat. It also has an alcohol volume of 7.3 percent. The ale is vegan-friendly, although it may not be suitable for people actively trying to lose weight or those practicing a Keto diet due to its high amount of carbs. Unless stated otherwise by the brewery, this ale also contains gluten.
History
Pernicious IPA was first produced in 2015 by Wicked Weed Brewing Company. Before brewing Pernicious, this brewery, founded in 2011, was already gaining nationwide recognition for its highly remarkable beer brands. This IPA was their flagship ale, and when it was released, it became an instant hit among ale lovers.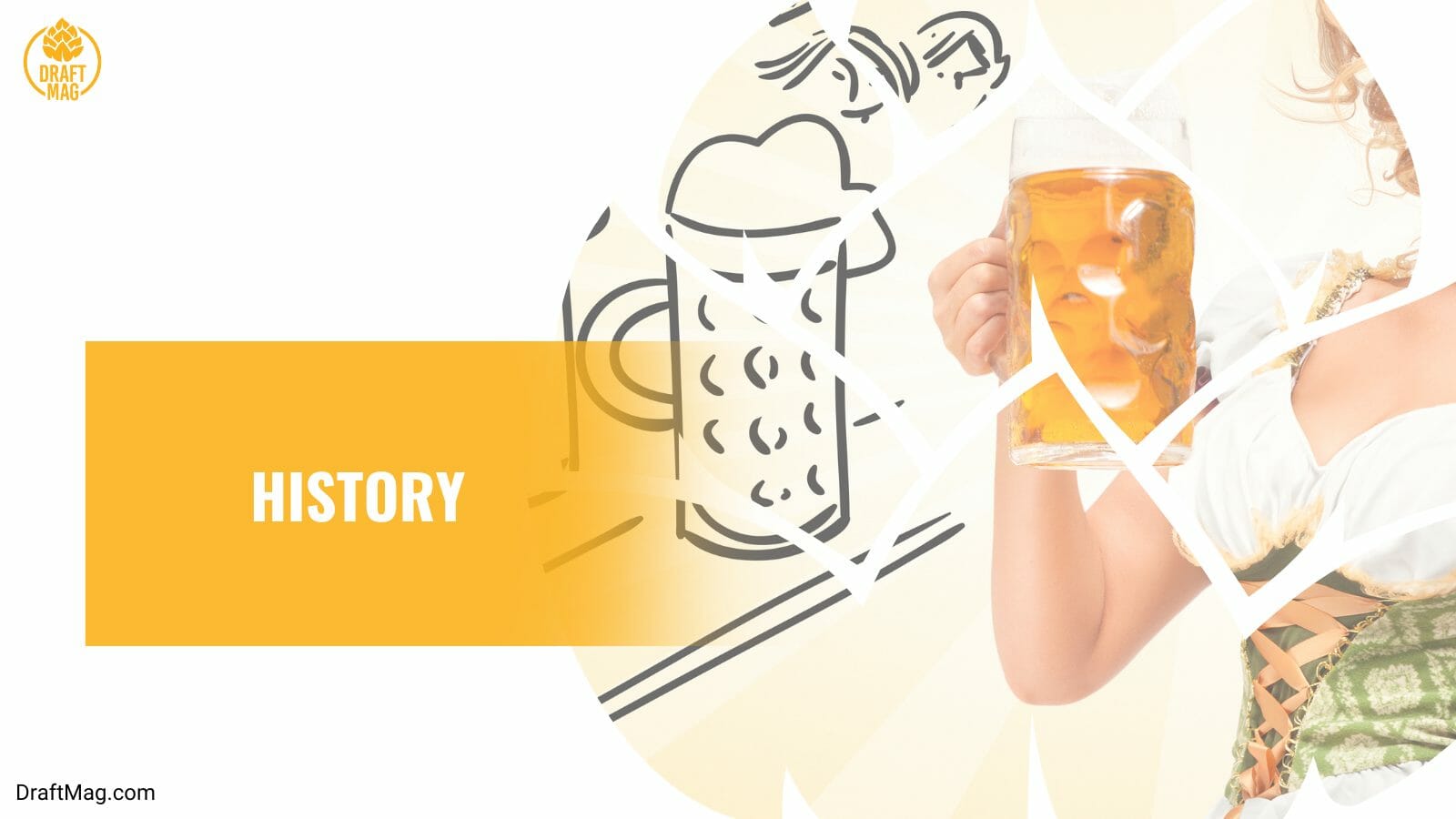 It combines hops, malt, and sour citrus flavors to create a clean, interesting, and highly refreshing craft beer. The beer further solidified its presence by winning a silver medal in the American IPA category at the 2015 Great American Beer Festival.
Conclusion
This beer is truly an ale that deserves the hype ascribed to it. Here's a summary of what we discussed in this review guide:
Wicked Weed Pernicious IPA is an American IPA with 7.3 percent ABV by Wicked Weed Brewing Company.
Its taste, aroma, and flavor are predominantly of hops, malt, and tart citrus notes that are intricately combined to create a complex beer.
This ale is light to medium-bodied with active carbonation and a slick, crisp mouthfeel. An intense hoppiness lingers at the end, although it is balanced by malt, making for a dry finish.
You can pair this beer with roasted chilies, steak, burger, chicken wings, and buffalo wings, among others.
This beer is one delightful IPA to have, and it indeed measures up to other premium IPAs sold in the American beer market. It comes highly recommended: its hop varieties are expertly mixed with malt and citrus notes to make an ale that is very easy to drink and leaves a distinct finish.